« Daily Tech News 14 April 2023
|
Main
|
Mid-Morning Art Thread »
April 14, 2023
The Morning Report — 4/14/23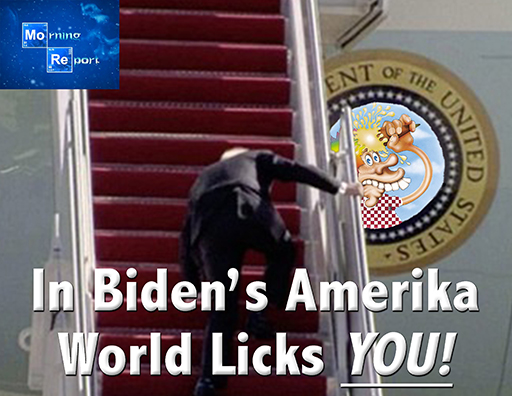 Good morning, kids. Having been born, raised and spending most of my adult life in New York City, I can't believe I never put two and two together vis a vis this story that broke yesterday on, of all places, CNN:
After he was elected to Congress in 2013, [Democrat Hakeem] Jeffries told the Wall Street Journal that he only had a "vague recollection" of the controversy surrounding his uncle, Leonard Jeffries — a former college professor and department chair of Black Studies at the City University of New York.

In the early 1990s, Leonard Jeffries faced severe backlash after he denounced "rich Jews" and their involvement in the African slave trade and claimed there was "a conspiracy, planned and plotted and programmed out of Hollywood" of Jewish executives disparaging black Americans in movies.

"I have a vague recollection of it," Jeffries told the Wall Street Journal. "There was no internet during that era and I can't even recall a daily newspaper in the Binghamton, N.Y., area but it wasn't covering the things that the New York Post and Daily News were at the time."

However, CNN on Wednesday uncovered a previously unreported opinion piece that a young Hakeem Jeffries penned in 1992 while at Binghamton University in upstate New York.

In the piece, Jeffries addressed his uncle's controversy and came to his and Nation of Islam leader Louis Farrakhan's defense.

"Do you think that a ruling elite would promote individuals who would seek to dismantle their vice like grip on power?" Jeffries wrote in the piece, published in the Black Student Union's newspaper, The Vanguard.

"Dr. Leonard Jeffries and Minister Louis Farrakhan have come under intense fire," Jeffries continued. "Where do you think their interests lie? Dr. Jeffries has challenged the existing white supremacist educational system and long standing distortion of history. His reward has been a media lynching complete with character assassinations and inflammatory erroneous accusations."

Jeffries' office maintained on Wednesday that he does not agree with his uncle's view and believes in "bringing communities together."
From the late 70s through the mid 90s or so, Leonard Jeffries was right up their with Al Sharpton as one of the most offensive purveyors of Jew-hating bilge that replaced the shine with the sheenie in the Big Apple. Truly horrid example of humanity who, as we now know and really knew back then, were the tip of the chucked spear in churning up the sadly ever-present and historical resentment by blacks towards Jews.
Meh, why am I wasting pixels on this since it is sort of an unsurprising Day-Ending-in-Y Dept. story? Because Hakeem Jeffries is now the Democrat House Minority Leader. That doesn't shock so much as it disgusts me because it merely reflects the official attitude of that party. Tragically, too many of my CRINOs – co-religionists in name only – not only refuse to see this but go right along with it in aiding and abetting everything from throwing the state of Israel to the wolves to throwing Jews, Christians and other people of conscience, morality and character to them as well.
But, as I often say, the closest thing to real Judaism they have ever or will ever come to got snipped off eight days after they were born. That and a plate of matzo ball soup at Katz's deli, where they shriek their fake morality and virtue signal louder than Meg Ryan faking an orgasm. The self-gassers who after aiding and abetting the destruction of the only truly safe haven they had ever known will be the first to get the progressive rusty hacksaw right in the neck. I hope I survive long enough to say that, if that is the only pleasure left in life that I am to be granted. Halevai Or should I say, "Inshalla?"
Basta cosi. One subject that we have covered before both here and on the podcast is our relationship with those on the left who, by virtue of their words and deeds on not insignificant issues have "taken sides against the family," so to speak. People like Naomi Wolf, Glenn Greenwald and Matt Taibbi in particular come to mind. And if his sources are accurate, even Seymour Hersh.
And that brings us to another personality who has come to the fore since the beginning of the Chinese Coronavirus debacle, by sounding alarm bells in particular about the vaccines as well as the lockdowns. Like all the others, the issues almost take a back seat to the attempts to silence and discredit them by those on their own end of the political spectrum who would otherwise have held them in high esteem.
I'm speaking of course about Robert F. Kennedy Jr., who last week announced that he will be seeking the nomination of the Democrat Party for the 2024 presidential race. While I applaud RFK Jr's work over the past three years, and while I consider him to be someone with whom you can sit down and have a discussion, I would be remiss if I did not bring up the fact that he, and his lineage, have serious skeletons in their closet.


"Cheryl Hines is a successful actress, director, producer, and podcast host, but the Hollywood starlet may be gearing up to add First Lady to her long list of impressive roles," reports the Daily Mail this week. "The 57-year-old's husband, Robert F. Kennedy Jr., announced this week that he's officially challenging Joe Biden for the Democratic nomination for the upcoming 2024 presidential election."

This is interesting enough without the following: "She (Hines) even once had lemonade with Fidel Castro at his house in Cuba. 'We went to Cuba, this was probably 10 years ago, while we were there, my husband wanted to see if we could visit with Mr. Castro'….

"'When we got to the hotel, there was a guy in a white linen suit who said, "El Presidente will see you." 'They came and picked us up in a van, it was a nice van; I was like, "Woah, what's happening?"

"'We got to his house, and he was wearing a tracksuit. We sat down with him, [my husband], and he spoke in Spanish for a while. They talked about assassination attempts, as one does when you're drinking lemonade. He was sweet. It was the best lemonade I've ever had, I don't know what was in it, but it was fantastic.'". . .

. . . And speaking of the Kennedy family's historic affection for the mass-murdering, terror-sponsoring Stalinists who have run Cuba; remember when RFK Jr's mother, Ethel Kennedy was discovered to have decorated both her Florida home and the Kennedy family's estate named Hickory Hill in McLean, Virginia, with pictures of Che Guevara?

And remember how even before the shrieks of "Fake News!" from sophisticated liberals against "deplorable" could commence for spreading something so patently absurd as a famous American political matriarch decorating her homes with pictures of an epic America-hater whose lifelong craving was to incinerate the U.S.—even before any of this, Robert Kennedy Jr himself boasted for the public prints that  "My mom loves Che Guevara! Her dog is named Che!"    

According to Pinterest, the Che Guevara picture at Hickory Hill was (is) located in the late Robert F. Kennedy's very home office!  

This makes the Che Guevara family presence all the more "fascinating," considering that these Kennedys were America's twin "commanders-in-chief" during the Cuban Missile Crisis and during the infamous Bay of Pigs treachery, which took place 62 years ago this very week.
I understand author Humberto Fontova's shall we say "reticence" about RFK Jr. and anyone who had any dealings at all with the Castros, especially since that island was and still is essentially a gulag with palm trees. But that said, and in light of the aforementioned leftists above, I give you this quote from the eminently quotable Winston Churchill, upon entering into a potential alliance with the Soviets and really about Josef Stalin:
If Hitler invaded hell I would make at least a favorable reference to the devil in the House of Commons."
With all due respect to Mr. Fontova, and by no means should this be construed as my endorsing RFK Jr. for president, I think we are at a point in the life of this nation and the life of whatever the hell is left of the free world to not have the luxury of picking and choosing our allies. We cannot and should not ignore his past, but given the state of the nation and the (anti) American Left today, should we at least give him a break at least in the interest of political expediency?
The wolf is at our throat, and so people like him as well as Greenwald, Taibbi and Naomi Wolf I think should be embraced. At least in the interest in the preservation of whatever the heck is left of our republic and civil discourse and tolerance.
If we do come out the other end with this madness defeated, then we can debate and question him about his past positions. But at least he and the others would be wiling to sit down and have that discussion, recognizing our legitimacy and our humanity. Their seemingly erstwhile compatriots on and of the Left do not. They want us dead.
We cannot afford the luxury of political purity brigades. Not now. Not since even those allegedly on our side do nothing while these folks are actually picking up the standard and charging full steam ahead into the fire.
Someone somewhere even suggested this ticket: Trump/RFK Jr. '24.
DISCUSS!!!
Have a good weekend.
ABOVE THE FOLD, BREAKING, NOTEWORTHY
"By comparison, the total amount spent by the government of Russia in their microscopic Facebook 'interference' case of 2016 was just $150,000, though the U.S. government managed to spend in excess of $32 million investigating the matter."
Leonardo DiCaprio Testified About a Secret $30 Million Foreign Donation to Obama, and No One's Talking About It

"Long before Trump's emergence, Democrats were playing by a radically different set of rules."
DOJ-Media-Intel Election Interference Predates Trump

"The big connection there is in 2014, he's going in and out of Ukraine. In the summer Ebola hits. And in August there's a meeting in Joe Biden's vice president's residence with [Ron] Klain, [Ted] Kaufman, and a guy named Mike Donilon [now a senior Biden adviser]. Klain, about a month and a half later, is named the Ebola czar. Out of that Ebola czar process, Obama agreed to do gain of function research in China and that's what led to [Chinese] Covid."
The 'Biden Crime Family' Was All-in on Gain-of-Function Research
CIVIL WAR 2.0: J-6 FBI FALSE FLAG "RIOT" & AFTERMATH, LEFTIST PERSECUTIONS, DEMOCRAT PUTSCH, AMERICAN DISSOLUTION
NOTE: The opinions expressed in the links may or may not reflect my own. I include them because of their relevance to the discussion of a particular issue.
ALSO: The Morning Report is cross-posted at CutJibNewsletter.com if you want to continue the conversation all day.
Follow us on Twitter: @CutJibNews
Follow us on Instagram: @Cutjibnewsletter
TIP JAR : Your support helps keep the lights on and is truly appreciated. Note: We are on Stripe, not PayPal.

posted by J.J. Sefton at
07:48 AM
|
Access Comments