ę Rumor: Disney Marvel Is Recasting "Kang the Conqueror," the Alleged Next Thanos-Level Villian, in Wake of Domestic Assault Charges Against Jonathan Majors
|
Main
|
Oh Perfect: Eric Holder and Other Democrat Lawyers Team Up to Sue the Tennessee Legislature on Behalf of the Nashville Three Ľ
April 12, 2023
Riley Gaines Blasts Megan Rapinoe for Supporting the Male Takeover of Women's Sports, Stating that Rapinoe Has Nothing to Lose Because She's at the End of Her Career, and Doesn't Have to Worry About Any Future Daughter Because She's a Lesbian
This is a very easy position for Megan Rapinoe to take. She's aging out of sports anyway. She will always be a childless cat lady. What does she care about young girls in sports?
Former college swimmer Riley Gaines called out professional soccer player Megan Rapinoe on Tuesday for "virtue signaling" on the issue of transgender sports bans.

Rapinoe, a former player on the U.S. Women's National Team, tweeted in March, telling her followers to call their lawmakers and urge them not to support a ban of biological men from women's sports.

"Today, politicians in DC are claiming to "protect women's sports" by pushing a trans & intersex sports ban. Call your Congressional rep today to say women's sports need protection from unequal pay, sexual abuse & lack of resources, NOT from trans kids. #LetKidsPlay 202-224-3121," she wrote.

On Tuesday, Gaines responded to the tweet, slamming the soccer player for taking such a position on an issue that doesn't affect her personally.

"It's worth noting that 1) you're done with your athletic career and 2) because you aren't sexually attracted to men, it's unlikely you will ever have a daughter to defend. To me, this looks like a classic case of virtue signaling because you have nothing to personally lose," wrote the swimmer, who notably competed against transgender woman Lia Thomas in the NCAA championship.
Damn.
It moved.
"I can respect opinions that differ from my own and everyone is entitled to think/speak independently, but I can't help but think Megan Rapinoe would genuinely shiv any male who tried to take her spot on the US Women's National Team," she added.
Megyn Kelly addressed the elephant in the room and pointed out that almost all Trans Extremists look alike, and wonders why these activists are "almost universally unattractive."
She later points out that they are demanding that video of their misbehavior be suppressed and censored. She say they don't want "their faces and bodies seen for obvious reasons."

Meanwhile, Bud Light is reportedly losing sales due to attempting to ditch its "fratty" customer base to appeal to Woke Transgenders.
Note there's a lot of fighting back from leftist "fact" checkers who claim that Bud Light isn't losing sales, or that it's too early to tell if they're losing sales. I don't know. I do know that leftwing "fact" checkers are paid liars, who lie, literally, about everything to advance the leftist cause. They want corporations to continue being the unacknowledged in-kind political donors to the Democrat Party, so naturally they'll claim that this boycott isn't working.
I'm not saying it is working. I don't think we know yet.
But I do know that leftwing "fact" checkers are filthy liars whose words mean nothing.
And also: The trend is not Bud's friend.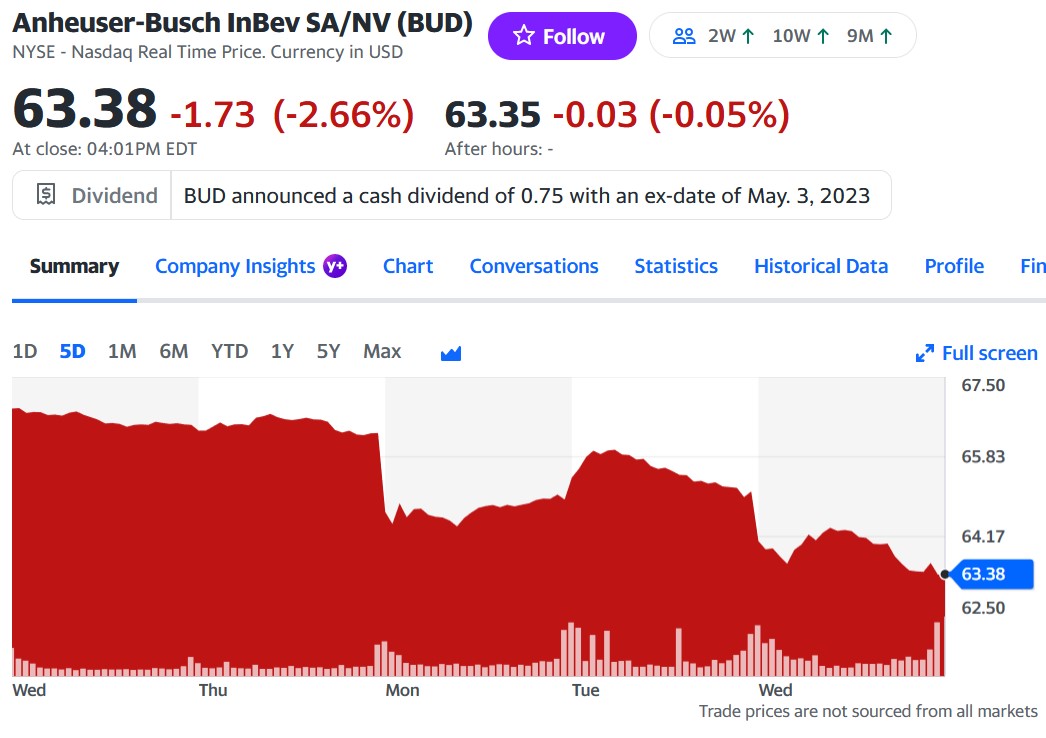 Bud Light suffers bloodbath as longtime and loyal consumers revolt against transgender campaign 'In Bud Light's effort to be inclusive, they excluded almost everybody else,' says a St. Louis bar owner

By Kerry Byrne FOXBusiness

Bud Light distributors in rural areas 'spooked' by Dylan Mulvaney backlash

Beer Business Daily publisher Harry Schuhmacher told Fox News Digital that this is the "biggest controversy" he has seen.

Bud Light suffered a bloodbath this past weekend.

Consumers nationwide revolted against the nation's top-selling beer brand after it stepped "recklessly" into the culture wars last week with its new spokesperson, transgender TikTok star Dylan Mulvaney, according to bar owners and beer-industry experts around the country.

"I think society flexes it muscles sometimes and reminds manufacturers that the consumer is still in charge," Jeff Fitter, owner of Case & Bucks, a restaurant and sports bar in Barnhart, Missouri, told FOX Business.

"In Bud Light's effort to be inclusive, they excluded almost everybody else, including their traditional audience."

He cited sports fans, working people and women as loyal Bud Light consumers the brand suddenly excluded in its race to go woke.


Bud Light-maker Anheuser-Busch is headquartered in nearby St. Louis.

But even Fitter's bar witnessed a catastrophic decrease in sales of the hometown suds among loyal and local consumers this week.

Sales of Anheuser-Busch bottled products dropped 30% over the past week, while draught beer plummeted 50%, the owner said.

Similar stories are found around the country.

...

He cited a nightmare scenario for Bud Light sales reps in Texas, where the brand has for years has sponsored a large weekly dart league with 100-plus players each Thursday night.

The bar sold only four 12-ounce Bud Light bottles this week.

The bar typically sells though three kegs of Bud Light at the event -- a total of 495 12-ounce pours.
This is pure truth:
"Sometimes you just want to drink a beer without getting a lecture on social or political commentary or someone's sexual orientation," said Patrick Imig, a hospitality consultant in St. Louis.
"Industry experts" say that this boycott "has legs."
The controversy over Bud Light's partnership with transgender influencer Dylan Mulvaney looks like it has staying power -- raising the risk that boycotts will further cripple sales of the nation's biggest beer brand, according to industry experts.

It's "way too early" to know whether the controversy will ultimately hurt the brewery's bottom line, said Evercore ISI analyst Robert Ottenstein.

Nevertheless, there is plenty of anecdotal evidence showing its potential to wreak havoc.

...

Squabbles have broken out at bars and distributors are canceling events featuring the iconic Clydesdale horses.


"This boycott seems to have more legs than most," Justin Kendall, editor of beer industry trade publication Brewbound, told The Post.

"It started out as a conversation on social media and has breached into mainstream media."

...

Fanning the flames were remarks by Anheuser-Busch's president of marketing, Alissa Heinerscheid, who said she hoped to update the "fratty" and "out of touch" humor of the beer company to appeal to younger consumers.
Amusingly, the incompetent Diversity Hire who called Bud Light's current former customer base "fratty" has a
very fratty history herself.
The vice president of marketing at Bud Light, who recently said the company needs to update its "fratty" image and "out-of-touch humor," can be seen partaking in the same behavior she seemed to be criticizing during a Harvard social club event, recently leaked images show.

The Daily Caller obtained the photos from a source who had screenshots of the album on Alissa Gordon Heinerscheid's Facebook page, which was titled "Isis Senior Reverse Initiation Scavenger Hunt." In the album, there are photos of Heinerscheid drinking with others, and holding condoms up to their mouths. An article in the Harvard Crimson describes the club as a "haven of inebriated ditzes."

Bud Light's marketing has been criticized in recent days. In late March, Heinerscheid appeared on a podcast, where she promotes Bud Light's new direction and marketing and said the company needed to update its "fratty" image and change its "out of touch humor."

...

The Isis Club "was established in the year 2000 on Harvard University's campus by agroup of 25 women. The founding meeting took place in the former Loker Commons, and set a foundation for community we have today. Their mission was to provide a positive environment and social network for women to flourish," an Isis Club new initiate's book states.

"Before the existence of female social clubs on campus, women's options for socializing were extremely limited compared to that of their male counterparts. From its very inception, the Isis Club has represented a unique character and personality. With women of diverse backgrounds and interests, Isis women are united together by an undeniable spirit of compassion, fun, and drive. Ever since the first group of punches were inducted in 2002 in the Bel Tower of Lowel House, the Isis Club continues to fulfill its mission of providing and safe social space for women. The Isis legacy is a strong and positive one, which the club knows will be carried on by the many amazing women that are proud to call the Isis Club their own," the book continues.
Here's Heinderscheid enjoying the unique character and personality of the Isis Club: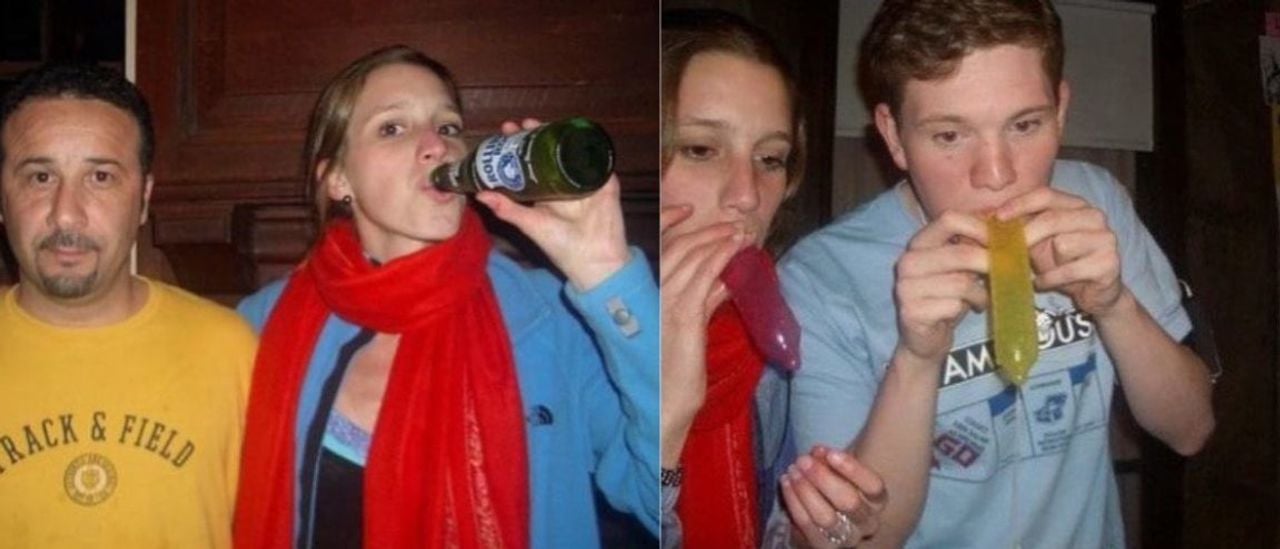 I've said this a hundred times before, but she's doing exactly what the Wokies in the comic book industry did: they began routinely attacking their existing customers, who they found to be Too White, Too Old, and Too Male for their liking, and transformed the American superhero comic book from being about strong men fighting personal duels with colorful opponents, to being about gays and transgenders and gals going out to have appetizers and Cosmopolitans every night.
And so they shed their old audience.
The trouble is, the audience they wanted -- young, "diverse," and female or gay or trans -- didn't want them.
So they wound up losing their actual audience before ever actually securing the new audience they wanted.
Below, former DC writer Kelly Sue DeConnick literally screams at male, traditionalist readers -- actual comic book readers -- "If you don't like my politics, don't buy my books. Problem solved!"
Indeed. And the next series of clips shows her talking about how the comic book industry is in trouble, and how she "worries" about the industry's viability.

Meanwhile, Oil of Olay now wants to get rid of their existing customer base as well:

posted by Ace at
05:20 PM
|
Access Comments