« Governor Abbott Says He's Urged the Pardons Commission to Issue a Pardon to BLM Kidnapping Victim Daniel Perry as "Swiftly" as Possible
|
Main
|
Literal Violence Duckling Cafe »
April 11, 2023
Quick Hits
Mentally-ill creep ("I have at times in my life struggled seriously with depression. I've been on antidepressants, I've tried trans-cranial magnetic stimulation, I've seen therapists. I also, separately, did therapy for anger management") and rich bitch Nepot Baby Matthew Yglesias is now 1, reporting people to the cops for not having up-to-date tags on their license plates, and then 2, bragging about doing so on Twitter, and expecting praise.
I think this shows he hasn't quite licked his anger management issues. Attempting to hurt complete strangers is a sign of something broken inside.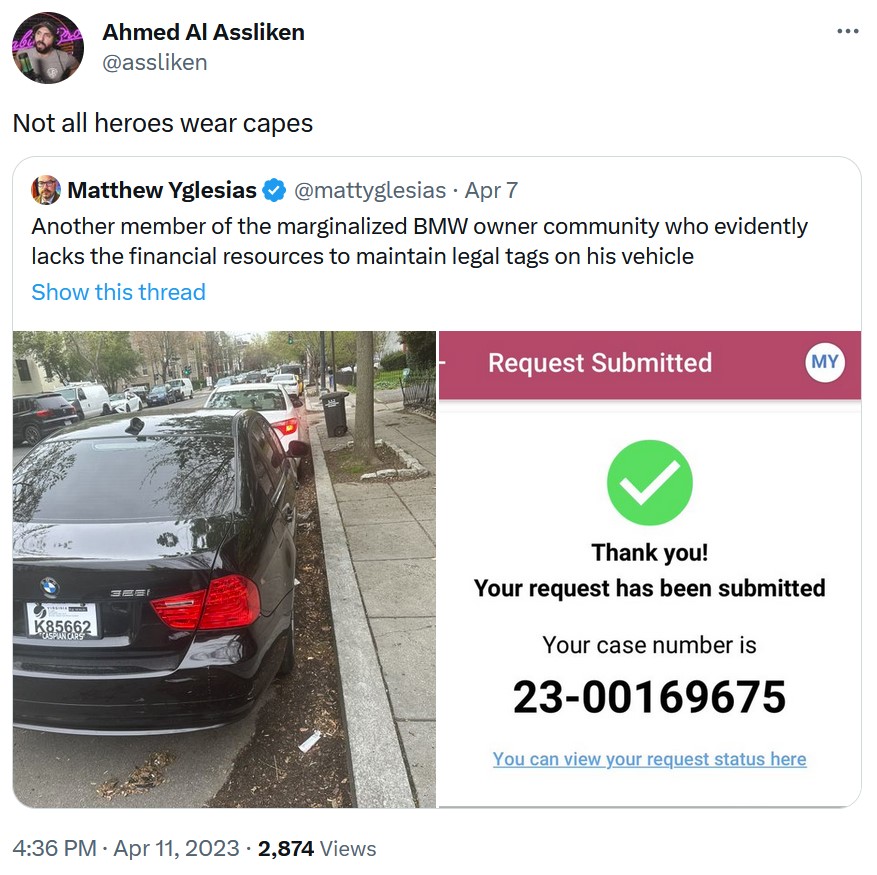 He's now a Vigilante for the Surveillance State.
I'll always hate this trashy, midwit fatboy. He danced on Andrew Breitbart's grave. Another outburst of inadequately-managed anger that inadequate fattyboys tend to feel surging in them, all the time.
E Street band cockroach "Little Steven" Van Zandt calls for his followers to "exterminate the [Republican] cockroaches," then deletes it.
I don't think deleting it should spare him a banning from Twitter -- but I'm pretty sure it will.
It began when the guitarist ventured forth by abusing what he called "Republican White Supremicist scumbag cowards and pussies that need guns to feel like real men" after TN representatives demanded gun controls.

Van Zandt was then called out on Twitter by a follower for his abuse, which he quickly resumed.

He said he deleted his original anti-Republican post for a host of reasons, viz;

To avoid spending half my day deleting Foxsucking scumbag Russian bots and MAGOTT cockroaches like you! Go take away some women's rights, keep some Black people from voting, go harass a Trans event, go shoot some kids, do what Republicans do best and get the fuck outta my feed!
Van Zandt will not be placed on an FBI "extremist hate group" list, and the sentence "exterminate the Republican cockroaches" will not be added to FBI "Hate" glossaries as a phrase that signals violent extremism. The left is permitted to foment violence against their enemies -- nay, they're encouraged and paid to do so.
Speaking of tiny manlet psychopaths who need a good dose of AIDS: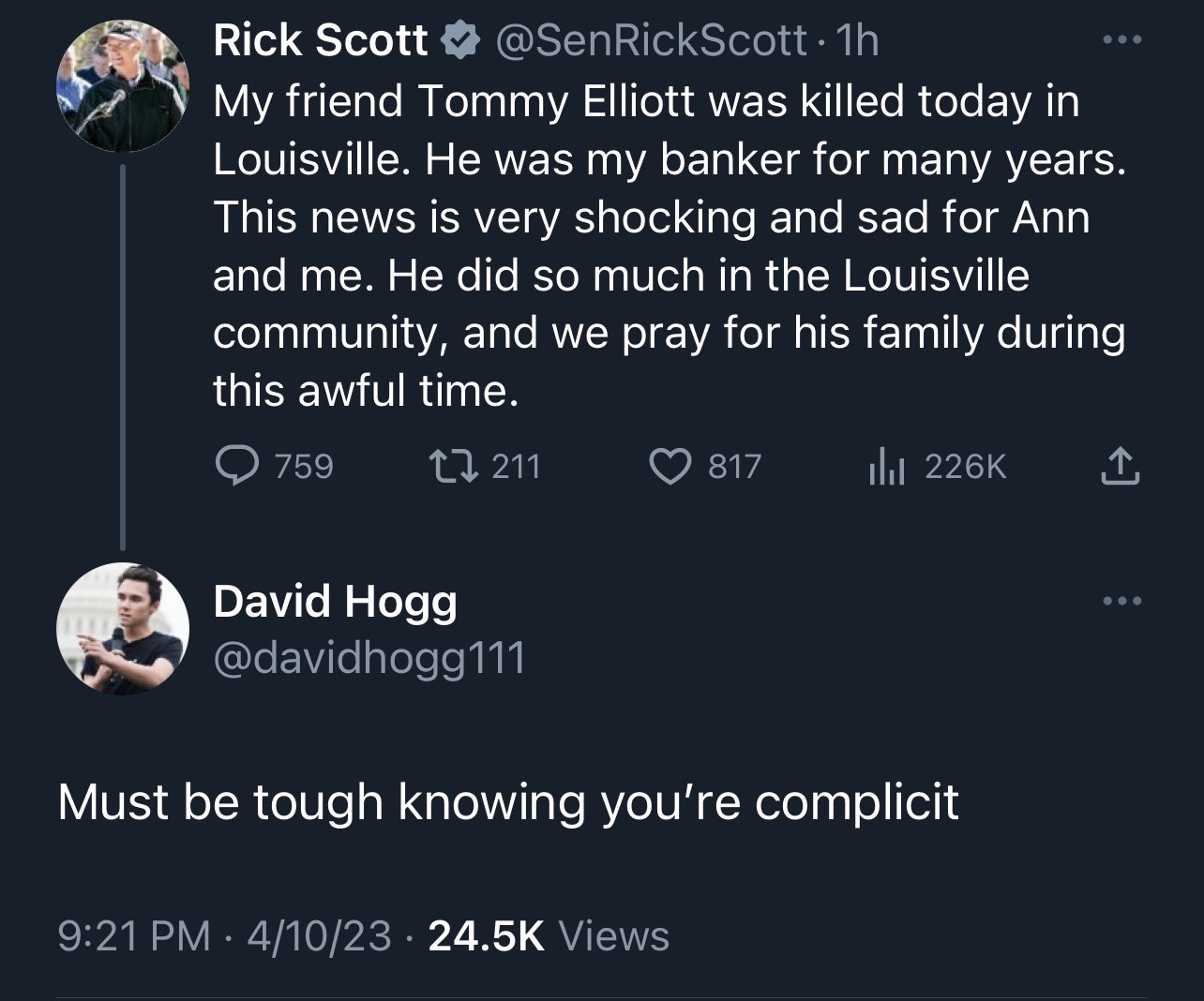 A deranged and hideous transgender is still attacking Ana Kasparian for insisting that she wants to be called a "woman," not a Person of Vagina or whatever the f*** transgenders are demanding this week.
Ana Kasparian @AnaKasparian

Lol! The meltdowns over wanting be referred to as a woman rather than a "birthing person" is pretty wild. I'll never apologize for that, especially as biological woman who has had a fucking lifetime of being told I'm less than. I'm a woman. No apologies.
Olayemi Olurin @msolurin

You made transphobic statements and we spent an hour of the show defending you from allegations of being a TERF rather than addressing the substantive problems w/ your comment. I said I felt like they were coddling you, I stand by that. If you think that makes me a hater, knock... twitter.com/anakasparian/s... Show more
Then this hideousness entered the fray.
Claire G. Coleman @clairegcoleman

I am older than you and I have been in the fight for my entire adult life so I feel I am able to give you some advice

In progressive politics when someone from a less privileged position than you, like trans people, say you did something to offend them it's traditional to listen

There's a reason why the phrase "check your privilege" arose in progressive and left wing politics. You can't be from the left and think it's ok to ignore the concerns of people with less privilege than you. If trans people say you are being offensive perhaps you could sit down

When you stand on a high horse or a soap box and tell people their concerns about your language is invalid or irrelevant, why you tell people to ignore the scars you are opening with your words you are not fighting the good fight, you are aiding the oppressors.

You don't have to listen to me, you can ignore what I said just like you ignored everyone else but I will tell you this. I want you to get this right, I want you to stop punching down. I want you to learn from this and be better, because we ALL need to be better
I know I tell you guys "don't click on this picture" with the expectation that you'll dare it and click anyway, but seriously, this is one ugly dude.
I'm through with indulging the never-ending demands of the psychologically (and physically) sick. They have a disordered view of the world, as all insane people do, and sane people should be proud to reject the demands that we adopt their sick delusions as our reality.
Speaking of things you don't want to see, the newest star of Star Wars, body-diverse non-talent Lizzo, just posed a naked picture of herself in all of her corpulence, untouched-up she says. She says she wants to "change our conceptions of beauty" or whatever bullshit ugly people always are talking about.
She has not changed my standards of beauty. In fact, she's forced me to adopt more rigid standards of beauty than I previously had.
Someone has to take a stand.
The left just ran a hit-piece on Justice Thomas -- it's a day that ends in -y, after all -- accusing him of being friends with a rich guy who sometimes takes him on trips with him.
Meh.
But it turns out this rich guy, Harlan Crow, is a major donor to... The Dispatch.
Leftwing firebrand and retard Elie Mystal accused Crow of being a Nazi -- again, day that ends in -y -- and further attacked The Dispatch dweebs of being "friends with a Nazi."
Jonah Goldberg was very hurt to learn that his New Fwenz on the Left aren't good fwenz at all: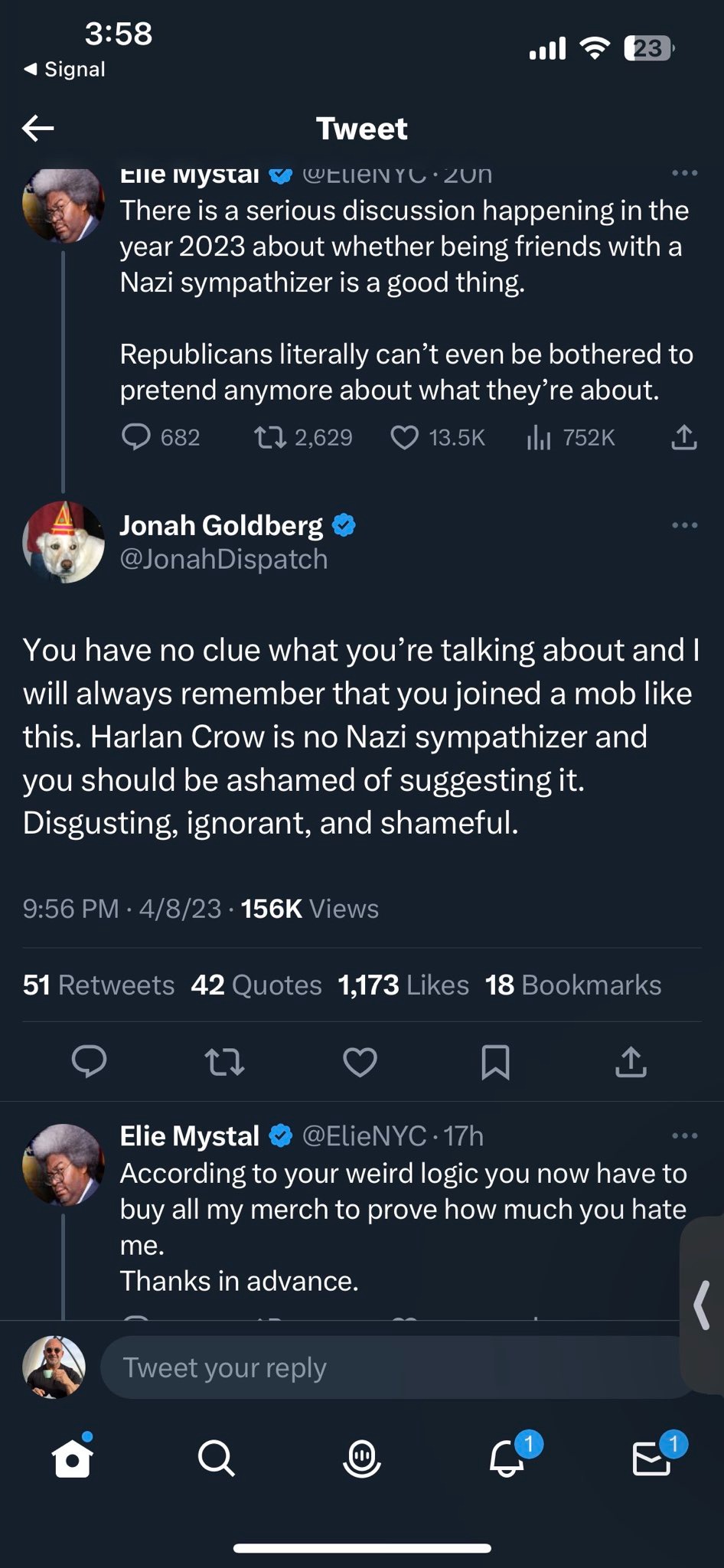 How long until the "Pride" flag gets a stripe to honor perverts who dress themselves as human-sized latex female dolls? (Disturbing imagery warning.)
Mayor Butt's "husband" Chasten has written a new gay memoir.
It's for "young readers." Obviously. Why wouldn't it be?

posted by Ace at
06:30 PM
|
Access Comments