« Mid-Morning Art Thread
|
Main
|
Swimmer Riley Gaines Assaulted, Imprisoned, Ransomed by Leftist Trans Extremist Terrorists Encouraged by The Regime
Update: Obama Defends Tennessee Insurrectionists »
April 07, 2023
THE MORNING RANT: "Saving Democracy" By Prohibiting Legislative Involvement in Lawmaking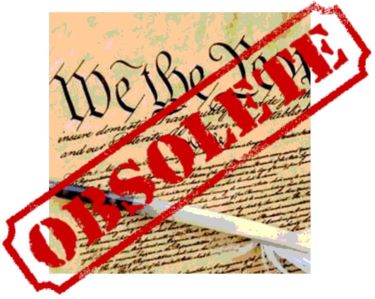 How is "democracy being saved" if the legislative body that is elected by the voters is excluded from governance?
Without getting into a pedantic debate about the definition of democracy, the term is generally used (or misused, if you please) as a term for representative government in which citizens vote to elect their lawmakers. It's interesting how those who are most vocal about "saving democracy" are also most focused on removing elected lawmakers from the lawmaking process.
The problem of Congress outsourcing lawmaking to the bureaucracy is frequently discussed in conservative media, but how ridiculous is it that when the President chooses to unilaterally decree a new law, it takes a super-majority of Congress to "veto" the President's new law?
Our Constitution has been turned upside down and inside out.
Last year the Biden administration unilaterally chose to redefine a 50-year-old law, the 1972 Clean Water Act. The purpose of Biden's unilateral lawmaking was to expand the government's authority and control over privately-owned land.
The good news is that a majority of Congress objected. The bad news is that even a bipartisan majority vote in both houses of Congress is not enough to "veto" the President's unilateral lawmaking.
Senate Votes to Roll Back Biden Administration Clean Water Rule [CNBC – 3/20/2023]
The Senate has approved a resolution to overturn a Biden administration rule that would expand federal protections for the country's waterways, a measure Republicans have criticized as overbearing and burdensome to business.
The Senate passed the measure on Wednesday under the Congressional Review Act, which allows Congress to overturn recent executive branch regulations with a simple majority vote. The Senate voted in favor 53 to 43 to give final approval to the measure.
Five Democrat Senators (including Kyrsten Sinema who is technically an Independent but caucuses with Democrats) crossed-party lines to vote with Republicans. [By the way, remember how the media celebrates "bipartisanship" when Republicans cross party lines to vote with Democrats? It's weird how Democrats never receive praise for crossing party lines to vote with Republicans.]
In a perversion of Articles I and II of the Constitution, the Congressional Review Act allows the President to veto Congress' repudiation of his unilateral lawmaking.
President Joe Biden has promised to veto the legislation blocking the "waters of the United States" rule…
How is this even possible?
The Congressional Review Act is a bit of failure theater which authorizes Congress to disapprove of executive branch rulings, but if the President vetoes Congress' veto, a two-thirds super-majority of Congress is required to stop the President.
Congressional Review Act | Overview and Tracking
Under the CRA, once the rule is submitted to Congress, any member can introduce a joint resolution disapproving of an agency's final rule, at which point only a simple majority in both chambers is needed for the measure to head to the president's desk. If the president vetoes a resolution, a two-thirds majority vote in both chambers would be necessary to override.
In summary, the President unilaterally writes a new law. Congress rejects the law in both houses. The President vetoes Congress' rejection…and a law is born! Just like our founding fathers intended.
Our Constitution is just a meaningless piece of paper when the President is now making laws and it takes a super-majority of Congress to veto his lawmaking.
*****
Similar to the story above, have you heard about the political battle going on in Israel, with Prime Minister Benjamin Netanyahu trying to wrestle governing power away from the Supreme Court and return it to the Knesset, Israel's elected legislative body?
Much like in the US, Israel's left-wing judiciary is assertive in using its authority to reject legislation passed by the Knesset, arrogating unto itself the authority to govern Israel as it sees fit.
But unlike in the US, the Israeli Supreme Court picks its own successors. It's a self-perpetuating, unelected branch of government that can reject any legislation and impose the governance it wants, answering to no one.
Candidates for the Israeli Supreme Court are not chosen by an elected official, nor are they confirmed by elected officials. Instead, nominees are chosen by the Judicial Selection Committee, which is composed of nine members, including representatives from the Israel Bar Association, existing Supreme Court Judges, Cabinet officials, and two Knesset members. But the existing Supreme Court has veto power over any new Judges. If only two Supreme Court judges veto a nominee, he is disqualified.
Netanyahu wants the people, through its elected legislature, to be able to check the governing power of the Court, and he also wants to reform how judges are chosen.
The ruling class consider Netanyahu's actions to be "authoritarian" and that the battle to prevent the people of Israel from having a say in how they are governed is a battle to "save Democracy."
Brett Stephens of the New York Times speaks for his socio-political class in this Orwellian essay:
In Israel, Democracy Still Holds [Brett Stephens – NY Times – 3/28/2023]
On Monday, Netanyahu blinked, saying he would postpone the legislation to "take a timeout for dialogue." In a better world — or a younger Israel — he would have resigned.
Democracy is saved! The rightful rulers of Israel needn't fear that legislators elected by the people of Israel will have any say in how Israel is governed.
Brett Stephens and the New York Times speak for our entire ruling class when they pronounce that democracy can only be saved by not letting the rabble have any input in who their rulers are. In their world, the rulers and their power must be protected from the ruled, no matter how elections turn out.
If you read that Brett Stephens piece and you need a palate cleanser, here is a good article from Erielle Davidson and Eugene Kontorovich discussing the Israeli court situation.
Israel's Protestors Are Enemies, Not Heroes of Democracy [NY Post – 3/28/2023]
For 25 years, Israel's Supreme Court has operated entirely without democratic constraints.
Perhaps most confounding, judges exercise veto power over the selection of their successors, resulting in an ideologically homogenous judiciary.

To top it off, what little power the court has not assumed for itself, it has delegated to the attorney general, who can veto any government action or policy by his or her own discretion.
As early as 2015, Netanyahu had proposed two of the more controversial reforms: the override clause, which would allow the Knesset (Israel's legislature) to override a court ruling via a simple majority, and changing the composition of the Judicial Selection Committee to ensure the court doesn't squash the Knesset's voice.
To the left-wing ruling class, "democracy" means never losing power, even when they lose elections.
[buck.throckmorton at protonmail dot com]


posted by Buck Throckmorton at
11:00 AM
|
Access Comments