« Daily Tech News 29 March 2023
|
Main
|
Mid-Morning Art Thread »
March 29, 2023
The Morning Report — 3/29/23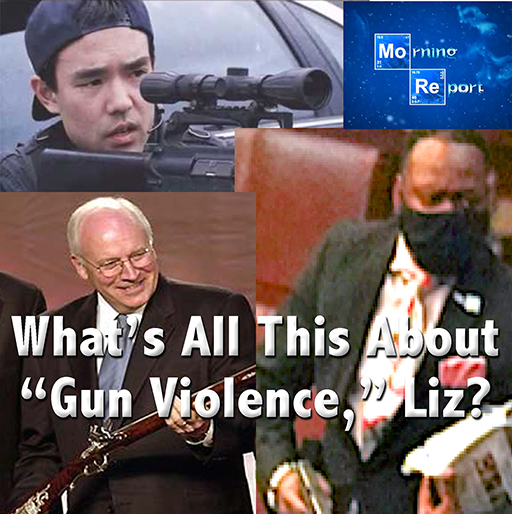 Good morning kids. What happened in Nashville is politically-motivated domestic terrorism. Period, full stop. It may not have been state-sponsored but sure as God made little green apples (some of which now identify as red or golden delicious, h8tr!) it was state-approved and fomented. And just as the neo-Gestapo – formerly known as the Department of Justice – dragged its feet and stonewalled the investigation and prosecution of this Jane's Revenge pro-baby killing terror group (among others) that have been firebombing pregnancy crisis centers, the Garland-stapo is preventing the release of the dead terrorist's manifesto. It's laughable to think that the usual line about "not wanting to spur on a copycat" is the reason. Hell, the junta is itching for copycats!
The warped, topsy-turvy ravings of this deviant, whose psyche made Laura Wingfield's look like Virgil Hilts' in comparison, was sent over the edge by transexual propaganda 24/7/365 are an inconvenient truth for the general public to see because they did not spring from this warped mind ab initio They were planted there by teachers, doctors and a media/entertainment propaganda mill where deviance is normal and good, and the normal and good are evil. That would be us.
Illinois Republican Rep. Mary Miller and Georgia Rep. Marjorie Taylor Greene sent a letter Tuesday to FBI Director Christopher Wray, demanding a number of answers regarding the shooting in Nashville, Tennessee. . .

. . . "The FBI must treat the horrific attack in Nashville as a domestic terrorist attack based on the attacker's transgender political 'manifesto' and intentional targeting of Christians. FBI Director Wray testified to Congress that the gravest threat to our nation is posed by 'lone domestic violent extremists radicalized by personalized grievances,' and the FBI cannot ignore their own guidance on this type of attack just because the Biden Administration supports the transgender political agenda," Miller told the [Daily] Caller before sending the letter.

"I joined Rep. Marjorie Taylor Greene in calling for a full investigation into the outside organizations encouraging violence, including the organizations promoting a 'Trans Day of Vengeance' which appears to be a national call to violence. Our nation is facing a crisis because our society has turned away from God and is embracing a culture that tells children that life has no value. Cold, evil acts of violence, especially violence against children, is only possible for individuals who have lost their connection to humanity. I pray for the parents and children suffering in Nashville right now, and I am grateful for the swift action by brave police officers who saved countless lives," Miller added.
It's laudable that MTG and Miller did this but it's pissing in the wind. The DOJ are de facto un-indicted co-conspirators in this, as well as the Russia Collusion Hoax/anti-Trump sabotage campaign, the J-6 "riot," the continued imprisonment of and ramping up of further persecution by prosecution of scores of innocent people even vaguely connected to that day, the cover-up of the multi-million dollar treason-for-pay crimes of the Biden family and others, and on and on and on. Ditto the slap on the wrists by other crooked attorneys general and district attorneys of BLM and Antifa terrorists.
This sick, twisted freak – who if Admiral Levine and Mayor Buttplug had a son/daughter/son/daughter/cream-coated Tootsie Roll would look like him/her/xer/Xuul – will now be passed off as a so-called "lone wolf." Hell, for the media to even do that would be a tacit admission that there is a problem in the first place. But of course, they'll just follow the Islam playbook. Blame the victim for creating the situation that drove the poor innocent to lash out, demand the sickening post 9/11 introspection of "What did we do to make them so angry as to want to do this?,". . . And then start shouting the ultimate, sustained "squirrel!" at maximum volume.
Former Rep. Liz Cheney (R-WY) called on Republicans to spend less time on the banning of books in schools and more time stopping gun violence.

Cheney issued her comments in praise of Jenna Bush Hager, the daughter of former President George W. Bush, who said on NBC that Republicans need to worry more about making kids safe.

[Tweet] "Thank you @JennaBushHager for making this point today - if we really want to keep our children safe, we need to spend less time banning books and more time stopping the horrific gun violence in our schools."
What about the horrific gun violence that took out Ashli Babbitt? Or Vicki Weaver? Or the Fort Hood (it's still called that, right?) martyrs? Or the horrific gun violence that takes out scores of black youths day after day, year after year in Democrat-dominated shit-hole fiefdoms? This filthy, traitorous slag makes me retch.
Banning books and making kids safe. Maybe if the schools stopped shoving Becky Has Two Dads and Ibram X. Krement's Jive Kampf down our kids' throats – while encouraging them to not tell their parents about that crap and being instructed on where to go to have their genitals removed – the schools would be a whole hell of a lot safer, eh Liz? That and allowing teachers to conceal carry.
But no. Because we're the ones that are evil. You know, as much as I do legitimately fear and loathe Islam, these Leftists are cancer. And we're at about stage 4 1/2 right about now.
Not to worry though. After endorsing Ronna Romney McDaniel to head the RNC, Donald Trump just hired a key Jeb Bush adviser for his campaign. That would be the same Jeb Bush who, if reports are accurate, is boosting Ron DeSantis to get the nomination.
Winning.
PS: Much of the rot poisoning our kids' minds and souls is pimped and pushed by the Department of Education (one of the not-quite-heading-to-Hell-just-yet Jimmy Carter's "accomplishments"). You'll be happy to know that your GOP effectively killed a bill that called for its abolishment.
WINNING!!!
ABOVE THE FOLD, BREAKING, NOTEWORTHY
TRANSEXUAL TERROR ATTACK IN NASHVILLE
NOTE: The opinions expressed in the links may or may not reflect my own. I include them because of their relevance to the discussion of a particular issue.
ALSO: The Morning Report is cross-posted at CutJibNewsletter.com if you want to continue the conversation all day.
Follow us on Twitter: @CutJibNews
Follow us on Instagram: @Cutjibnewsletter
TIP JAR : Your support helps keep the lights on and is truly appreciated. Note: We are on Stripe, not PayPal.

posted by J.J. Sefton at
07:35 AM
|
Access Comments