« The Morning Rant: Minimalist Edition
|
Main
|
The Day Matt Taibbi Testified Before Congress, an IRS Agent Paid Him a Little Visit at His Home »
March 28, 2023
Bodycam Video of Shooting of Trans Terrorist Released
The video is here.
Due to age restrictions, it can only be viewed on YouTube.
This is how brave men are supposed to handle an active shooting situation.

Pete Buttplug's husband Chasten Buttplug got snarky about what was really to blame for the slaughter of innocents.
He sarcastically said "drag queens."
It's the guns. OK, we'll ban the drag queens. No, it's the guns. OK, we'll make sure to lock the doors. https://t.co/euSy5RC5Jb

-- Chasten Buttigieg (@Chasten) March 27, 2023
Pretty close, Chasten Buttplug!
Matt Walsh points out that the extremist rhetoric from the left about "literal genocide" is bound to provoke some of their mentally-ill members to take these claims literally and fight "genocide" by murdering children.
Matt Walsh @MattWalshBlog

I have been telling you for a long time that left wing trans extremists are violent, dangerous people who have made been to feel absolutely entitled to say and do whatever they want. The deranged claims of "genocide" are an open invitation to violence. It will get worse from here

Trans activists believe that those who oppose them should die. I know this because a great many of them have told me this. They have communicated the message to me and my family in many ways. They think their right to affirmation supersedes your right to live.
John Hawkins @johnhawkinsrwn

What else would we expect when we have people who are mentally ill and we encourage them to fully embrace their mental illness instead of getting treatment?

"We want more than visibility."
Will murdered children suffice...?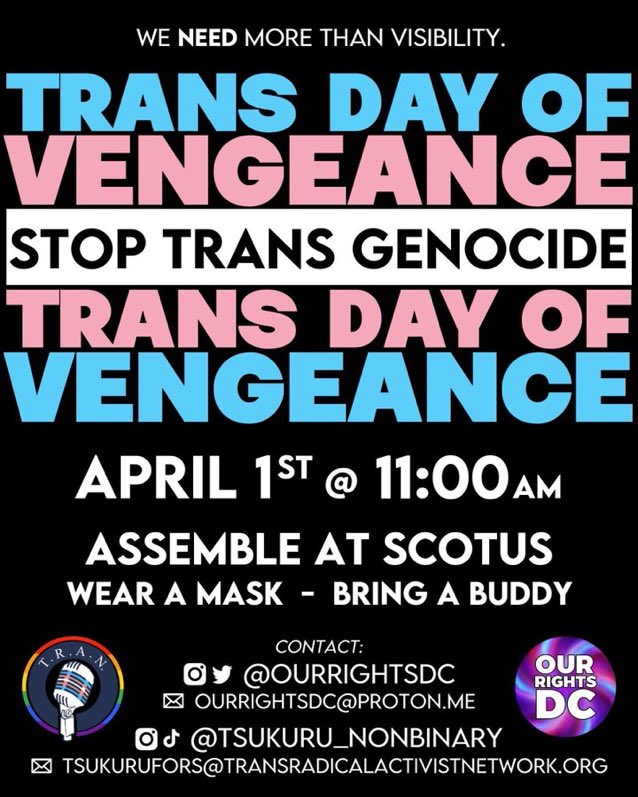 They are calling for "vengeance" to stop "trans genocide."
The Trans Radical Activist Network (TRAN) said on Twitter that "The time is now, enough is enough," and uploaded posters to TikTok that said, "We want more than visibility. Trans Day of Vengeance. Stop trans genocide. Save the date: April 1st - 11:00 AM / March 31st - TBA."

The media is constantly nannying the right about our "rhetoric" and how it must be "toned down" lest it inspire violence.
They literally never caution the left about their own extremist rhetoric -- about how white people just want to oppress blacks and even kill "black bodies," or how normal people are conducting a "trans genocide" or merely passing laws preventing trans "therapy" for children younger than 18 -- even though there are constant grisly reminders about how such racial demagoguery or trans extremism leads to murders.
CNN has constantly whined that chanting "CNN Sucks!" is rhetoric that puts poor reporters' lives in danger, but not only refuse to apply the same standard to leftwing extremist rhetoric, but routinely amplifies it and repeats it.
CNN doxxed a meme-maker for a silly meme showing Trump bodyslamming a WWE wrestler who had the CNN logo superimposed over his head!
And this -- the "Trans Day of Vengeance"?
Nothing! Not a peep!
That's because 1, they appreciate the political frenzy such rhetoric creates and 2, they literally enjoy seeing their enemies on the right murdered.
Prove me wrong, CNN.
You won't. You want this.
As JJ mentioned earlier, we now see leftwing professors literally calling for speakers they don't approve of to be murdered.


Below, transitioning this murder to its proper condition, Deactivated.

posted by Ace at
12:06 PM
|
Access Comments