« Mid-Morning Art Thread
|
Main
|
Ripley's Hero: Adam Kinzinger Was On Board of Advisors to Alleged Pro-Ukraine Group That Scammed People Out of Millions of Dollars and Is Now Under Federal Investigation »
March 27, 2023
THE MORNING RANT: Economic Nationalism and the USA's Historical Aversion to Unrestrained Free Trade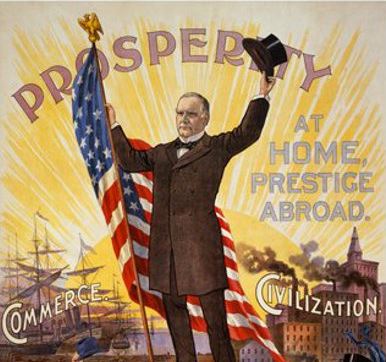 Principled Free Traders™ have often been the target of my writing, not because of my having a deep ideological hostility to free trade, but because they have used the term "free trade" as a false-flag for their globalist hostility to US sovereignty, and for their open contempt for working-class Americans.
Unlike 1990s-era free trade, which was promoted as being about reciprocal, barrier-free trade, America's 21st Century Principled Free Traders™ have advocated for unilateral surrender to foreign mercantilism. (Mercantilism is the economic theory that a country's wealth increases by having a surplus balance of trade, using protectionism as necessary to ensure the favorable trade imbalance.) Principled Free Traders™ favor unrestricted access to the US market for products made in hostile, authoritarian countries, while gladly accepting that those countries maintain tariffs and prohibitions on importing products from the US.
After doing a learn-to-code grave dance on those working class Americans who lost their middle-class lifestyle, Principled Free Traders™ argued that it was all cool, because products made by cheap foreign labor (and slaves) gave Americans more spending power.
As for me, the reality is that I've historically been more of a reciprocal free trader - what many of us called "fair trade" – than a protectionist, thus my contempt for the globalists who actively sought to harm America in the name of free trade.
But more and more I've had to rethink even my fair trade beliefs. I was clearly naïve about NAFTA, because it surprised me to learn that Canada was blocking American dairy products from their market despite the "free trade" agreement.
While the original NAFTA liberalized nearly all agricultural trade among the three countries, there were a few notable exceptions. Canada maintained tariffs on dairy goods ranging from 241% for liquid milk to 298% for butter. The trade protection is an essential element of its national program to establish fair dairy prices and manage supplies.
It took Donald Trump demanding that NAFTA be renegotiated for me to finally understand that NAFTA still allowed carve-outs to benefit other countries at the expense of the US. In other words, not free trade, nor fair trade.
Curtis Ellis had an excellent piece at American Greatness a few days ago about our country's history with foreign trade, and how protecting domestic economic production fueled America's growth and prosperity. He also documents how even such famous free market thinkers as Adam Smith ("The Father of Capitalism") was not a free trader, and certainly not a unilateral free trader who advocated surrendering to foreign mercantilism like today's Principled Free Traders™ do.
This quote really stuck out, "We taxed foreign industry, not our own."
We now have domestic statesmen and leaders who are ashamed to be Americans, and who seek to inflict harm on US manufacturing and American citizens if it will benefit those in foreign lands.
Below are a few snippets that I've blockquoted from Mr. Ellis' piece, but please click and read the whole thing. It's a little long, but it's also a "read every word of it" piece.
An American System for America Prosperity
Our founders understood that America could not be independent and strong if we relied on other nations for our manufactured goods. They understood the United States had the natural resources, the technology, the labor force, and ample customers at home to support domestic industry and be largely self-sufficient.
Washington believed the United States could manufacture as well as farm, and he instructed Treasury Secretary Alexander Hamilton to come up with a plan to develop industry on these shores.

Hamilton's plan, detailed in his 1791 Report on the Subject of Manufactures, called for tariffs that would raise revenues and protect infant American industries against predatory competition, and government procurement contracts to encourage American manufacturers.
For most of this country's history, tariffs were the main source of federal revenue. There are many valid criticisms of tariffs and the incentives they create. But we replaced that revenue source with onerous taxes on income and investments, with a whole other set of negative incentives…most importantly that government feels that earning an income is bad, and must be punished with progressive taxation.
The tax on imports raised revenue to fund the government and prevented foreign goods from smothering our own infant industries. Tariffs were the nation's primary source of revenue for its first 150 years. Consider: we taxed foreign industries, not our own.

In 1791, Treasury Secretary Alexander Hamilton delivered his Report on the Subject of Manufactures to President Washington. It laid out the plan for the federal government to nurture the growth of domestic manufacturing industries in the United States rather than allow the new nation to depend on manufactured goods from abroad.
Hamilton's report stood in contrast to "free traders" who believed America should confine itself to farming, export raw materials, and buy manufactured goods from Great Britain.
What about other great Americans through the years?
How about Thomas Jefferson, who famously wanted the US to be a nation of small farmers, leaving industrial production in Europe, where finished goods could be exported to the US. The War of 1812 changed his mind, with Britain embargoing necessities of life that were not manufactured in the US.
Jefferson explicitly renounced his earlier belief that America should be a strictly agrarian nation that depended on England "for manufactures."

He went out of his way to disabuse Benjamin Austin of that notion in 1816, writing: "To be independent for the comforts of life we must fabricate them ourselves. We must now place the manufacturer by the side of the agriculturist . . . Shall we make our own comforts, or go without them, at the will of a foreign nation? He, therefore, who is now against domestic manufacture, must be for reducing us either to dependence on that foreign nation, or to be clothed in skins, and to live like wild beasts in dens and caverns."
How about Abraham Lincoln?
Lincoln ran on a platform of "protection [tariffs], homesteads [free Western land], rivers and harbors [internal improvements], and the Pacific railroad." The industrial states of the North handed him the presidency. For building the transcontinental railroad, Lincoln insisted American steel be used even though British rails were cheaper. "When we buy manufactured goods abroad, we get the goods and the foreigner gets the money. When we buy the manufactured goods at home, we get both the goods and the money," said Abe. More honest words have never been spoken.

Lincoln's economic policy was driven by the conviction that production has primacy over consumption. Producing more enables one to consume more—that's how to raise the American standard of living. Workers who produce more earn more and spend more. Consumption would rise in tandem with production and earning. Build it, and they will come.
The favorite argument of Principled Free Traders™ is that by exporting every possible job and industry to other countries, those who are aren't left destitute can enjoy cheaper consumer goods.
President William McKinley had a very different opinion about cheap foreign goods, calling cheap "the badge of poverty."
"They say 'everything would be so cheap' if we only had free trade. Well, everything would be cheap and everybody would be cheap. I do not prize the word 'cheap'. . . It is the badge of poverty . . . when things were the cheapest, men were the poorest . . . Cheap? Why, cheap merchandise means cheap men, and cheap men mean a cheap country; and that is not the kind of Government our fathers founded. . . We want labor to be well paid, we want the products of the farm, . . . we want everything we make and produce to pay a fair compensation to the producer."
President McKinley had much more sound advice, as documented by Mr. Ellis.
McKinley believed a foreign manufacturer had "no right or claim to equality with our own. He is not amenable to our laws . . . He pays no taxes. He performs no civil duties . . . He contributes nothing to the support, the progress, and glory of the nation. Free foreign trade . . . results in giving our money, our manufactures, and our markets to other nations, to the injury of our labor, our tradespeople and our farmers."

If American industry has to pay taxes and the costs of our labor, health, and environmental laws, it only makes sense that foreign manufacturers should bear a similar burden if they want to sell on our shores. McKinley's warning from two centuries ago rings true today. Change "Europe" to "Asia" and these ring as the words of a prophet:

"This country will not and can not prosper under any system that does not recognize the difference of conditions in Europe and America. Open competition between high-paid American labor and poorly paid European labor will either drive out of existence American industry or lower American wages."
How about Teddy Roosevelt?
The man who succeeded McKinley in the White House, Teddy Roosevelt, declared, "Thank God I am not a free trader." He understood how tariffs "will equalize the cost of production here and abroad; that is, will equalize the cost of labor here and abroad."
So how about Adam Smith, the author of "Wealth of Nations" and also the man we honor as the "Father of Capitalism?" Not a free trader. Mr. Ellis provides a lengthy analysis of Smith's beliefs about trade and the importance of national sovereignty and prosperity.
In 1776, Adam Smith published The Wealth of Nations, his foundational economic treatise on the principles of the free market system. Contrary to what so many today mistakenly believe and claim, Smith did not argue for a world without nations or a world where corporate interests came before national interests. Smith wrote about increasing the wealth of nations, not the wealth of transnational corporations or the wealth of "the global economy."
Would Adam Smith approve of tariffs on foreign goods? Yes.
In The Wealth of Nations Adam Smith describes the circumstances when a nation should impose tariffs and restrict imports, when, as he wrote, it would be "advantageous to lay some burden upon foreign [imports], for the encouragement of domestic industry." Notice he explicitly says he wants to encourage domestic industry—he makes a distinction between his nation's industry and those of another nation. He is not writing about a global economy without distinction among nations.
Tariffs for the purpose of national defense? Adam Smith supported them.
First, Smith said tariffs are justified to protect industries "necessary for the defense of the country." The defense of Great Britain, for example, depends very much upon the number of its sailors and shipping.
How to respond to trade barriers that block our country's manufactured goods? This is where Principled Free Traders™ argue for surrender and capitulation. Adam Smith recommended retaliation.
"Some foreign nation [may restrain] by high duties or prohibitions the importation of some of our manufactures into their country. Revenge in this case naturally dictates retaliation, and that we should impose the like duties and prohibitions upon the importation of some or all of their manufactures into ours."
Again, read the whole thing. There's so much more, and it's all just as important.
Our founders and our greatest Presidents agreed that that the US must never be dependent on foreign countries for food, provisions, or the ability to secure our national defense. And even the Father of Capitalism stood for economic nationalism.
I'm proud to be an economic nationalist if the alternative is "free trade" that is designed to harm Americans.
[buck.throckmorton at protonmail dot com]

posted by Buck Throckmorton at
11:00 AM
|
Access Comments