« EMT 3/26/23
|
Main
|
Where Is Galileo When We Need Him? Stop The Pendulum! »
March 26, 2023
Sunday Morning Book Thread - 03-26-2023 ["Perfessor" Squirrel]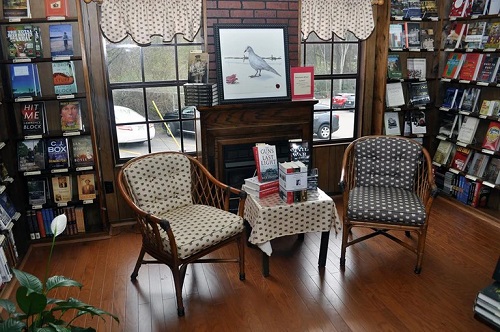 Welcome to the prestigious, internationally acclaimed, stately, and illustrious Sunday Morning Book Thread! The place where all readers are welcome, regardless of whatever guilty pleasure we feel like reading. Here is where we can discuss, argue, bicker, quibble, consider, debate, confabulate, converse, and jaw about our latest fancy in reading material, even if it's nothing more than the latest updates in the rules of baseball. As always, pants are required, especially if you are wearing these pants...
So relax, find yourself a warm kitty (or warm puppy--I won't judge) to curl up in your lap, add a scoop of cinnamon ice cream to your French toast, and dive into a new book. What are YOU reading this fine morning?
PIC NOTE
The Alabama Booksmith bookstore may be the only store in the world where every book in their inventory has been signed by the author. Those bibliophiles who are into that sort of thing should check them out! I have a few signed copies of books (Glen Cook, P.C. Hodgell, Richard A. Knaak), but I don't go looking for them on purpose. I will choose a signed copy over an unsigned copy when I see them at the bookstore, though. The price is often the same.
THE PROBLEM WITH ALIENS IN SCIENCE FICTION
A comment from grammie winger last week highlights one of the key problems with introducing aliens into your stories:
Books with aliens as characters turn me right off. To me, it seems like the author cannot move the plot along or say what he wants to say within the confines of reality, so he has to resort to aliens. I like when the author stretches within the limits, not resorting to coloring outside the lines to cover the material. Just my opinion.

Posted by: grammie winger at March 19, 2023 10:44 AM (45fpk)

grammie winger makes an interesting point. After all, we are human beings and are thus confined to writing stories about the human experience. Although we might imagine alien beings and try to create weird behaviors, cultures, biology, and so forth, we are still limited by that human lens. So far, there is little evidence that alien microbes exist, let alone highly developed technological civilizations that traverse the stars as easily as you or I might cross the street. Among the most common tropes aliens fulfill in stories are First Contact and Alien Invasion, which often overlap with each other. Until we as a species experience an *actual* alien invasion, we can only draw upon historical parallels for our stories. Most alien cultures are either an analog of an existing human culture or an amalgam of several cultures spliced together.
When it comes to visual media, most aliens tend to be of the "Rubber Forehead" variety, with various prosthetics glued onto the actors to alter their ears, forehead, chin, etc. They are all bipedal and usually speak English. So just funny-looking humans with all of the foibles of that species acted out in some way.
This problem is also true for the various "races" found in fantasy stories, as those are just various representations of human cultures with pointy ears (Elves), long beards (Dwarves), or hairy feet (Halflings).
So if aliens aren't your thing, you can almost certainly find an equivalent tale that draws upon real people and real experiences. Consider the story Way Station by Clifford Simak (see below). All of the events in the story have a parallel in the real world. An enterprising author could easily remove/rewrite the science fiction elements and probably achieve a similar emotional effect in the audience. (I would like to point out that while Simak is most famous for his science fiction stories, he also wrote dynamite western stories with NO science fiction elements at all. Just good guys doing what good guys do best in westerns...)
Literature in general is really just a mirror held up to humanity to reflect our true selves. The mirror used by science fiction and fantasy is of the "fun-house" variety, twisting, exaggerating, and distorting the reflection, but ultimately not altering the essence of the humanity within the story.
What are some of the other problems with aliens in stories?
++++++++++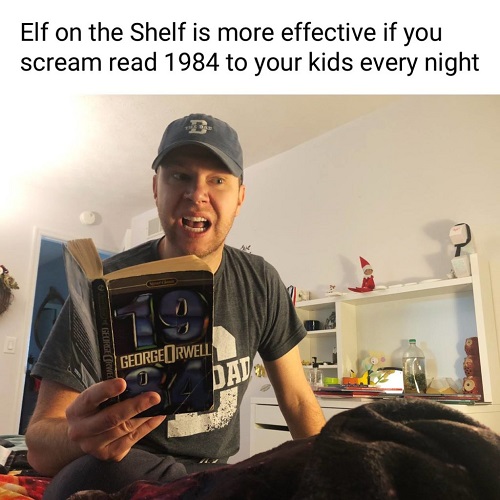 ++++++++++
BOOKS BY MORONS
I'm an AoS moron author, published by Baen Books. I have a new release coming Apr. 4th and I'd be delighted if you shared it in the Sunday book thread. It's called Escape Orbit, the sequel to my first Baen novel (Frozen Orbit). If you're interested, here's a link to an advance review from Publisher's Weekly: Escape Orbit (publishersweekly.com) and here's the Amazon link: Amazon.com: Escape Orbit (Eccentric Orbits Book 2) eBook : Chiles, Patrick: Kindle Store

Thanks for your consideration!

Best regards,

Patrick Chiles

*****
Five years ago, astronaut Jack Templeton took the spacecraft Magellan to the farthest reaches of our solar system, never to be heard from again.

Until now.

When the Magellan suddenly reappears where an undiscovered planet was suspected to be, it poses more questions than answers. How did Jack survive all this time? Can he make it back to Earth before his life support runs out? And what is the object long thought to be the elusive "Planet Nine"?

In a race against time, Jack's former crewmate Traci Keene spearheads a desperate effort to outfit a rescue mission. But she has competition. Agencies of both American and foreign governments have their own agendas, and saving rogue astronauts isn't among them.

And at the edge of all that is known, a gateway to the unknown awaits.
Comment: When I first read the blurb, I felt a sudden chill because it sounded a lot like Event Horizon. I guess we'll have to wait and see. Both this book and Patrick's previous entry in this series, Frozen Orbit, sound intriguing enough for me to buy. I'm looking forward to reading them!
++++++++++
MORON RECOMMENDATIONS
That led to a new to me series, the Brambly Hedge books written and illustrated by Jill Barklem. They are about a village of mice, circa late Victorian era, in a rural section of England. The stories are charming and would appeal to little kids as well as adults who will enjoy the playful names and situations. And the illustrations are superb. Very much with the 'feel' of Beatrix Potter but not a rip off. Part of the difference is the amount of detail Barklem includes. As an example, She mentions the mills that the mice use to make butter, cheese, and flour. Her watercolor drawings show the various wheels and belts and how they churn or grind, all the many store rooms in the tree trunk and how the mice get from one to another.

Other illustrations in the Brambly Hedge books are also detailed: many individual mice in their own outfits, lots of touches in every room portrayed, etc. Charming in their own way, I imagine a child could be kept busy for a long time by telling them to find all the mice in the picture or point to the different foods in the drawing. Even the many, many flowers mentioned and drawn are accurate for the time and place and are completely recognizable. (Something the author tried for.)

I got The Complete Brambly Hedge in hardcover and it was worth every penny. This is a shining example of having the physical book over any digital version. It needs to be held in the hand, turning pages where each new page reveals new delights.

Posted by: JTB at March 19, 2023 09:34 AM (7EjX1)

Comment: Finding quality children's literature, especially these days, can be quite a challenge. I've never heard of the Brambly Hedge series, but I am reasonably sure I would have enjoyed them when I was a child. Whenever I found a really detailed picture in a children's book, I would get lost in the details. The more detailed, the more engagement for me. I found a few of the pictures online and they are indeed gorgeous!
+++++
But, first, I want to mention that I read and reviewed Scarboy by Rip Pauley (was a featured Moron Author a couple of weeks ago).

It is a moving story, full of pain and miracles, and I am glad I kept reading it. It will especially appeal to dog lovers. I gave it four stars.

Posted by: Dash my lace wigs! at March 19, 2023 09:18 AM (OX9vb)

Comment: I always like to feature a review of a Moron Author's work when possible. Gives them a bit more exposure when recommended by other Morons. Enjoy!
+++++
I just finished Way Station, a 1963 Hugo award winning novel by Clifford D. Simak. He managed to grab my attention by the second page.

He tells an interesting story and keeps things moving. At least 3.5 out of 5 stars. Ymmv.

Posted by: GnuBreed at March 19, 2023 10:07 AM (JOtiF)

Comment: I always love Clifford Simak's writing. He likes to combine the pastoral countryside of rural Wisconsin with science fiction elements. This gives his writing a blend of the familiar with the strange. I re-read Way Station not that long ago and thoroughly enjoyed it all over again. A great introduction to classic science fiction if you are not sure where to start.
+++++
I'm also reading A History of the English Speaking Peoples Since 1900 by Andrew Roberts (now Lord Roberts of Belgravia). His take is a corrective to the fashionable notion that the British Empire and modern day America are somehow no better than the Nazis and Soviets. However, the book was published in 2005 and Roberts clearly was a big supporter of the Iraq invasion (to be fair, so was I at the time). His notion that the English-speaking democracies would conquer the Middle East and bring peace and the rule of law to Iraq like they did to Germany and Japan certainly hasn't aged well.

Posted by: Donna&&&&&&&&V at March 19, 2023 11:52 AM (HabA/)

Comment: As I pointed out last week, the British Empire had its faults. But it also served as a civilizing force wherever it went, introducing millions of people to modern infrastructure and education, things they had never had before. In the 20th century, America and Britain together served as a key bulwark against the evils of Communism and Nazism. Unfortunately, it looks like those forces may prevail in the 21st century. We shall see. As for "civilizing" the Middle East, well, you'll never be able to do that until you can confront their eighth-century ideology head on and defeat it. We refused to do that in Iraq and Afghanistan, which is why we lost.
More Moron-recommended reading material can be found HERE! (696 Moron-recommended books so far!)
+-----+-----+-----+-----+
WHAT I'VE BEEN READING THIS PAST WEEK:
The Morgaine Saga by C.J. Cherryh -- This is the omnibus edition consisting of three novels in one: Gate of Ivrel, Well of Shiuan, and Fires of Azeroth. Although the blurb on the back indicates a science fiction story, it actually reads more like a fantasy adventure story. Primitive quasi-medieval societies are caught up in a conflict they cannot begin to understand, because the levels of technology in play seem like magic to them. They can only comprehend it in terms of "sorcery." There is very much a Michael Moorcock vibe to the characters and situations in this story, as it appears humanity is quietly fading out, regressing to primitivism along the way.
Time's Tapestry Book 1 - Emperor by Stephen Baxter -- A mysterious prophecy guides a family through the turbulent conquest of Britain by the Roman Empire. Pretty decent historical fiction with a *very* thin veneer of science fiction.
That's about all I have for this week. Thank you for all of your kind words regarding the Sunday Morning Book Thread. This is a very special place. You are very special people (in all the best ways!). The kindness, generosity, and wisdom of the Moron Horde knows no bounds. Let's keep reading!
If you have any suggestions for improvement, reading recommendations, or discussion topics that you'd like to see on the Sunday Morning Book Thread, you can send them to perfessor dot squirrel at-sign gmail dot com. Your feedback is always appreciated! You can also take a virtual tour of OUR library at libib.com/u/perfessorsquirrel. Since I added sections for AoSHQ, I now consider it OUR library, rather than my own personal fiefdom...
PREVIOUS SUNDAY MORNING BOOK THREAD - 03-19-23 (NOTE: Do NOT comment on old threads!)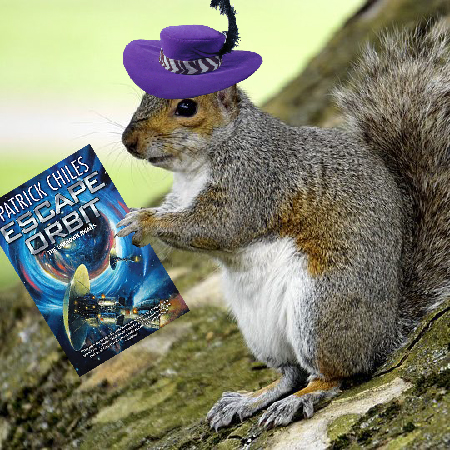 posted by Open Blogger at
09:00 AM
|
Access Comments