« Surprise! Another Democrat City Is Paying Off BLM For Injuries They Claim They Suffered When They Rioted and Forced Police to Use Tear Gas to Disperse the Mob
|
Main
|
Circus Prison Break Cafe »
March 22, 2023
About That San Jose Sharks Twitter Feed
Sorry, I kept meaning to mention this. This is very late.
One single Shark refused to wear the Sodomy Rainbow jersey for one single game, citing religious objections.
The San Jose Sharks decided that they're not a hockey club, but a university LGBTQQIA2S+ support club, and permitted the weirdo who runs their Twitter account to make some astonishing claims about how primitive tribal civilizations around the world are not patriarchal at all, and definitely didn't enforce strict gender laws nor look askance at homosexuality, but in fact are even more Raw-Dog for Strange Sexualities than the Castro Street Parade.
Here was the statement from the Sharks' goaltender:
Are you shocked? That's okay, take a moment to recover. I'm going to get a Diet Sunkist while you apply cold compresses to your heads and necks.
Okay back now.

Here was the blistering lecture about how welcome transgenders were in ancient primitive cultures from the San Jose Sharks' social media manager:
"During tonight's game, in lieu of our normal game content, we will be using this platform to offer information and facts about LGBTQIA+ topics," the tweet read. "Our hope is that this content will serve as a reminder that there are issues more important than goals, highlights and wins.

"Hockey is not for everyone until everyone is comfortable playing, working, or being a fan of this incredible game."

From there, the LGBTQIA+ information spree began. Leading off with a discussion of "third genders" in other cultures.

"Worldwide, gender diversity is seen far differently than that in the Western World or as you may know it," the Sharks tweeted. "Most of us are familiar with the male, female, and transgender labels. But in other cultures, the existence of 'the third gender' or even fourth and fifth genders is common:

"The muxe gender is a respected third gender in Zapotec cultures in Oaxaca, Mexico, that has existed for centuries. Gunaa are those who were born as men but who identify as women & are attracted to men. The Nguii are those who were born as men and are attracted to other men.
They were born as men and are attracted to men? Prepare to have your world shaken: That doesn't mean they're a third or fourth (or fifth!) gender. That just means they're gay.

By the way, that last tweet was so outrageously absurd that the San Jose Sharks' media manager actually was embarrassed enough to delete it.
Xe left the rest of the claims up, though: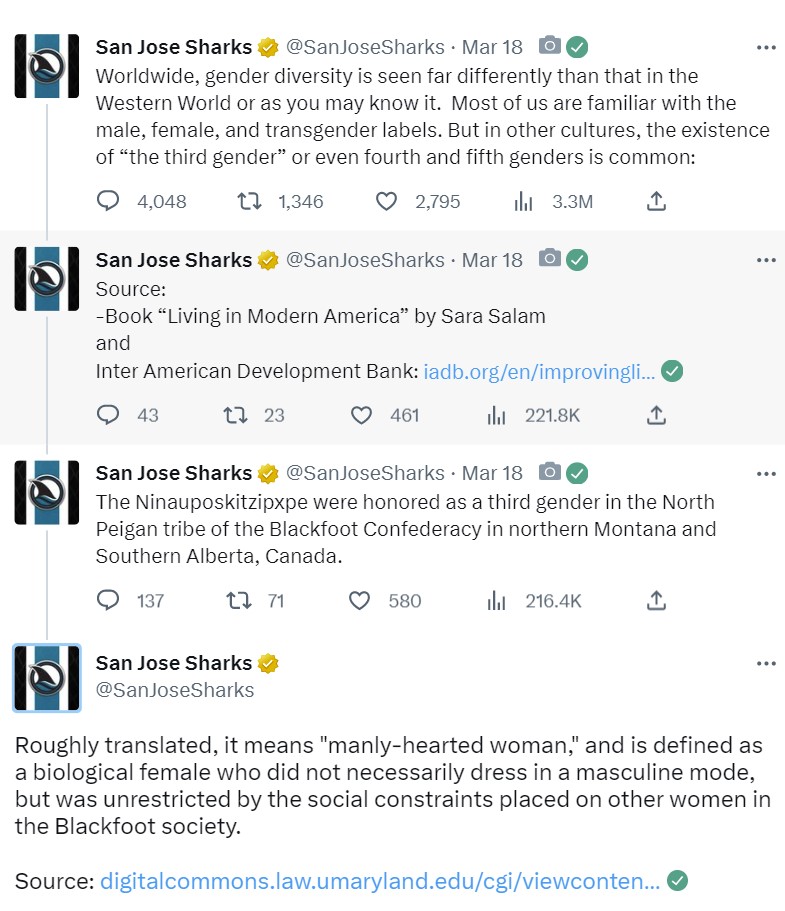 More from the San Jose Sharks' Director of Twitter Gender Theory:
"The Ninauposkitzipxpe were honored as a third gender in the North Peigan tribe of the Blackfoot Confederacy in northern Montana and Southern Alberta, Canada.

"In some Native American cultures, the umbrella term to describe a third gender is "two-spirit." In South Asia, it's hijras. In Thailand, it's kathoeys. In Ethiopia, it's ashtime. In Polynesia, it's fa'afafine. And many more.

To anyone who hadn't run away screaming after reading that, the Sharks' Twitter account thanked everyone who participated in their Pride Night.

"Thank you all for a night of celebration & reflection about our Pride Community," the team wrote on Twitter.

"We know that one organization can't make all the changes we seek to make hockey (and the world) more welcoming to all, but it's a start.

"With all of you, we can make an impact."
Although the Twitter obsessive did get some "you go girl's!" from Twitter Genderfucks who temporarily pretended to be fans of San Jose Sharks hockey (as the Twitter gender warriors routinely pretend to big fans of Star Wars, comic books, Lord of the Rings, etc., to trick very stupid and very leftwing "creatives" into making half their characters gay or trans), most people kept telling this lunatic, "This is a hockey account, you know."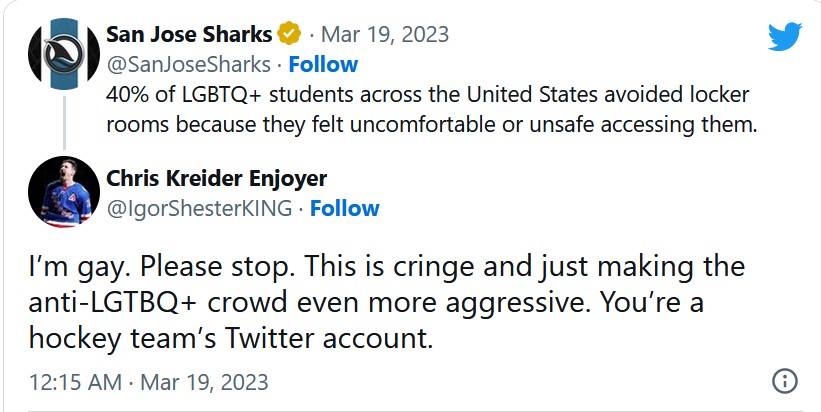 It was fairly easy for me to give up football because I was already getting tired of it, tired of being emotionally involved with the fortunes of complete strangers who cared nothing for me. I was already halfway determined to stop watching football before the NFL went woke. The NFL going woke just made a decision I was probably going to make anyway even easier to make.
And I know some people just love sports.
I just don't see how people can continue enjoying professional sports when they've all become the loudest, most obnoxious mouthpieces for social Marxism, and so plainly despise the bulk of their actual customers.
The New York Times also pushed this notion that "primitive peoples are all super-into 'genders' that were created in the decadent west five minutes ago," publishing a stupid screed by a "nonbinary rabbi" claiming that the ancient Jews -- patriarchal and against sodomy and masturbation -- were actually super-progressive about celebrating All the 57 Genders. He claims that ancient Jews noted the existence of hermaphrodites -- yes, that's a real thing, it doesn't mean boys can turn into girls or vice versa -- and that they had a word for "androgynous."
Again, David Bowie was androgynous -- he wasn't a transgender. This "nonbinary" wackdoo "rabbi" is taking words that every culture has and claiming that this indicates the ancient Jews loved transgenderism.
I wouldn't take xis "scholarship" too seriously -- he claims the first man, Adam, was transgender, too. And that when Genesis says God created them, male and female, it's not referring to Adam and Eve, but just Adam. So Adam was "male and female."
He also claims the pronoun "them" here is used like a designer pronoun to refer to just one person.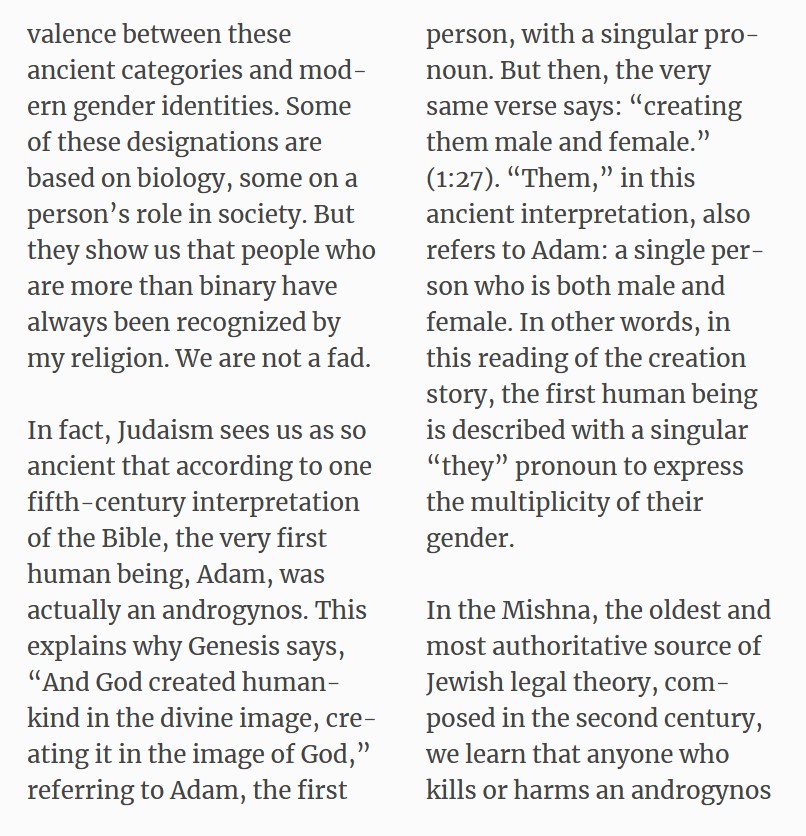 If you're interested in this flake's ideas, he's writing a book about "grieving in a time of planetary crisis."
Is there no end to the amount of absolute crankery, horseshit, lies, propaganda, delusions, and perversions of language, science, and history -- to say nothing of the wholesale rape by scalpel of children -- that we are expected to accept in order to make a tiny fraction of very aggressive mentally-ill people "feel seen"?

posted by Ace at
06:30 PM
|
Access Comments