« Daily Tech News 28 February 2023
|
Main
|
Mid-Morning Art Thread »
February 28, 2023
The Morning Report — 2/28/23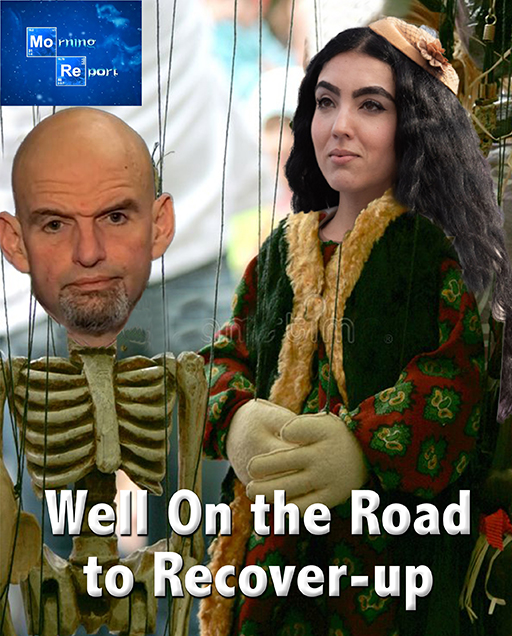 Good morning, kids. With everything going on from East Palestine to Ukraine, regardless of what the media prefers to promote, here's a little something from way on the other side of the world that no one seems to have noticed but, given who and what is running the show here, may very well be heading our way in the near future:
The US embassy in South Africa has warned citizens traveling to or living in South Africa to stockpile on food and water amidst an "ongoing energy crisis" taking place in the nation.

The warning, issued earlier this month, warns that the South African government has declared a "State of Disaster" in response to ongoing power shortages, caused by "load-shedding" or rolling blackouts, which are expected to last beyond 2023.

"Load-shedding currently results in localized power outages of up to six hours or more per day throughout the country," the US embassy stated.

"These planned electricity outages negatively affect private residences, businesses, municipal lighting, traffic lights, and hotels. Rolling blackouts can also impact water availability and safety, internet connectivity, cell phone network coverage, fuel pumps (and therefore fuel availability), residential security features, and the food supply."

Additionally, these power outages "have the potential to increase crime; for example, traffic jams when lights are out provide opportunities for smash and grab crime, and residences can be targeted when lights are out and security systems are not functioning. Further, ongoing conditions have led to an increase in protests and demonstrations, and in some cases civil unrest, throughout the country."

Additionally, US citizens are urged to maintain a 72-hours worth of food, water, and medical supplies, as well as stockpile flashlights, batteries, and basic tools.

In addition to citizens preparing, businesses in South Africa have been preparing for the potential collapse of the grid.

According to the Sunday Times, the South African Reserve Bank has stressed that a regional or national grid failure is unlikely to occur, but longer stages of load shedding have pushed businesses to prepare for the possibility.
For those wholly unaware, both South Africa and Zimbabwe, the nation formerly known as Rhodesia, were not the third world shit holes of poverty, disease and corruption that were and are the hallmark of probably every other country on the Dark Continent. In fact, Zimbabwe was once known as the breadbasket of Africa. Just about 40 years later and it's a basket case, and since the end of apartheid South Africa has been on the same trajectory and gaining fast.
By the way, with Jimmy Carter about to join the Choir Invisible, it's worth mentioning that his refusal to recognize the legitimately elected Bishop Abel Muzorewa resulted in new elections that saw nightmarish thug Robert Mugabe installed as dictator for the next 30-odd years. But I digress.

Why do I bring up the collapse of South Africa's power grid and the likely collapse of its economy and society? Because that is exactly what the Biden junta has in store for us here in the nation formerly known as the United States of America. Take away cheap – as well as relatively clean and dependable – coal, oil and natural gas and insist on unproven, erratic, wildly expensive and completely insufficient so-called "clean" energy like wind and solar power, and we will go more south than South Africa. And that's before itching to start World War 3 over Ukraine, one of the most corrupt nations on the planet in which we have zero strategic interest. Except for the Biden/Pelosi/Kerry et al "special relationship" – with Burisma.
It's a toxic mix of incompetence and ideology, not to mention just pure hatred. This is what Biden, through his puppet masters and handlers, hath wrought. And we're only two years into this crap.


Despite the media's best efforts, however, the trainwreck story forced its way into the news and then it did something nobody could ignore: The trainwreck revealed the trainwreck. For the reasons I discuss below and perhaps many others, Norfolk Southern's East Palestine disaster has spotlighted the dysfunction and cynicism of the Biden Administration.

Biden has held himself up as a savior of the working class. He tells fantastical stories about driving an 18-wheeler and his ancestors working in coal mines. But these lies have not hurt Biden because his lying seemed to come from a sincere affection for working-class Americans. But when the cameras showed Biden handing out billions in Ukraine while the residents of East Palestine cough up blood, people noticed his priorities. . .

. . . The Left's reaction to the East Palestine disaster has vividly revealed what we've already known: climate activism has quietly displaced and silenced real environmental activism. The change has been subtle and incremental. But the Democratic Party has totally shed classical rivers and streams environmentalism. . . 

. . . A big part of Biden's brand is that he, unlike Trump, would follow the advice of "the experts." The Democratic Party's brand relies on the perception of it being the party of science and expertise. Yet the credibility of public health and safety officials has taken a major beating in recent years during the gross mismanagement of the COVID pandemic. The lockdowns did more harm than good. Masks don't work. The vaccines didn't stop the spread of the virus. Indeed, a lab leak is now increasingly understood to have been the likely cause of the pandemic. . .

. . . For nearly three years, the Left has polluted every corner of our culture with a toxic social justice narrative that white Americans continue to benefit and thus share in the guilt for their unjustly acquired wealth and privilege. Just a few months ago, Biden characterized Trump supporters, which describes many of the residents suffering from the chemicals poisoning East Palestine, as "semi-facists" who "threaten our personal rights and economic security . . . They're a threat to our very democracy . . ."

. . . By implication, communities like East Palestine don't deserve more attention because of the racial guilt assigned to them by people claiming to be "antiracist." Joy Behar scolded residents of East Palestine for voting for Trump, suggesting they may have brought the calamity on themselves. "I don't know why they would ever vote for him, for somebody who, by the way, he placed someone with deep ties to the chemical industry in charge of the EPA's chemical safety office," she said on the view, adding, pointing at the camera, "That's who you voted for in that district. Donald Trump, who reduces all safety."

Prior to its train derailing in East Palestine, Northfolk Southern chimed in on the charade realizing that a little lip service might protect them from any real scrutiny. In its recent ESG report, Norfolk-Southern bragged that it's made race-based hiring a priority, reporting:

– 52% of trainee/intern hires are a racial minority and/or female 

– 60% of executive vice presidents are female 

– More than one-third of new manager hires are women 

– 56% of new manager hires are a racial minority


All of this looks terrible for the Biden [junta]. The old message management techniques aren't working. Americans have grown weary of Trump hatred as a deflection from the [junta's] incompetence and bias against flyover country. 
I had mentioned the junta's executive order requiring D-I-E to be the basis of all considerations within the federal government, but that sooner or later, it would filter into every corner of the ever-shrinking private sector. Maybe instead of Norfolk Southern's "corporate greed" as a cause or contributor to the derailment, maybe it was C-suite diversity madness that could have played a part. That said, the decision to dump and burn the chemicals despite being still contained in un-compromised tank cars still makes no sense, despite supposed reports of fires and the blast potential if they were to cook off.
This diversity cancer will destroy even the most basic of competencies across our society, with potentially lethal consequences. Not saying that's definitely what happened here, either with Norfolk Southern or the government responders. But it is going to happen if we continue to make war on merit, starting in the schools and then through every sector of our lives. Yet, that is exactly what is happening.
If God forbid one day you have to go see a doctor, given that D-E-I is running rampant through the medical schools right now, if a black guy in a white coat and stethoscope tells you to drop your shorts, bend over and say "ahh," a racist thought might just run across your mind, as you run for the door.
That is the insidiousness of "affirmative action." It's bad enough that the Left seek to eradicate the wrongdoings of the now distant past and worse, the imaginary wrongdoings of the present with this madness. They claim to be anti-racist but in point of fact, all that D-I-E does by promoting people based on minority status over competency is to make racists out of all of us, vis a vis, the hypothetical I just mentioned. Talk about irony. And it's not even racism, per se. It's just common sensical human nature once again kicking in to destroy the potential for "paradise on earth."
Insane.
ABOVE THE FOLD, BREAKING, NOTEWORTHY
OHIO DERAILMENT, TOXIC CHEMICAL DISASTER
NOTE: The opinions expressed in the links may or may not reflect my own. I include them because of their relevance to the discussion of a particular issue.
ALSO: The Morning Report is cross-posted at CutJibNewsletter.com if you want to continue the conversation all day.
Follow us on Twitter: @CutJibNews
Follow us on Instagram: @Cutjibnewsletter

posted by J.J. Sefton at
07:39 AM
|
Access Comments