« Fire of Manhood Cafe
|
Main
|
Daily Tech News 24 February 2023 »
February 23, 2023
Remember The ONT!
On this day in 1836, advance units of  President General Antonio López de Santa Anna reached San Antonio de Béxar and began a 13 day siege of the Texian defenders of the Alamo Mission. By mid-afternoon, 1500 Mexican troops were occupying Béxar. When they raised the blood red "No Quarter" flag, Col William B. Travis responded with a shot from one of the Alamo's cannons. 13 days later the Mexicans attacked, and indeed, no quarter was given. The delay, however, gave General Sam Houston time to consolidate his forces, and on April 21, at the Battle of San Jacinto, his forces slaughtered Santa Anna's. In just 18 minutes, the Texians killed, wounded or captured over 1000 Mexicans at the cost of just 11 dead patriots. The Republic of Texas was born!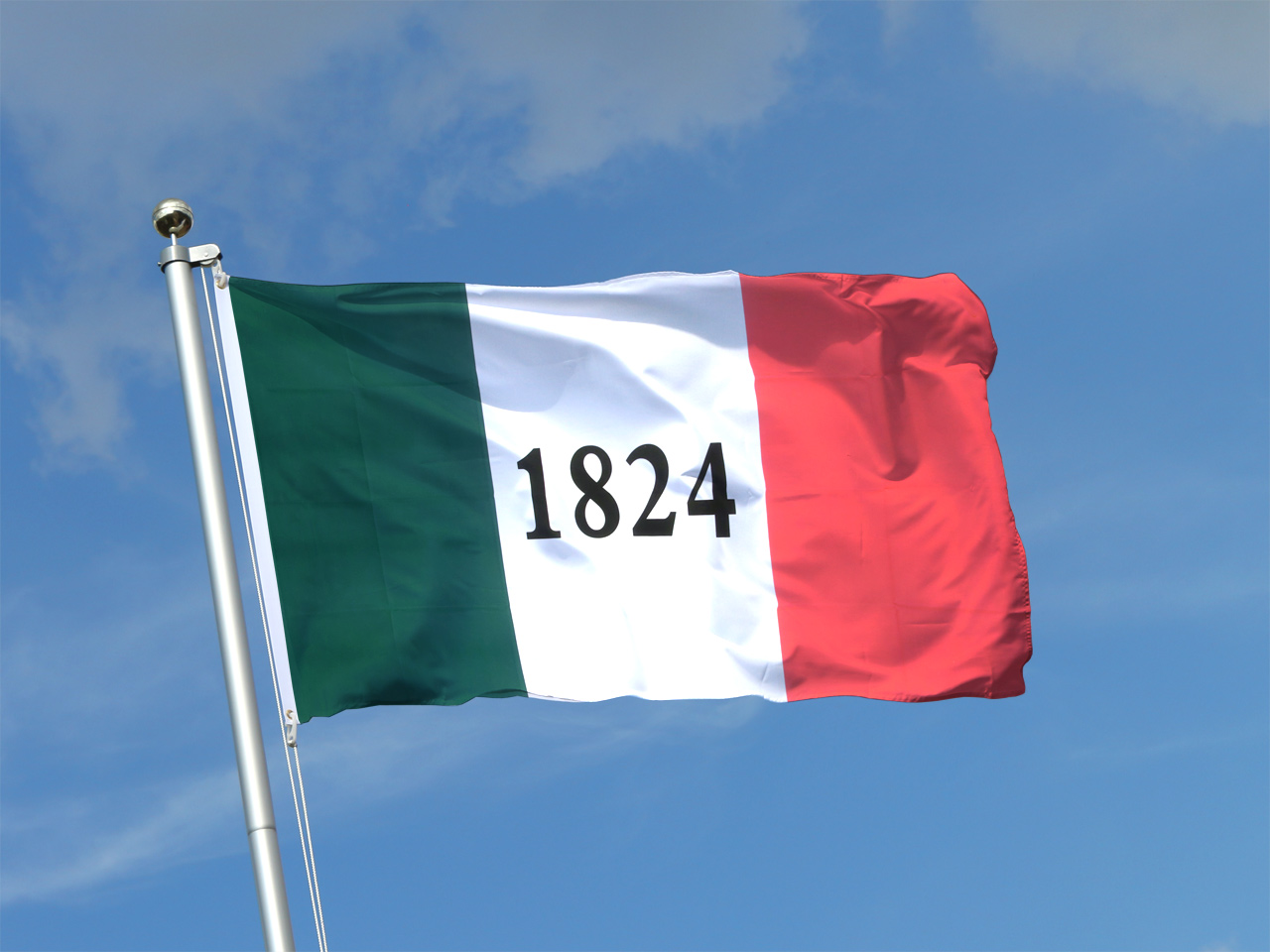 I am determined to sustain myself as long as possible & die like a soldier who never forgets what is due to his own honor & that of his country. VICTORY OR DEATH.

-William B. Travis, Letter To the People of Texas & All Americans in the World

*Curious historical note. Nobody is quite sure what flag flew over the Alamo during the siege. It's traditionally believed to be the 1824 flag above, but we have no contemporary accounts other than from 2 Mexican sources who identify the flag as the Coahuila y Tejas flag (same as above, but with two gold stars in place of the 1824), which is unlikely because most Texians wanted statehood at an absolute minimum, so that's probably not a flag they would fight under. It's likely these sources saw the 1824 flag from a distance and assumed it was the visually similar Coahuila y Tejas flag.
From The Halls Of Montezuma
OTD in 1945, US Marines raised the American flag over Mount Suribachi on Iwo Jima. AP Photagrapher Joe Rosenthal was there, and he snapped one of the most iconic war photographs of all time: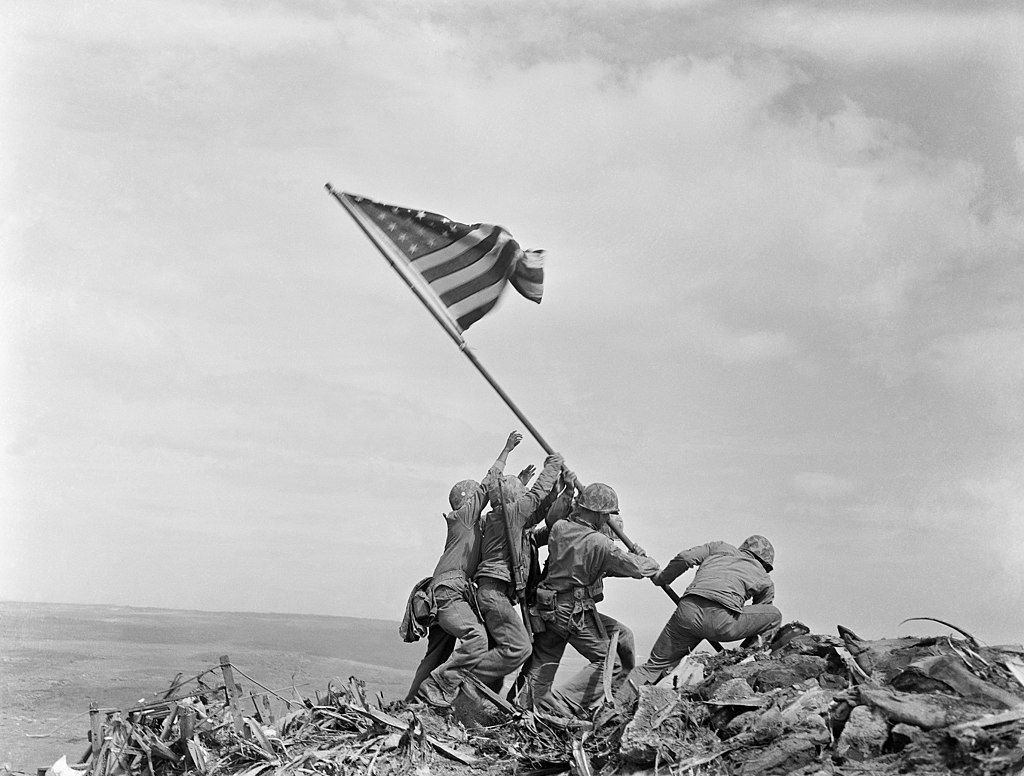 See that fella on the right, the one with his leg raised? That's Harlon Block of Weslaco, Texas. One week later, Corporal Block was killed in an assault on a Japanese position and buried on Iwo. His body was returned to Texas after the war. The defenders of the Alamo would be proud of you, Corporal. Semper Fi.

Those In Peril On (Over) The Sea

The Mysterious Disappearance of Flight 19
This is an odd one. 5 TBM Avengers disappeared off the face of the earth on a routine training flight in 1945. It happened in the Bermuda Triangle, and probably was one of the main events that really inspired the legends and myths surrounding the triangle in the American mythos.
On 5 December 1945, the flight set off from the US naval base in Fort Lauderdale, Florida, for a routine navigational training mission to include a few bombing practice runs over 'Hen and Chickens Shoals', and was the 19th of such flights that day (hence 'Flight 19' ). The planes were equipped with enough fuel to fly for 4 hours and were expected to return to the base before sunset.

However, all five planes disappeared without a trace, in a case that captivated the public and baffled experts for decades – often cited as one of the earliest examples of the legend of the Bermuda Triangle. What might have happened?

After just 30 minutes, its leader, 28-year-old Lieutenant Charles C. Taylor (an experienced pilot having carried out more than 2,000 flight hours, over 600 of them in Avengers) reported that his compass was not functioning properly, convincing him that they'd been travelling in entirely the wrong direction.

The weather was increasingly turbulent, and records show one of the pilots stated: "I don't know where we are. We must have got lost after that last turn."

Instead of flying West towards the mainland, Lt. Taylor became disoriented and ordered Flight 19 to travel further out to sea, in a northeasterly direction. Having been airborne for 4 hours and with fuel running dangerously low, Lt. Taylor could then be heard stating: "All planes close up tight, We'll have to ditch unless landfall… when the first plane drops below 10 gallons, we all go down together."

Despite the best efforts of the control tower to provide guidance, Taylor and his planes continued to fly in the wrong direction. Radio transmissions slowly fell silent, and Flight 19 eventually disappeared from radar.


Setting The Record Straight
Former President James Earl Carter Jr. has been placed into hospice care, and it is likely that the 98 year old Georgian will soon be passing on. We at the ONT wish him a peaceful passing, but seeing as the hagiography has begun in the popular press, it's important to remember that Carter never met a dictator he didn't suck up to or bloody genocide he didn't support.
Jimmy Carter & the Problem of Embracing Evil
The Cambodian Genocide was not the only one Jimmy Carter facilitated either. When the Suharto dictatorship in Indonesia carried out their genocide in East Timor, he refused to withdraw his support. Two hundred thousand died as a result by the time Carter left office, and hundreds of thousands suffered torture and non-lethal starvation.

He provided aid to President Mobutu, the dictator of Zaire (how he renamed Congo), to crush South African liberation movements. In 1977, Mobutu was almost ousted, but he stayed in power thanks to the CIA and Carter administration. As a result, he presided over a country where 20% of children died before their first birthday. He died in exile in Morocco, worth 5 billion dollars.

He financially supported the Guatemalan military junta (and asked for Israel to provide them with weapons and training as well). He then asked Congress to suspend military aid to Guatemala but ensured that Israel also filled in the need there. Training of Guatemala's death squads moved to Chile and Argentina but continued under Carter's watchful eyes. These same death squads waged a genocidal campaign against anyone who opposed their regime; their trademark was the burning alive of their victims.

The list goes on. And on. And on, and includes multiple incidences where the former President waged his own brand of diplomacy and then attempted to force it on the American government. One such incident led directly to North Korea getting nukes. Gee, where are all the usual suspects shouting "Logan Act!", I wonder?

Neat Idea
Frankly it looks like it would be a lot harder on your arm than an axe, and you're totally losing the leverage supplied by the axe handle, but it is neat looking.

Real Ecology
Cheetahs Being Reintroduced to India
The Asiatic cheetah is nearly extinct, with just a small, dangerously inbred population left in Iran, but India is introducing African cheetahs into Kuno National Park.
The animals will end up in central India's Kuno National Park, with protected areas home to rare and endangered animals. The cats are among the initial ones introduced in India under Project Cheetah, the first intercontinental translocation initiative of its kind.

The African cheetahs that will be arriving in India are not native to the region but the incoming cats belong to the genetically distinct African subspecies which diverged from its Asiatic cousin thousands of years ago.
The now-critically endangered subspecies, the Asiatic cheetah, originally roamed from the Arabian Peninsula to central India, but now only a handful of them remain in Iran and they thought to be inbred with questionable long-term viability.

This is good conservation, and I'd like to see more of it around the world. Meanwhile, in the United States:
The Interior Department's Fish and Wildlife Service is offering "ecogrief" sessions for bureaucrats who are traumatized by all the aforementioned doom-casting.

The class will give staffers a chance to define what they mean by ecological grief, space to examine their emotional reactions and tools to grapple with those feelings, the agency said in a note to employees in the Southwest region, where the training is offered.
Those who sign up will be led to "find ways to act while caring for themselves."

God help us all.

Presidents Day
This is fun.
If you click through, he talks about and shows some of the pictures he didn't chose, including Coolidge as a dog.

Tonight's ONT has been brought to you by German game shows:

posted by WeirdDave at
10:00 PM
|
Access Comments