« Report: An Unsecured Department of Defense Server Has Been Spilling Terabytes of Sensitive Military Emails and Information Out Into the Ether For Weeks
|
Main
|
Beaver Fever Cafe »
February 21, 2023
Quick Hits
NeverTrump and leftwing media (but I repeat myself) darling Larry Hogan says that opposing trans propaganda in schools is "authoritarian."
On NBC's Meet the Press Sunday, Hogan was asked about DeSantis' Parental Rights in Education bill, which attempts to counter the gender madness that is now being forced upon children at the earliest ages by forbidding teachers to engage in instruction about sexual orientation and identity in "a manner that is not age-appropriate or developmentally appropriate" for children in kindergarten and older.

...

But Larry Hogan would have us believe that this practically made Ron DeSantis into Barack Obama. "I'm a small government, common sense conservative," he claimed risibly on Sunday, "and to me, it sounds like big government and authoritarian, 'You have to agree with me, and I'll tell you what you can and can't do.' "
Historically, the government has been permitted to tell government workers -- such as schoolteachers -- how to do their government-paid jobs when instructing children, who are present by government-mandate, the costs for all this paid for by taxpayers who are forced to pay for schools by government coercion.
Larry Hogan, like many leftwing liberals, believe that private citizens can be bullied into saying what the government wants them to say, but actual government employees at actual government jobs should have complete freedom of expression while teaching children who are present due to government mandates and government-extracted tax monies.
Isn't it weird that only leftwing client groups actually have freedom of speech? And isn't it strange that supposed "Republicans" believe this, right alongside the most leftwing groups in the country?
Mayorkas: We won't secure the border if securing the border means compromising our "values." Our values being, of course, maintaining open borders.
Asked what does "secure" mean -- as in "secure borders" -- Mayorkas responded that "secure" has no meaning, but could only be understood in the context of "our values."
"What does 'secure' mean to you?" Wallace asked.

"There is not a common definition of that," Mayorkas claimed.

"If one looks at [Congress's 2006] statutory definition, the literal interpretation of the statutory language, if one person successfully evades law enforcement at the border, then we have breached the security of the border," he continued. "Our goal is to achieve operational control of the border, to do everything that we can to support our personnel with the resources, the technology, the policies, that really advance the security of the border, and do not come at the cost of the values of our country. I say that because in the prior [Donald Trump] administration, policies were promulgated or passed that did not hew to the values that we hold dear."

Donald Trump's policies actually secured the border and resulted in less illegal immigration -- this asshole is admitting that ever-increasing illegal immigration is what the Democrat Party conceives of as among "the values of our country."
In case you were unsure of that -- there's your admission.
Democrats really don't want anyone looking at the January 6th video to see what they withheld from the public: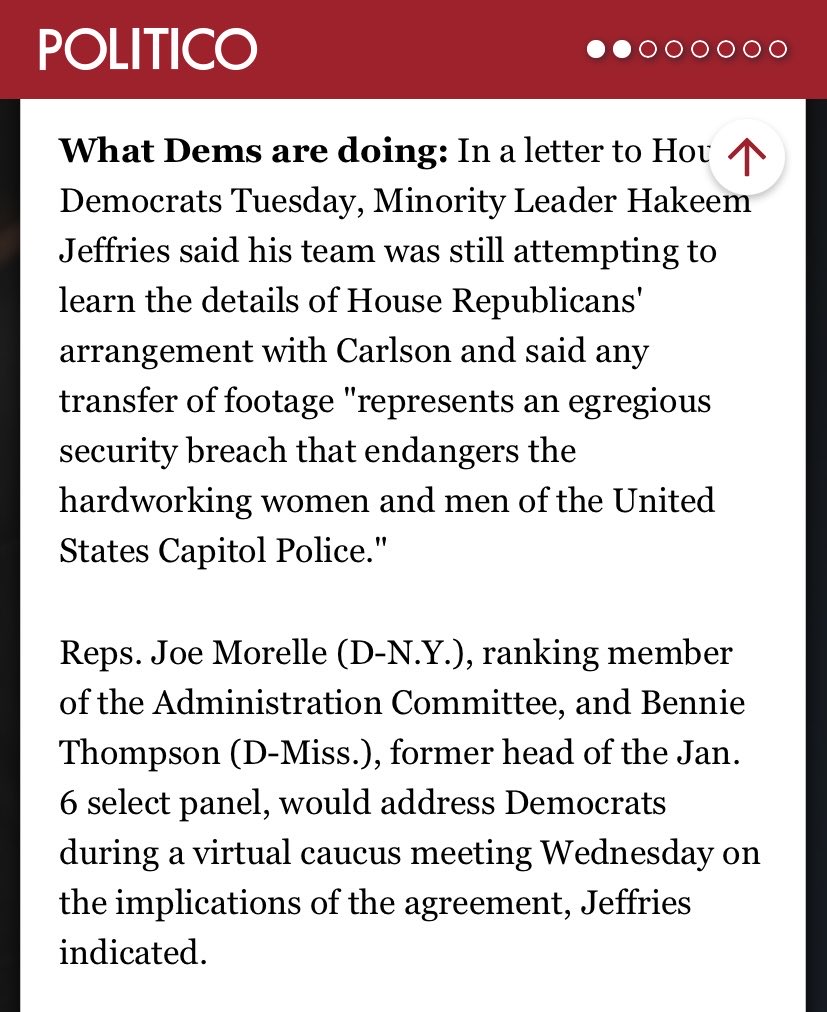 Joe Biden vowed just before the election -- when his Deep State and media allies were suppression a story about his family's corruption -- that he would never, ever stir up racial resentments just to gain a political advantage.
Joe Biden @JoeBiden

United States government official

We need a president who will unite our country and bring out our best -- not one who stokes division and brings out our worst.

October 12, 2020
And now, Beege Wellborn reports, Joe Biden tells a largely-black audience that what white people would like to see is Mo' Lynchings of black folx:
He said that at a screening of a the movie Till, about the black civil rights worker who was lynched. So the audience was mostly black. And, one could imagine, incitable.
And Biden incited them.
Sometimes stochastic terrorism is a good thing!
Well it's a good thing that blacks never commit crimes against whites or this constant incitement of racial hatred against whites could be perceived as dangerous.
Mark Hemingway @Heminator

You don't have to like Putin to understand why this critique is potent.
The former Buffalo Bills and San Diego Chargers player proposed that transgender women compete against the men to "empower women," "since you so damn bad."

"Like if I were me, Marcellus, and then tomorrow I'm Martha, I change up my gender, I'm now a woman, you know what I would try to do? Compete against the dudes. Why? Because that's empowering," he said.

Referencing the 100-meter dash world record for women, set by American runner Florence "Flo-Jo" Delorez Griffith Joyner, being 10.49 seconds, Wiley stated that the men's record is nearly a second faster, at 9.58, set by Jamaican runner Usain Bolt.

"Why use objective numbers? Because it's pretty easy to digest. I hate saying fair. It's not even right. Forget fair, it's not right," Wiley concluded.

posted by Ace at
06:40 PM
|
Access Comments