« Biden Steered $36 Billion In Taxpayer Money Into Teamster Union Pension Funds
|
Main
|
Fashion Designer Whose Luggage Went Missing, and Then Saw Sam Brinton Swanning Around In Her Hand-Made Clothes, "Lost" Her Bag In... Washington, DC
The FBI Has Been Informed of the Theft and Is Burying the Case »
February 23, 2023
Is This Something?
Skinamarink -- the name comes, apparently, from a fable I've never heard of -- is an "analog horror movie," meaning that they make the movie look and sound like it was made using analogue equipment from the 1970s. (A title card at the end of the trailer claims the film is from 1972, before correcting itself to admit it's from 2022.)
Apparently analog horror is a new trend in horror movies. People are making mini-movies on YouTube using these techniques.
The movie is intended to replicate the feeling you had as a kid waking up in the middle of the night without your parents around to comfort you and feeling that something in the house is wrong.
In the movie, two children wake to find their father is absent from the house -- I think their mother is long missing, probably dead -- and that, creepily, all the windows and doors have... disappeared.
Chris Gore reviews it here. He says he likes the movie a lot, and recommends that you don't see it.
I've read some other reviews. Here's what he means: This movie is for a very specific audience. Obviously the movie features children in danger throughout its running time, which is a no-go for many viewers right there.
The movie is all atmosphere and creepy imagery and weird sounds. A lot of times, nothing happens, and people stare at vague shadows trying to make out if something is visible in the shadows or not. That's exactly what happens in real life when you think maybe something's in the bedroom with you, but... people might not want to stare at a dark bit of film for five minutes straight looking for the boogeyman.
I've read that pacing and length are an issue. One guy said that at least 20 minutes could be cut from the one hour and forty minute runtime.
It's highly experimental. There is no story. There is no narrative. There is no explanation whatsoever about what's happening on the screen. There isn't even a "puzzle" aspect that you're supposed to figure out -- you can speculate what the movie's about, but it's just speculation, and there's no right answer. The movie maker doesn't even know what it's about.
The movie is supposed to be as senseless as a nightmare. A narrative is not senseless. A narrative, in fact, is reassuring, because if there's a logic to things, well, at least tells things still make sense.
So if you still feel like seeing it even with all those warnings, then the movie is for you. If not, not.
If you just want to dip a toe in, the guy got his start on YouTube and has a bunch of short creepy mini-movies to sample.
Less divisive, I think, will be this one, Sisu.
Obviously, I'm all about this one!
That movie has been delayed for the fifth time, this time being pushed back from its July release to November. So you know they have a lot of faith in it.
The rumor is that Marvel will unveil its first major gay superhero in this one!
Ooooh! I wonder who it could possibly be!!!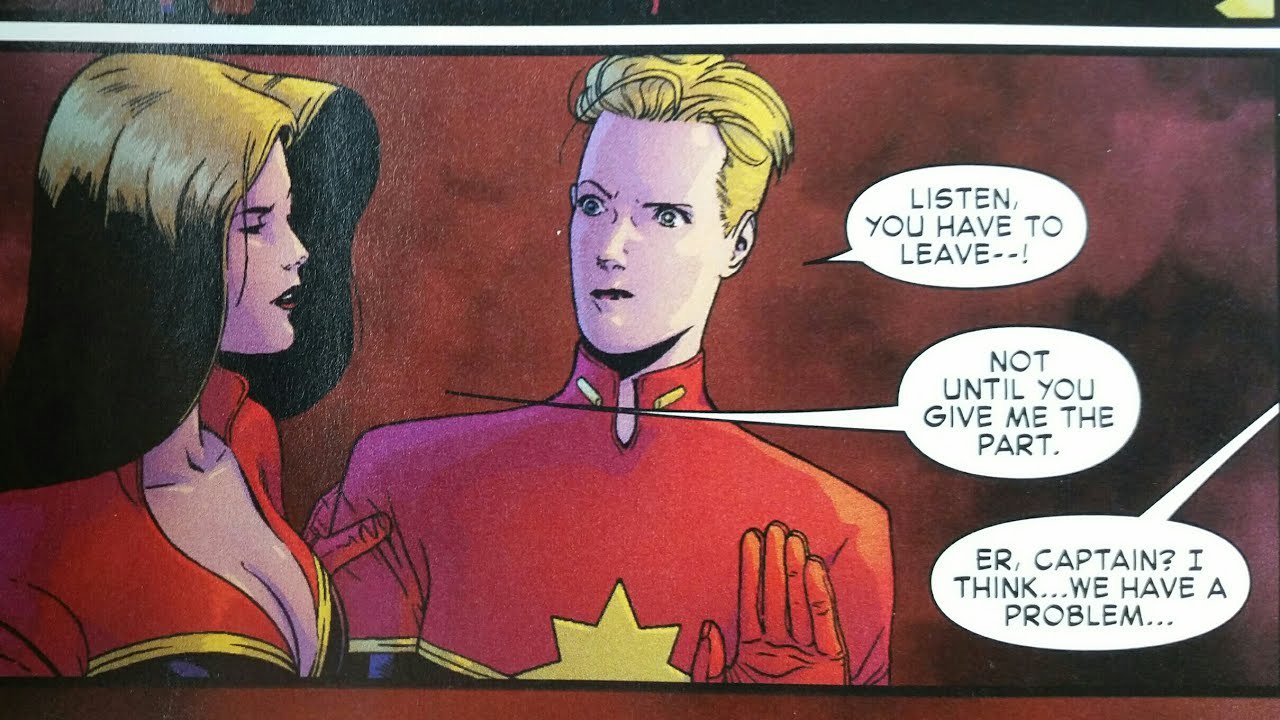 That's a real panel from a real Captain Marvel comic. Carol Danvers used to be drawn as a busty, big-assed goddess, but modern Marvel decided that they would Defeat the Male Gaze and draw her as a scrawny "pseudo-trans" character, as Zach calls it. People call this incarnation "Carl Manvers."
In this scene, the joke is that the busty hot actress is playing Carl Manvers in a movie, and ha-ha, those silly Hollywood people think that a woman people are looking at in an entertainment product should be appealing to the Male Gaze. When in reality we know she should look like Blonde McLovin.
So anyway, who could be the character who comes out as lesbian? The Pakistani Muslim teenager from the strict traditional household who is designed to appeal to the Muslim demographic? The black woman that no one has ever seen before because she was in Wandavision for fifteen minutes?
Or the character Marvel's been coding as lesbian for ten years but has not yet had the guts to "commit to the bit" yet?
I think Disney's "Not So Secret Gay Agenda" will finally make it obvious to Carol Danvers what's been obvious to everyone else since the first Obama Administration.

posted by Ace at
04:30 PM
|
Access Comments