« Mid-Morning Art Thread
|
Main
|
Biden Refuses to Tour the Wide-Open American Border But His Handlers Pack Him Up and Smuggle Him to Ukraine »
February 20, 2023
THE MORNING RANT: The Importance of Mockery as a Weapon in the Culture Wars
One of the most uncomfortable things for polite people is having to fight back when it's appropriate, without becoming a person they don't want to be. Those of us who would never mock a stranger, or someone of limited education, or someone based on his looks, must still be willing to embrace mockery as powerful weapon against those trying to impose their agenda on us.
Be it in the workplace or national politics, mockery and satire are important tools in the fight against the woke agenda. John Hayward often makes this point in his brilliant threads.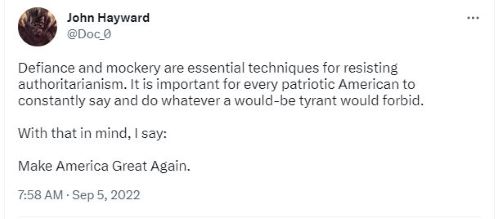 The point was also made in this piece ("The Power Mad Utopians") that both Weird Dave and I linked in recent days:
But the diverse members of the anti-progressive front can and should use every peaceful method, from voting in elections to lawfare (litigation) to peaceful protest and satire, in order to frustrate, delay, damage, cripple, divert, stall, and ultimately topple and dismantle the three lumbering juggernauts of green lunacy, equity lunacy, and gender lunacy.
Mockery and satire cause no physical harm, but they are powerful tools. The Washington Post has a corporate vendetta to cancel Libs of Tik Tok because it so effectively mocks the woke agenda, simply by exposing videos of woke evangelists to a broader audience.
Closer to home, a publicly-traded company that I work with (whose footprint is overwhelmingly in red states) recently surrendered to its ESG overlords at BlackRock and Vanguard and started to embrace the use of gender pronouns in email signatures. The employees' backlash-by-mockery has been so intense that aside from the Chief Diversity Officer, none of my contacts there have seen a single employee listing xis pronouns. The derision is so widespread that employees are comfortable openly cracking jokes about "my pronouns."
The middle managers who are often quick to embrace wokeness and stupid corporate fads – until those fads become the subject of ridicule – are already avoiding the subject of pronouns like it's radioactive. The ridicule has been effective in stopping its implementation.
When America's woke power structure tried to fetishize all Hispanics as gender-fluid with the ridiculous term Latinx, there was tremendous pushback, with widespread mockery of the term, and mockery of those white saviors trying to impose it. The trans-pronoun push is being similarly defeated in millions of small settings.
In the political sphere, any "trust the science" politician pushing climate communism or Covid authoritarianism has his scientific authority immediately refuted when presented with the fact that the politician "doesn't know the difference between a man and a woman."
I personally have more experience fighting these battles in the workplace than in the political sphere, but I have seen the power of mockery.
The "Who Moved My Cheese" business management fad of about 20 years ago was the first time I observed how workplace ridicule of a gimmick could have an effect on those in power who push this kind of nonsense.
If you were lucky enough to not have that silly book inflicted on you, I can explain it all in two sentences. "Who Moved My Cheese" is written at a childish level about mice who either adapt to change, and can find their cheese in a maze, versus mice who don't adapt to change, and can no longer find their cheese. In other words, those who adapt to change will thrive, those who don't will perish.
When I say childish level, I mean elementary school writing and storyline. By comparison, Charlotte's Web is a complex, adult-level novel.
The book was so embarrassingly juvenile that it helped define the intelligence (or more specifically, the lack thereof) of the executives gushing about it.
Even worse, as simple as the message was, the message that many managers took from that silly book was that they should reorganize and rearrange all aspects of the workplace, not because change was needed, but to defy employees to get their work done in the face of change.
Employees openly mocked "Who Moved my Cheese" by joking that maybe we should also read "Encyclopedia Brown" to learn about problem-solving, or perhaps read "The Little Engine That Could" to learn about self-confidence and persistence.
The widespread employee mockery of this and a few other idiotic management gimmicks caused a collapse in confidence of certain executives, and a loss of respect for those managers who enthusiastically embraced the fads.
*****
Since this is President's Day, I am going to rerun a story I first ran last year of how I used a President's Day office meeting to mock the CEO of a previous employer on one of his silly management gimmicks.

Happy Presidents Day! I hope your holiday brings back warm fuzzy memories of Presidents Days of yore. Do you have any favorite memories of this holiday? I actually do!

About a decade ago I was hired by a struggling start-up to provide it some adult financial oversight and assistance. Its struggles were due in large part to its CEO's megalomania. He embraced every idiotic motivational/management gimmick, believing he was changing us not only as individuals, but that in being disciples of his leadership, we would then change society. His gimmicks and craving for adulation didn't leave many hours in the day to get any actual work done.

Believing his employees were worshipful of him, he thought I was simply slow in understanding and appreciating the concepts he was using to inspire us. As for me, I was amused at how slow he was to understand I was mocking him.

It was Presidents Day and we were having our Monday morning management meeting. We had to go around the conference room table, with everyone giving a "two-word check in." With this gimmick, each person would say something banal using only two words, such as "Total commitment" or "Absolute focus."

When it came to me, I said "James Polk." The CEO looked at me with puzzlement, so I explained that today was Presidents Day, and I wanted to remember a significant US President who tends to get overlooked.

This generated a look of further puzzlement from him, to which I explained that James Polk went to war with Mexico, secured the southern border of Texas, and by adding half-a-million square miles of formerly Mexican land to the US, he completed the manifest destiny that finally extended this great country from the Atlantic to the Pacific…all in one term!

The company's President gave a nervous laugh, afraid that I was mocking our CEO (which I was), but also unsure if I was simply an idiot who didn't understand the concept of the two-word check-in, or understand that America's manifest destiny might not play well in this crowd.
*****
Songs of the Season
How about a little music for this holiday? William Henry Harrison served as President for only 31 days in 1841, so he deserves a lot of credit for the damage not done during his presidency.
Pretty much the only thing I know about his brief presidency is that his campaign slogan against Martin Van Buren was "Tippecanoe and Tyler too" which referred to Harrison's nickname "Old Tippecanoe" for his role in that 1811 battle.
For whatever reason, alt-rockers "They Might Be Giants" recorded a modern alt-rock version of Harrison's campaign song, "Tippecanoe and Tyler Too" and it's fantastic.
Oh, who has heard the great commotion, motion, motion
All the country through?
It is the ball a-rolling on
For Tippecanoe and Tyler too
And with them we'll beat little Van, Van
Van is a used up man
And with them we'll beat little Van

Sure, let 'em talk about hard cider, cider, cider
And Log Cabins too
Will only help to speed the ball
For Tippecanoe and Tyler too
And with them we'll beat Little Van, Van
Van is a used up man
And with them we'll beat Little Van

Like the rush of mighty waters, waters, waters
Onward, it will go!
And the course will bring you through
For Tippecanoe and Tyler too
And with them we'll beat Little Van, Van
Van is a used up man
And with him we'll beat Little Van

Celebrate responsibly today.
[buck.throckmorton at protonmail dot com]


posted by Buck Throckmorton at
11:00 AM
|
Access Comments