« Mid-Morning Art Thread
|
Main
|
There's a Real Environmental Catastrophe Unfolding In Ohio and the Media Is Downplaying It Or Just Not Reporting It for Some Reason »
February 13, 2023
THE MORNING RANT: Which Form of Tyranny Would You Prefer When the Left Kills Off Western Civilization?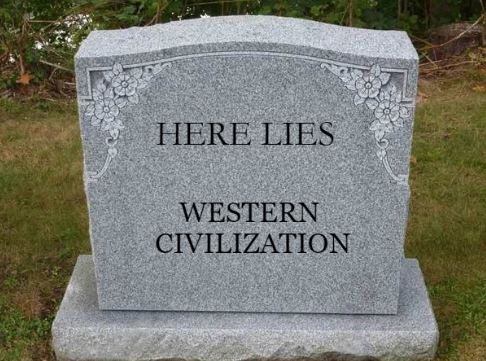 When the left has successfully killed off western civilization, which of the most likely alternatives would you prefer if you're still around?
- American / European style wokeness
- Chinese style digital surveillance state
- Muslim sharia
This is a subject for which I've started to write an essay several times, but then stopped, because I really don't have a thesis or recommendation, other than repeating how critical it is for us to aggressively fight back before all is lost and irrecoverable.
We have to save what's left of western civilization, because all the replacement options are terrifying.
The American and European left have hyped bigotry, environmental apocalypse, and a bizarre gender agenda to aggressively destroy the institutions that civilization relies on. The foundations which hold up our civilization are being lost. These include family, patriotism, individualism, traditional faith, freedom, and the western canon.
Oh, they also want to eliminate reliable, carbon-based energy production, without there being a successor to it. That is akin to the deadly civilizational reorganization that Mao and Pol Pot attempted.
In Europe, its large and growing Muslim population has been agreeable to letting the woke left destroy the old order. But the Muslim/Woke alliance is only temporary, serving to extinguish the dying remnants of Judeo-Christian civilization, which is the last impediment to the emerging European caliphate.
With a collapsing birth rate and negative population growth - except for the Muslim population – and an ongoing wave of immigration, it is inevitable that much of western Europe will eventually become Muslim-majority. It may take many decades to become a total majority, but it will not be that long until the younger population in several European countries is Muslim-majority.
Just like "woke sharia" was imposed on America by a small number of activists seizing institutions and intimidating those in positions of authority, it won't require a Muslim majority to impose sharia in Western Europe, just some very passionate zealots who defy the ruling class to stop them, at the risk of being called Islamophobic if there is any pushback.
The woke diversity brigades may eventually be surprised about what happened to their former allies' tolerance for diversity when European Muslims no longer have to tolerate the left's freak show.
After carbon "net zero" is fully implemented and Europeans and Americans have shivered in the cold long enough - and buried those who starved to death after the elimination of petroleum and modern agriculture - other forms of tyranny might be welcomed.
Whatever terrible things you might want to say about the Chinese surveillance state or Islamic sharia, they're not opposed to carbon-based energy production.
Globalists and their cartel of monopoly corporations are deeply enamored with Chinese tyranny. They look at China's ability to digitally cancel an individual's existence and remotely put him under house arrest for any wrongthink as a model to emulate.
But again, once the woke left has destroyed the family and eliminated all energy production and food production in the West, will China's modern surveillance state look better by comparison? Food and warm shelter are persuasive selling points when you no longer have access to those basic human needs.
Western civilization is imperfect because people are imperfect, but nothing else in human existence has done more to foster freedom and eliminate poverty than the civilization that the left is determined to destroy. Its destruction will lead to tyranny.
*****
The Green Project, The Quota Project, and the Androgyny Project
As I've noted before, Michael Lind's politics and mine haven't always aligned, but to his credit, he rejected the neo-conservative agenda of foreign wars and nation building while people like me were still trying to defend George W. Bush. I wrongly assumed at the time that if people were criticizing Bush, they were little different from Vietnam-era anti-military leftists. Mea culpa.
Anyhow, Mr. Lind has written a "read every word of it" article about the left's war on western civilization. His diagnosis of the left's suicidal agenda is spot on. He also rejects the notion of compromise when standing up to the fringe that has gained control of the left. Reality-based people must stop these crazy people, and above all else, it is imperative that rational, friends-of-the-working-class leftists dare to stand up against the woke agenda.
The Power Mad Utopians [Michael Lind / Tablet – 01/30/2023]
Lind breaks the woke agenda down into three utopian endeavors: the Green Project; the Quota Project; and the Androgyny Project.
Three social engineering projects define progressivism in the 2020s: the Green Project, the Quota Project, and the Androgyny Project.

The Green Project or Green New Deal is not satisfied with decarbonizing energy sources. It invokes climate change as an excuse to radically restructure the society of the U.S. and other advanced industrial democracies, from the way that food is grown to where people live to how people behave.

The Quota Project, embodied in the rote bureaucratic phrase "diversity, equity, and inclusion" (DEI), is another utopian project. Its goal is the radical restructuring of the U.S. and other Western societies on the basis of racial quotas… Like the Green Transition, the Quota Project is a radical utopian program of social reconstruction in search of an excuse that might justify it.

The Androgyny Project holds that gender identity is independent of biological sex and purely subjective… The bizarre theory that sex is entirely a social construction has led much of the trans-Atlantic establishment to attempt to impose speech codes on society.
It's not a short essay, so I am just going to excerpt a few more quotes.
Like all utopian social engineering projects, the Green Project, the Quota Project, and the Androgyny Project are at odds with reality and are doomed to fail. The Green Project is doomed by physics and engineering. Today 80% of the world's energy comes from fossil fuels.

The Androgyny Project, for its part, is bound to crash against reality in the form of human biology. I predict that in a generation the "progressive" policy of so-called "gender-affirming health care" will be viewed in hindsight the way the prescription of lobotomies and chemical castration as cures for homosexuality in the 1950s is viewed today.
An obvious question arises: If these utopian projects are so inherently at odds with reality, then how can widespread elite support for them in any given era be explained? The answer, in the case of today's progressivism as well as various ideological manias of the past, is a combination of cowardice, careerism, and cash.

Cowardice: Nobody on today's center-left wants to be ostracized for pointing out that solar and renewable energy cannot power an industrial civilization with 7 or 8 billion people.

Careerism: DEI provides lots of lucrative jobs, fellowships, HR positions, deanships, professorships, foundation grants, and corporate gifts.

Cash: Prophets are followed by profiteers
What can be done?
It took a broad-based coalition of liberals, social democrats, and populist conservatives to thwart the utopians of the Bush era center-right, and it will take an equally broad and varied coalition to block the insane social engineering projects of the Biden era center-left.
Good point, except that it is quite a stretch to call the woke agenda in the Biden era "center-left." This whole piece refutes the notion that there is anything close to "center" about the woke agenda in the Biden era.
The struggle to break the power of the new utopian progressivism must be a struggle within the Democratic Party to reclaim the power now held by a small cadre of well-organized and well-financed progressive radicals. Freed from a forced association with Green lunatics, anti-racist lunatics, and androgynist lunatics, tomorrow's center-left might focus again on sensible real-world projects like raising wages and increasing economic security for all.
All in all, this is a great piece, but I fear that it would take some crushing defeats at the polls for Democrats to get the backbone to stand up to the radical left, and unfortunately, there are certain "election fortifications" employed in blue and purple states to prevent those election losses from happening.
Lind concludes…
The diverse members of the anti-progressive front can and should use every peaceful method, from voting in elections to lawfare (litigation) to peaceful protest and satire, in order to frustrate, delay, damage, cripple, divert, stall, and ultimately topple and dismantle the three lumbering juggernauts of green lunacy, equity lunacy, and gender lunacy.
Be it Pol Pot's Cambodia, Mao's China, Castro's Cuba, or Chavez's Venezuela, when the left attempts to re-order society by force, widespread death and poverty follow. That will happen to us too if we don't stop this woke insanity.
Songs of the Season
Tomorrow is Valentine's Day! How about a beautiful love song to celebrate the day.
"The First Time Ever I saw Your Face" – Roberta Flack
The first time ever I saw your face
I thought the sun rose in your eyes
And the moon and the stars were the gifts you gave
To the dark and the endless skies, my love

And the first time ever I kissed your mouth
I felt the earth move in my hand
Like the trembling heart of a captive bird
That was there at my command, my love

And the first time ever I lay with you
I felt your heart so close to mine
And I knew our joy would fill the earth
And last 'til the end of time my love

The first time ever I saw your face
Your face, your face, your face
Have a great week.
[buck.throckmorton at protonmail dot com]


posted by Buck Throckmorton at
11:00 AM
|
Access Comments