« Mischeivous Mutts Cafe
|
Main
|
Daily Tech News 14 February 2023 »
February 13, 2023
Monday Overnight Open Thread (2/13/23)
***
The Quotes of The Day
Quote I

"It was a bit like trying to find a needle in a haystack, so I started a fair way out and followed the path of the tunnel," Peter Anderson
Quote II

"When the government is allowed to access Americans' private communications without a warrant, that opens the door to surveillance based on race, religion, politics, or other impermissible factors," Elizabeth Goitein, senior director of the Brennan Center for Justice's national security program at New York University School of Law
Quote III

"As a female, I don't think it's safe to have males in our bathroom,"
Milford High School student Lena Silva
Sad fact that the students have more common sense that the adults at the school.
***

It is refreshing when government stands back and gets the hell out of the way of business. Including the business of chicken roping.

Bill Making It Easier To Throw Axes, Rope Chickens While Drinking Alcohol In Wyoming Almost Law


A bill that would make it easier for people in Wyoming to consume alcohol while doing things like throwing axes, darts and chicken roping is only one step away from reaching Gov. Mark Gordon's desk.

Senate File 13 would make entertainment-based businesses in Wyoming eligible for a bar and grill liquor license. These businesses now have to compete with other businesses for retail liquor licenses.

"The bar and grill license in the way it is being shaped will have a very positive impact and give communities a lot more flexibility," said Cody Mayor Matt Hall, who's also the president of the Wyoming Association of Municipalities.

It also would gradually increase the number of bar and grill liquor licenses allowed in a community.
***

When will the J6 political prisoners get to have arts & crafts in the bowels of the American Gulag?

In a rare moment of beauty at Guantánamo Bay, detainees managed to win themselves the rights to own and control their own artwork.

A recent Pentagon ruling reversed a previous decision that blocked Guantánamo Bay prisoners from exhibiting paintings that were made during their imprisonment.

Now, outgoing inmates will be allowed to take a "practicable quantity of their art" with them, paintings and sketches they made during the Art from Guantánamo project. Twenty of 34 who participated are now slated for release.
Club Gitmo FTW.
***

Hug A Cow Day, and no I'm not talking about Stacey Abrahams.
India tried to rebrand Valentine's Day as 'Cow Hug Day.' Here's how it backfired

For centuries, cows have been considered sacred by India's majority Hindu population, a symbol of both the Earth and the divine.

Indeed, so revered are the animals that authorities had planned to rebrand this Valentine's Day as "Cow Hug Day", hoping the move would both boost citizens' "emotional richness" and strike a blow for local heritage over what is seen as a western cultural import.

But the move appears to have backfired and been abandoned after it prompted a flood of internet memes, cartoons and jokes by TV hosts about the importance of consent.

The declaration of February 14 as "Cow Hug Day," had come in a statement Monday from the Animal Welfare Board of India, which called cows the "backbone of Indian culture and rural economy."

The cow is "the giver of all, providing riches to humanity" due to its "nourishing nature," said the agency, a statutory body that advises India's Ministry of Fisheries, Animal Husbandry and Dairying.

It said the push to hug cows was part of an effort to promote "Vedic" or sacred Hindu traditions, which it claimed have been eroded by Western influence.

"Vedic traditions are almost on the verge of extinction due to the progress of (western) culture over time," the statement said. "The dazzle of western civilization has made our physical culture and heritage almost forgotten."

But within a week of the announcement – after days of mockery and ridicule online – the idea appears to have been dropped.
***
***

Do you have travel plans? Be careful if you are planning on spending some time in Fairbanks, AK.

In Fairbanks, Alaska, it's illegal to operate or use loud instruments between 11 p.m. and 7 a.m. This includes "a pile driver, pneumatic hammer, bulldozer, road grader, loader, power shovel, derrick, backhoe, power saw, manual hammer, motorcycle, snow machine or other instrument, appliance or vehicle which generates loud sounds or noise, after having been informed by another that such operation or use is disturbing the peace and privacy of others."
***

My goodness what a self-centered little diva bitch.

German ballet director 'smeared dog faeces on critic's face' after bad review

Marco Goecke allegedly confronted Wiebke Hüster at Hanover State Opera, furious at her verdict on a previous show

The director of a leading German ballet company has been suspended from his post and is being investigated by police after allegedly smearing a critic's face with his dog's excrement at the premiere of his new show after she described one of his productions as "boring" and "disjointed".

Marco Goecke, the head of Hanover State Opera's ballet company, has also been barred from the opera house, a spokesperson confirmed on Monday afternoon, after he confronted Wiebke Hüster, the ballet critic of Frankfurter Allgemeine Zeitung (FAZ), in the interval of his latest show on Sunday night.

He attacked her verbally before producing a bag of dog faeces from his pocket and rubbing the contents in her face, the FAZ and the critic said.

The newspaper said in a statement that Goecke had expressed his fury over Hüster's review, published in the FAZ on Saturday, of his production In the Dutch Mountain with the Nederlands Dans Theater in The Hague.
***
THE PLAN: By this time in 2025, most remaining humans will be bug-eating transgenders connected to a transhumanist super computer

(Natural News) What will the world look like two years from now? The answer is a whole lot less human.

Part of the plan is to convert everyone's dinner plates into piles of bugs and "plant-based" lab creations rather than the meat and eggs humanity has been consuming for millennia. Everyone's bodies will also be converted to transgender hybrids and connected to a transhumanist super computer.
***

If Nettie's House of Spaghetti in Tinton Falls, New Jersey, thinks they can make a profit discriminating against children, so be it.

An Italian restaurant in New Jersey has courted controversy after announcing a plan to ban children. Some on social media called it a "fantastic idea," but others have accused staff of being "child haters."

Nettie's House of Spaghetti in Tinton Falls, New Jersey, said on Thursday that it "will no longer allow children under 10 to dine in the restaurant" from March 8.

In posts on Facebook and Instagram stated: "We love kids. We really, truly, do. But lately, it's been extremely challenging to accommodate children at Nettie's. Between noise levels, lack of space for high chairs, cleaning up crazy messes, and the liability of kids running around the restaurant, we have decided that it's time to take control of the situation."
***
The ONT Musical Interlude & the Wash-N-Wear Emporium
Born on this day: 13 Feb 1950
English singer-songwriter, record producer Peter Gabriel, with Genesis who had the 1974 UK No.21 single 'I Know What I Like In Your Wardrobe'. Gabriel left Genesis in 1975 to launch his solo career and had the 1986 US No.1 & UK No.4 single 'Sledgehammer' from the 1986 UK No.1 & US No.2 album So. Gabriel has been a champion of world music for much of his career. He co-founded the WOMAD festival in 1982. via thisdayinmusic.com
&&&&&
Born this day: 13 Feb 1920
Boudleaux Bryant, songwriter with his wife Felice. They wrote The Everly Brothers hits, 'Bye Bye Love', 'All I Have To Do Is Dream' and 'Wake Up Little Susie' as well as 'Raining In My Heart', which was a hit for Buddy Holly. Bryant died on June 25th 1987. via thisdayinmusic.com
***

I'm not certain why this individual thought he was going to win. Genius Award Winner.

A man was shot in the chest Saturday night at a San Antonio, Texas, Twin Peaks restaurant after allegedly tasering an officer who had been asked to remove him from the premises.

The man was allegedly part of a disturbance in the restaurant just before midnight Saturday, KENS 5 reported. An off-duty Somerset police officer, who works security for the restaurant, was asked to remove the suspect from the establishment.
***

My goodness, that is a tremendous amount of craft time. Tonight's Feel Good Story of The Day.


Many employees of school systems leave behind important memories with their students, but for bus driver Patty Reitz, she principally leaves behind a memory of friendship, and warm ears.

Known as Miss Patty, the Clarence Central School District bus driver has crocheted 7,083 hats over three decades of service for the students and the school.

Her career included years working in the elementary school's cafeteria, but she began crocheting in 2005 to pass the time while caring for her mother while she was in the hospital.
***
Tonight's ONT has been brought to you by Clever Signmakers.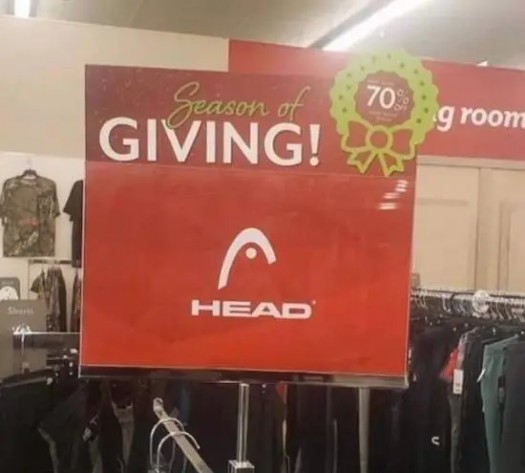 Notice: Posted with permission by the Ace Media Empire & AceCorp, LLC. The ONT proudly manufactured in the USA under watchful eagle eye of Dewey, Cheatem & Howe, S.C.

posted by Misanthropic Humanitarian at
09:57 PM
|
Access Comments