« Former Counselor at Washington University Transgender Center at St. Louis Hospital: We Are Running a Ghoulish Experiment on Young Children, and The Data from This Experiment -- That We Are Damaging Them Forever -- Is Also Being Ignored
|
Main
|
Quick Hits »
February 09, 2023
FBI Turns Its Harassment and Surveillance Efforts Against a New Internal Enemy: Conservative Catholics
Pretty much anyone opposed to transgender "therapy" for children or CRT in schools is officially a terrorist, according to the FBI.

The FBI's Richmond field office released an internal memo last month warning against "radical traditionalist Catholic ideology," and claiming it "almost certainly presents new mitigation opportunities," according to a document shared by an FBI whistleblower on Wednesday.

Kyle Seraphin, who was a special agent at the bureau for six years before he was indefinitely suspended without pay in June 2022, published the document, "Interest of Racially or Ethnically Motivated Violent Extremists in Radical Traditionalist Catholic Ideology Almost Certainly Presents New Mitigation Opportunities," on UncoverDC.com.

"In making this assessment, FBI Richmond relied on the key assumption that [racially or ethnically motivated extremists] will continue to find [radical-traditionalist Catholic or RTC] ideology attractive and will continue to attempt to connect with RTC adherents, both virtually via social media and in-person at places of worship," the document from January 23 states.

It adds that "RTCs are typically categorized by the rejection of the Second Vatican Council (Vatican II) as a valid church council; disdain for most of the popes elected since Vatican II, particularly Pope Francis and Pope John Paul II; and frequent adherence to anti-Semitic, anti-immigrant, anti-LGBTQ, and white supremacist ideology. Radical-traditionalist Catholics compose a small minority of overall Roman Catholic adherents and are separate and distinct from 'traditionalist Catholics' who prefer the Traditional Latin Mass and pre-Vatican II teachings and traditions, without the more extremist ideological beliefs and violent rhetoric."
Put out a warrant for Mel Gibson -- he's from a family that rejects Vatican II.
National Review has reached out to the FBI National Press Office and the FBI field office in Richmond for comment.

The report relied upon information from the Southern Poverty Law Center, a legal-advocacy organization that has come under fire for including conservative nonprofits like the Alliance Defending Freedom and the American College of Pediatricians on its list of "hate groups" alongside groups like the Ku Klux Klan and the Nation of Islam.

The document notes the SPLC has identified nine "RTC hate groups" operating in the U.S. as of 2021.

"We got briefings that SPLC was not legitimate when I was at Quantico," Seraphin told the Daily Signal.
Well things have changed, haven't they?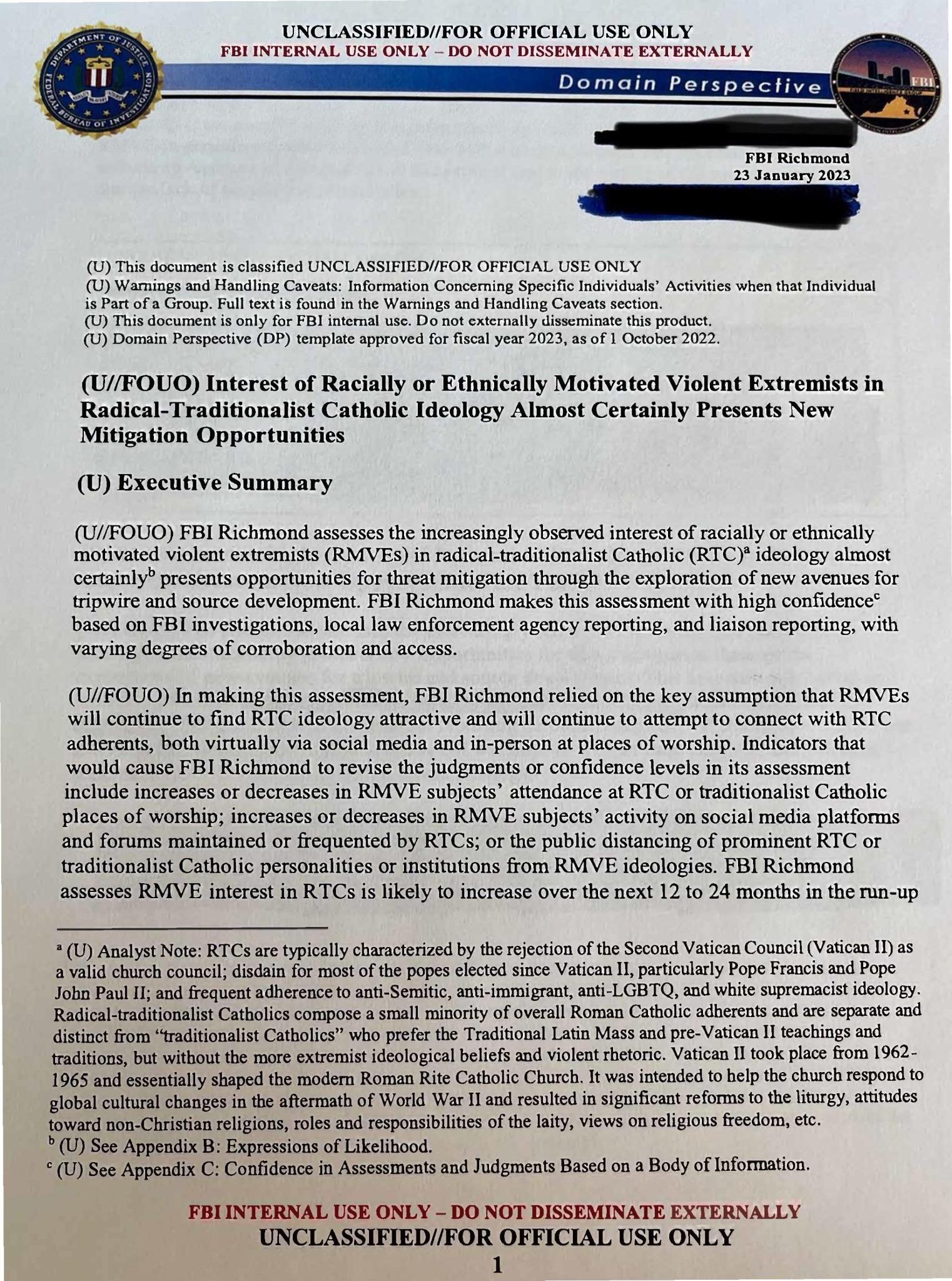 A former FBI agent broke down in tears at today's congressional hearings on the weaponization of the FBI, saying that yes, the FBI is now a political weapon of hte left.
Video at the link.
Former FBI Special Agent Nicole Parker broke down in tears Thursday while testifying during a congressional hearing.

Parker said during the Select Subcommittee on the Weaponization of the Federal Government's inaugural hearing that she left her job at a hedge fund after 9/11 to serve her country, working as an FBI Special Agent from 2011-2022.

"I considered it a very sacred responsibility and was honored to be trusted to protect and serve the American people," Parker said, recounting how she joined a Miami field office....

"It was emotionally jarring, but I believed I was making an impactful difference. And every day I woke up and embraced being a Special FBI agent until things changed. Over the course of my 12+ years, the FBI's trajectory has transformed. On paper, the bureau's mission has remained the same but its priorities and governing principles shifted dramatically. The FBI became politically weaponized from the top in Washington and trickling down to the field offices."

Parker said it seems as though there are two separate FBI's, one of which is tainted with political bias and has destroyed the credibility of the agency. Parker added that there has been a "lowering of the eligibility requirements" for new recruits, which has negatively impacted the agency.
You don't say?
The Deep State's determination to hire every "Gender Nonconforming" #Woke identity-politics-obsessive to hunt down Conservative Wrongthinkers is now working exactly as planned.

posted by Ace at
05:35 PM
|
Access Comments