« Mid-Morning Art Thread
|
Main
|
7.8 Earthquake Levels Apartment Buildings in Turkey; 2,300 Reported Dead so Far in Turkey and Syria »
February 06, 2023
THE MORNING RANT: Throckmorton's Razor, Minuteman's Corollary, and the Chinese Balloon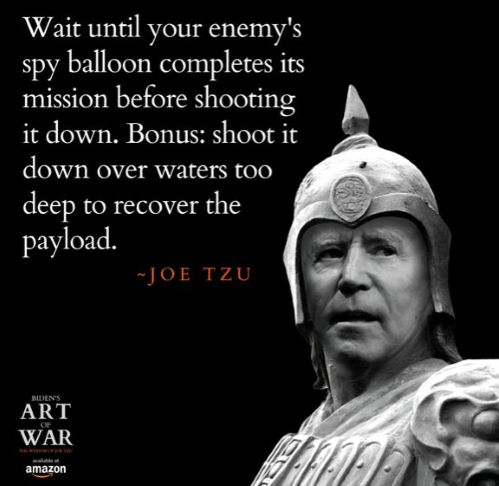 The big story over the past few days has been the Chinese reconnaissance balloon that President Biden (or his handlers) allowed to fly over the length of the continental US.
I have no idea what the true circumstances are regarding the balloon's purpose, or its path, or why it wasn't shot down earlier, or about the recovery of its debris. But I do know that there is no use believing a single word told to me by the Biden administration, or by any governmental authority.
We have a President who is likely compromised by China, and our nation's highest ranking military officer (General Mark Milley) has previously declared that he is willing to betray our country by advising the Communist Chinese government in advance of any military attacks by the US on Chinese assets.
We also have a dishonest media, and our tech overlords are more loyal to China than to the United States, having repeatedly shown that they will gladly suppress the truth in service to the globalist agenda that is hostile to US freedom and sovereignty.
In other words, I pretty much assume that I am being lied to about everything.
Which is a good segue to Throckmorton's Razor and Minuteman's Corollary.
In a recent post about the climate hysteria I made the point that, "With so much false data having been published by NOAA, NASA, and professional climatistas, there is no reason to trust any climate data they produce. I fear that it's deleterious to our battle against the climate communists to give their work any credence…"
Commenter "Minuteman" offered up this interesting summation.

Nice. However, if I were to concisely word as a razor the point I was trying to make, it might be:
Throckmorton's Razor: "Assume that any authority which has previously provided false data is always acting dishonestly."
But Minuteman has added an excellent corollary. Whereas I was trying to make the point that we shouldn't have to disprove the climate data of organizations such as NASA because they have already shown they're not trustworthy, Minuteman provides a reminder that we shouldn't ever use those discredited "experts" in support of our positions either.
Be it media "fact checkers," or the CDC, or the intelligence community, or the World Health Organization, or NOAA, etc, those entities are too discredited to provide any validity to an argument, even if by chance they occasionally support my own argument.
What Minuteman captures is that we on the right are often willing to use data produced by these same experts if it supports our position, but we shouldn't. Thus…
Minuteman's Corollary: "Discount everything a liar says in his argument, even if it may support your position."
Thank you, Minuteman!
And while we're talking about razors, here are some of the most famous ones:
Hanlon's Razor: "Never attribute to malice that which is adequately explained by stupidity."
Occam's Razor: "The correct explanation is usually the one made with the fewest assumptions."
Hitchen's Razor: "What can be asserted without evidence can also be dismissed without evidence."
*****
Songs of the Season
Almost obligatory today. Here is the 5th Dimension singing (well, lip syncing) Jimmy Webb's "Up, Up and Away (In My Beautiful Balloon)"

[buck.throckmorton at protonmail dot com]


posted by Buck Throckmorton at
11:00 AM
|
Access Comments