« Gun Thread: First February Edition!
|
Main
|
Daily Tech News 6 February 2023 »
February 05, 2023
Sunday Overnight Open Thread (2/5/23)
***
The Quotes of The Day
Quote I

'Our newest rescues desperately need your support. Even after all that they've been through, the cats are incredibly sweet and just want to be loved.' SPCA spokesperson
Quote II

"The only folks more upset than our guests is our staff and me," Steve Wright, resort general manager
Quote III

"Ignorance of economic principles blinds our governing class to the evils of extravagance and undue public burdens, increasing the cost of living to rich and poor alike." Thomas Mellon (1813 - 1908), Pittsburgh banker
***
The Comments of The Week




***

Biden is a liar. And claims Trump had Chinese Balloons spying under his presidency. I believe Trump and I will tell you why.
Had a Chinese balloon flown over the states someone would have leaked it. And the press would have had a field day.

Breaking: Trump Issues Blistering Response After Biden Officials Claim Spy Balloons Happened Under His Watch
***

Well so much for that vacation.

Three hotels in the coastal area of ​​Tulum were evicted Wednesday morning, apparently due to a dispute between the properties and the company Santa María S. de R. L.

Workers and even guests had to leave the hotels when agents of the Quintana Roo Prosecutor's Office and the police began the eviction pursuant to orders of two civil courts based in the municipality of Solidaridad.

The affected hotels were Orchid Beach House, Tatich Tulum and Kuuxum. Although agents of the Prosecutor's Office also arrived at the hotel Coco Unlimited, the eviction there was suspended. According to the newspaper Milenio, this was the only lodging center in which actuaries and owners reached an agreement for guests and workers to return to the place as well as hotel furniture that had already been evicted.
***

Keep the status quo or choose the devil you don't know?

A Cog in the Gates Machine

Some West Virginia legislators wonder whether a Bill Gates–backed battery plant is worth the cultural cost.

Abattle is shaping up over a proposed battery plant in Weirton, West Virginia. And it's just the sort of fight that needs to happen.

A startup company called Form Energy is trying to open an iron-air battery plant in the state's northern town. The West Virginia Economic Development Authority (EDA) voted to allocate $75 million to the project in late December, and Governor Jim Justice is working with the legislature to secure an additional $215 million of state funds, which he told West Virginia Metro News is "needed to finalize our agreement."


But some legislators are working against the governor's wishes.

Delegate Pat McGeehan, whose district neighbors the site of the proposed project, told The American Conservative that "Form Energy is a corporate enterprise that essentially just exists on paper right now. They have a website, but that's about it." The company's lack of credentials is not all that concerns the legislator, though.
***

Legally, you didn't have to bring the child into the world. But since you did, why raise him or her as a vegan?

STORY AT-A-GLANCE

Children eating vegan diets faced an increased risk of nutritional deficiencies and lower bone mineral content (BMC), and were shorter by about 3.15 centimeters (1.2 inches) than omnivores

Concerning nutrient deficiencies were also found in the vegan children fed a nutritionist-planned diet

Nutrient deficiencies in vegan children included vitamin A insufficiency and "markedly low" levels of total, HDL and LDL cholesterol, essential amino acids and the omega-3 fat DHA

One of the pitfalls of a vegan (or vegetarian) diet is that many people end up relying on ultraprocessed foods such soy infant formula, soy milk or fake meat products

In most cases, infants and children do best with whole, animal foods in their diet to meet their complex nutritional needs
***

Here is just one of the problems with the US Tax code. Tesla bumps up Model Y price after EV tax credit adjustment

Tesla raised the price of its Model Y electric vehicle (EV) just hours after the US Treasury Department adjusted its EV tax credit rules, as first reported by Bloomberg. While the Tesla Model Y Long Range now costs $1,500 more at $54,990, the Model Y Performance went up by $1,000 to $57,990, excluding shipping fees.

On Friday, the Treasury Department updated the way it classifies vehicles that qualify for its $7,500 EV tax credit as part of the Inflation Reduction Act (IRA). The change should allow more vehicles — including the Model Y — to qualify for the credit, as it no longer puts certain SUV crossovers in the same category as sedans.
***

Slowly but surely, little by little union members are seeing the light.


Union Membership Reaches New Low, Big Labor To Blame
COMMENTARY

During last year's rail industry fiasco, liberal reporters' jaws dropped when I sided with workers and "Scranton Joe" sided with Wall Street. "I definitely didn't have Marco Rubio being more pro-worker than Joe Biden on my 2022 bingo card," tweeted one account. While Democrats becoming the party of the rich and powerful is certainly news, so too is the fact that railway union bosses sold out their members. As I said at the time: "It reveals the out-of-date and out-of-touch nature of our current collective bargaining system."

New Bureau of Labor statistics make that clear. In 2022 the share of U.S. union membership reached a record low. That happened despite the idea of organized labor being more popular than it has ever been since the 1960s, according to Gallup. No doubt this mismatch is partially the result of anti-union action by Amazon and other companies that have no respect for their workers' dignity. But a trend that's continued largely unbroken for seven decades can't be chalked up to current economic conditions. Rather, it reflects the failures of union leadership and the brokenness of a system that hasn't been revised since the Great Depression.
***
When life hands you inflation, you do what you need to do.

DUMPSTER DINNERS: Brits now seeking out EXPIRED food to consume as they cope with meteoric rise in food prices

The cost of food continues to rise in the UK, and the country's food retailers have warned that price inflation will continue into the foreseeable future. The latest figures show grocery prices are now increasing at their fastest rate on record.

Figures provided by retail analyst Kantar found that grocery price inflation in the country reached a new record high of 16.7% in the four weeks that ended on January 22. This amounts to a nearly £800 pound increase on a typical yearly shopping bill. This is a notable increase from the 14.4% recorded in December and the highest level since figures were first tracked in 2008.

Some categories of food that have noted particularly sharp rises recently include eggs, milk and dog food. However, fruit, vegetables, sugar and alcohol have also noticed steep rises in the past month. According to Kantar, the price of basics such as cheese, milk,
***
The ONT Musical Interlude & Tropical Breeze Interlude
Born on this day: 5 Feb 1944
American songwriter, record producer and musician Al Kooper, known for organizing Blood, Sweat & Tears (although he did not stay with the group long enough to share its popularity). His first professional work was as a 14-year-old guitarist in the The Royal Teens, who in 1958 had the US No.3 single 'Shorts Shorts'. As a member of Blood Sweat & Tears, he had the 1969 US No.12 & UK No.35 single 'You've Made Me So Very Happy'. Kooper played organ on Bob Dylan's 'Like A Rolling Stone' as well as playing on hundreds of records, including ones by the Rolling Stones, B. B. King, The Who, The Jimi Hendrix Experience, Alice Cooper, and Cream. via thisdayinmusic.com
&&&
Born on this day: 5 Feb 1935
Scottish rock and blues musician Alex Harvey with the Sensational Alex Harvey Band who had the 1975 UK No.7 single 'Delilah, and the 1975 album 'Next'. During the 60s he was the leader of Alex Harvey's Big Soul Band. Harvey died of heart failure on February 4th 1982. via thisdayinmusic.com
***

A couple of Genius Awards this evening..............
I wonder if the Captain went down with his ship. Genius Award Winner.

PANAMA CITY, Fla. (WMBB) — A small boat got wedged under the 4th street bridge Thursday.

Florida Fish and Wildlife Commission officials said a boat docked in the Massalina Bayou was dragging anchor before getting stuck underneath the bridge.
&&&

And if you thought robbing a clothing store in Connecticut was going to be easy you might be a Genius Award Winner.

EAST HARTFORD, CT (WFSB) - A clothing store clerk was shot in the lower back and a suspect was killed during a robbery attempt in East Hartford Thursday night, according to police.

The suspect who was killed was identified as 26-year-old Jashar Haslam of Hartford.

Police responded to the Humble & Paid Co. on Main Street near Route 44 around 10:30 p.m.

Two men in black ski masks entered the store.
***
Doing the right thing. Tonight's Feel Good Story of The Day.

$40K Raised For Woman Who Returned A Bag Of $15,000 In Cash

More than $40,000 has been raised to help a Michigan woman after she returned a bag full of cash.
***
Weekly commenter stats for week of 2-5-2023

Top 10 commenters:
1 [802 comments] 'Sponge - F*ck Joe Biden' [112.53 posts/day]
2 [547 comments] 'TheJamesMadison, watching some Best Pictures'
3 [466 comments] 'Aetius451AD Work Laptop'
4 [421 comments] 'SMH at what's coming'
5 [419 comments] 'Joe Mannix (Not a cop!)'
6 [408 comments] 'Aetius451AD'
7 [328 comments] 'andycanuck (Vwz3I)'
8 [327 comments] 'Skip '
9 [297 comments] 'Christopher R Taylor'
10 [294 comments] 'rhennigantx'
Top 10 sockpuppeteers:
1 [240 names] 'Ciampino - nothing escapes Chief Inspector Clouseau' [33.67 unique names/day]
2 [162 names] 'Rated R for nudity, graphic violence, frightening images, sexual content, rape and smoking'
3 [77 names] 'Count de Monet'
4 [61 names] 'Beloved Uncle Miklos, 101 year old custodian'
5 [51 names] '18-1'
6 [45 names] 'Wally Wurst'
7 [32 names] 'Adirondack Patriot'
8 [31 names] 'mikeski'
9 [30 names] 'Quarter Twenty '
10 [29 names] 'Miklos, pleading like James Brown doing Please Please Please'
***

Tonight's ONT has been brought to you by Non-Compliant ADA Restroom Facilities.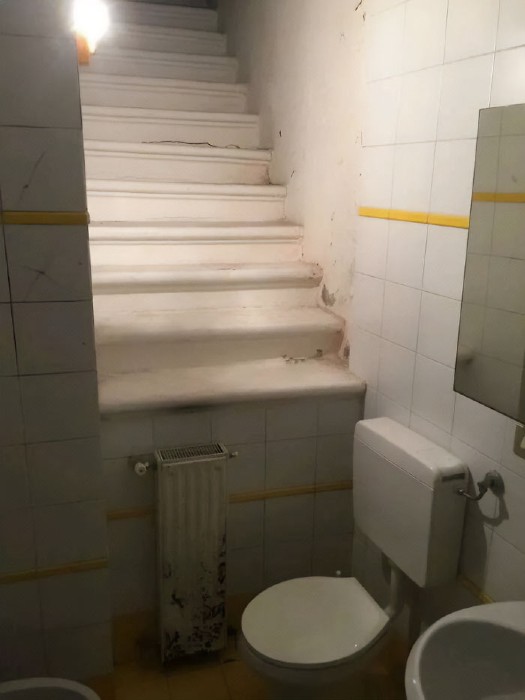 Notice: Posted with permission by the Ace Media Empire & AceCorp, LLC. No hamsters were injured in the production of this ONT. Crickets? Let's not go there.


posted by Misanthropic Humanitarian at
09:45 PM
|
Access Comments