« Daily Tech News 2 February 2023
|
Main
|
Mid-Morning Art Thread »
February 02, 2023
The Morning Report — 2/2/23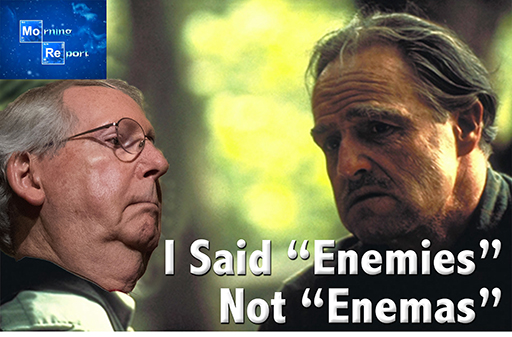 Good morning kids. I'm reminded of the scene from Full Metal Jacket where a general, seeing the words "Born To Kill" right next to a peace sign on Private Joker's helmet says, "Is that some kind of sick joke?!" Welcome to the government of the former United States of America in 2023. It is both fundamentally unserious while simultaneously as serious as a heart attack, insofar as the existential threat it poses to the people. As in "WE THE." You remember? The People. The ones who are supposed to have ultimate political power and only vest that which is absolutely necessary to elected representatives in order to ensure the functioning of something called the civil society. You don't remember? Well, you must have had a shitty education, like an advanced degree from Harvard, Yale or Stanford.
So, the FBI and its parent organization the DOJ have revealed themselves, both in the intentional mishandling of Biden Document-gate, the entrapment/railroading of Donald Trump as well as innocent American citizens caught in the J-6 false flag "riot," among many outrages and defilements of the rule of law going back decades, to all but the most clueless or brainwashed to be a Gestapo-like agency whose main goal is being the enforcement arm of Democrat-Leftist tyranny.
With that preamble, get a load of this:


The plan, unveiled last September, has received little attention. For years the FBI has sought to vacate its present headquarters, a brutalist concrete bunker on stilts and occupying two city blocks between the White House and the Capitol. 

Plans for the new FBI headquarters specify that it will be built on one of three sites in suburban Virginia and Maryland. Those sites are large parcels of 58, 61, and 80 acres. 

That means, at minimum, the new FBI headquarters complex would be twice the size of the Pentagon building. Covering about 29 acres plus a five-acre courtyard, the Pentagon, until recently, was the largest office building on earth . . .

. . . On his first day as [so-called quote-unquote "president"], Biden signed Executive Order 13985 as part of what he called "an ambitious whole-of-government equity agenda."

The executive order defines "equity" as "the consistent and systematic fair, just, and impartial treatment of all individuals, including individuals who belong to underserved communities that have been denied such treatment, such as Black, Latino, and Indigenous and Native American persons, Asian Americans and Pacific Islanders and other persons of color; members of religious minorities; lesbian, gay, bisexual, transgender, and queer (LGBTQ+) persons," and so on.

That is one of the main factors driving the location of the new, double-Pentagon-sized FBI headquarters. . .

. . . That would require a political control structure to implement. Section 401 of the executive order addresses that, calling for training and indoctrinating all federal personnel, including FBI agents, "to effectively apply sustainability, climate adaptation, and environmental stewardship across disciplines and functions." 

Section 402, "Incorporating Environmental Justice," shows the politicization objective. The new FBI headquarters "shall address actions taken to advance environmental justice" under this section. 

Section 403 takes it further, turning federal employees, in this case FBI special agents and other personnel, into political activists on and off the job. It would pair the FBI with "public, private, and non-profit sectors and labor unions and worker organizations" to promote environmental justice. 

All this activity, under Section 501 of the executive order, would be overseen by a political commissar titled Federal Chief Sustainability Officer, appointed by the [so-called quote-unquote "president"].
A new FBI building twice the size of the Pentagon? Albert Speer would have killed to have this project. The fact that Speer actually did kill tens of thousands of slave laborers is another matter. As long as we're chucking Speers around, remember back in 2008, then candidate Barack Obama came up with this brain wave:
"We cannot continue to rely on our military in order to achieve the national security objectives we've set. We've got to have a civilian national security force that's just as powerful, just as strong, just as well-funded."
Even a sub-moron with a PhD from Harvard can substitute the word "Internal" for "National" and you understand fully what the jug-eared dog-eater really means. In a way, the cadres of BLM and Antifa are functioning in this manner, officially or nod-and-a-wink. Although, Making America Dresden Again is sort of like being a "fireman" in Fahrenheit 451. Bad as those thug terrorists are, real political terror comes from The State (formerly known as Deep). Adding 87,000 agents to the IRS to go after a grand total of 614 billionaires is not the aim. They are there to go after all of us, the productive class. And it's not just about our money; it's our hearts, minds and souls they're after. Money is the key. I don't mean the word "wealth" either." I mean the basic ability to feed, clothe and house ourselves.
And that Psaki-psircles us us to this debt-ceiling kabuki-bukkake theater, upon us yet again. Considering that the DOJ has all but told the GOP-led House committees investigating Biden's document-dealing with the enemy to fuck off and die in a fire, that this expansion of that very same organization is even being considered is the real sick joke.
All of this is farcical, except it has deadly serious consequences to all of us. The GOP should not only not be debating with the Democrats at what rate or how much more our freedom and our wealth should be stolen, the GOP position should be at what rate should we be dismantling the Federal bureaucracy. All of it. Every agency, bureau and department.
Forget even this nightmare of an expanded police state. Remember the spokes-tools at the Dept. of Energy or EPA or wherever claiming the notion of banning gas stoves was crazy talk? Psyche!!!
The Department of Energy revealed a proposed rule Wednesday that would set a new "energy conservation standard" for gas stoves and electric cooking equipment, according to an announcement.

The DOE's proposed rule-making would create energy efficiency standards for newly manufactured gas stoves, but wouldn't cap consumers' usage of them, according to the rule. In January, a commissioner at the Consumer Product Safety Commission told Bloomberg that the Biden [junta] was considering a nationwide ban on gas stoves, citing a December 2022 study claiming the stoves account for roughly 12.7% of childhood asthma cases in the U.S. 

However, the study itself was partially funded by two nonprofits that are pushing for American households to use electric stoves. A separate 2013 study found that there was "no evidence of an association between the use of gas as a cooking fuel and either asthma symptoms or asthma diagnosis" after sampling 500,000 children worldwide.
The only thing worse than being lorded over by fools – fools that nobody voted for yet who pass rules and edicts that carry the force of law – is being lorded over by fools who hate you.
It's getting to the point where if I want to stick my head in an oven, the most I'll be able to do is broil myself to death. Meh, I'm getting to the point where I want to stick a lot of other peoples' heads in the oven. I think I like my Jennifer Granholm well done. Charred. I'd say blackened but that's racist.
CIVIL WAR 2.0: J-6 FBI FALSE FLAG "RIOT" & AFTERMATH, LEFTIST PERSECUTIONS, DEMOCRAT PUTSCH, AMERICAN DISSOLUTION
NOTE: The opinions expressed in the links may or may not reflect my own. I include them because of their relevance to the discussion of a particular issue.
ALSO: The Morning Report is cross-posted at CutJibNewsletter.com if you want to continue the conversation all day.
Follow us on Twitter: @CutJibNews
Follow us on Instagram: @Cutjibnewsletter

posted by J.J. Sefton at
07:39 AM
|
Access Comments