« The Left Wants to #Cancel Tucker Carlson (Again!), Over Crack About Using the American Military to Liberate Canada From the Dictator Trudeau
|
Main
|
Great, Michelle Obama Now Rolling Her Book Grift Into a Podcast Grift »
February 01, 2023
FBI Searching for Classified Documents at Joe Biden's Beach House
Another "consensual" search, except that they'll get a warrant if you object to it.
FBI agents on Wednesday reportedly searched President Joe Biden's Delaware beach house for classified documents.


According to CBS News, agents showed up at Biden's home at Rehoboth Beach on Wednesday to conduct the search, which was consensual and planned with Biden's attorneys in advance.
It's always been FBI protocol to give the target of an investigation a heads-up about when and where you'll be searching for evidence that can be used to prosecute him. It only makes sense, you know?
The search comes after reports this week that the FBI searched Biden's Washington, D.C., think tank, the Penn Biden Center, in mid-November as part of the documents probe. The White House had failed to disclose that the search took place.

"Today, with the President's full support and cooperation, the DOJ is conducting a planned search of his home in Rehoboth, Delaware," Bob Bauer, a personal attorney for Biden, said in a statement.

...

Biden's representatives have claimed that they searched Biden's Rehoboth residence but did not find any classified materials.
The heads-up from law enforcement probably made a certainty of that outcome.
Meanwhile:
Via Twitchy's DougP., the White House called a "brunch lid" until 12:30 PM. A "lid" means they won't be answering press questions or holding events.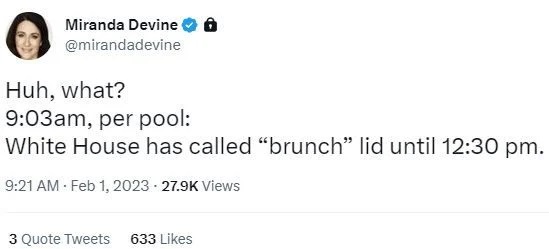 Sounds like Biden doesn't want to talk about the "consensual" search of his precious vacation house.
Even the leftwing media is complaining that Scranton Joe won't answer questions about all the classified documents he was storing next to his Corvette, which he calls the Fucksled.
Karine Jean-Pierre, who is an idiot, said nuh-uh, he's totally answering questions.
KRISTEN WELKER: Very quickly, the President had said he was going to talk to us about this soon. He did make brief comments last week. But does he have any plans to answer the questions that we've been posing to him, to perhaps hold a press conference so that we can ask him a range of questions --

MS. JEAN-PIERRE: Understand --

KRISTEN WELKER: -- that he can answer some of those questions?

MS. JEAN-PIERRE: I totally understand the question. I don't have anything to preview right at this time on -- on any any opportunities for the President to address this. But as you all know -- and I know questions were shouted earlier -- there's many opportunities that you all have with him where he takes your -- takes all of your questions, and he has over the past two weeks.

KRISTEN WELKER: But he hasn't answered questions about this.

MS. JEAN-PIERRE: No, I understand.

KRISTEN WELKER: We've been shouting them.

MS. JEAN-PIERRE: No, he's answered -- actually, when he was in California, he took a ques- -- he took a question.

KRISTEN WELKER: Yeah, in California. In California.

MS. JEAN-PIERRE: When he was in Mexico City, he was asked. He took a question the day after that.

KRISTEN WELKER: Twice.

MS. JEAN-PIERRE: No, but the day after that he took a question. So, I'm just saying that -- it's not that he hasn't addressed this at all. He has. I just don't have anything to preview on a, you know, potential press -- press conference or anything like that or an opportunity that you all will have to hear from him directly.

But, again, he has been asked a question a couple of times, and he's answered it. And you all have heard from him on that.
"Sometimes when a reporter shouts a question at him on his way to the helicopter to go on another vacation, he gives that shitty grin of his and mumbles something about the reporter being fat."
Biden won't answer questions, and of course Karine Jean-Pierre won't answer questions. Everything is referred to the White House Counsel, who also refuses to answer questions.
She also refused to say if Biden was conducting a cover-up or not.
She's just absolutely insufferable. It would be funny if she weren't such an obnoxiously stupid tw@t.
The African reporter Simon Ateba that Karine Jean-Pierre refuses to ever call on notes that Karine ignored his raised hand, to call upon a white man (James Rosen) who did not have his hand up and did not have a question at all. Note that the video shows John Kirby at the podium, but Karine is standing next to him, actually selecting which reporters will be allowed to ask questions.
One more from Green Karine the Gaffe Machine:

posted by Ace at
01:11 PM
|
Access Comments