« First-World Problems...
|
Main
|
Gun Thread: First February Edition! »
February 05, 2023
Food Thread: Thick? Thin? Just Right!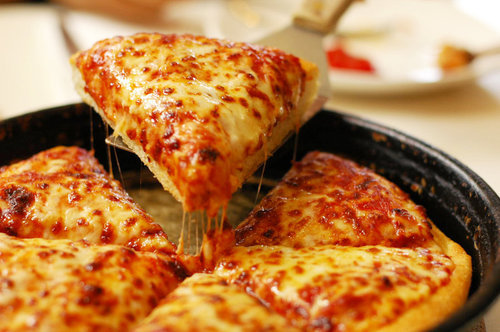 Thick or thin? That is the question. There are excellent arguments to be made for thick, but I think that for a thick pizza to be excellent it must be a Detroit-style pizza. The traditional New York style pizza on steroids -- which is what most thick pizzas are -- is simply too unwieldy and doughy to be considered fine eating.
But there is a happy and delicious compromise between the gloppy, doughy mess of a too-thick pizza and the cracker-crust thin bar pies that are so much fun...sometimes.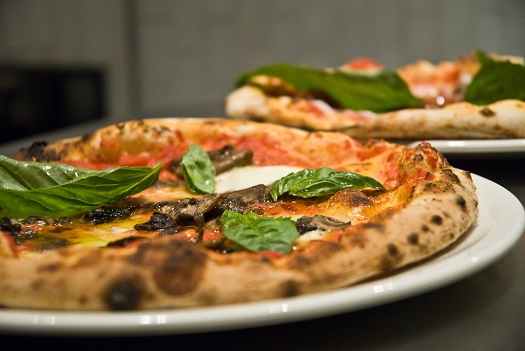 The classic NY pie is the Platonic ideal. Those wonderful Neapolitan style pizzas are wonderful too, but they shine only when the dough is light and airy. The problem is when people try to make a thicker NY style pie without allowing the dough to rise and get those delicious bubbles. We are left with the toothsome NY dough, but four times as thick, which is unbalanced and difficult to eat. Then to make matter worse they balance the extra dough with extra toppings, which creates the aforementioned gloppy mess.
If you want a thick pizza, look to Detroit, where the dough is thick, but also has loft and delicious crispiness.
Oh, they are ridiculously easy to make too!
[The famous Chicago pizza is nothing more than a tomato pie. It tastes good, but it ain't pizza.]
******
Oh boy! Imagine the possibilities! Fabulous banquets at our nation's zoos, complete with rare and possibly delicious animals on the menu. They could charge a fortune, and in one fell swoop fund their operations. I see it as a win-win!
Zoo director accused of killing four pygmy goats and serving them up at a Christmas party

But the most shocking accusation was made by the state environment department's director of wildlife who said Nava had four of the zoo's male pygmy goats killed and cooked for an end-of-year banquet.

Fernando Ruiz Gutierrez said: "These four animals slaughtered and cooked on the zoo's premises, and were served as food at the year-end party.

"This put the health of the people who ate them at risk because these animals were not fit for human consumption."

The state environment department said a zebra was traded for tools, and deer and Watusi cattle were traded off to private individuals, without proper accounting.
Elephant steaks and Eland backstrap and grilled Cobra skewers (with hummingbird tongue sauce) and my personal favorite, Panda Hash* and Baboon biscuits and Penguin stew and Gorilla jerky and....
[Hat Tip: "dhmosquito"]
*Bluebell refused the recipe for The Deplorable Gourmet cookbook.

******
I made pita yesterday, and luckily I remembered that I had long-time commenter "Moki's" excellent recipe. It is delicious, and even better, ridiculously easy to make.
My personal recipe for pita that doesn't pocket, and is rather thick and bready follows:

1 1/2 cups warm water (105-110 degrees F)
1 envelope dry yeast
1 tablespoon granulated sugar
4 cups AP flour
1 1/4 teaspoons salt
1/4 vegetable oil (I prefer canola or light olive)

Stir 1/2 cup warm water, yeast and sugar in a small bowl. Let sit until it proofs/is foamy.

Mix flour and salt in a large bowl. Make a well in the center and pour in the oil and yeast mixture.

Add the remaining water in small amounts, stirring gently, until the flour and wet ingredients are incorporated.

When you have a soft moist dough that can be handled (not too sticky) turn it out onto a floured surface and knead for five minutes.

Return to the bowl, cover with a towel and let rise until doubled in size, 1 1/2 hours.

Preheat oven to 400 degrees F. Punch down the dough and divide into 8 balls.

On a lightly floured surface roll each ball with a rolling pin until it is a thin oval shape.

Slash three times with a knife and place on parchment covered baking sheet. If desired, mix egg with water and brush tops, and sprinkle with sesame seeds.

Bake for 15-20 minutes, or until the loaves are golden brown.

Best with hummus, tzatziki or good butter.
The next time I make it I am going to let the dough rise for a little bit less time, then after I form the pitas I will cover and let rise for about 15 minutes. That is a stylistic change...the recipe is damned near perfect!
******
I have a Laissez-Faire attitude toward eating...if it makes you happy to eat processed foods and wash it down with Coca Cola...have at it. It's none of my business. Well, except for maple syrup and French Toast, which is a crime against all that is good and right about food and should be punished with the full force of the law.
But I also find waste to be distasteful. And these eating contests are tremendously wasteful. And sort of gross.
Watch woman break 'Big Texan' 72 oz. steak record, eats 3 steaks in 20 minutes flat
I can't imagine how unpleasant that must be. And to what end? Okay, so she holds the record, but is going to be miserable (probably ill) for quite some time.
Those steaks could have fed a bunch of people for dinner, and they all would have enjoyed it!
Fine...get off my lawn!
[Hat Tip: "dhmosquito"]

******
Well this is neat! I absolutely love market-driven answers to vexing problems, especially when the end result is duck! Because I love duck. And duck fat.
The Duck Brigade Behind a Farmer's Plentiful Rice Harvest
This guy is nuts! But in a good way. Imagine growing Japanese rice in Vermont, using Japanese techniques but selling the product in America. And seemingly doing well...he sells out!
[Hat Tip: Pete Bog]

******
This is a knock-out recipe. Spectacular, easy, interesting, and even better...easy to clean up!
I am going to make a couple of changes the next time I make it. Definitely double the onion. It is fantastic in the pan juices! And it doesn't need the drizzle of lemon juice at the end. There is a subtle lemon flavor from the cooked lemon, and I think that is perfect.
Oh...seed the lemon slices as you cut them. It makes for a better presentation...who likes biting down on lemon seeds?

******
[Hat Tip: somebody whose name I have forgotten...sorry!]

******
Just send me oysters. Lots of oysters, and I will provide special dispensation for those without taste who insist upon maple syrup with their French Toast. And pork rib roasts from the front end of the pig where all the good and fatty meat lives, carrots that don't taste like stalky chalk, spare bottles of Van Winkle Special Reserve 12 Year Old Bourbon, an herb garden that actually produces herbs (but no basil!), well-marbled NY strip steaks and elk backstrap to:
cbd dot aoshq at gmail dot com.
And don't think that the rest of you are off the hook with maple syrup and French Toast: I'm still watching you! And I am watching you perverts who shake Manhattans and keeping a list for the Burning Times.

posted by CBD at
04:00 PM
|
Access Comments