« The Music Thread: Songs That Are Invalid
|
Main
|
Daily Tech News 5 February 2023 »
February 04, 2023
Saturday Overnight Open Thread (2/4/23)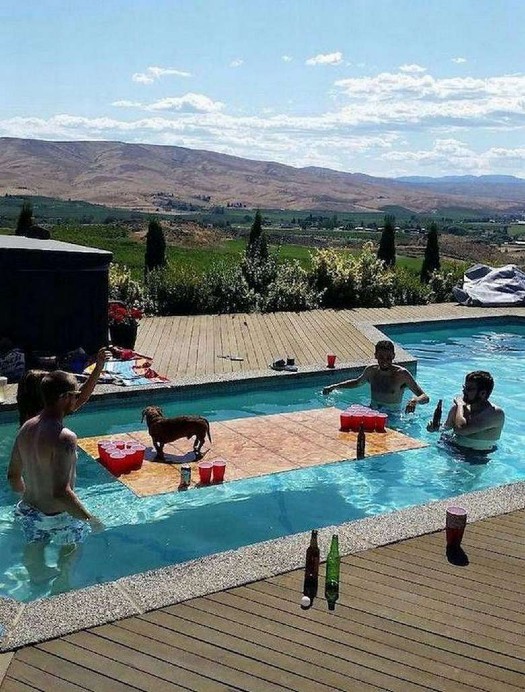 ***
The Saturday Night Joke

A politician dies
So a politician dies and ends up standing in front of the pearly gates. Saint Peter looks at him for a second, flicks through his book, and finds his name.
"So, you're a politician..." "Well, yes, is that a problem?" "Oh no, no problem. But we've recently adopted a new system for people in your line of work, and unfortunately you will have to spend a day in Hell. After that however, you're free to choose where you want to spend eternity!"

"Wait, I have to spend a day in Hell??" says the politician. "Them's the rules" Says St Peter, clicks his fingers, and WOOMPH, the guy dissapears...

And awakes, curled up with his hands over his eyes, knowing he's in Hell. Cautiously, he listens for the screams, sniffs the air for brimstone, and finds... Nothing. Just the smell of, is that fabric softener? And cut grass, this can't be right?

"Open your eyes!" says a voice. "C'mon, wakey wakey, we've only got 24 hours!". Nervously, he uncovers his eyes, looks around, and sees he's in a hotel room. A nice one too. Wait, this is a penthouse suite... And there's a smiling man in a suit, holding a martini. "Who are you??" The politician asks. "Well, I'm Satan!" says the man, handing him the drink and helping him to his feet. "Welcome to Hell!" "Wait, this is Hell? But... Where's all the pain and suffering?" he asks. Satan throws him a wink. "Oh, we've been a bit mis-represented over the years, it's a long story. Anyway, this is your room! The minibar is of course free, as is the room service, there's extra towels next to the hot-tub, and if you need anything, just call reception. But enough of this! It's a beautiful day, and if you'd care to look outside..."
Slightly stunned by the opulent surroundings, the man wanders over to the floor-to-ceiling windows through which the sun is glowing, looks far down, and sees a group of people cheering and waving at him from a golf course. "It's one of 5 pro-level courses on site, and there's another 6 just a few minutes drive out past the beach and harbour!" says Satan, answering his unasked question.
So they head down in the lift, walk out through the glittering lobby where everyone waves and welcomes the man, as Satan signs autographs and cherrily talks shop with the laughing staff. And as he walks out, he sees the group on the golf course are made up of every one of his old friends, people he's admired for years but never met or worked with, and people whose work he's admired but died long before his career started. And out of the middle of this group walks his wife, with a massive smile and the body she had when she was 20, who throws her arms around him and plants a delicate kiss on his cheek. Everyone cheers and applauds, and as they slap him on the back and trade jokes, his worst enemy arrives, as a 2 foot tall goblin-esque caddy. He spends the day in the bright sunshine on the course, having the time of his life laughing at jokes and carrying important discussions, putting the world to rights with his friends while holding his delighted wife next to him as she gazes lovingly at him.
Later, they return to the hotel for dinner and have an enormous meal, perfectly cooked, which descends into a food-fight when someone accidentally throws a bread roll at the next table (where Ghandi is having a game of truth-or-dare with Marylin Monroe). As everyone is falling about laughing and flinging breadsticks at each other, his wife whispers in his ear... And they return to their penthouse suite, and spend the rest of the night making love like they did on their honeymoon. After 6 hours of intense passion, the man falls deep into the 100% Egyptian cotton pillows, and falls into a deep and happy sleep...

And is woken up by St Peter. "So, that was Hell. Wasn't what you were expecting, I bet?" "No sir!" says the man. "So then" says St Peter "you can make your choice. It's Hell, which you saw, or Heaven, which has choral singing, talking to God, white robes, and so on". "Well... I know this sounds strange, but on balance, I think I'd prefer Hell" says the politician. "Not a problem, we totally understand! Enjoy!" Says St Peter, and clicks his fingers again.

The man wakes up in total darkness, the stench of ammonia filling the air and distant screams the only noise. As he adjusts, he can see the only light is from belches of flame far away, illuminating the ragged remains of people being tortured or burning in a sulphurous ocean. A sudden bolt of lightning reveals Satan next to him, wearing the same suit as before and grinning, holding a soldering iron in one hand and a coil of razor-wire in the other. "What's this??" He cries. "Where's the hotel?? Where's my wife??? Where's the minibar, the golf-courses, the pool, the restaurant, the free drinks and the sunshine???"

"Ah", says Satan. "You see, yesterday, we were campaigning. But today, you voted..."
(H/T CBD)
***

The Fabulous says this is not "the perfect Valentine's Day gift."

Traditional flowers can be overrated and come off as an easy out. Dare to do something different this Valentine's Day and order your special person an Exotic Jerky Bouquet for only $49.99 by February 3 for guaranteed delivery before the big day!

Coming up with unique V-Day gift ideas can be overwhelming, but it doesn't have to be. The Carnivore Club has curated the perfect unconventional gift for you to your loved one (or yourself) for Valentine's Day this year. For the foodie or anti-roses person in your life, this yummy Exotic Jerky Bouquet is sure to make them smile.
***

What has a good chance of getting you? Click and you'll find out.

Visualizing the Odds of Dying from Various Accidents


Infographic: The Odds of Dying from Various Accidents
Fatal accidents account for a significant number of deaths in the U.S. every year. For example, nearly 43,000 Americans died in traffic accidents in 2021.

Without the right context, however, it can be difficult to properly interpret these figures.

To help you understand your chances, we've compiled data from the National Safety Council, and visualized the lifetime odds of dying from various accidents.
***
Earlier in the week The ONT covered Netflix and their new password sharing rules. Netflix says, "Not so fast there Mis. Hum."

Netflix Deletes New Password Sharing Rules, Claims They Were Posted in Error

Netflix has removed recently updated password sharing rules from its website, claiming that they are not applicable to the United States as of now.
***

The ONT Is Always Looking Out For YouTM

Where to Get Free Froyo on National Frozen Yogurt Day
Here's where to get free froyo on National Frozen Yogurt Day.
***
I like art. I like art museums. And at first glance I thought oh hell no. Celebrate Valentine's Day by completing a naked scavenger hunt

The Philadelphia Museum of Art is hosting a naked scavenger hunt to celebrate Valentine's Day. On Feb. 11 from 2 p.m. to 4 p.m., guests and their dates can complete the game based on centuries of nude art by answering questions.
The month of love is upon us. To celebrate Valentine's Day this February, couples can complete a naked scavenger hunt hosted by Watson Adventures at the Philadelphia Museum of Art.

Naked at the Museum Scavenger Hunt, participants will be fully clothed, but they will use centuries of nude art, including paintings, sculptures, and period rooms, to answer questions.
***

If money were no object. What would you do?

Most of you are probably familiar with that world-renowned saying that claims that money can't buy happiness, but is that actually the case?

According to a piece from LendingTree, an online loan marketplace for various financial borrowing needs, including auto loans, small business loans, personal loans, credit cards, and more, 33% of Americans say money makes them happier than love does.

A decent percentage, isn't it?

It all varies from person to person, of course – however, one thing we know for sure is that money does make us happier, but only up to a certain point. You know, before you go mad like a fair bunch of those A-list celebrities.

Nevertheless, every single one of us has thought about having all the cash in the world, and a Redditor that goes by the name u/GrouchyResolution974 has given us the opportunity to lurk into other people's dreams.

And if you had the money, would you get a better haircut?

I love my mullet. As five-year-old Billy Brady said on The Late Late Toy Show, it's "business at the front, party at the back". I recently had my hair cut into the style, and just like Marmite or cheese-and-onion chocolate, it's proving contentious.

"You've got a touch of Rudi Völler," one colleague said to me, referring to the German World Cup winner. Herr Völler sported an impressive curly mullet in his heyday. "Or a footballer from Shoot! magazine circa 1984," another colleague said. The best was a comparison to a Stasi agent in East Berlin, which I reported immediately to my commanding officer.

I almost got an ear pierced at the weekend, too, but thankfully chickened out. They would have had a field day with that.
***

You can drive in snow and have control. Ice? Not so much.

McKinney police urge residents to stay off roadways amid inclement winter weather
***
The ONT Musical Interlude & Travel Mug Emporium

When I read this story, the first thing that came to mind was Bullshit.

On this day: 4 Feb 2000
Bjorn Ulvaeus confirmed that the members of ABBA had turned down a $1 billion (£0.58 billion) offer by American and British consortium to reform the group. "It is a hell of a lot of money to say no to, but we decided it wasn't for us," band member Benny Andersson told the Swedish newspaper Aftonbladet. via thisdayinmusic.com
&&&
A very underrated musician..........
Born on this day: 4 Feb 1951
Phil Ehart, from American rock band Kansas, who scored the 1978 US No.3 single 'Dust In The Wind', and the 1978 hit single 'Carry On Wayward Son'. which was the second-most-played track on US classic rock radio in 1995 and No.1 in 1997. via thisdayinmusic.com
***

When you don't play nice with others and the other's reptile you are a Genius Award Winner.

A man allegedly bit the head off of the pet python of a woman he was having a dispute with.

Kevin Justin Mayorga, 22, is accused of biting the snake while fighting with a woman in an apartment in Cutler Bay, Florida, on Monday.

Police officers who responded to a domestic dispute at an apartment complex on Southwest 210th Street could hear a man and a woman arguing. According to an arrest report obtained by NBC Miami, the woman was heard shouting to cops to 'just kick the door in!'
***

A happy story. Tonight's Feel Good Story of The Day.

Feb. 3 (UPI) -- A German dog trainer earned a Guinness World Record with his team of talented canines when 14 performing pooches formed a conga line.

Wolfgang Lauenburger earned the record for most dogs in a conga line when his 14 trained canines arranged themselves into the party dance formation under his instruction.
***

Tonight's ONT has been brought to you by Courteous Warnings.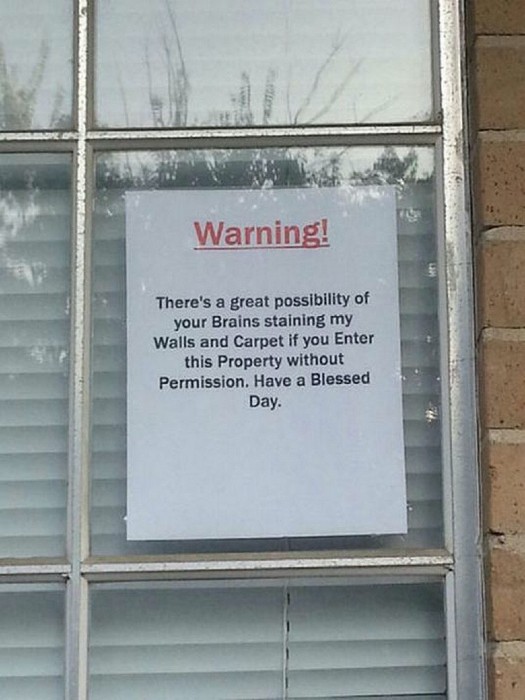 Notice: Posted with permission by the Cafeteria Workers of the Ace Media Empire and Custodians of AceCorp, LLC. They remind us, no food fights or else........


posted by Misanthropic Humanitarian at
09:56 PM
|
Access Comments