« Mid-Morning Art Thread
|
Main
|
Pentagon to Discuss Chinese Spy Balloon and Why Brandon Is Mocked by the World
The Briefing Is a Lie; Pentagon Refuses to Say Anything Except "Everything's Fine" »
February 03, 2023
THE MORNING RANT: All Heart Disease Women's Heart Disease Is an Issue Deserving of Awareness; Amazon Redirecting Its Charitable Giving from Flyover Country to Seattle & DC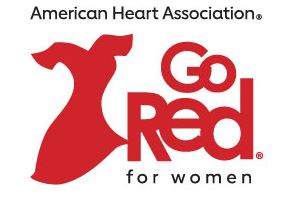 If you work for a large American corporation, there is a very good chance that you were asked to wear red today, and at some point, those of you wearing red will gather together for a group photo.
What's the occasion? It's Go Red for Women day, raising awareness about heart disease…in women.
From landmarks to online communities, neighborhoods to news anchors, this annual groundswell unites millions of people for a common goal: the eradication of heart disease and stroke.

Wear red to raise awareness about cardiovascular disease and help save lives. Why? Because losing even one woman to cardiovascular disease is too many.
"Because losing even one woman to cardiovascular disease is too many.
What about men?
My all-time favorite boss was a no-nonsense woman who absolutely refused to participate in patronizing "we celebrate women" photo ops and awareness events. Be it "Women Leaders of [name of town]" or "Women in Business" or "Future Women Leaders" she had no use for it.
I've always been kind of indifferent about all that – I really don't care - and I'm also glad I'm not the one getting a patronizing pat on the head.
The disparity in treatment, however, becomes more striking when workplaces must perform acts of awareness about women's health, but not men's. My family has been hit hard by both breast cancer and prostate cancer, but the corporate American workplace only champions one of those two cancers.
I'm sorry, but this annual "Go Red" event is actually pretty offensive. Men and women alike have heart attacks and strokes, but we must publicly profess an act of caring only about how women are affected by heart disease.
*****
Amazon to Redirect Its Charitable Giving from Local Organizations to Charities in Large Urban Areas (especially metro Seattle & Washington D.C.)
Amazon is a private company that can steer its charitable donations to whomever it likes.
That disclaimer aside, it's pretty tacky that Amazon has decided to suspend charitable giving to thousands of small organizations, as chosen by its customers, and instead steer most of the money to just a few urban charities where Amazon has major operations.
AmazonSmile's End Is Alarming, Say Nonprofits That Benefited [AP – 01/24/2023]
I live in an area where suburbia bumps up against Appalachia. The residents of my suburban town are very active in providing money and services to a local social services agency that helps many of the needier folks in the countryside. One of the fundraising methods has been through AmazonSmile, which has contributed an amount equal to ½ of 1% of all Amazon purchases of those choosing that charity. The money comes from a foundation established by Amazon.
Instead of letting a little of its charitable giving be steered to those in need where its customers live, Amazon will be redirecting the charitable giving to where its employees live. And, it should be noted, these are locations where the company and its executives can gain goodwill from the local power structure as a result of its giving.
Here is a link to the letter Amazon sent on 01/18/2023, announcing the changes in its charitable giving.
Overwhelmingly the charitable giving will be redirected to Amazon's "hometown" communities, more specifically, major metro areas such as Bellevue, Washington (metro Seattle) and Arlington, VA (metro Washington D.C.)
Here are the five areas Amazon identified for its redirected giving:

HOUSING EQUITY FUND: We're investing $2 billion to build and preserve affordable housing in our hometown communities. In just two years, we've provided funding to create more than 14,000 affordable homes—and we expect to build at least 6,000 more in the coming months. These units will host more than 18,000 moderate- to low-income families, many of them with children. In one year alone, our investments have been able to increase the affordable housing stock in communities like Bellevue, Washington and Arlington, Virginia by at least 20%.
I guess there are no low-income families with children in Boone or Bristol needing affordable shelter for their families. Might as well send more money to DC, instead.
AMAZON FUTURE ENGINEER: We've funded computer science curriculum for more than 600,000 students across over 5,000 schools—all in underserved communities. We have plans to reach an additional 1 million students this year. We've also provided immediate assistance to 55,000 students in our hometown communities by giving them warm clothes for the winter, food, and school supplies.
Computer science and engineering is good. So are trades. Food and warm clothes are also needed in communities other than Seattle and D.C.
Community Delivery Program: We've partnered with food banks in 35 U.S. cities to deliver more than 23 million meals, using our logistics infrastructure to help families in need access healthy food – and we plan to deliver 12 million more meals this year alone. In addition to our delivery services, we've also donated 30 million meals in communities across the country.
There are hundreds of food banks across the country, a great many of which were receiving donations from Amazon Smile, but which will not be receiving Amazon money going forward, because they are not among the lucky 35 food banks that Amazon favors.
Amazon Disaster Relief: We're using our logistics capabilities, inventory, and cloud technology to provide fast aid to communities affected by natural disasters. For example, we've created a Disaster Relief Hub in Atlanta with more than 1 million relief items ready for deployment, our Disaster Relief team has responded to more than 95 natural disasters, and we've donated more than 20 million relief products to nonprofits assisting communities on the ground.
No complaints here. This is to be commended.
Community Giving: We support hundreds of local nonprofits doing meaningful work in cities where our employees and their families live. For example, each year we donate hundreds of millions of dollars to organizations working to build stronger communities, from youth sport leagues, to local community colleges, to shelters for families experiencing homelessness.
Great. But what about organizations in communities where Amazon's customers and their families live? They were receiving charitable giving but now it is being yanked away.
Amazon may not feel that a couple thousand dollars is a meaningful amount, but to a small town Social Services Agency it really makes a difference. Taking that money and steering it instead to Seattle and D.C. feels just like what happens to so much other money in this country.
*****
Songs of the Season
What is this time of year called? The Bleak Midwinter? The Dog Days of Winter?
Most of the romantic songs about winter are tied to Christmas, not this part of the season. Here's a sweet winter love song from Gordon Lightfoot that has nothing to do with Christmas: "Song For A Winter's Night"
(And yes, I'm well aware that there is an electric bass rather than an upright bass. I imagine Mr. Lightfoot would like a do over on that if he could.)
The lamp is burnin' low upon my table top
The snow is softly falling
The air is still in the silence of my room
I hear your voice softly calling

If I could only have you near
To breathe a sigh or two
I would be happy just to hold the hands I love
On this winter night with you

The smoke is rising in the shadows overhead
My glass is almost empty
I read again between the lines upon the page
The words of love you sent me

If I could know within my heart
That you were lonely too
I would be happy just to hold the hands I love
On this winter night with you

The fire is dying
Now my lamp is growing dim
The shades of night are lifting
The morning light steals across my window pane
Where webs of snow are drifting

If I could only have you near
To breathe a sigh or two
I would be happy just to hold the hands I love
On this winter night with you
And to be once again with you

Have a great weekend.
[buck.throckmorton at protonmail dot com]


posted by Buck Throckmorton at
11:00 AM
|
Access Comments