« Mid-Morning Art Thread
|
Main
|
FBI Seized Biden Notebooks That May Contain Classified Information »
January 30, 2023
THE MORNING RANT – Buck Shots [01/30/2023]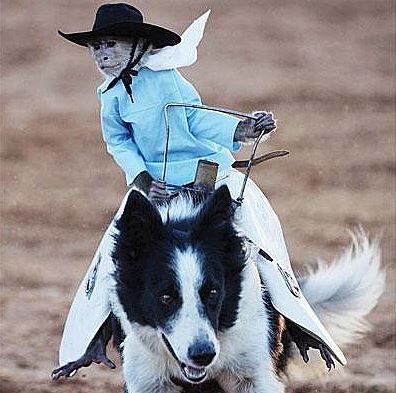 The "Throckmorton Carbon Offset Company" Is Accepting Payments
Carbon offsets are a scam. The people pushing carbon offsets know they're a scam. We normal people know they're a scam. And the people pushing the offsets know that we know they're a scam. But the scam persists. Why? Because without carbon offsets, jet-setting elites and woke corporations couldn't make the claim that they are green or "carbon neutral."
The funny part of the scam is that the "offset" is payment for rain forest that isn't cleared in a given year. So if I own 10,000 acres of rain forest and plan to clear 1,000 acres this year, I can sell a "carbon offset" for the 9,000 acres of land I wasn't going to clear anyway. After I clear the 1,000 acres, the suckers who paid me get to claim that they somehow offset their own carbon production.
Some of the more principled leftists are getting tired of trying to play along with this farce.
Revealed: More Than 90% of Rainforest Carbon Offsets by Biggest Provider are Worthless, Analysis Shows (The Guardian – 01/18/2023]
The research into Verra, the world's leading carbon standard for the rapidly growing $2bn voluntary offsets market, has found that, based on analysis of a significant percentage of the projects, more than 90% of their rainforest offset credits – among the most commonly used by companies – are likely to be "phantom credits" and do not represent genuine carbon reductions.
The analysis raises questions over the credits bought by a number of internationally renowned companies – some of them have labelled their products "carbon neutral", or have told their consumers they can fly, buy new clothes or eat certain foods without making the climate crisis worse.
Who are the companies paying for these phony carbon offsets, and promoting themselves as carbon neutral?
Gucci, Salesforce, BHP, Shell, easyJet, Leon and the band Pearl Jam were among dozens of companies and organisations that have bought rainforest offsets approved by Verra for environmental claims.
My wife and I own several acres of wooded land that is not earning any income, so I want in on this action.
 It is with great pride and excitement that I am announcing the formation of the Throckmorton Carbon Offset Company, LLC.
For a fee commensurate with your gullibility commitment to carbon neutrality, I will deem you or your organization "carbon neutral" for all the trees I didn't cut down in a given year. Even if/when my wife and I develop the land, most of it will not be "deforested" so I should be able to keep this swindle green initiative going for many years.
*****
Woke Starbucks is Responsible For Climate Change…and I Can Help
People Should Drink Less Coffee to Combat Climate Change, Study Says [NY Post – 01/18/2023]
Canadian researchers analyzed coffee's "contribution to climate change" in a piece published in early January and suggested people moderate their consumption of the popular drink as a part of the solution.
"…moderate their consumption"??
Sorry, but no. If you're a believer in the Sustainable Organic Church of the Carbon Apocalypse, moderation is not an option. You have one choice only - stop drinking coffee. If you continue with your Starbucks habit, you're going to submerge the Maldives!
"Our analysis clearly showed that traditional filter coffee has the highest carbon footprint, mainly because a greater quantity of coffee powder is used to produce the amount of coffee. This process also consumes more electricity to heat the water and keep it warm," the researchers wrote.
I honestly don't know how Starbuck's CEO Howard Schultz can live with himself, knowing that his product is melting the ice caps, exterminating polar bears, and causing extreme weather.
Oh wait just a second…I've got a different idea.
MR. SCHULTZ: If you are reading this, please contact me at the email address below and I'll absolve you of your carbon sinning for a mere $1 million per year, with offsets from the Throckmorton Carbon Offset Company. I'll even send you a picture of the trees that aren't being deforested upon receipt of your carbon offset payment.
*****
Natural Gas is Green Energy
Expect more of this from politicians who start to realize that electricity blackouts will harm their careers much more than perfect fidelity to the "net zero" decarbonization agenda:

With stroke of his pen, Gov. Mike DeWine defines natural gas as green energy [Cleveland Plain Dealer – 01/06/2023]
Gov. Mike DeWine signed legislation that broadly expands the ability to drill for oil and gas in state parks and also legally redefines natural gas as a source of "green energy."
If you consider the emission of carbon dioxide a sin, then natural gas is fantastically clean and green. The reason that CO2 emissions in the United States have been steadily declining over the past 20 years is because of the massive switch from coal to clean-burning natural gas as a fuel for electricity generation.
The eco-communists hate natural gas because it is a petroleum product, and because it is a cheap, reliable source of energy.
*****
Government Inflation Reports to Become Even More Dishonest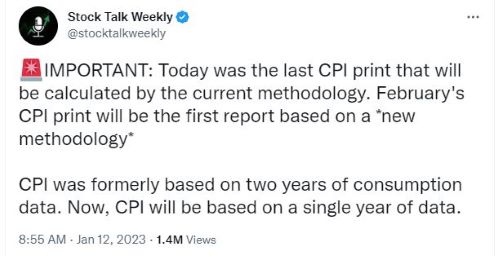 Your government's Bureau of Labor Statistics (Labor Department) is frustrated with you, because you continue to complain about your empty wallets and soaring bills, rather than nodding in agreement at their dishonest inflation reports.
So, they're now going to become even more dishonest in their reporting.
Starting with the February 2023 publication of CPI [Consumer Price Index] data for January 2023, the BLS will annually revise the CPI weights based on a single calendar year of data, utilising consumer expenditure data from 2021. This differs from the prior method, which updated weights using two years' worth of expenditure data every two years.
In other words, the BLS is seeking out a higher baseline to be able to show a lower amount of increase.
Don't forget, the BLS' calculation of inflation has already been adjusted several times since the 1980s in order to report better inflation numbers than what consumers are actually suffering.
John Williams' website (shadowstats.com) monitors flaws in government economic reporting and data. The chart below shows official inflation as reported by the US government (red line) versus inflation if calculated the same way it was calculated in 1980 (blue line.)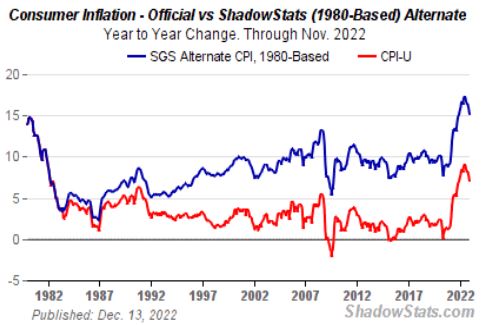 Real inflation is double digit right now. Consumers are angry about it because they're struggling to even buy groceries and pay their bills. So the US government's response is to just lie to you a little harder.
Who are you going to trust, your empty bank account or a politically-motivated federal bureaucrat?
*****
Negotiating Your Salary Is Flaunting Your Privilege
Back a couple decades ago I was told by an employer that there was no room for negotiation in my salary. In that situation, the reason given to me was that they had hired a consulting company whose survey of peer companies confirmed that the salary structure in place was very competitive and consistent with the marketplace. Those of us who quit that employer to earn higher wages elsewhere joked that the consulting company must have been surveying the wrong marketplace. Now that I'm older and wiser, I understand that the consulting company was not hired for the purpose of determining appropriate salary levels, it was hired to produce a survey validating that my employer did not need to increase compensation levels.
Apparently, employers don't even have to blame consultants any more for salary inflexibility, they can just pat themselves on the back and state that they are fighting back against "privilege."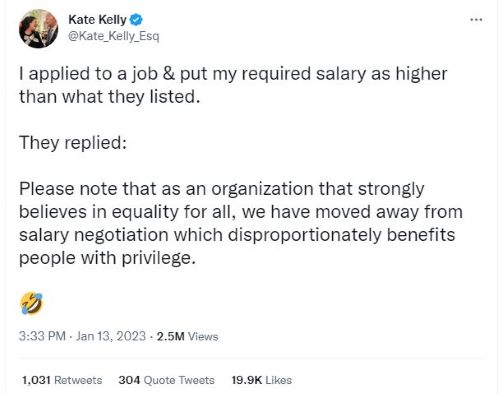 I absolutely respect a business if it simply states, "this is what we can pay you for this position at this time." Hiding behind wokeness is a cynical sign of the times.
*****
Florida Man Considering Run for Indiana Senate Seat
Dear Indianans, here's some friendly advice - stop electing Senators who don't want to live in Indiana.
They don't represent you and won't represent you. (Do you remember the embarrassment when Senator Richard Lugar was denied the right to vote in his "home state" of Indiana because he had no residence there?)
You may be about to go down that path again, Indiana.
Former GOP Gov. Mitch Daniels to decide on Indiana Senate run in coming weeks [CNN – 01/19/2023]
Former Indiana Gov. Mitch Daniels is likely to decide within the next two weeks whether he will run for Senate, a person close to Daniels said …

Rep. Jim Banks, a Donald Trump-aligned conservative from northeastern Indiana, has already entered the race. And the Club for Growth launched a preemptive ad attacking the 73-year-old Daniels, labeling him an "old guard Republican" who is "all out of fight."

Daniels, from his home in Naples, Florida, spoke on the phone with Banks less than two weeks ago.
"…from his home in Naples, Florida…"
Naples, Florida is not in Indiana. It doesn't even matter that Daniels is a Y2K-era "fiscal conservative" who doesn't want to fight the culture war. His out of state residence is fully disqualifying for ordinary Indianans needing representation in Congress.
*****
THROCKMORTON'S FIRST LAW OF LIVE MUSIC: IF THERE'S AN UPRIGHT BASS IN THE BAND, IT'S PROBABLY GOING TO BE GOOD
Moving up my personal power ranking of live music acts that I've got to see is Pokey LaFarge. He brings the Tin Pan Alley era back to life, but he's not just a novelty act, he's an amazing musician.
Here's a Dixieland-inspired song that we can all relate to: The Good Lord Giveth and the Government Taketh Away
Well the good Lord giveth and Uncle Sam taketh away
Yeah the good Lord giveth and Uncle Sam taketh away
Well I don't mind working night and day
But I'd like a little more take home pay
Yeah the good Lord giveth and Uncle Sam taketh away

The rent's so high cost me seven hundred dollars and a dime
The room's so small I had to go outside to change my mind
The electric bill's way out of sight
The cost of food's got me eating light
Well the good Lord giveth and Uncle Sam taketh away

The price of taxes going up each year that goes by
Well I guess you have to pay to live as well as pay to die
And I wouldn't mind if I only knew
That I'd get back what I paid into
Well the good Lord giveth and Uncle Sam taketh away

Union benefits don't mean a thing anymore
Work your whole life just to find out that you're poor
Seems that the work I do just goes to pay
For a banker to sleep in a Swiss chalet
Yeah the good Lord giveth and Uncle Sam taketh away

Well the good Lord giveth and Uncle Sam taketh away
Yeah the good Lord giveth and Uncle Sam taketh away
Why work a job down at the plant
When I could go on welfare and get food stamps
Well the good Lord giveth and Uncle Sam taketh away

[buck.throckmorton at protonmail dot com]


posted by Buck Throckmorton at
11:00 AM
|
Access Comments