« Gun Thread: January 22nd Edition!
|
Main
|
Daily Tech News 23 January 2023 »
January 22, 2023
Sunday Overnight Open Thread (1/22/23)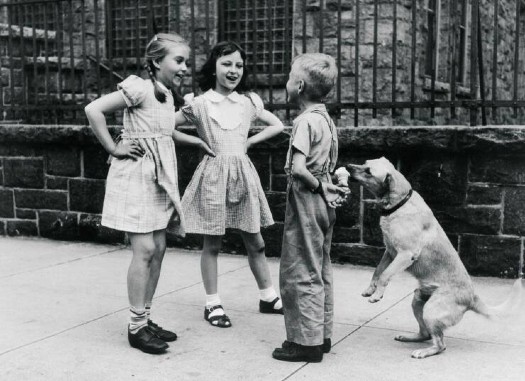 ***
The Quotes of The Day
Quote I

"It's definitely not something you can truly wrap your mind around," Mary Howard.
Quote II

"Today I have been laid off. I always thought I would leave Vox and SB Nation of my own accord, but today they chose to move away from hockey coverage,"Steph Driver
Quote III

"At some point in time, Harley Davidson will be all-electric. But that's a long-term transition that needs to happen. It's not something you do overnight." Harley Davidson CEO, Jochen Zeitz, says that company will eventually only make electric bikes
***
The Comments of The Week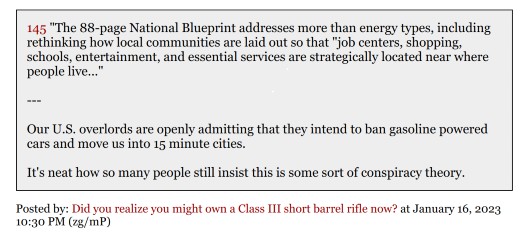 ***

A $100 bill in 2035 says Californian' s power grid will not handle 12.5 million EVs.
Race to zero: Can California's power grid handle a 15-fold increase in electric cars?

IN SUMMARY

Despite expecting 12.5 million electric cars by 2035, California officials insist that the grid can provide enough electricity. But that's based on multiple assumptions — including building solar and wind at almost five times the pace of the past decade — that may not be realistic.

Lea este artículo en español.

As California rapidly boosts sales of electric cars and trucks over the next decade, the answer to a critical question remains uncertain: Will there be enough electricity to power them?
***

The night of the living pickle.
***

I remember burning incense in my younger days. I think Jasmine was my favorite variety. I'm not sure if I would have used KFC incense.

Well, it's not enough to simply purchase Kentucky Fried Chicken in Thailand. Nope, after you grab a bag of KFC, you can also now worm your way into a package of KFC incense sticks.

KFC Thailand believes it's a great to pay homage to the gods. Yes, they actually say that.

Colonel Sanders' secret recipe containing 11 herbs and spices is notoriously hard to replicate in the kitchen, let alone in incense sticks, but KFC Thailand claims to have achieved the impossible. Partnering with a number of scent and perfume experts, the Thai branch of the international fast food chain managed to come up with an incense stick formula that not only looks good enough to eat, but gives off the same aroma as KFC fried chicken when lit. The only problem is that you can't buy these incense sticks, only win them.

I'm guessing the gods would not approve of raffles for incense sticks.
***

You and I will be forced to accept solar power.

'It's Armageddon': Media Silent on Biden Admin Plan to Snatch Public Land For Solar Farms
News outlets slammed Trump-era plans to use public land for energy projects

The media have been largely silent on a Biden administration energy project that one conservationist said would be "armageddon" for public lands. It's a far cry from how reporters covered similar proposals under former president Donald Trump.

In December 2022, Interior Secretary Deb Haaland announced that her department would expedite plans to build solar energy farms across tens of thousands of untouched public land in 11 Western states. The announcement has garnered little to no national attention, save for the occasional report that the Biden administration is expanding renewable energy production.

National outlets took a far more critical approach to Trump-era land use proposals. "Where Will Trump's War on Public Lands End?" the New Yorker wondered in 2017. The following year, a New York Times headline lamented that a "Trump Drilling Plan Threatens 9 Million Acres of Sage Grouse Habitat." The coverage gap indicates a media bias, not just against Trump, but also for green energy.
***
Battle Chest
The group tasked with overseeing decisions at Facebook and Instagram is suggesting that Meta, those social networks' parent company, take a long, hard look at its infamous rule banning the "female-presenting nipple."

In a statement, Meta's Oversight Board said its suggestion for revision of the nipple rule stems from the removal of two Instagram posts, dated 2021 and 2022, from an account run by a pair of transgender activists.
***

Hateful attack leaves 10 dead in California mass shooting.

A suspect remains at large after at least 10 people were killed and multiple others were injured in a mass shooting at a ballroom dance club in Monterey Park, California, late Saturday in an area where people were gathered to celebrate the Lunar New Year, authorities said.

Capt. Andrew Meyer from Los Angeles County Sheriff's Department Homicide Bureau confirmed early Sunday that 10 victims were pronounced dead at the scene, with 10 additional victims taken to local hospitals in various conditions ranging from stable to critical.
***
What started as a peaceful protest at Underground Atlanta on Saturday evening apparently turned violent when marchers headed downtown, with a police car afire and business windows broken.

At a news conference Saturday night, Atlanta Police Chief Darin Schierbaum said they arrested six people who "chose to take the First Amendment as a shield of illegal activity, and we stopped the protesters that were acting illegally."

Earlier in the night, Atlanta police told The Atlanta Journal-Constitution that a group of people were damaging property at several locations along Peachtree Street. At the news conference, Schierbaum said no one was injured, and that three buildings and one police car were damaged.

"It doesn't take a rocket scientist or an attorney to tell you that breaking windows and setting fires is not protests. That is terrorism," Schierbaum said. "And they will be charged accordingly."
***
I don't think this is a wise move on the NFL's part. But, fvck 'em.

The Commanders opened the NFL's first sportsbook inside a stadium Friday, partnering with Fanatics. The Arizona Cardinals opened a sportsbook in September that sits outside the stadium. In Washington, no bets can be placed when the Commanders are playing at home.

The franchise received approval from the Maryland State Lottery & Gaming Control Commission for a sports wagering license on Aug. 17. They have a five-year license.

The Commanders will always be the Washington Redskins. Period.
***

Someone didn't really think this correspondence through.

'An overpayment has been identified': Former CVS employee receives request to send a check for one cent after overpayment error
You know it's ridiculous when the cost of the request exceeds the actual overpayment! This thread was posted to Reddit's r/CVS subreddit by u/CharacterKatie, a former employee who stopped working at the company last November.
***

The story goes as follows: Once upon a time college and university campuses were the center of free speech and expression. Not so any more.

POLL: 63% of college students feel intimidated sharing their opinions on campus

The William F. Buckley, Jr. Program published its eighth annual survey on college student opinions regarding free speech.

The poll recorded a 13% increase in students who felt intimidated to share their beliefs on campus, a record high.
***

When someone has a good idea I'll give them credit. Even if it is Russia. I wish they would clear snow this way in my county.
***
The ONT Musical Interlude & Vitamin D Emporium
RIP Marshall Tucker.
The man who gave the Marshall Tucker Band their name died at age 99 on Jan. 20.

The Southern rock pioneers chose their moniker from a random discovery soon after they'd formed in 1972, as they confirmed in a social media post.

"We are saddened to hear of the passing of someone very special to our hearts, for very obvious reasons," the post read. "Our band's namesake, Mr. Marshall Tucker, passed away peacefully yesterday morning at the age of 99. Though he was never a member of our band, we wouldn't be here today without his historic name."
&&&
On this day: January 22, 2017 - Pete Overend Watts
English bass guitar player Pete Overend Watts and founding member of the 1970s rock band, Mott the Hoople died from throat cancer aged 69. Watts helped start the Buddies with guitarist Mick Ralphs, a band that evolved into Mott the Hoople after periods in which it was known as the Doc Thomas Group, the Shakedown Sound, then Silence. They became Mott the Hoople after Ian Hunter joined in 1969. Watts continued with Dale Griffin, Morgan Fisher and Ray Major in the Mott successor British Lions. He later became a record producer, producing albums for artists including Hanoi Rocks and Dumb Blondes. via thisdayinmusic.com
&&&
Born this day: January 22, 1960 - Michael Hutchence
Michael Hutchence, singer, songwriter from Australian rock band INXS, who had the 1988 UK No.2 & US No.1 single 'Need You Tonight'. Their 1987 album Kick has sold over 10m copies in the US alone and features four Top 10 singles; 'Need You Tonight,' 'Devil Inside', 'New Sensation,' and 'Never Tear Us Apart.' INXS has sold over 55 million records worldwide. Hutchence was found dead in his hotel suite in Sydney on 22nd Nov 1997 age 37. via thisdayinmusic.com
***

Obviously planning is not one of his better strengths. Genius Award Winner.

RPD: Parolee charged with burglarizing six homes

ROCHESTER, N.Y. — A parolee was charged with six burglaries that happened this December and January on the city's east side.

Rochester Police say they identified 26-year-old Jamal Birden as the suspect using the GPS monitor he's required to wear and using video posted on a neighborhood social media app.
***

They have quite a bit to catch up on. Tonight's Feel Good Story of The Day.

Chihuahua missing for seven years reunited with owners after police found him while hunting suspect
Police found the pooch on January 18 while searching a house for a wanted man.
***

Tonight's ONT has been brought to you by Creativity.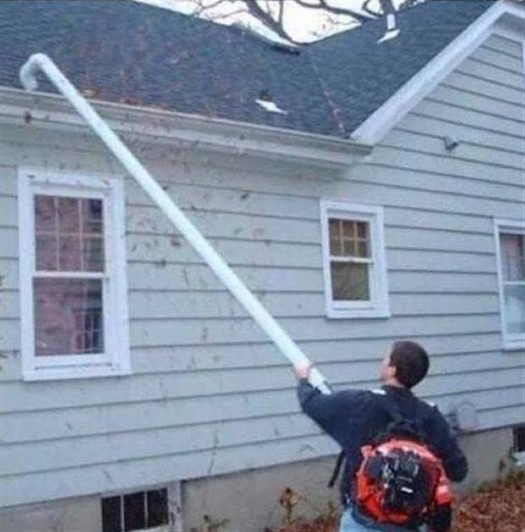 Notice: Posted with permission by the Ace Media Empire & AceCorp, LLC. ONT Tips, loose change, drink tokens and burner phones to petmorons at da gmail dot com. Everything else? Figure it out.


posted by Misanthropic Humanitarian at
10:03 PM
|
Access Comments