« Mid-Morning Art Thread
|
Main
|
Oh: Hunter Biden Was Paying Joe Biden Almost $50,000 Per Month In "Rent" to Live At His House »
January 16, 2023
THE MORNING RANT: Periodic Update on the Electric Vehicle Follies (01/16/2023)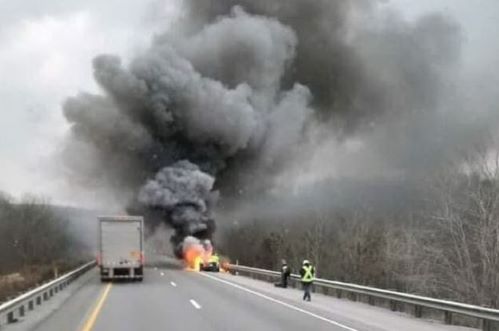 It's been a little while since we've checked in on the ongoing electric vehicle follies, so let's see what's going on.
*****
First off, a volunteer firefighter who reads Ace of Spades ("Danimal28") recently wrote me about training he just took on how to deal with the growing frequency of EV fires, which require extraordinary amounts of water to douse, and which burn much hotter than gas-powered cars.
Hey Buck,

As a volunteer firefighter I just took a class on how to handle EVs on fire.

1) Let it burn. It will take 10K gallons of water and four hours to mitigate.
2) Buy a $35K device to slide under vehicle which punctures battery cells and inserts water to mitigate fire under less than a half hour.

Key highlights:

1) If the batteries' relatively fragile cell barriers become damaged during an accident the fire will commence.
2) White smoke will emanate from the bottom of the vehicle which means you need to vacate the area immediately.
3) Once fire happens it can burn up to 6,000 degrees and flames can shoot out up to 20 feet per side of the vehicle.

Now imagine me approaching a vehicle with white smoke emanating from below to insert the puncture device, pondering when flames might shoot out a heat that will burn through my turnout gear... Ain't gonna happen, brother.
Yikes. Stay Safe Danimal.
As for me, I am going to continue to practice social distancing from EVs.
*****
We've spent plenty of time here talking about the executives at Ford and General Motors, who are willing to destroy their companies in a race to go all-electric, despite a lack of commensurate EV demand from their customer bases.
Are all auto companies run by hapless idealogues like those at GM and Ford? No.
Toyota Chief Says 'Silent Majority' Has Doubts About Pursuing Only EVs [WSJ – 12/18/2022]
President Akio Toyoda said he is among the auto industry's silent majority in questioning whether electric vehicles should be pursued exclusively, comments that reflect a growing uneasiness about how quickly car companies can transition.
Let me translate the second half of that sentence from agenda-driven, left-wing journalism to reality. Mr. Toyoda doesn't have "uneasiness about how quickly car companies can transition" to all-electric. He almost certainly knows that it will not happen, and that it cannot happen.
"Because the right answer is still unclear, we shouldn't limit ourselves to just one option," Mr. Toyoda said. Over the past few years, Mr. Toyoda said, he has tried to convey this point to industry stakeholders, including government officials—an effort he described as tiring at times.
Stating that unicorns don't exist shouldn't be considered brave, but in a crazy world where denying the inevitability of a unicorn-based economy can be career-ending, Mr. Toyoda is very brave. Sadly, too many of the silent majority of EV skeptics at auto companies remain willing to steer their companies into the ditch out of career self-preservation, rather than boldly defend their core product and customers against the green authoritarians.
*****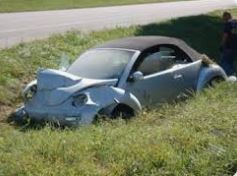 Speaking of car companies driving themselves into a ditch in pursuit of the glorious all-EV future…
Volkswagen's US sales collapsed in 2022 after it announced that it aspires primarily to be an EV company by 2030, even here in the states.
Overall VW sales in the US fell by approximately 75,000 units in 2022 compared to 2021, while its EV sales increased by a whopping 3,769 units year over year.
Volkswagen of America 2022 Sales Numbers Released: 22.5% More EVs but 19.7% Overall Drop [AutoEvolution – 01/06/2023]
[VW of America] reported 2022 sales of 301,069 vehicles for the twelve-month period. The figure is a massive 19.7% decrease from 2021.

The all-electric ID.4 numbers increased 22.5% from 16,742 vehicles in 2021 to 20,511 in 2022 and represented 6.8% of total sales.
I love this next line about VW's sales implosion reflecting that it is in a "transitory" phase as it works to go all-electric.
The dismal results for 2022 fully explain why the company was reluctant to provide a forecast for U.S. sales earlier in the year. However, they also may be transitory as the automaker forges on into the all-electric age.
Yes, you can call it "transitory" if an auto company is transitioning from a high-volume producer of vehicles people want to purchase, into a boutique producer of niche cars. You can also call it corporate suicide.
Perhaps the funniest part of VW's sales collapse is how it's reported by EV fanboys.
Volkswagen ID.4 Was 14% Of Volkswagen USA Sales In 4th Quarter [CleanTechnica – 01/13/2023]
What this update actually reinforces is the point that Volkswagen electric vehicle (ID.4) sales are increasing in share quickly. They go from 6.8% across the full year to 14% in the 4th quarter to 18% in December, indicating a clear trend toward more and more electrification.
Yes, Volkswagen's EV sales are increasing in percentage share quickly, because the denominator in this equation is VW's total vehicle sales, which are in free fall.
*****
So how is Georgia Governor Brian Kemp's EV boondoggle coming along? Let's check on Rivian.
Uh oh.
Mercedes and Rivian announced a partnership in September 2022, and it lasted all of three months.
Mercedes-Benz Vans and Rivian move to partner on electric van production [Rivian press release - 9/08/2022]
Rivian and Mercedes Put Electric Van Joint Venture on Hold [Car and Driver – 12/12/2022]
The EV startup and German automaker will no longer work together on a joint venture to build electric vans, pausing the project just three months after it was first announced.
It's funny how these partnerships between established auto manufacturers and EV start-ups keep breaking up. It's really funny when it happens this quickly. Good job, auto executives! Great due diligence.
Meanwhile, corporate headquarters at Rivian doesn't sound like a fun place to work…
Several top Rivian executives depart the electric vehicle startup [Fox Business – 01/10/2023]
Several top executives at Rivian Automotive Inc., including the vice president overseeing body engineering and its head of supply chain, have left the EV startup in recent months, as the company exits a year in which it fell short of its production targets.
That doesn't sound good. But how are its investors doing?
Rivian's stock has also tumbled since its blockbuster initial public offering in November 2021, down roughly 79% through Tuesday's close.
Oh well. An eco-fool and his money are soon parted.
*****
Speaking of the eco-foolish, they really don't understand what goes into making their "green" cars do they?
Almost 400 new mines needed to meet future EV battery demand, data finds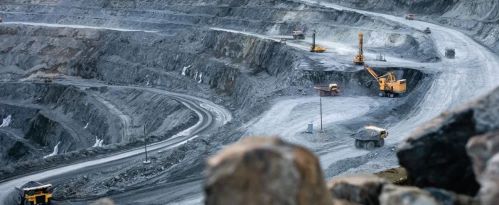 OK, so we'll need several hundred more mines to produce all the lithium, cobalt, graphite, and nickel needed to fuel the "green" EVs (which are generally powered by coal and gas-fired electricity)…
…just so long as the mines are far, far away - preferably in Asia or Africa. That's the green thing to do. Strip mining America for those rare earth elements would be racist and environmentally unfriendly.
The fate of America's largest lithium mine is in a federal judge's hands [NPR – 01.06.2023]
The fate of the largest planned lithium mine in the United States is now in the hands of a federal judge who hopes to issue a ruling in a long-running legal battle in the next two months.

The proposed mine on Thacker Pass, a remote slice of federal land near Nevada's border with Oregon, is seen as key toward boosting domestic electric vehicle production. But a group of West Coast Native American tribes considers the land sacred and are suing to stop it.
*****
Did you ever wonder what would happen when the first big wave of electric vehicles hits the used car market? Apparently EVs are like wedding rings. They cost a lot upfront, but aren't worth much when the relationship ends.
Used electric car prices: why are second-hand EV values falling for Tesla, Audi and Jaguar? [National World – 01/10/2023]
The price of used Teslas has fallen significantly in recent months as buyers shy away from second-hand electric cars.

Experts say [Tesla's] over-saturation of the market could be to blame as three of its models were among the five EVs with the worst depreciation over the last 12 months.

Chris Plumb, valuations expert at Cap HPI said that while new electric car sales continued to grow and overall used prices [on gas-powered vehicles] remained solid, used EV prices were contracting, with premium models suffering the biggest drops in value.
Also contributing to the collapse in used EV prices is the fact that Tesla is having to slash the prices of its new cars to get them sold.
Tesla drastically lowers EV pricing in the US and Europe [01/13/2023]
The Model Y Long Range sees a huge $20,500 drop including the Federal Tax Credit.
Buying a used EV is a scary idea in the first place, because the entire car only has about a 10-year useful life. After that it might as well be a (toxic) boat anchor due to the prohibitive cost of replacing the battery.
If you own a Tesla and hoped to sell or trade it in soon, this is really bad news. I feel bad for auto dealers who have recently taken Teslas in trade, as their value is in absolute free fall.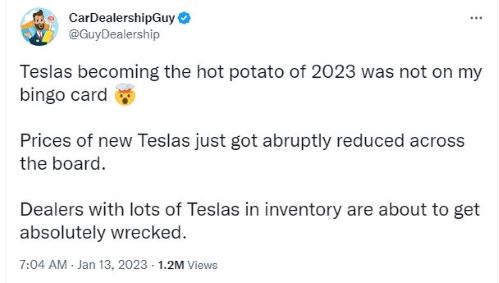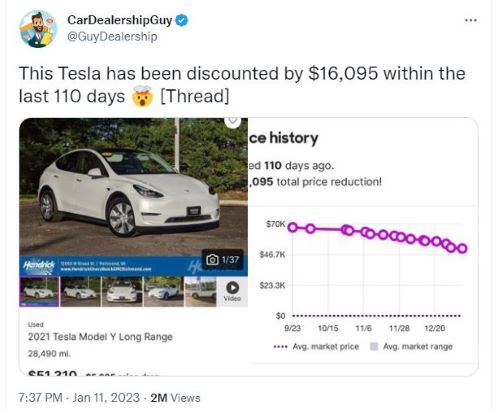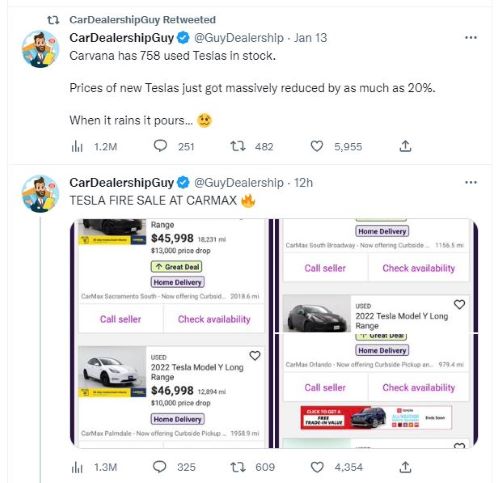 Tesla's stock price is crashing too, down 68% from its 52-week high. Taking a bath on every off-lease unit running through auction won't help.
*****
Enough about EVs. Let's conclude today's visit by riding along in a gas-powered, carbureted Hot Rod Lincoln.
Have a great week.
(buck.throckmorton at protonmail dot com)


posted by Buck Throckmorton at
11:00 AM
|
Access Comments