« Mid-Morning Art Thread
|
Main
|
Shock: NYU Study Finds Russian Trolls Had Little to No Impact on Trump's 2016 Election »
January 09, 2023
THE MORNING RANT: You Tube Blocks Heartland Institute's "Climate Realism" Live Stream…Because of January 6?
Monster Tech's zeal for censoring politically inconvenient science, combined with the obsession of January 6 as a high holy day for the left, resulted in You Tube banning a Climate Realism live stream with well known climate scientist Judith Curry, just before it was to air on January 6.
Whereas you or I might roast a turkey to celebrate a holiday, the left-wing tech cartel chooses to celebrate its special holidays by banning conservatives from the de facto monopoly tech platforms.
Climate Realism is run by the Heartland Institute, where the great Anthony Watts is a Senior Fellow. He has done amazing work debunking the climate hysteria. If you are not reading his climate site (www.wattsupwiththat.com) you should give it a look. Mr. Watts provides hard scientific data to rebut the climate fear-mongering of the Sustainable Organic Church of the Carbon Apocalypse.
The reason that You Tube alleged for yanking Heartland's You Tube channel on January 6 was that it had spread "election misinformation."
So, when was this alleged election misinformation spread? 20 months ago.
And the video in question (here's a link to it on Rumble) did not include a discussion about the legitimacy of the 2020 election, the topic was whether Donald Trump should have been banned from social media for expressing his doubts about the election. In other words, the discussion was about whether forbidden opinions should be reason for banishment. The panel in that video also discussed how a consistent social media policy would have required that Hillary Clinton and Stacey Abrams also be banned for their "election denialism."
Jim Lakely of the Heartland Institute just published this article over the weekend: YouTube Pulls Down Heartland Institute's Channel Just Before Live-stream with Climate Scientist Judith Curry
The censors at YouTube justified striking down Heartland's channel because we supposedly uttered "misinformation" about the 2020 Election. We did not. And that is very suspicious timing.
Every Friday the Heartland Institute hosts a "Climate Change Roundtable" with guests who dare to challenge the apocalyptic climate hysteria – and agenda - of the climate cult. Judith Curry was to be the guest on Friday January 6, 2023.
She's an esteemed scientist who has looked at the data, sees a warming world, but not an impending climate catastrophe that is all the fault of human activity. For that, she is vilified by many, and feared by even more — including, apparently, the folks who decide what to ban and when on YouTube.
(A quick aside - I disagree with acknowledging any man-made climate change beyond micro-impacts such as urban heat islands. With so much false data having been published by NOAA, NASA, and professional climatistas, there is no reason to trust any climate data they produce. I fear that it's deleterious to our battle against the climate communists to give their work any credence, but that's a separate discussion from the core issue of today's post.)
Anyway, just as we were finishing our show-prep for the episode with Dr. Curry, we got a notice in the back end of our YouTube channel that we had earned a "strike" for spreading "election misinformation" in a previous video.

So, with literally just minutes to go before we were live with Dr. Curry and undoubtedly our biggest live audience yet, YouTube shut down our channel and prevented anyone from watching it there.
That previous video was aired in May 2021. You Tube didn't even specify what information in that old video violated its terms of service, or what "election misinformation" had been spread in that video.
It is hard to believe this was just a coincidence — that the algorithm just happened to get around to catching this supposed violation by us — and it's just our awful luck that it happened mere minutes before we were going live with Dr. Curry.
Mr. Lakely has an idea of how this all played out.
A better explanation is this: The name "Judith Curry" was noticed by someone at YouTube — or maybe Michael Mann, who is sensitive to such things, especially regarding Dr. Curry, and he reported the stream to YouTube — and then a human being at YouTube decided that a live-stream from a "climate realist" scientist not be allowed to happen. So, the pretext of Heartland supposedly spreading "election misinformation" was invented, the strike issued, the stream stopped, and high fives all around for a job well done by the leftist censors at Alphabet/Google/YouTube.
Here (on Rumble) is the discussion that was banned by You Tube.

The monopoly cartel of Monster Tech censors must be broken up. It's time for some trust-busting.
*****
It cannot be stated often enough, or emphatically enough, the climate agenda is about global command and control of all human activity. You are not to be allowed control over your freedom or wealth.
While it is necessary for the worshipers of the climate religion to believe in the apocalyptic tenets of the faith, that is not what is motivating its high priests.
The IPCC is the UN's Intergovernmental Panel on Climate Change. Believe them when they tell you who they are and what their goals are. This is an interview with IPCC official Ottmar Edenhofer back in 2010.
First of all, developed countries have basically expropriated the atmosphere of the world community. But one must say clearly that we redistribute de facto the world's wealth by climate policy. Obviously, the owners of coal and oil will not be enthusiastic about this. One has to free oneself from the illusion that international climate policy is environmental policy. This has almost nothing to do with environmental policy anymore, with problems such as deforestation or the ozone hole.
Likewise with the WEF. Seriously, believe them when they tell you their objectives. They're not hiding their goals from you. Then reject them, mock them, and reject anyone who embraces these evil entities.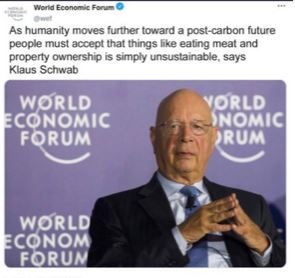 "The urge to save humanity is almost always only a false-face for the urge to rule it." (H.L.Mencken)

*****
Southwest Airlines' executives may not know how to run an airline any longer, and they may have left tens of thousands of passengers stranded in airport terminals over Christmas, but at least they are focused on being obedient parishioners of the climate church.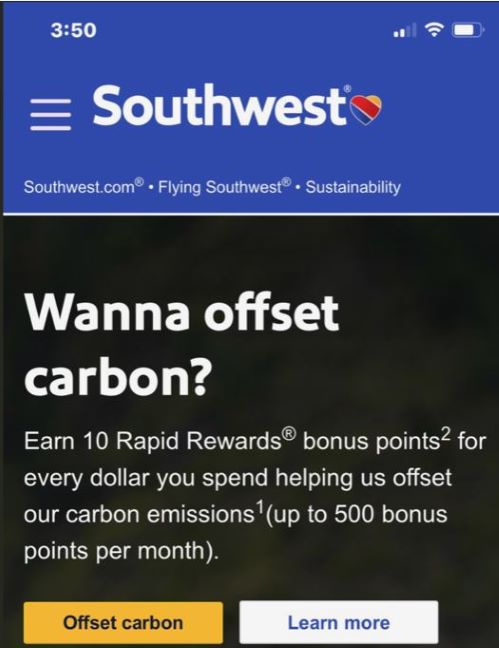 Just think about all the carbon that was saved by keeping planes grounded and not delivering passengers to their destinations. To be the best carbon citizen that it can be, and to prove its ESG bona fides to BlackRock and Vanguard, maybe Southwest just needs to ground 100% of its flights every day.
(buck.throckmorton at protonmail dot com)


posted by Buck Throckmorton at
11:00 AM
|
Access Comments