« Saturday Coffee Break & Prayer Revival
|
Main
|
Gardening, Puttering and Adventure Thread, Jan. 7 »
January 07, 2023
Waking up (?) in Switzerland, other snowy places and a certain sunny place.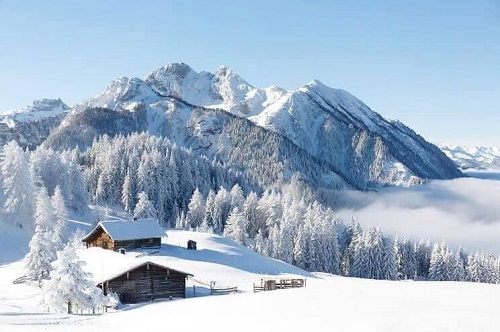 Snowy scene in Switzerland
Looks peaceful, doesn't it? But also remote. There is more to Switzerland than mountain retreats and dairies.
Switzerland Resists Gender Theory
Unlike South Dakota. WeirdDave posted a link to the National Review piece on South Dakota's capture by the forces of radical transgenderism in the Thursday night ONT. Some good reporting went into this piece. If you have used your free NR articles for the month, here's a thread by the author:
This gives us a window into Kristi Noem's veto of the girl's transgender sports bill. Do we understand what happened to her now? Folding didn't keep the Jan. 6 Committee from releasing her kids' social security numbers.
When Governor @KristiNoem surprised conservatives by vetoing that bill, we looked into it. What we found was that a Sanford lobbyist named Matt McCaulley had worked with Noem's office to kill HB 1217 -- and a number of anti-gender ideology bills, too:
Biggest employer in South Dakota.
Here's an interview:
*
So, why did Switzerland resist "change"?
Swiss government rejects 3rd gender option, at least for now
I have my own theories, but I would like to learn what you think.
BERLIN (AP) -- The Swiss government on Wednesday rejected the idea of introducing a third gender option or no-gender option for official records, a position which differs from that of some neighboring countries.
Switzerland has an unusual political system in which four parties from the left to the nationalist right are represented in the government and frequent referendums are held on all kinds of issues.

In 2018, the German government approved a third gender option for official records, allowing people to be registered as "diverse." The law already allowed for gender to be left blank.
Leaving gender blank. Might be better than, say, fishgender for some folks.
Switzerland makes a lot of government decisions slowly and locally. But there is a tendency toward authoritarianism sometimes, in the sense that they want everything to run like a Swiss watch.
Sometimes you get some worrisome over-reaches, like this, from September, going Stasi on home heating.
And Switzerland is not immune from progressive weirdness. Remember that bizarre train tunnel ceremony a few years back? This is just the outdoor part.
Of course, in that case there was international cooperation.
A couple more photos as we leave Switzerland.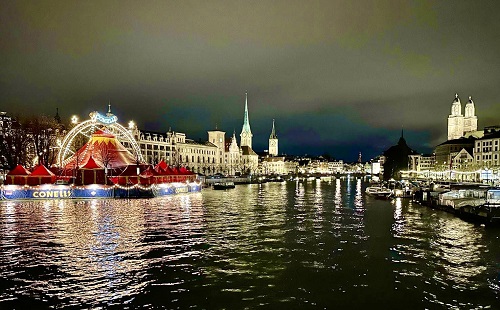 Zurich in Winter
Zurich Street
* * * * *
Snow and Glaciers in Montana
Remember those signs that said that the glaciers would all disappear from Glacier National Park by 2020? Nice take-down of some progressive posturing here.
Nothing is simple when it comes to understanding the causes of climate change impacts. The key to understanding is to look at the longest data records available, and try to interpret the causes of the historical and paleo variability. Once you understand the natural variability, you aren't so prone to attributing everything to fossil-fueled warming and making naive predictions of the future. And once you understand weather variability and extremes, you won't be so enthusiastic about renewable energy.
* * * * *
O Canada
Well, we have some problems with our health care system, but. . .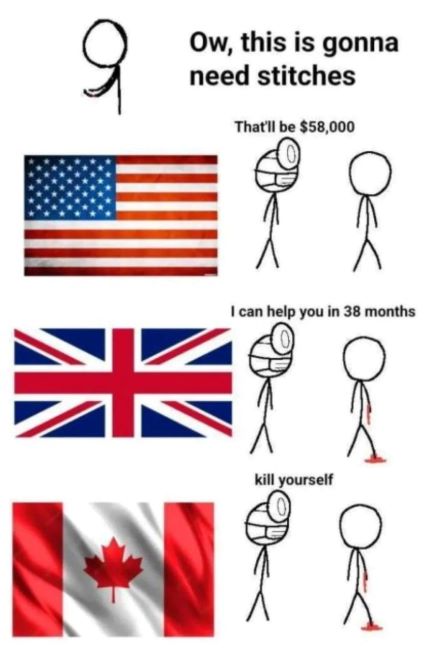 *
There is another kerfuffle regarding Jordan Peterson in Canada now, too. Talk about authoritarians. Higher Education and government out of control.
Peterson: I Will Risk My Licence To Escape Re-Education
Gad Saad, however, caves to re-education:
* * * * *
Higher Education, Florida
Not long ago, I saw this very depressing post on Higher Education. I kind of liked the Higher Education of yore:
The basic message of the talk featured above is that, despite the years of effort by Legal Insurrection and others, Higher Ed. cannot be reformed from the inside. You get the idea that this is true when you see pieces suggesting things like culling professors who aren't in lockstep with DEI.
Chris Rufo called for hope, writing about disruption by the Quiet Right.
Then Ron DeSantis REALLY disrupted things.
Rufo is an activist. He got right to work.
Flooded with requests from professors who want to work at New College of Florida.

Love this quote:
Left-wing radicals have spent the past fifty years on a "long march through the institutions."

We are going to reverse that process, starting now.

Gov. DeSantis has laid out a vision for recapturing the institutions and restoring them to American principles.

Let's do it.
* * * * *
Music
Hall of the Mountain King, Iceland Symphony Orchestra
* * * * *
Hope you have something nice planned for this weekend. Trip to Switzerland or Florida?
This is the Thread before the Gardening Thread.
Serving your mid-day open thread needs
* * * * *
Last week's thread, Who ya gonna trust? Dec. 31, 2022
Comments are closed so you won't ban yourself by trying to comment on a week-old thread. But don't try it anyway.

posted by K.T. at
11:06 AM
|
Access Comments