« Margot Cleveland: The FBI Offices Involved in the Hunter Biden Investigations Began Blitzing Twitter With Censorship Requests Just Before the 2020 Election
|
Main
|
Fortune Favors the Bold Cafe »
December 29, 2022
Quick Hits
President Biden @POTUS

United States government official

One of the reasons I ran for office was to confront the existential threat climate change poses to our nation and to the world.

With the signing of the Inflation Reduction Act, we took the biggest step towards that goal in American history.
To prove how much he cares about the environment, he's having the 4000 page omnibus budget flown to him by special delivery to St. Croix. He could have just waited a day before going on yet another vacation to sign it in Washington, but he decided it was worth releasing all that carbon dioxide to tan his impressive All-American Flankerback guns the extra day.
Oh, and then the budget will have to be flown back to DC, again, by special flight.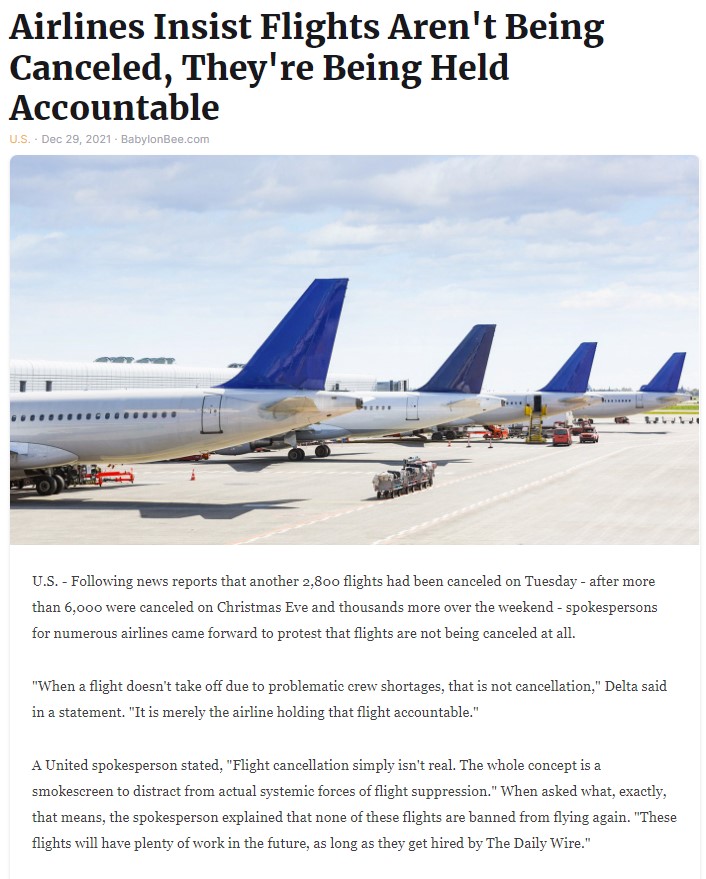 Southwest Airlines continues cancelling thousands of flights.
More than 2,500 flights, or 62 percent of its planned flights on Wednesday, had been canceled, according to FlightAware. And Southwest said in a statement on Wednesday that it planned to fly one third of its scheduled flights for the next several days as it tries to return to normal operations, meaning it would continue to cancel close to 2,500 flights a day. Some passengers, unable to rebook Southwest flights, rented cars or spent hundreds of dollars to buy tickets on other airlines.

So what caused the meltdown?

The "point-to-point" model failed

Southwest uses a "point-to-point" route model that often lets passengers fly directly from smaller cities and regions without having to stop at a central hub like Denver or New York. Point-to-point flights cut travel times by eliminating the intermediate stop -- typically a big advantage for travelers who are not flying from major metro areas.

Other large carriers like United and American rely on a "hub-and-spoke" model in which planes typically fly from smaller cities to a hub airport where passengers change planes.

...

With a hub system, there's a ready pool of crew members and pilots who can report to work at a major airport, said Mike Arnot, an industry analyst. That makes it easier to regroup after a storm, he said. Planes also are kept closer to their home airports, rather than being spread across the country.

It's harder to have a reserve of standby crew members and pilots when airlines serve many smaller markets. There is not usually excess crew in places like Syracuse, N.Y., Mr. Arnot said.

As a result, Southwest's cancellations created a giant snowball effect that rippled across its carefully choreographed network, leaving planes and crews scattered across the country, he and other analysts said.
But a lot of people blame the airlines for having taken PPP loans on the condition that they retain all their employees -- a condition many did not honor, choosing to use the covid slowdown as an opportunity to offer early retirement to many senior pilots. Leaving the industry short-staffed as we came out of the lockdowns.
But don't worry, Pete Bootyjudge will fix this like he's fixed all the transportation problems he's been confronted with, usually by going on vacation.
Alexandria Donkey-Chompers has come out as a Groomer and is calling for "protection" for Drag Queen Story Hour.
[T]he New York Times editorial board revealed on Christmas Eve that right-wing paramilitary groups were showing up at anti-LGBTQ protests, but the only group we saw armed with AR-15s outside of an "all-ages" drag show was Antifa.

Rep. Alexandria Ocasio-Cortez has passed along a call to action to protect Drag Queen Story Hour in Queens from the far right. The Rolling Library, a "queer-led, Queens-based, library-obsessed mutual aid group" is looking for some muscle to help protect queen spaces and expression.
The philosopher Donkey-Chompers also opined on the Meaning of Life.
The Air Force under Biden will cancel its fleet of planes used to combat drug smuggling across the border.
The Air Force is planning to eliminate its small fleet of surveillance planes used to counter drug smuggling at the border by the end of the month -- abruptly moving up its original deadline by four months.

National Guard pilots must fly their aircraft to the Boneyard before the end of the month so the planes can be stripped for parts, according to documents circulated to branch members obtained by CNN. The updated plan marks an escalation in the service branch's efforts to phase out the fleet despite its reliance on the planes to intercept drug smuggling missions at the border.

The Air Force initially told pilots earlier this year it would be scrapping the fleet of RC-26 planes due to a lack of funding from Congress for the aircraft, telling service members they would cease to fly missions beginning in April 2023, according to internal memos obtained by the outlet. The aircraft would then be sold to entities outside the Defense Department.
Are they doing this on purpose?
Hall of Fame receiver Terrell Owens wants to play in the NFL again -- at age 49.
I'd like to see him manage it. I strongly suspect he won't be able to, alas.
DHS: We totally have intelligence that Right Wing Extremists are plotting terrorism against illegal aliens over Title 42 and we're totally not making this up like we make everything else up.
The Department of Homeland Security recently warned of potential domestic violent extremist acts related to the anticipated lifting of a Trump-era border restriction, according to a memo obtained by CNN, just days before the termination of those limits was halted by the Supreme Court.

"So far, we have observed calls for attacks targeting primarily migrants and critical infrastructure, but our insight into DVE plotting is constrained by these individuals' use of online security measures to limit exposure to law enforcement," reads the memo, dated December 23.

Threats against the United States are increasingly unpredictable and complex amid a host of conspiracy theories, foreign interference and calls for violence.
.
Elon Musk announced that you will be free to question "The Science" on Twitter again -- as actual science requires.
On Wednesday, Elon Musk made a huge decision in support of free speech for Twitter users. In a tweet, Musk declared that users will be able to question "the science" once again.

"New Twitter policy is to follow the science, which necessarily includes reasoned questioning of the science," Musk tweeted.

Like most of Musk's actions involving Twitter, this policy announcement was controversial.
By the way, Twitter employees maintained a "Fauci Fan Club" slack channel, Elon Musk disclosed.
Joe Rogan slammed Jimmy Kimmel for pushing a "toxic" fake "comedy" of the leftist bubble.
"He's had a real problem with Elon from the beginning of this, but it's like he's in this leftist thought bubble -- he's in the most leftist thought bubble available, which is Hollywood," Rogan added. "And you know, I think also, you know, he famously -- there's some videos of him in blackface, and those came out and he had apologized for them. And I think he took that hit and like really doubled down the other direction."
A homeless transgender person was living in Planet Fitness' locker room, which of course you're not allowed to do. He attempts to get the manager cancelled for terminating his membership and kicking him out.
Note his caption: "This is how Planet Fitness treats a transgender person." As opposed to a homeless bum violating company policy by attempting to turn his $20 a month membership into an apartment situation.
Once again, if you're able to use your status as a "transgender" as a shield protecting you from the consequences your own bad behavior, and a sword to strike down people for pointing out your bad behavior -- then your "transgender" status is a privilege, not a point of marginalization.

posted by Ace at
06:33 PM
|
Access Comments