« Who ya gonna trust? Dec. 31, 2022
|
Main
|
Ace of Spades Pet Thread, New Year's Eve »
December 31, 2022
Gardening, Puttering and Adventure Thread, Dec. 31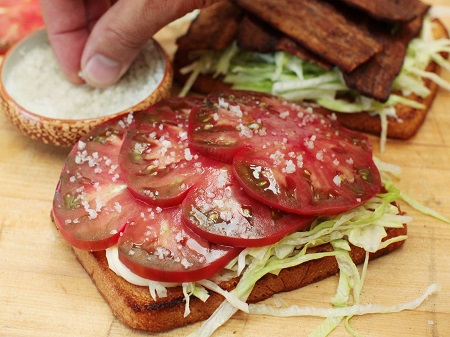 Happy New Year's Eve! Today we're going to be looking forward toward next season's gardens by looking back toward what we have learned in past threads.
I have ordered some seeds to supplement those I already have. How about you?
Well, here we go:
Hello, gardeners and those who wish this weekend that they knew a gardener.

Maters for a BLT

Above, one of the best uses for a big garden-fresh tomato. Say a Cherokee Purple, Stump of the World, Dr. Neal, Neves Azorean Red or J.D.'s Special C Tex. Do you have a favorite BLT tomato?

A BLT is not a well-dressed bacon sandwich. A BLT is a tomato sandwich, seasoned with bacon. From this basic premise, all else follows. Indeed, a better name for the BLT might well be the Tomato Club, for it is the perfect tomato, not the bacon, that is the rarest, the most ephemeral, the most singularly delicious ingredient. A BLT is not a democracy. It is not a committee meeting. It is a dictatorship, and the tomato is King, Queen, and Supreme Leader. In the BLT universe, the Prime Directive is that all other ingredients shall be at Her Majesty's service, their only role to prop her up and enhance her best qualities.
Taters for a Tater Salad

A couple of weeks ago, we posted a photo of Gordon's blossoming blue potatoes. Don't know if he has harvested any. Do you have a favorite potato for potato salad?

One of the signs of the Labor Day Weekend around here is when mayonnaise goes on sale. Many pros recommend russets for mayonnaise-based potato salad dressings. How about you? Any Yukon Gold fans out there?

Of course, fingerlings and other "waxy" potatoes are renowned for potato salad, but I wonder if they are better for the warm, German-style salads? Anybody got a favorite recipe? . . .

I like garden potatoes that are in the awkward stage between new and storage potatoes for vinaigrette-style potato salads. I like awkward-stage garden potatoes lightly mashed with garlic and butter, too.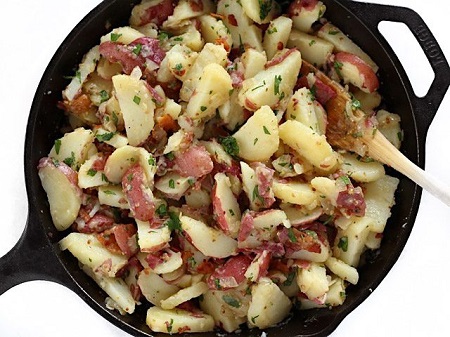 *

Edible Gardening/Putting Things By
CATALOGS are not all the same
Well, for most of us, it's Dream Time as far and gardening is concerned. Ready for a walk on the wild side? If you don't need to plant your tomato or pepper seeds (or other seeds) right away, and Baker Creek doesn't have enough choices (heh), you might be able to save a little money by taking a chance at the Croatian Seed Store. They have a very wide range of open-pollinated seeds. Lots of tomatoes bred in Eastern Europe (both for outdoor and greenhouse culture) were outstanding for non-hybrids, as breeders had to keep using open-pollination while Western seed companies turned to hybridization.
They have a large variety of seeds from the international Dwarf Tomato Project, which bred short-internode indeterminate tomatoes, such as Wild Fred.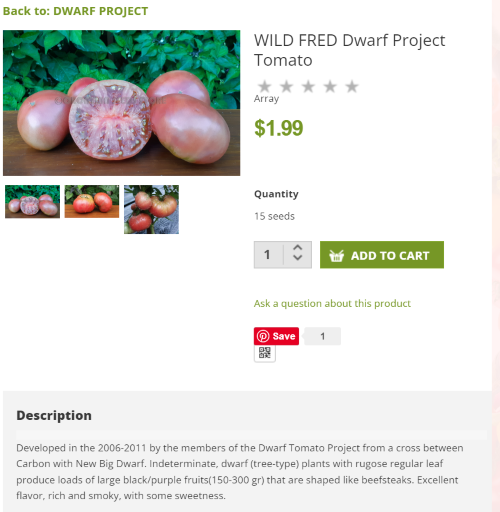 And they have woolly tomatoes from around the world. I grew some woolly tomatoes once. One of the old, pale "peach" varietes. They were fun. Work has continued, apparently.
And they have a lot of the heirlooms you have heard of. And even more you haven't heard of. It's fun just to scroll through them. Peppers are kinda fun, too. Sweet peppers are divided from the hot peppers and are separated by color.
If you would rather stay stateside, Victory Seeds also carries the Dwarf Project Tomatoes. Their Woolly Tomatoes are mostly integrated into the yellow/orange/pale category. Less variety than the catalog above, but that may be a feature rather than a bug for some folks.
*
The Seeds 'N Such Catalog has a special through Jan. 2, and they have already run out of a few items. I appreciate that, for hybrid tomatoes, disease resistance is listed with the photos of the tomatoes. They have a lot of open-pollinated varieties, too. Some of the varieties shown as "bulk" also have options for smaller packets. If you decide to order from them, they have 'Summer Dance' cucumbers and also 'Just Right' turnips (fall only).
If you have problems with disease in your tomato patch, this catalog may be a good option for you. The guy who runs it has experience in the "big boy" catalog business.
Skyway Hybrid Tomato VFFFNTswvTylc

( $3.99 packet size 5 seeds or bulk sizes)

78 days. Our best beefsteak type if bothered by tomato spotted wilt virus, tomato yellow leaf curl virus or apex necrosis virus, three diseases that plague Southern growers striving for large fruit size and top quality. Vigorous healthy plants yield attractive red fruits that are moderately ribbed and weigh 8 to 12 oz. Determinate.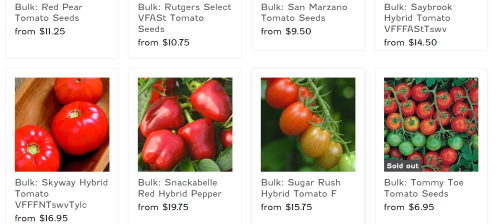 You can also search by individual diseases, particularly "late blight". You can also do this at Pinetree.
*
Speaking of the Big Boy catalogs, if you are shopping at Burpee this year, their old Sweet Tangerine Hybrid might be a better bet than their new feature, Vivacious.
A great tomato. The heirloom 'Tangerine' is not the same tomato. Not a bad tomato, but not the same. The hybrid does well in our hot climate. The heirloom is apparently highly nutritious but drought-sensitive. Trust the science.
*
Container Planting: New Big Dwarf (the inspiration for the Dwarf Tomato Project), Roselle Purple or Dwarf Wild Fred.

Short season or cool summer areas: Gregori's Altai, Pruden's Purple, Pink Berkeley Tie Dye, Soldacki, Goldie, Gold Medal, Chianti Rose, Bush Beefsteak F1 or New Big Dwarf.

Hot, dry areas (not the interior deserts, necessarily): Dr. Lyle and Stump of the World have done well for me. Others recommended for our area include Boondocks, Brandy Boy F1, Neves Azorean Red, Giant Belgium, Marianna's Peace, Jumbo Jim Orange or Mexico (not "Mexican Beefsteak").

Hot, humid areas: JD's Special C Tex, Indian Stripe, Dixiewine or Florida Pink. I know there are more.

Really big plants: Climbing Trip-L-Crop or Pink Climber.

Competitive tomato-growing: Last I heard, "Delicious" held the world record for the largest tomato - more than 7 pounds. Burpee introduced this cultivar in 1964 after years of selection from "Beefsteak" (AKA Crimson Cushion or Ponderosa Red). Delicious is reputed to hold its flavor when the nights turn cold in fall. This is probably a good thing, since it ripens late.

Other tomatoes promoted for competition include Big Zac F1, Goliath (open pollinated - not the hybrid lines) and Believe It or Not.

We've found more since then.
Varieties and strains of Brandywine tomatoes. If you find a supplier you like, stay with it.
Cumberland Astro checked in with tips and detailed notes on experiences with varieties he had grown in humid conditions.
Anybody grown Garden Gem? (Offspring of Maglia Rosa)?
Shanks for the memory with notes on Gran's superior beefsteaks, experiences with new varieties and great canned Early Girl tomatoes.
Plus Music. Topical again as rain is scheduled for today in the Valley.
More catalog suggestions. If you live in a moderate or short-season climate, you might want to try Rose de Bern or Cosmonaut Volkov tomatoes.

*

Ah, Nature
Poor little birds.
Here are the Macaulay Library's Best Bird Photos of 2022
More birds:
*
Gardens of The Horde
My recent seed choices, from Tomato Growers Supply:
Three big pink or red beefsteak types:
Boondocks
Mexico
Stump of the World
Trivia: 'Stump of the World' has a religious connotation (Think Stump of Jesse).
This tomato is a parent of these dwarfs: Willa's Cariboo Rose, Wilpena, Rosella Purple and Rosella Crimson.
(Rosella Purple is reputed to resemble Cherokee Purple on a dwarf plant.)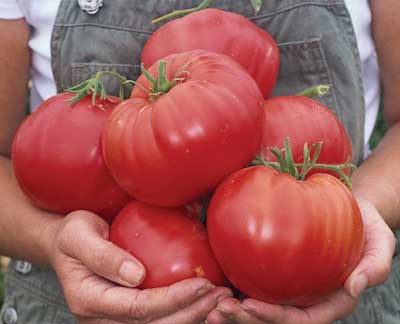 Mexico
Small "black" tomato, usually looks perfect
Nyagous - Maybe I should have ordered 'Bulgarian Triumph' to go with it. It's a red cluster tomato. Love the name.
Wonder if my AAA Sweet Solano seed is still alive?
Oxheart:
Wes
Two stand-ins for Cherokee Purple or J.D.'s Special C Tex:
Indian Stripe
Black from Tula
Cherries:
Sun Orange Hybrid commentary here
Chocolate Sprinkles FNT (Thanks, Shanks)
Cucumber:
County Fair Improved Cucumber
They are supposed to send bonuses:
Early Prince Cucumber (commercial, extra female blossoms)
Black Plum Tomato and
Super Khi hot pepper (ornamenta/edible -Thai or Chinese).
I didn't see Dr. Lyle (a great beefsteak) offered in the catalogs I checked this year.
*
Anything going on in your garden or yard? Or are you in front of the fireplace reading catalogs?
Hope everyone has a nice weekend. Be careful on the roads.

If you would like to send photos, stories, links, etc. for the Saturday Gardening, Puttering and Adventure Thread, the address is:
ktinthegarden at g mail dot com
Remember to include the nic or name by which you wish to be known at AoSHQ, or let us know if you want to remain a lurker.

Week in Review
What has changed since last week's thread? Christmas Eve Gardening, Puttering and Adventure Thread
Excerpt from a comment by the famous Pat*:
Time to take that catalog, sit by the fireplace, and make Secret Plans for the Victory Garden. Everyone stay warm and Unconquerable out there!
Any thoughts or questions?
I closed the comments on this post so you wouldn't get banned for commenting on a week-old post, but don't try it anyway. And don't comment on the other old threads above!

posted by K.T. at
01:16 PM
|
Access Comments