« Mid-Morning Art Thread
|
Main
|
Twitter Files Supplemental: Now the FBI Begins Carrying Messages from the CIA to Twitter, Hinting (Demanding) That They Act Against Alleged "State Propaganda" Efforts »
December 19, 2022
THE MORNING RANT: Inflation – The Media Spins, The Government Lies, and Consumers Suffer
Did you hear the great news from the US Bureau of Government Misinformation Labor Statistics? Inflation is being tamed, which "eases pressure" on households.
This is completely false, and it's incredibly offensive to the lives being severely impacted by inflation.
A slowdown in US inflation eases some pressure on households [AP – 12/13/2022]
Consumer prices rose 7.1% in November from a year ago, the government said Tuesday. That was down sharply from 7.7% in October and a recent peak of 9.1% in June.
7.1% was hailed as a huge victory for consumers because "expectations" were that inflation would be 7.3%, thus the inflation nightmare is over! Pressure on households has been eased! Hooray for Biden and Yellen.
Except pressure has not been eased on consumers.
Let's pretend for a moment that the government's fraudulently understated inflation numbers are even legitimate.
The official inflation figure for November 2021 was 6.8% annual inflation, thus a $100 basket of groceries in Nov 2020 had increased in cost to $106.80 by November 2021. One year later in November 2022, at the 7.1% inflation rate we're all excited about, that basket of groceries now costs $114.38, which is over 14% higher than just two years ago.
Here's the comical part, had the inflation rate been 7.3% as per expectations rather than the "pressure easing" rate of 7.1%, that basket of groceries would have cost $114.60, or 22 cents more.
I'd tell you to enjoy your 22 cent savings, but your basket of groceries is still $7.58 higher than it was a year ago, and $14.38 higher in just two years.
By the way, have you received salary raises exceeding 14% over the past two years? If not, it doesn't sound like the pressure is easing on your wallet.
*****
What is the Real Inflation Rate?
There are plenty of charts flying around showing that actual price increases for groceries, energy, etc are significantly higher than the false figure reported by our government.
It's worth remembering that the government has changed its inflation calculation method in recent decades, which obfuscates the fact that we are actually in a real-life, double-digit inflationary period that rivals the worst of the late '70s and early '80s.
John Williams' website (shadowstats.com) monitors flaws in government economic reporting and data. The chart below shows official inflation as reported by the US government (red line) versus inflation if calculated the same way it was calculated in 1980 (blue line.)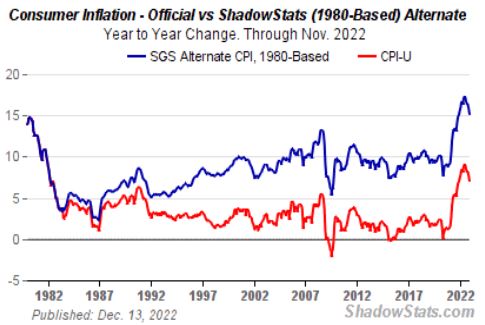 Current, actual inflation of around 15% is more than double the fabricated and obviously false 7.1% that is being reported.
If the reality of inflation's impact on tapped-out consumers wasn't so devastating and so heartbreaking, it would almost be funny that our ruling class thinks that inflation is just a messaging problem. Our elites in government and media genuinely believe that lying to you with the imprimatur of officialdom can convince you that you haven't run out of grocery money.
*****
More From the US Bureau of Government Misinformation Labor Statistics
Of course, no matter what methodology the Bureau of Labor Statistics uses to produce its data, it is highly likely that they are publishing wildly inaccurate – but politically useful – information that will only be retroactively corrected at a later date.
When the Bureau of Labor Statistics estimated that there were 1,121,500 new jobs created in Q2 2022, they only overstated the real number by 1,111,000 jobs. The actual number of jobs created was just 10,500.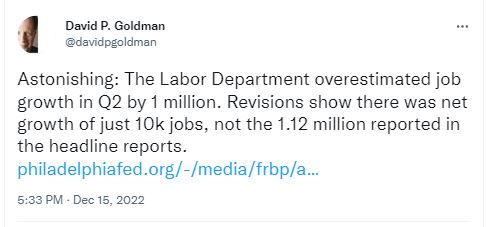 Our government's habit of publishing fraudulent economic statistics is not a problem. It's policy.
*****
Strapped Consumers' Last Resort – Liquidating Their Retirement Accounts
A few weeks ago in discussing the awful cash crunch consumers are dealing with in the face of Biden's destructive inflation, I linked to one story documenting that the personal savings of Americans have plunged 87% in two years, from $4.85 trillion in 2020 down to $626 billion, and I linked to another story documenting that credit card debt in the U.S. hit an all-time high of $930 billion.
It keeps getting worse. Americans are now taking hardship withdrawals from their 401ks in record amounts.
401(k) 'Hardship' Withdrawals Hit Record High, Vanguard Says — Another Sign Households Feel the Pinch of Inflation [CNBC – 12/08/2022]
This CNBC article has a couple of "key points," including this one: "But withdrawing retirement savings should be among the measures of last resort for cash-strapped households, financial advisors said."
Good advice. But for those American households which have liquidated their savings and maxed out their credit cards, they have now reached a "last resort" situation, being forced to start liquidating their retirement accounts just to keep food on the table and lights on in their homes.
The share of retirement savers who withdrew money from a 401(k) plan to cover a financial hardship hit a record high in October, according to data from Vanguard Group.

"We are starting to see signs of financial distress at the household level," said Fiona Greig, global head of investor research and policy at Vanguard.
Financial distress at the household level? Yep.
Car Repossessions Are on the Rise in Warning Sign for the Economy [NBC – 12/17/2022]
The financial destruction being inflicted on so many Americans, and the awful toll it takes on families, is infuriating and absolutely heartbreaking.
*****
Songs of the Season
Like "Away In A Manger," "Still, Still, Still" is a lullaby, and like "Silent Night," it has a sweet German hush to it.
Still, still, still
One can hear the falling snow
For all is hushed
The world is sleeping
Holy star, its vigil keeping
Still, still, still
One can hear the falling snow

Sleep, sleep, sleep
'Tis the eve of our Savior's birth
The night is peaceful all around You
Close Your eyes
Let sleep surround You
Sleep, sleep, sleep
'Tis the eve of our Savior's birth

Dream, dream, dream
Of the joyous day to come
While guardian angels without number
Watch you as you sweetly slumber
Dream, dream, dream
Of the joyous day to come


Here's a beautiful version sung in German.

Have a wonderful week as you prepare and gather for Christmas.
(buck.throckmorton at protonmail dot com)

posted by Buck Throckmorton at
11:00 AM
|
Access Comments