« AOC's Climate Documentary Gets Enormous Praise From Critics
(And Makes Less than $80 (Not a Typo) Per Screen It's Played On)
|
Main
|
Democrat MegaDonor and "Effective Altruist" Sam Bankman-Fried Denied Bail, Escorted to Jail to Await February 8th Hearing;
Faces Up to 115 Years in Prison »
December 14, 2022
Trump Announces He'll Make "Major Announcement" Tomorrow
He says "America needs a superhero," and suggests that tomorrow's announcement will be about providing America with one.
So what could this mean?
Will Chamberlain guesses Trump is going to announce he's coming back to Twitter. I could see that, given that he's losing much support and simple mindspace, but boy, would it be a case of overpromising/underdelivering to say "American needs a superhero" and then say "And so I'm going to start tweeting again."
Trump has to watch out for making a big deal about relatively small beans, or else he gets into a "Ron Burgundy takes second place in a hotdog eating contest" kind of hole.
Another possibility mentioned is that he'll say that Kari Lake is going to be his running mate. Unlikely, given that she's in the middle of an election contest.
A lawyer for Donald Trump has said that Republican candidate for Arizona governor Kari Lake's election midterm lawsuit might somehow help the former president return to the White House.

Attorney Christina Bobb made the remarks during an appearance on Real America on the One America News Network (OANN)...

Lake, a Trump loyalist who backs the [disputed] claim that the 2020 election was rigged due to widespread voter fraud, filed a suit on December 9 alleging that "hundreds of thousands" of ballots were "infected" in Maricopa County.

Lake is also challenging the certification of the midterm electoral results and is seeking a judge to declare her the winner of the race.

While discussing the lawsuit, OANN host Dan Ball asked Bobb that if Lake wins and proves that Arizona's elections are "screwed," whether Trump could also prove he was "screwed" out of the election he lost more than two years ago.

Maybe he'll be putting money into Lake's election contest lawsuit.
Meh, I don't know. I have a feeling this is going to be pretty anti-climactic, and I'm not even expecting much.
My own guess would be that Trump is announcing he's heading a class action lawsuit against government officials who conspired to censor Americans, such as himself. Obviously, he'd have standing.
Finally-- the judges cannot say "you do not have standing."
I think that's a good guess, except... hasn't that been done already? If it hasn't, then that is definitely my guess.
That's the only thing I think would actually move the ball for Americans and be of a "superhero" sort of stature.
Yeah, I think that's my guess. Even if other people have done this, no one has launched a lawsuit with this set of facts, suing this set of defendants -- Elvis Chan, Christopher Wray, Anthony Fauci, Joe Biden, etc.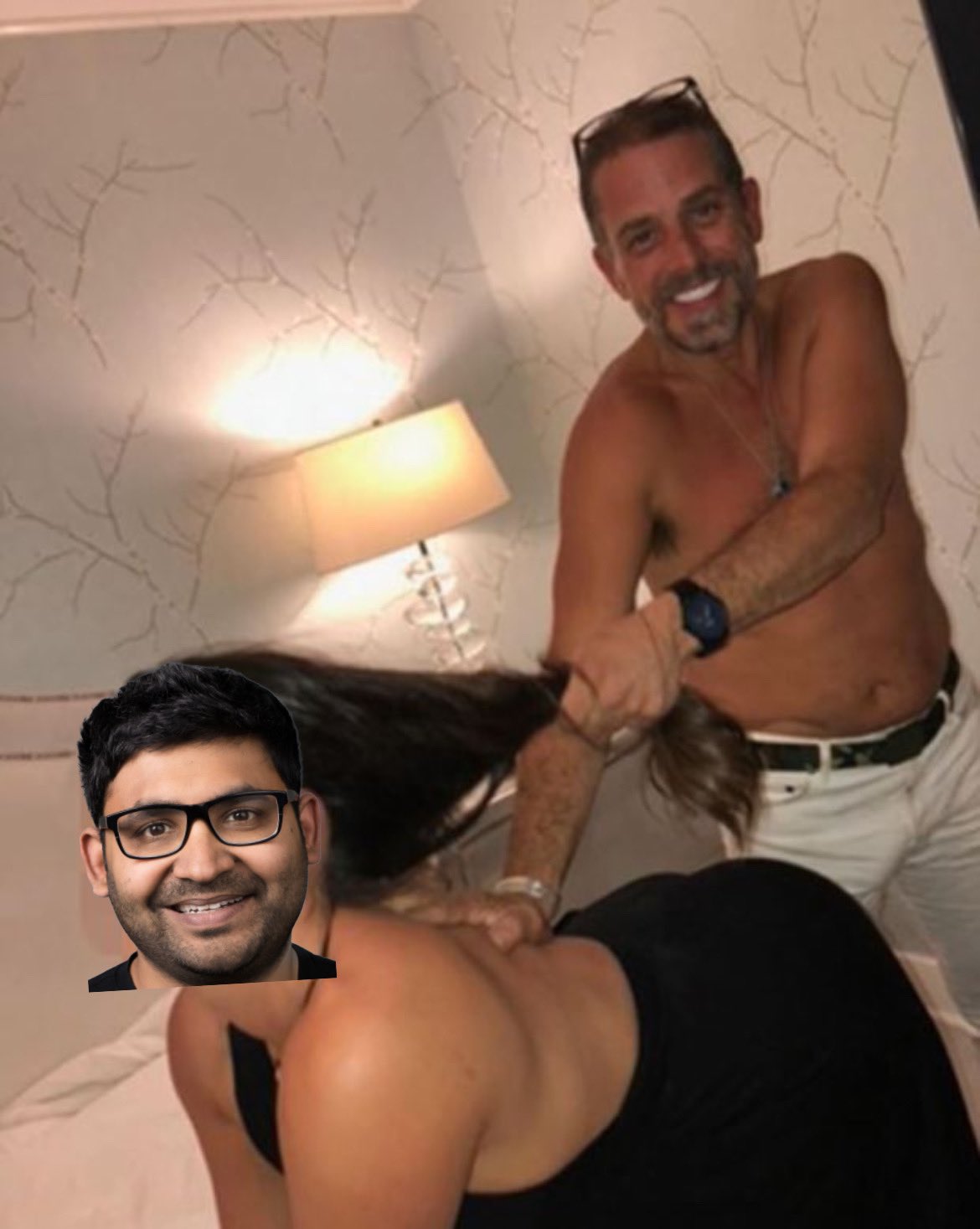 Hunter Biden having his way with
former Twitter CEO Parag Agrawal
Update: Commenter mention the possibility of him announcing a third party. I expect Trump to eventually do that, if he were to lose the Republican nomination, or seem likely to lose it, but it seems way too early for that.
Didn't he flirt with a Reform Party run some years back?

Meanwhile:

posted by Ace at
04:16 PM
|
Access Comments