« The Morning Rant: Minimalist Edition
|
Main
|
Matt Gaetz: Kevin McCarthy Is Not the Man to Lead the Congress at this Dangerous Moment. »
December 08, 2022
Biden Trades a Terrorist Gun-Dealer Who Plotted to Kill Americans to Get Back Drug Smoking WNBA Flake; Gives Up Trying to Get Back the Marine Russia's Kept in Prison for Four Years
FIRST TIME ANYONE'S EVER NOTICED A WNBA TRADE Posted by: Elric Blade
Biden's bragging that he got back a woman who is important to his key constituencies of LGBT Activists and CRT Grievance Stokers and literally no one else: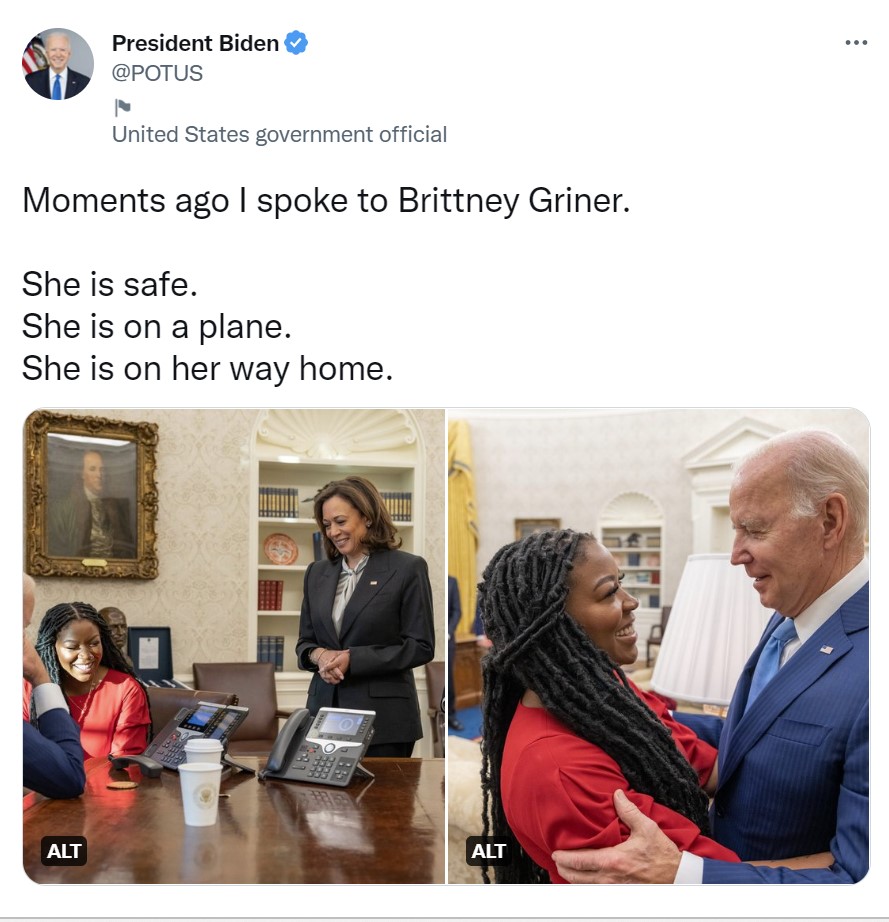 The Great Diplomat is less forthcoming about the man he's putting on a plane in exchange for this pothead scofflaw.
Steven Portnoy @stevenportnoy

MORE: To secure Griner's return, Biden has freed arms dealer Viktor Bout. Bout gained infamy as the "Merchant of Death" & was found guilty for conspiring to sell AK-47's that would've been used to kill DEA agents.
Cameron Cawthorne @Cam_Cawthorne

This is what John Brennan, Obama's deputy national security advisor for homeland security and counterterrorism, said about "Merchant of Death" arms dealer Viktor Bout in 2010.



Note that Russia doesn't usually engage in diplomacy to get back its criminal scumbags so that means that this terrorist weapons-dealer who plotted to kill Americans is actually a... wait for it... agent of Putin's government.
He works for Putin. He was doing terrorism for Putin.
And the Sage of Scranton released him for a pothead who can't dunk without a boost.
The idea of someone being so f***ing entitled and stupid that they'd go to a backwards and unfree foreign country and just smuggle in drugs to feed their habit is just... well, people wind up where they wind up for reasons most of the time.
And the Marine Paul Whelan who has been held for four years?
F*** him, BLM and GLAAD never heard of him.
Steven Portnoy @stevenportnoy

MORE: The swap to see Griner home for Christmas is 1-for-1 & does not involve Ret. Marine Paul Whelan, who is about to mark his 4th year in Russian custody.
Matt Whitlock @mattdizwhitlock

So we gave up the "merchant of death" who has been involved in plots to kill Americans

And we got the famous basketball player that a lot of celebrities lobbied for but not the marine who has been captive for 4 years.

And they're going to treat this like a major win.
Whelan is being held for (allegedly) spying -- which would be a more even trade for a TERRORIST ARMS DEALER.
But nah, trade the terrorist arms dealer for the woman that Elizabeth Warren has a poster of in her bedroom.
The clapping seal media is pleased as punch, obviously:
Can't wait to see David French praise the cool steady hand of Scranton Joe later.
Ah yes: The elections.
He wouldn't make this wretched "deal" before the elections.
Only after the elections, when, as Obama once said, he had more room to be flexible.
This was inevitable. As soon as the elections were over, naturally. I actually thought it was going to be WORSE than just a one-for-one for the Death Dealer. I thought Putin would get even more in exchange for this creepy useless twat that 80% of the USA utterly despises. Over-under on how soon she's back to shitting on the USA? 48 hours? 24? Posted by: Elric Blade

posted by Ace at
12:02 PM
|
Access Comments