« McConnell and McCarthy Attend Award Ceremony for Congressional Police, Get Snubbed and Insulted
|
Main
|
The Washington Post Is Attempting to Put the Babylon Bee Out of Business Again »
December 06, 2022
The Transcript of Fauci's Deposition Has Been Released, And It Has More Gaps Than the Biosecurity Protocols At the Wuhan Bat Flu Lab
Fauci claimed an absence of memory 174 times.
Eric Schmitt @Eric_Schmitt

According to the transcript, Dr. Fauci said "I don't recall" 174 times, including when asked about emails that he sent, interviews that he gave, and other important information.
He did remember that he is Science.
Sometimes he gets together with Judge Dredd, and they discuss the fact that each is their respective occupations.
I'd sure like Judge Dredd to open a file on Fauci.
A lawyer pointed out that he will not be allowed to stand on this level of evasiveness when testifying before a judge; lawyers will be permitted to "refresh his recollection" by showing him emails he wrote. Edit: Or maybe asking the judge to allow him to treat Fauci as hostile?
If Fauci continues claiming he doesn't remember even seeing what he wrote, I don't know what happens. It seems to me that judges hardly ever sanction anyone even for quite-unbelievable claims of memory loss. Certainly Hillary Clinton was never even threatened with any punishment.
Eric Schmitt @Eric_Schmitt

Fauci sent a colleague an email in February of 2020 instructing her not to wear a mask when traveling. Just a couple months later, he was advocating for universal mask mandates.
Last week I mentioned that a major tell of a liar is the attempt to build off-ramps for the lie on the fly. Here, Fauci attempts to create a plausible explanation for why he will be suffering selective amnesia about his good friend Peter Daszak at EcoHealth -- through which Anthony Fauci funded gain-of-function research on bat viruses at the Wuhan lab.
He claims he's only "vaguely familiar" with his gain-of-function buddy, which will be convenient later when he's pressed on what he believed EcoHealth was doing in Wuhan.
Stephen L. Miller @redsteeze

What? Fauci claims he's only "vaguely familiar" about Ecohealth Alliance's bat research in China, for which his department has approved several grants to.
Fauci emailed Zhengli Shi. He says he's not sure who this person is, because Asian names confuse him.
Zhengli Shi is The Bat Lady of the Wuhan lab. The woman who specialized in gain-of-function research on bat viruses at wuhan. Which Fauci was funding.
And he says he's not sure who she is, because Asian names confuse him.
I don't believe he ever didn't know who this woman was. But it's certainly not possible that he doesn't know who she is NOW, now after a thousand articles have been written about THE BAT LADY OF WUHAN.
But here is Science Made Flesh saying he doesn't know who she is, because Asian names confound him, even though this is a very straightforward name.
(He can't even specify it as a Chinese name -- he can only say it's "Asian." Maybe it's Mongolian or Korean. Who knows!)
Again, claiming he doesn't know who she is now helps him later, when he claims he is entirely unfamiliar with her work with bats or, in fact, What Bats Even Are.
Stephen L. Miller @redsteeze

Fauci says he wasn't concerned if coronavirus was an engineered virus but then says he was kept in the dark about what exactly funding was going to in China. He wasn't worried but then says he was kept in dark.

Here's what I mean about Fauci preparing the foundation to claim ignorance about what was going on in Wuhan: He claims he was "kept in the dark" about what the money he authorized to be spent there was being spent on.

Stephen L. Miller
@redsteeze


Fauci states he didn't know what happening in China or Wuhan, or with NIAID grants and states specifically he "was kept in the dark"

Later in testimony, he's sure the viruses being researched or engineered in Wuhan and partly funded by NIAID were definitely not Covid-19

Sometimes he's "kept in the dark," other times he knows what was going in Wuhan with such perfect specificity he can rule himself out as a suspect with 100% confidence.

Zhengli Shi? Who's that?
Bats? You mean like in baseball?
But also:
I have examined all the files in Wuhan and found that they received not a single penny from me.
Read the rest of that tweet for his long, baffling answer about whether he did or did not fund virus research in Wuhan.
Stephen L. Miller @redsteeze


His answers on this have morphed from there was no NIAID funding to there was only a little funding from NIAID but funding went to different viruses.

I expect the next evolution to be okay we did fund those viruses but that's not important and besides COVID was actually good
The other area where Fauci's memory begins deteriorating worse than Joe Biden's concerns his coordination of smear campaigns against scientists and epidemiologists who proposed alternatives to universal lockdowns, or who suggested that the virus looked man-made as hell.
Fauci does not want to admit he coordinated these smear campaigns out of his government offices. He also does not want to be caught committing provable perjury -- oh, he's quite willing to perjure himself. He just doesn't want to be caught committing provable perjury.
That leads to word salads like this, in which he has a lengthy Gollum-like argument with himself about whether he read NIH director Francis Collins' attack on those suggesting the covid virus was cooked up in a lab.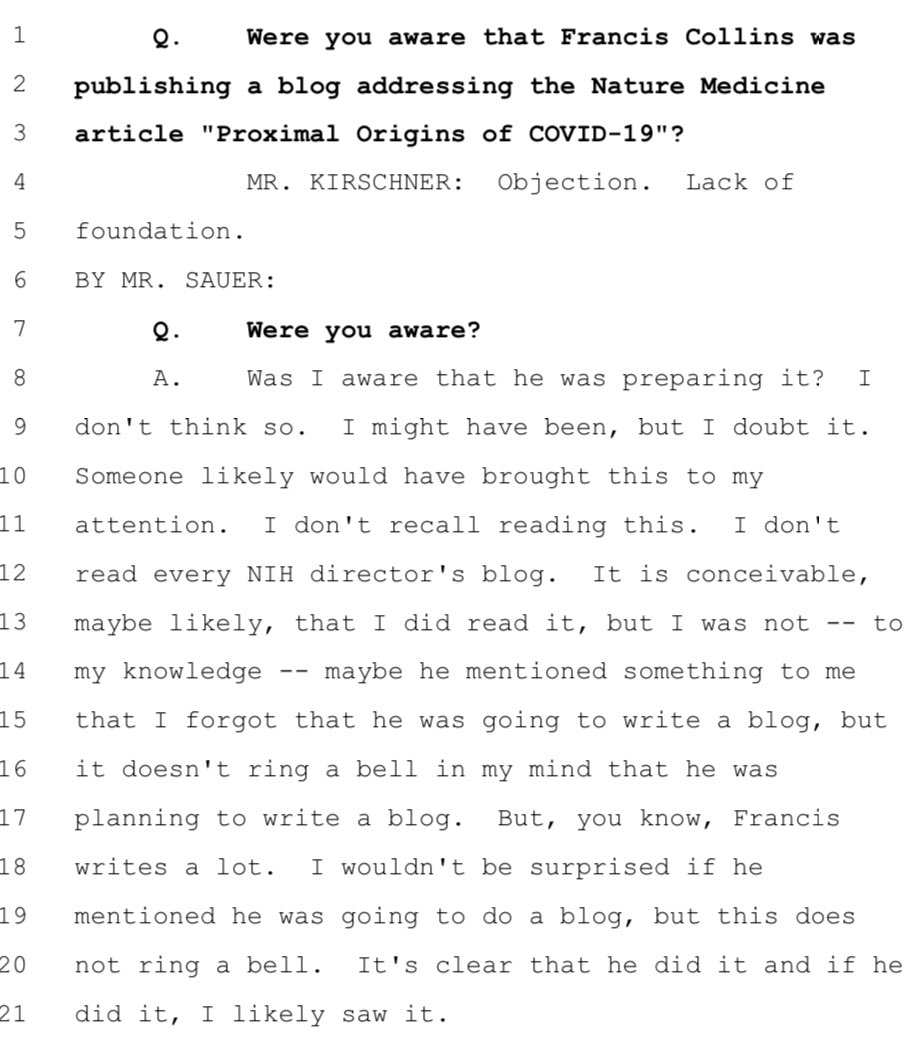 Did Gollum read the nasssty hobbitsses' blog post? No no, Gollum definitely didn't, but then, maybe Gollum did. It slips Gollum's mind it does, gollum, gollum! But in case you find proof that the Gollum did read that hobbitssess' post, the yes, I concede that maybe it rings a bell Gollum did, gollum, gollum!
When a group of scientists proposed to him that the virus looked engineered -- maybe by someone with an Asian name, possibly!!! -- he suggested that they form a smaller, more intimate group where they could talk more casually and openly about bribery and criminal enticements.
When asked if he did in fact put together this secret sub-group of insiders and influencers -- the point of which would be to convince the others that they had it all wrong, and that the virus was definitely not engineered -- Fauci says: I don't remember if that ever happened.
Stephen L. Miller @redsteeze

He doesn't recall if the thing he said should happen, convening a smaller group of virologists, after a larger group suggested COVID-19 proteins looked engineered, happened.
Note, however, that the precise outcome desired of such a smaller sub-group -- that he could flip some of them to reverse their positions and begin claiming "No, no, never, this virus could never have been man-made" -- is precisely what happened. Two of the scientists who came to him telling him the virus looked engineered reversed themselves in 48 hours and began proclaiming it was obviously naturally arising, and anyone saying otherwise was being snookered by conspiracy theorists.
Those two scientists received grants from Anthony Fauci, of course.
Update: I forgot to mention: Fauci's daughter worked at Twitter.
He wanted to perjure himself there, too:
21 It also took him five direct questions to admit that his daughter worked for Twitter.

Direct questions like, "Do you have acquaintances, people that you know, who work on social media platforms?"
Posted by: andycanuck

posted by Ace at
03:14 PM
|
Access Comments