« Iranian Officials Warn Soccer Players: Unless You Sing Our Anthem and Praise Our Mullahs, We'll Torture Your Family Members Remaining Home in Iran
|
Main
|
Sheepish Smile Cafe »
November 30, 2022
Quick Hits
CNN announces "hundreds" of Christmas layoffs, or, as Don LeMon calls them, "promotions to the morning unemployment line."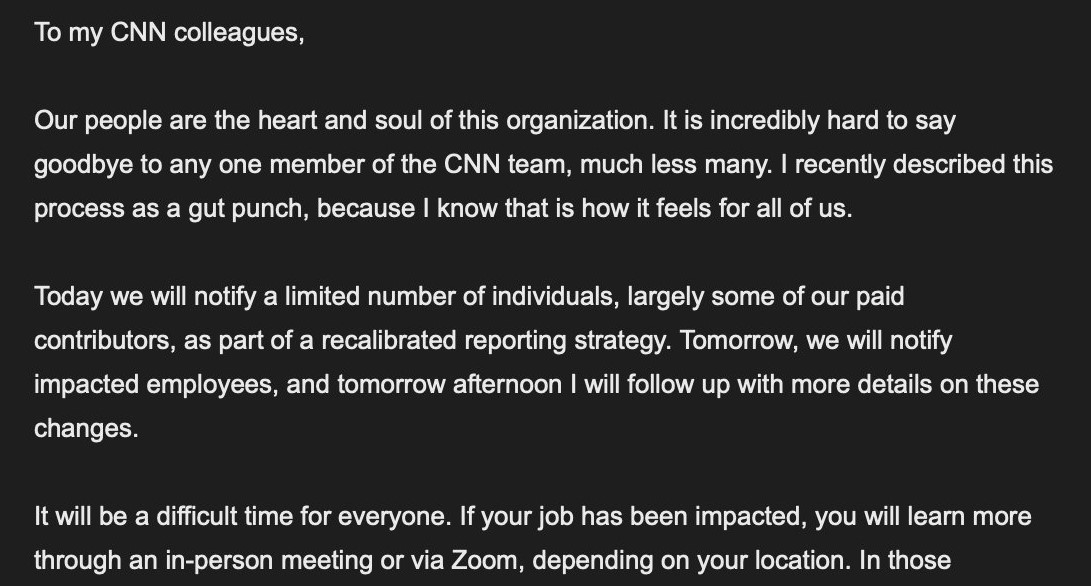 Even worse news? Those Zoom calls will be conducted by CNN's new Chief People Officer, Jeffrey Toobin.

Milo Yiannopoulos: I Arranged the Nick Fuentes Dinner to Embarrass Trump and To Teach Him a Lesson About Excluding Me From His Circle of Advisors.
Mission complete, I'd say.
Streiff at RedState digests an NBC article, relying mostly on Yiannopoulos' gleeful confession:
"I wanted to show Trump the kind of talent that he's missing out on by allowing his terrible handlers to dictate who he can and can't hang out with," Yiannopoulos told NBC News.

"I also wanted to send a message to Trump that he has systematically repeatedly neglected, ignored, abused the people who love him the most, the people who put him in office, and that kind of behavior comes back to bite you in the end," he added.

...

"We saw everybody in the dining room get up and start applauding, and then the president entered," Fuentes told NBC News. "He greeted us, and he invited Ye into dinner and Ye said that he wanted to bring us with him to the table. So we walked in and Ye took some pictures with some of the guests in the dining room and then we sat down at the table."

...


Ye criticized Trump for not doing enough to help pay the legal bills of those arrested in the Jan. 6 Capitol riots; and he also told Trump he might run for president against him and said Trump should instead be his running mate -- all of which angered the former president, who attacked Ye's ex-wife, Kim Kardashian, according to two dinner participants and Ye, who blasted out a "Mar-a-Lago debrief" video to his 32.2 million Twitter followers the next day.

"Trump is really impressed with Nick Fuentes," Ye said in the video.

Fuentes said that he praised Trump as "my hero" and criticized Florida Gov. Ron DeSantis for his potential GOP primary challenge to Trump, but he also told him to his face at the dinner that the one-time 2016 insurgent was in danger of becoming a scripted establishment bore who could lose in 2024.

...

Yiannopoulos, a former Breitbart editor who was banned from Twitter in 2016 for inciting a racist campaign against the comedian Leslie Jones, told NBC News that he was "the architect" of the plan to have Fuentes travel with Ye in the hopes of slipping him into the dinner with Trump. The intent, according to Yiannopoulos, was for Fuentes to give Trump an unvarnished view of how a portion of his base views his candidacy.

...

And, Yiannopoulos said, he arranged the dinner "just to make Trump's life miserable" because news of the dinner would leak and Trump would mishandle it.

An anonymous Trump aide told NBC:
"The master troll got trolled," the adviser said. "Kanye punked Trump."

...

"Trump was totally blindsided," the source said of Fuentes' presence. "It was a setup."

The NBC "News" reporter who got the story about the Paul Pelosi police visit remains disappeared for two weeks, precisely because he did get it right.
In the Empire of Lies, you are punished for telling the truth, and rewarded for telling Regime Lies with zest.
Gavin Newsom argues with local officials about who it is who is responsible for California being turned into an open-air mass-toilet for homeless drug addicts, the streets running with human shit and heroin needles.
Everyone's responsible, of course.
California Democrat Gov. Gavin Newsom and local lawmakers argue over who should be responsible for the homelessness plaguing the state, as the governor threatened to withhold funds from those who dispute liability, according to the Wall Street Journal (WSJ).

The Democrat governor and local government officials, including many from his own political party, are arguing over the responsibility for the lack of progress in battling the ongoing homelessness problem across America's most populated state.

The report explained that Newsom recently placed a temporary hold on $1 billion of state grants that were meant for city and county homelessness programs as he rejected the proposals from the officials that outlined how they would spend the money. He said the proposal was inadequate, even though it would have reportedly reduced homelessness statewide by two percent from 2020 to 2024.
A columnist named Richard Clap laughs about this absurd theater:
Recently, Gov. Gavin Newsom unveiled his plan to fight homelessness in California, including the concept of mental health courts. What struck me was how righteously angry he was at the lack of progress in dealing with this issue. After a minute I began to wonder, whom is he mad at?

Newsom was just completing his first four-year term as California's governor. Was he mad at himself? Was he upset that he hadn't done what he said he would do and was taking it out on himself?

Maybe he was mad at the legislature, which has a supermajority of Democrats. They can do almost anything they want to do and have certainly voiced concerns about the homeless problem but have done little or nothing to effectively deal with it.

Maybe he was angry with the cities. That is where the homeless are. Since every major city in California is run by councils and mayors that are Democrat, perhaps he is angry at them for not doing enough to solve the problem.

Maybe he is angry at the people of California. After all, they elected him, the legislators and all the city governments that have done little or nothing to find homes for the homeless. Is he mad they haven't elected people who will solve the problem?

You would think the voters of California would also be angry about this. When you talk to most Californians, they are unhappy with homelessness, gas prices, crime, lack of water, electrical outages, cost of housing and inflation. But when it comes time to vote, they vote as if everything is fine and wonderful. The governor, the legislator, city and county governments are the ones who have the resources and power to fix these problems. They have been in charge for a long time and very little has gotten better.

Yet we just reelected the same people.
I think I learned that it was the No-Bell prize in high school.
Karine Jean-Pierre still doesn't know. She thinks it's the noble prize. They give it to you if you're noble enough.

Ekdahl is 100% right here. The nerd podcast guys have been pointing out that everyone on the right is getting this wrong -- Iger is no savior, he's the one who installed all the woke DEI enforcement officers at Disney, and put all the woke corporate goons in charge of the divisions, and, for example, re-signed Kathleen Kennedy to her contract.
All the woke movies currently bombing? All greenlit under Iger, and greenlit by his handpicked woke division heads. None of Chapek's movies have been made yet. (Again, he was only CEO for 11 months, and undermined all that while by Iger, who sat on Disney's board, protecting his own Woke Regime.)
When Chapek said he would have no comment about DeSantis' Parental Rights in Education bill, Bob Iger stoked the fires of anger in the woke staff at Disney (many of whom he hired) and went out publicly to say that it was wrong to not oppose the "Don't Gay Say bill," because this wasn't even a political issue, it was a right vs wrong issue.
Rufo is right about many things here, but he is disastrously wrong here, and leading the entire conservative movement astray by telling them that Iger is some kind of positive alternative to Chapek. No, Chapek was a weak c*ck Republican who was softly resisting Iger's full-throttle woke progressivism, and was tossed out because the progressives demanded it. Now Iger's back to protect them from the firings they deserve.
This is the CNN/Jake Tapper Neoliberal line as well: We're not guilty of political bias, because the things we advocate for aren't "political" in nature at all, but just Good. Our opponents aren't political opponents, but Enemies of Humanity.
This is in no way a step up from a normal liberal who admits he has a political disagreement with you and just tries to beat you! These people attempt to claim they're not having a political dispute, by claiming there can be no dispute at all, and then dehumanizing anyone who disagrees.
This is standard eliminationist cult progressivism:
The best we can hope for, according to the Midnight's Edge crew, is that Iger lets the cuts and reforms Chapek was already implementing/planning go forward and just blames Chapek for them. Someone on their show said this is how every Communist coup goes: The communist party directs its military leader to kill all of their foot-soldiers, and then they chop off the head of the military leader, and blame him for killing the foot-soldiers.
But in all likelihood, they think Iger will just protect his Woke legacy and re-implement all of his woke bullshit to the extent possible. Bearing in mind, Disney is now in a bad place and has to start making profits somewhere. They might be forced to produce a children's cartoon that doesn't feature any gay kissing.
In some French-speaking country. Not sure which. From "commenter:"
No really it's from vmom.
On a thread with the original tweet, I saw this:
Le Sergent Garcia est très énervé après les mini mecs en tofu.
Which means:
Sergeant Garcia is very annoyed by the little soy-boys.
I think. Mini-mecs is "little guys" and "en tofu" is "made of tofu."
So I guess "Little soy boys."

posted by Ace at
06:25 PM
|
Access Comments