« DeSantis: Apple's Threat to Deplatform Twitter from Its App Store is an Act of "Raw Monopolistic Power" Which Should Be Met by Congressional Action
|
Main
|
Kanye Walks Out of Tim Pool Interview When Asked About His Claims That "They" Are Controlling the World and "They" Are Hurting Him »
November 29, 2022
It Took the Intervention of a Kardashian, But the Media Allowed A Tiny Hole In Its Complete Blockade of the Balenciega P3do Chic Story
Their complete blockade allows a single ship through.
Kim Kardashian says she is "re-evaluating" her relationship with Balenciaga in light of the brand's recent ad campaign that featured images of young children posing with teddy bears that appeared to be wearing BDSM-inspired accessories.

"I have been quiet for the past few days, not because I haven't been disgusted and outraged by the recent Balenciaga campaigns, but because I wanted an opportunity to speak to their team to understand for myself how this could have happened," Kardashian, 42, wrote in her Instagram story on Sunday.

"As a mother of four, I have been shaken by the disturbing images," she continued. "The safety of children must be held with the highest regard and any attempts to normalize child abuse of any kind should have no place in our society -- period."

Following the outcry surrounding their recent ad images, Balenciaga deleted all of its Instagram posts and shared a statement of apology on the social media platform.


"We sincerely apologize for any offense our holiday campaign may have caused," read the statement, which was shared last week. "Our plush bear bag should not have been featured with children in this campaign. We have immediately removed the campaign from all platforms."

One image from Balenciaga's campaign appeared to show text from a 2008 Supreme Court decision that upheld a federal statute related to pornography that includes minors.

While Balenciaga did not reference this text specifically in its statement, the brand apologized for "displaying unsettling documents" in the recent campaign.

Balenciega, meanwhile, is making a lot of excuses.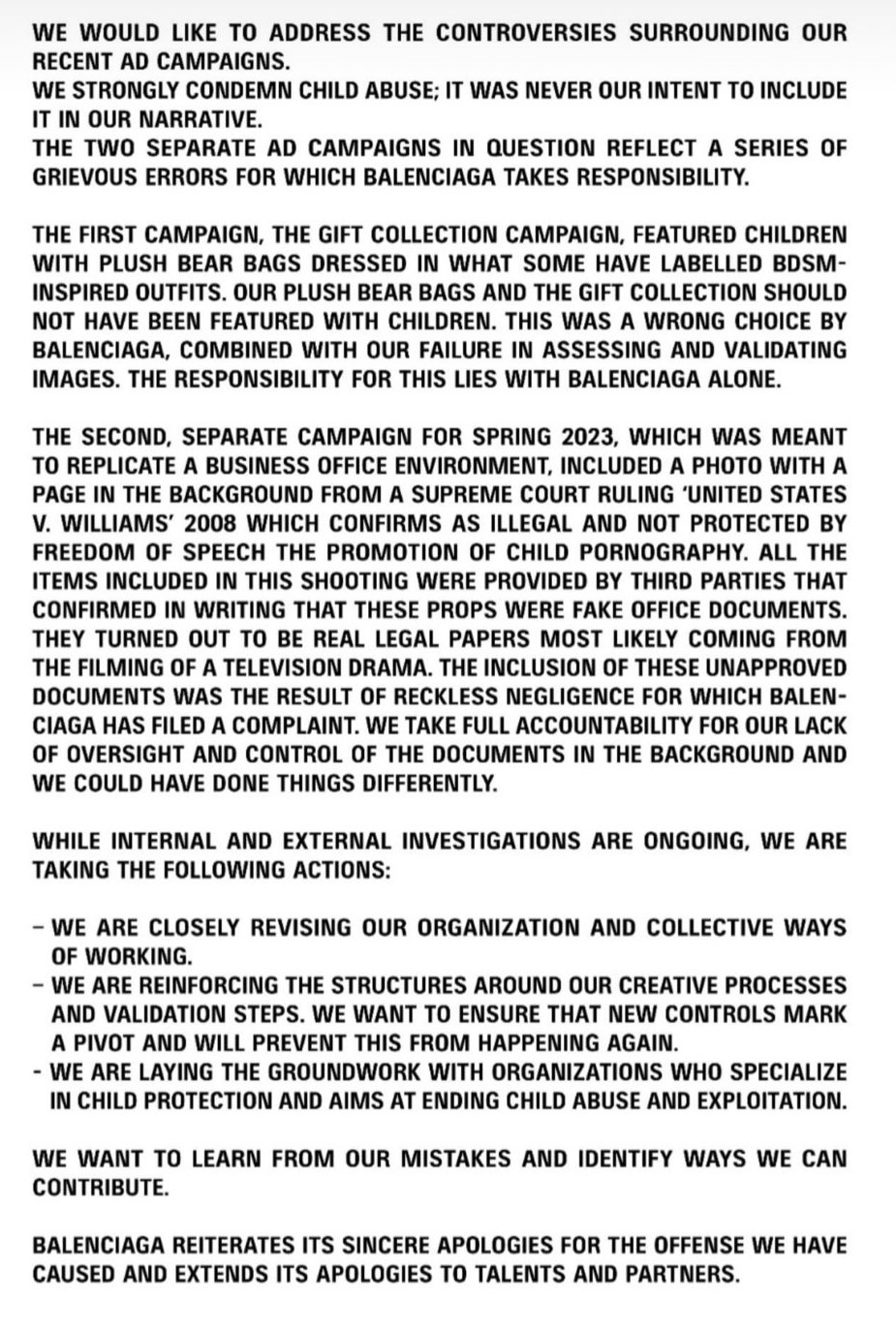 They made so many excuses there I'm surprised they didn't call it "Putin's Photoshoot."
The View criticized Balenciega.
Not for normalizing the sexualization of children, of course. No, they're fine with that.
No, they only knocked Balenciega for playing into the narratives of "the far right."
You can sexualize children all you like -- just don't reinforce "the narratives of the far right" when you do it!
Alyssa Farah Griffin: "I found this ad campaign particularly distasteful, um, in this moment. So there's this, there's growing anti-LGBTQ sentiment right now, and how it's being framed is as portraying, you know, trans people as groomers. This is a term you'll hear on the far Right. They're groomers. This is where you get the anti-drag-queen stuff that we're seeing. So Balenciaga played right into their hands by having kids in a sexualized manner, carrying something that represents, you know, sex acts. I think it was a really bad misstep at a moment where it's just kind of a dangerous time to even give credence to those kind of insane takes."
The takes that the left are grooming children are "insane." Having a little girl stare at the camera glassy-eyed next to table covered in empty wine-glasses, holding a teddy-bear in a leather bondage rig, is just a "misstep."
OK Groomer.

posted by Ace at
02:05 PM
|
Access Comments