« Kanye Walks Out of Tim Pool Interview When Asked About His Claims That "They" Are Controlling the World and "They" Are Hurting Him
|
Main
|
Trump Will Stay Out of Georgia For Runoff Election »
November 29, 2022
China's "White Paper Revolution:" A Possible Model for the United States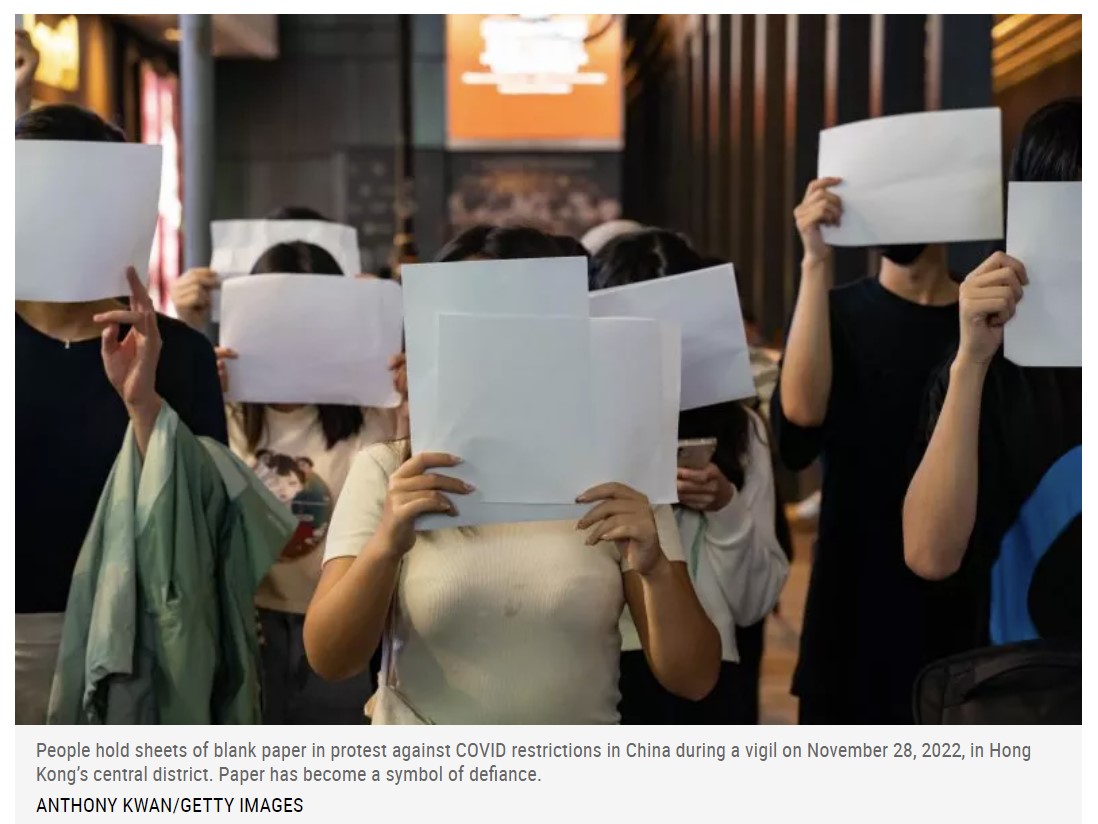 Via Newsweek
I've read two different explanations -- or hints, really -- for the meaning of the white paper (also called "blank paper" or "A4 paper"). The first is that protesters are calling for a white revolution, as distinguished from the various "color revolutions" that Western spy agencies promote in countries they intend to destabilize. I guess the idea is that a "white revolution" would be a truly organic, real, native revolution, not a fake revolution crafted by the CIA and MI-6.
The other explanation is that the white paper symbolizes what citizens are permitted to disagree with the government about, which is to say, nothing at all. And also, what citizens are permitted to hide from China's surveillance network. Which is, again, nothing.
China continues cracking down on protesters -- many of whom only hold a blank sheet of paper.

The regime understands the blank paper is a challenge. Here, a student holding a blank piece of paper is carried away by the state police as he shouts out, "Give me liberty or give me death!"

The White House issued the most tepid of statements regarding Joe Biden's business partners in the Chinese Communist Party, who have -- what's that word again? -- kompromat on him.
The White House reacted to news of widespread protests of coronavirus lockdowns in China, issuing a mild statement supporting peaceful protests.

"We've long said everyone has the right to peacefully protest, here in the United States and around the world," read a statement from the White House National Security Council shared with reporters. "This includes in the PRC."

The statement was released Monday morning after critics pointed out that the White House had not said anything over the weekend to defend the protesters.

During the White House press briefing on Monday afternoon, National Security Council Coordinator for Strategic Communications John Kirby repeated a similar message, noting that the president supported the overarching right to peaceful protest.

"The president's not going to speak for protesters around the world, they're speaking for themselves," Kirby said when asked by reporters if he had a specific message to the protesters in China.

But Kirby and White House failed to condemn China's violent authoritarian crackdowns of the protests or their attempt to censor protesters online.
John Ratcliffe mentioned on Tucker Carlson that the protests started about covid but are now about anger with the Chinese communist regime generally. And that no protester has ever dared demand regime change before. Protesters have cautiously asked for "reforms" or "democracy" before -- they have not demanded "resign, Xi, motherf***er" as one man does in a video below the fold.
Ratcliffe also noted that few on the American neoliberal left have anything at all to say about this remarkable revolution -- or China's brutal repression of it. But they can't say anything about it -- because they all supported maximalism authoritarian forever lockdowns themselves. So what's Anthony Fauci going to say? What's Joe Biden going to say? What's Gretchen Whitmer going to say? What's Randi Weingartner going to say? What's Kathy Hochul going to say?
What's The Dispatch going to say, for that matter? What's The Bulwark going to say?
What's Allah "My Upper Middle College-Educated Laptop Class Authoritarian Goonsquad Twitter Palz are My Heroes" Pundit going to say?
What's Taylor Lorenz going to say?
No, don't bother guessing; she already attacked her own employer and defended the Chinse Communist Party's creation of new internment camps for those infected with covid.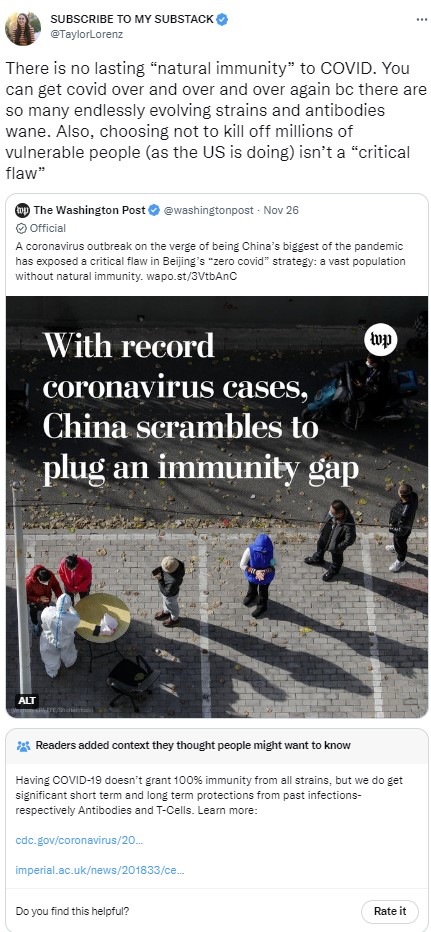 They all supported the lockdowns and mandates, and all supported the crushing of those opposing them, the theft of money from the accounts of the Canadian convoy truckers, for example.
Here's some extreme Xi-ism they can get behind. Content warning -- Chinese thugs force a woman to deliver a baby outside, in the snow, yards away from the hospital, because she doesn't have a negative covid test handy to gain entrance.
But Biden and Fauci and Co. can't criticize Xi -- they're all Disciples of Xi.

The Chinese government is emulating the US government and its corporate cronies, by which I mean it's censoring all messages that criticize the government's covid response. One way the protesters are trying to evade that censorship is by quoting Xi's past statements, out-of-context, repurposing them, making him sound like he's supporting the cause of freedom.
Here, they take an old quote where he supports "the people," and warns people that when "the people" organize themselves, nothing can stand against them.
Here's a cute exchange between protester and regime shill: A regime shill says that we shouldn't have any foreign interference in Chinese politics. A protester says, Foreign interference? You mean, like Marx and Engels?
The protests look pretty big here:
Echoes of Tianamin as the tanks begin rolling into the streets:
To hide the rising tide of protest from the public, China is deploying a bot army, of sorts. They're flooding social media in cities with a lot of unrest with a huge number of soft-core porn ads and ads for escort services, to bury political messaging under sleaze.
Numerous Chinese-language accounts, some dormant for months or years, came to life early Sunday and started spamming the service with links to escort services and other adult offerings alongside city names.

The result: For hours, anyone searching for posts from those cities and using the Chinese names for the locations would see pages and pages of useless tweets instead of information about the daring protests as they escalated to include calls for Communist Party leaders to resign...

The campaign was spotted by researchers at Stanford University and elsewhere. Stanford Internet Observatory Director Alex Stamos said his team is working to determine how widespread and effective it is...

"Fifty percent porn, 50 percent protests," said one U.S. government contractor and China expert, speaking on the condition of anonymity to discuss intelligence issues.

In other words, they're doing the same thing in Shanghai that they've been doing in America for eight years.
Tucker Carlson's report from last night is very good.

posted by Ace at
04:06 PM
|
Access Comments