« China Convulsed by Anti-Lockdown Protests; Demonstrators Make Unprecedented Demand for Government to Resign
|
Main
|
Byron York: Kanye West Duped Trump Into Providing Him With a Launching Pad for His 2024 Vanity Presidential Run »
November 28, 2022
Super-Woke Gay Disney Cartoon On Track to Be One of the Biggest Bombs of All Time
Anti-Gamergate transexual Brianna Wu makes for a poor brand ambassador: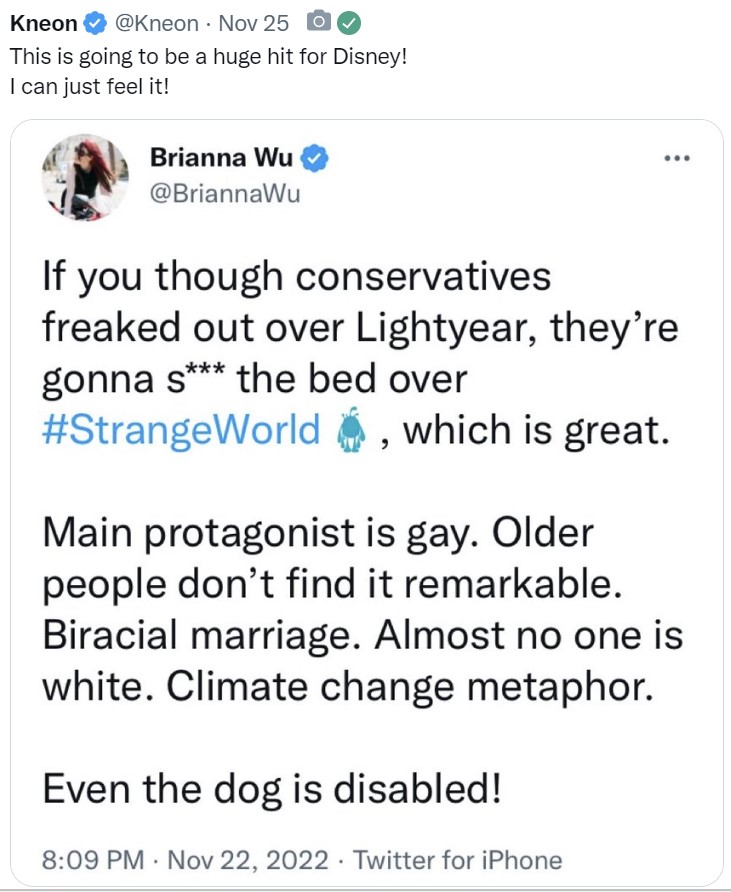 Unexpectedly, says woke Screen Rant!
To Disney's surprise, their latest animated, family adventure film, Strange World, bombed at the box office this Thanksgiving weekend. Strange World follows the Clades, a family of explorers who must set aside their past differences to save their home from impending ecological crisis. The animated, pulp-action film stars several notable actors including Jake Gyllenhaal, Lucy Liu, and Dennis Quaid. Strange World was praised by critics for its diverse cast and featuring Ethan Clade, an openly gay character played by Jaboukie Young-White.


Strange World bombed at the box office over the holiday weekend, with Variety reporting that the film raked in a disappointing $18.6 million. Disney had projected a $30 to $40 million weekend over the 4,174 North American theaters showing Strange World. The international box office release failed to make up the difference as well, only earning $9.2 million, bringing the total for the opening weekend to $27.8 million. Strange World has a $180 million budget that it is now unlikely to recoup in the following weeks, leading to another massive loss for Disney.
The animated film bombed over Thanksgiving weekend with a surprisingly low five-day total of just $18.6 million domestically, among the worst openings for Disney animation in recent memory. For comparison, Pixar's The Good Dinosaur was considered a box office disappointment in 2015, and that debuted with $55 million over five days.

Strange World, which reportedly cost $180 million, is also Disney's second consecutive animated film to flame out at the box office after Lightyear bombed.

So what went wrong? Well, it's worth noting that Disney has struggled with animated sci-fi adventure films before, as 2001's Atlantis: The Lost Empire and 2002's Treasure Planet were both box office failures.

Beyond that, some analysts felt Strange World's marketing -- or perceived lack thereof -- left much to be desired, suggesting Disney was burying the movie. It's also possible Disney's recent habit of sending animated films to streaming, either instead of a theatrical release or only a few weeks after, has conditioned audiences to stay home and wait for Disney+.
Any other possible reasons...?
As with Lightyear, there's sure to be debate over whether the presence of LGBTQ representation was a factor in the performance. Strange World was Disney's first animated film with a gay lead, a teenager whose crush on another boy is a subplot.
OK Groomer.
As Midnight's Edge points out, this is a movie greenlit by Bob Iger before he "stepped down," not by just-fired CEO Bob Chapek. None of Bob Chapek's movies have come out yet. (He has only been CEO for 11 months.)
The Daily Mail is less delicate about suggesting the movie's poor performance might have something to do with its groomer mission.
While the movie has a 73 percent critic score on Rotten Tomatoes, it's only 60 percent with audiences and the film has a 'B' rating on CinemaScore from opening day audiences, according to The Wrap.

If that grade holds, the film will be the first Disney animated film to get below an A-minus.

Many have used the box office numbers to cite this as an example of Disney's attempt to 'go woke, get broke.'

A Rotten Tomatoes reviewer wrote: 'If I want to teach my children about sex and or sexual preferences at 7 and 8 I would do it in my home. I don't need a Disney movie to help me out with it. STOP making everything sexual, its unbelievable.'

One Tweeter pointed out: 'First Lightyear and now Strange World. Disney and Pixar releasing woke flops, one after the other. How many box office bombs before Disney learns?'
That said, by all accounts, it's also a bad movie, apart from all the grooming.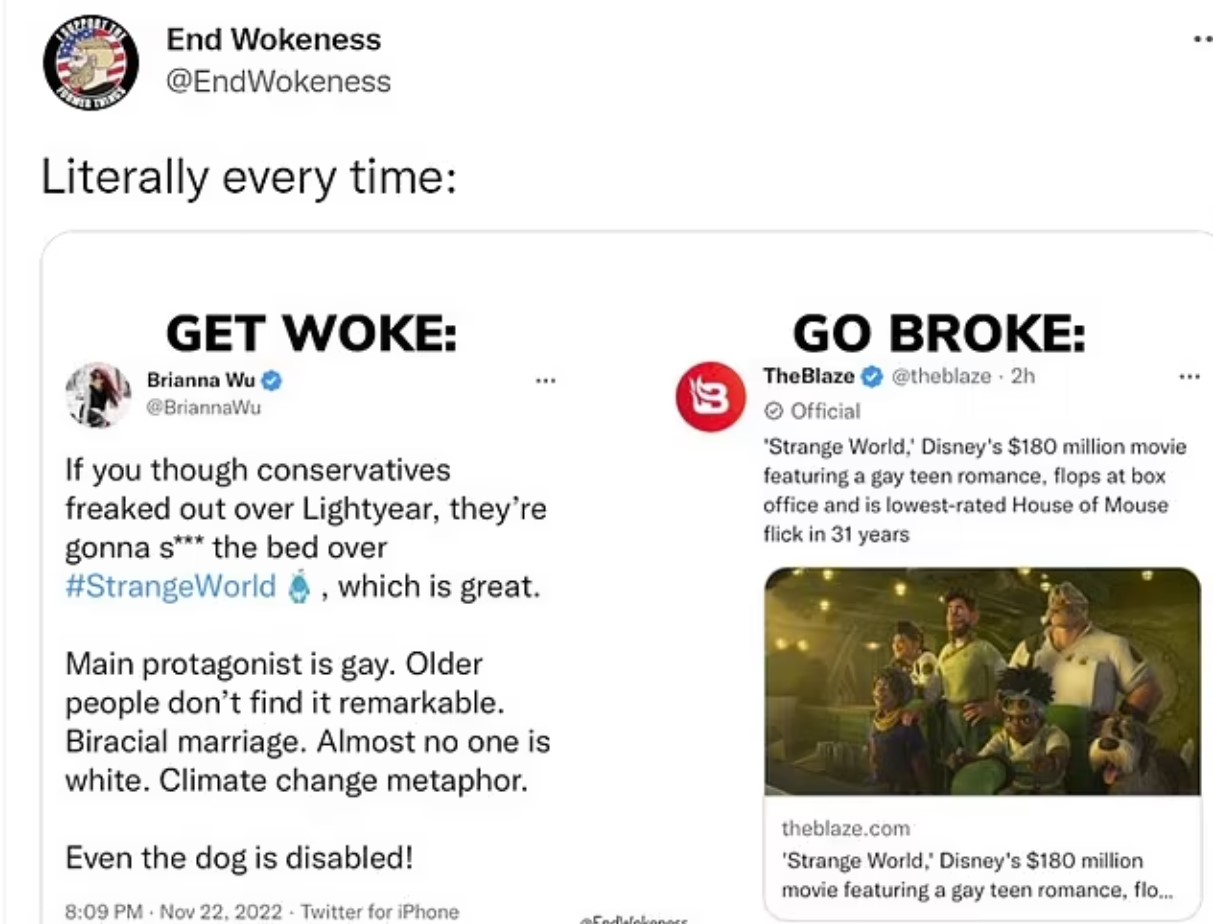 One last thing: Last week, I think Daryll Harris speculated that Disney might have gone into emergency mode and fired Chapek because it had invested in FTX. One of the guys from Midnight's Edge now speculates about that as well. In this speculation, an executive puts a bunch of Disney's money into FTX -- hey, the super-progs at BlackRock and Vanguard like FTX -- and then, when the money's lost, arranges a palace coup against Chapek in order to avoid accountability and termination.
It's all speculation. Just thought I'd mention it.


posted by Ace at
01:03 PM
|
Access Comments