« Mid-Morning Art Thread
|
Main
|
Failing Disney Fires Woke CEO Bob Chapek, Re-Hires Super-Woke Former CEO Bob Iger »
November 21, 2022
THE MORNING RANT: Buck Shots - Monday 11/21/2022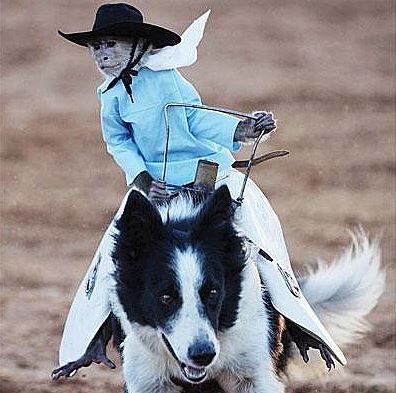 *****
Global Communist Climate Conference Agrees to Shakedowns Reparations to Save World from Global Warming
The climate hoax is utterly exasperating, and we have now reached the point of the scam where our global ruling class is ready to openly do what it does best, confiscate my money and give it directly to someone else. Being "the house" in this confidence game, the global elite will skim off a sizeable vigorish for the purpose of administering the scam. All the while, of course, they are patting themselves on the back for their save-the-world humanitarianism.
Global climate conference closes with climate damage compensation deal
The COP27 global climate change conference in Sharm el-Sheikh, Egypt, wrapped early Sunday with an agreement to compensate developing countries for the damages they have suffered from climate change.
And here's a shocker – a new "multinational committee" will be administering this communist redistribution plan.
To address that, a transitional committee that will be made up of 24 countries tasked with finding funding sources and establishing a structure and governance for the fund will be established.
The new Republican House majority has the power of the purse. Any US funding for this can only happen if the House Republican leadership allows it. This would be a fine time to show a little backbone.
There is actually some news in this regards that gives us a small bit of hope.
House Republicans Plan to Ax Democrats' Climate Crisis Committee [Bloomberg – 11/17/2022]
Republicans plan to kill a special committee focused on climate change when they take control of the House next year, the top GOP member of the panel said Thursday.

"The Climate Crisis Committee will not exist," Louisiana Representative Garret Graves, the top GOP member of the House Select Committee on the Climate Crisis, said in an interview. "I don't think that's really consistent with what we are going to be focused on."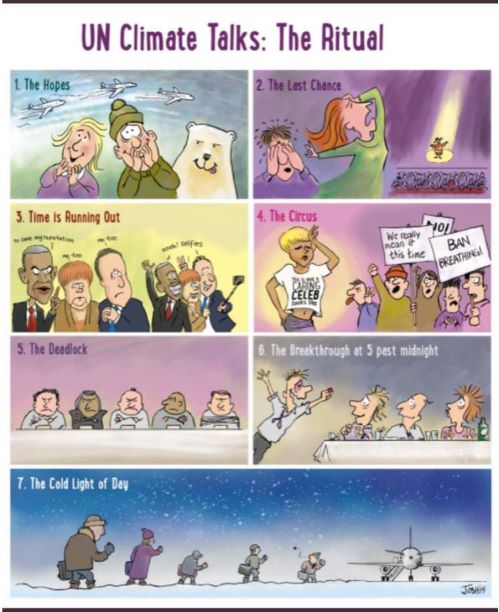 *****
Target Bought the Whole Woke Package, Now It's Reaping the Rewards
In 2016 Target triumphantly announced that men are welcome in its women's restrooms.
Just a few months ago, with sexual lobotomies of minors all the rage, Target started selling "chest binders" and "packing underwear" to minors.
And of course, during the height of the BLM riots, Target announced that it was donating $10,000,000 to minority organization "to re-envision public safety" and "change divisive policing policies."
Target bought the whole woke package, and now its reaping the rewards. Its stock plunged 15% on this piece of news last week:
Target blames 'organized retail crime' for $400M loss in profits this year [NY Post – 11/16/2022]
Target said it has lost a whopping $400 million in profits this year thanks to organized gangs of shoplifters who have been systematically stealing merchandise from its discount stores.
It must be awful for Target employees who try to work amidst an ongoing crime scene, but as for the impact on Target Corporation, this is sweet karma.
Decriminalization of crime is part of the woke agenda. Even if Target hadn't been contributing to pro-crime and anti-police organizations, they would still deserve this because of all the woke crud they're trying to inflict on everyone else.
So long as Target's woke executives think it's swell to have men walk in on girls who are using the bathroom, and so long as Target is pushing transgenderism on the children of its customers, those executives deserve to see the street crime division of Woke, Inc. ravage Target's income statement.
*****
More Political Theater from Greg Abbott
Do you recall how conservative media got all excited last week when Texas Governor Greg Abbott "invoked the Invasion Clauses of the U.S. & Texas Constitutions to fully authorize Texas to take unprecedented measures to defend our state against an invasion."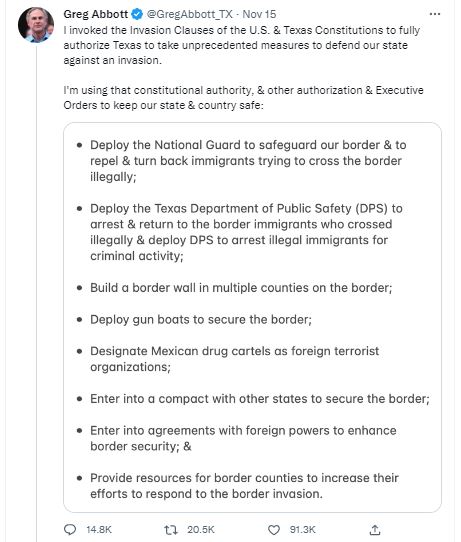 It was nothing but political theater. Maybe Abbott couldn't stand being left out of the horserace discussions that are going on about who will be the GOP's 2024 presidential candidate.
In testimony before the Texas legislature's Senate Border Committee, the Governor's budget director assured the legislators that Abbott was just posturing, and is not in fact going to take any action.
Abbott's budget director, Sarah Hicks, was asked Tuesday about the tweet during her testimony before the state's Senate Committee on Border Security and she reassured the panel of Texas legislators that the governor was not announcing a new strategy, but was rather reiterating some of the actions he has already taken to stem illegal immigration.

"I don't think it is a change in overall tactic as much as it is a reminder to all of us, to Congress and to the members working the issue that this is serious and it demands a full and serious response," Hicks said.
*****
Songs of the Season
Thanksgiving is just three days away, and many of you will be singing We Gather Together, which may be the most well-known Thanksgiving hymn.
Here is a beautiful version featuring just an acoustic guitar and a lone voice.
It's also worth noting that the lyrics of "We Gather Together" are not some pacifistic paean to lambs and lions lying down in peace. This song gives thanks to the Lord for having the congregants' back in their battle against evil. This song is timely, and not just because this is Thanksgiving week.
We gather together to ask the Lord's blessing.
He chastens and hastens His will to make known.
The wicked oppressing now cease from distressing.
Sing praises to His name; He forgets not His own.

Beside us to guide us, our God with us joining,
Whose kingdom calls all to the love which endures
So, from the beginning the fight we were winning.
Dear, Lord, were at our side; all glory be yours!

We all do extol you, our Leader triumphant,
And pray that you still our defender will be.
Let your congregation escape tribulation.
Your Name be ever praised! O Lord, make us free!

Have a blessed Thanksgiving.
(buck.throckmorton at protonmail dot com)


posted by Buck Throckmorton at
11:00 AM
|
Access Comments