« After An Election In Which He Claimed That Anyone Who Discussed Voter Fraud Was an "Election Denier" and Threat to Democracy, Incoming Pennsylvania Governor Josh Shapiro Brings Charges Against Democrat "Campaign Consultant" for Massive Voter Fraud
|
Main
|
Eldritch Magick Cafe »
November 17, 2022
Quick Hits
He did it! He did the meme! He actually did the "tip my fedora, milady!" meme!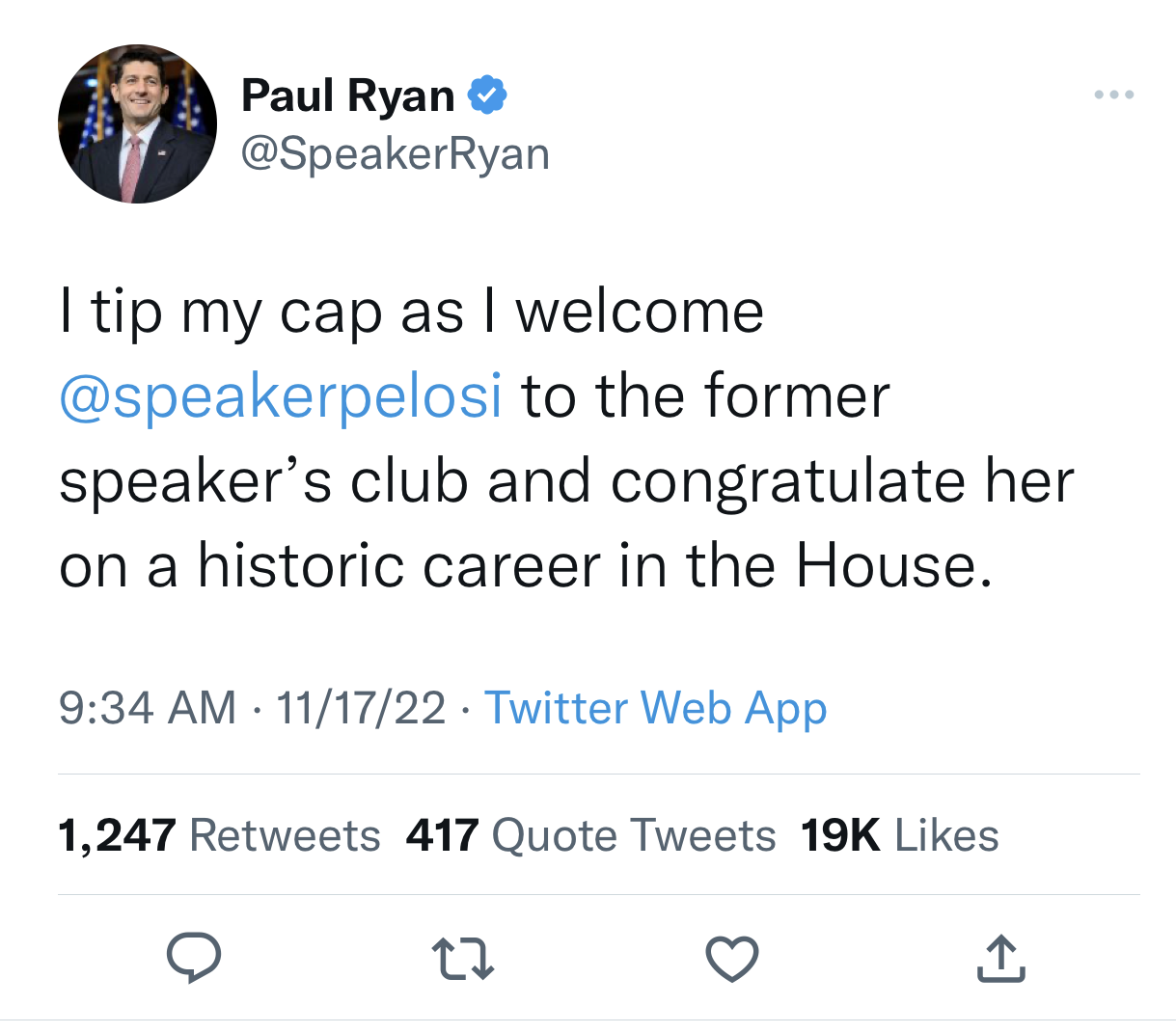 If you don't know the meme, leftwing simps and Male Feminists (blow your r4pe whistles) frequently "tip their fedoras" to women to show #deference.
So of course this piece of shit would #DoTheMeme.
By the way, asshole: She was already a Former Speaker, when you replaced her. Did you forget, asshole? She's already been in the club. She needs no welcoming.
But he needs to Virtue Signal about how #Bipartisan (read: Democrat-aligned) he is, So.
If you missed it, John Sexton has a great and comprehensive recap of the sentencing of murderous animal Darrell Brooks, who got six consecutive life sentences plus over one thousand years on top of those sentences. The clips towards the end show him continuing his zoo games of attempting to turn the trial into his personal pig pen, and "Judge Milf," as I saw a commenter, telling him to shut his ass up.
Dried-up old cow feminists have herded together -- what else is new? -- and written a half-comprehensible screed arguing that the case against Amber Heard was just all misogyny and hatred and buzzword 1 buzzword 2 buzzword 3.
Much of this harassment was fueled by disinformation, misogyny, biphobia, and a monetized social media environment where a woman's allegations of domestic violence and sexual assault were mocked for entertainment. The same disinformation and victim-blaming tropes are now being used against others who have alleged abuse.

In our opinion, the Depp v. Heard verdict and continued discourse around it indicate a fundamental misunderstanding of intimate partner and sexual violence and how survivors respond to it. The damaging consequences of the spread of this misinformation are incalculable. We have grave concerns about the rising misuse of defamation suits to threaten and silence survivors.

In short, the floor was made of penises and the room was filled with r4pe. How dare you.
I added the last sentence as a "button."
The absolute nobody sub-minor flunkytuniary who pretended he was a big muckety-muck and published a tell-some "expose" about Trump under the name "Anonymous" -- spoiler, he was and is a nobody, he was already anonymous, even under his real name -- has thoughts about who should be Speaker of the House:
Miles Taylor @MilesTaylorUSA

We need an *outsider* to be Speaker of the House.

This is not political fantasy. The Dems can -- and MUST -- actively search for a unifying, centrist who can win Republican votes.

It would make history: a bipartisan coalition running the House. (Better than a MAGA circus.)
As I think Twitchy pointed out, it's not just that this good fooled the media into covering his book when they thought he was a Big Macher. It's that even when they found out he was an absolute zero nobody pretending to be a Big Macher, they continue to have him on their shows every other week as if he really is the Big Macher he pretended to be.
At that point, they joined in the deception themselves.
But that's their job now, isn't it?
Ellen Carmichael @ellencarmichael

Target's value plunged 13% after executives announced that "organized retail theft" cost the retail giant more than $400 million in profit loss this year alone.
rockmom @rockmom

But we don't have a crime problem in this country according to statistics
By the way, the Yahoo Finance article which admits that there is such a thing as rampant crime then explains it away as being about the "social contract" not being "strong" because "people aren't getting a fair shake" -- in other words, the criminals are justified in their theft.
Hey, if there's anything you can steal at Yahoo's offices, take it. Their social contract with you is frayed.
A road-raging Utah man pointed a gun at a fellow driver. Surprise! The other driver is a cop!
Taylor Ray Bradley, 29, was driving just outside of Salt Lake City around 11:45 a.m. on Monday when a truck in front of him signaled to turn. Infuriated, Bradley began tailgating the driver, according to an affidavit obtained by KSL.

Bradley then pulled alongside the truck and "began yelling profanities and proceeded to point what appears to be a small silver firearm" at the driver, according to the affidavit.

The truck driver -- a sergeant with the Granite School District Police Department driving an unmarked cop car -- proceeded to turn on his lights and pull Bradley over.

Bradley was cuffed and the officer found the handgun stuffed into the passenger seat cushion.

In the affidavit, officers wrote that Bradley "displays signs of an individual who could potentially put the public and other motor vehicle operators at risk for road rage incidents," KSL reported.

San Francisco will begin paying transgender people, and transgender people only, a basic income just for being fabulous, which is obviously so disgracefully unconstitutional it's barely worth talking about.

It's pretty funny that AllahPundit favorite Aaron Rupar think that he did a lot of real work in clipping a one-minute Hershel Walker speech snippet, which he has an inordinate amount of Pride of Authorship in. And that he accuses someone of "stealing" it from him as if it's plagiarism. (Even though he himself stole it from someone else's broadcast.)
But then it gets impossibly funny when Aaron Rupar accuses the guy who reposted the one-minute clip of... STOLEN VALOR.
No I'm not kidding. This is Clown World now, and these things happen here now.

I'm not saying that you should all take special pains to baselessly accuse each other of stolen valor for no reason, but I'm not not saying that, either.

The program will have 97 gender options to choose from, to qualify for the free money. Super-Straight is not among them.
Speaking of people of iffy sexuality being paid to do nothing, Adam Kinzinger.
At Twitchy, Scooter is almost in tears, again, as he whines that Democrats don't fully accept him because he doesn't completely agree with them.
He claims he lost his career because he opposed Trump. Tweets quoted by Twitchy point out, no, he lost his Congressional seat because his Democrat Palz redistricted his seat away to give it to another Democrat.
I don't have good gaydar, so don't put any stock in this. But every time Scooter opens his Juicy Mouth, it's just:
and:
and:
But again, don't go by me. I'm sure he's as a straight as any number of passionately heterosexual members of NeverTrump who spend all day on Twitter avoiding their dreary wives who don't understand their needs.
Justin Trudeau loves playing Ethnic Dress-Up, but Xi treated this slinky bitch like a peasant without a paddy to his name:

posted by Ace at
06:30 PM
|
Access Comments