« African Reporter: Biden's Press Conferences Are "Rigged," Biden Has a List of Friendly Reporters He's "Supposed to Call On" And Won't Say Who Picks These Names or Why
|
Main
|
Dog Counterfeiters Club Cafe »
November 16, 2022
Quick Hits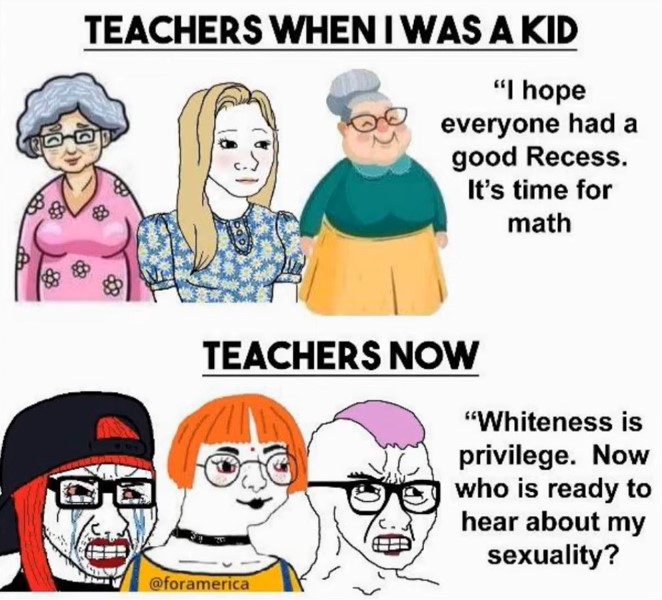 Mitch McConnell was reelected Senate Minority leader. Only ten good Senators voted against him.
National Review, of course, is shrieking in anger that anyone dared challenge their favorite Corporate China-Protecting Anti-Tea-Party Crusader.
By CHRISTIAN SCHNEIDER November 16, 2022 5:42 PM

The same Republican senators who tried to defenestrate McConnell today are responsible for the fact that he is not majority leader.

It makes sense that some Republican senators would want to cast Mitch McConnell aside as their leader. After all, if you have a plumbing problem, you don't call an electrician. If your football team is playing wretched defense, you don't ask Tom Brady to play linebacker.

And if your mission is to troll your way to the presidency in 2024, you don't need a powerful, dignified master of Senate procedure leading you.

After Republicans butt-fumbled away their chance to retake the majority in 2022, fingers immediately began pointing at McConnell, the GOP's longest-serving leader.

"First we need to make sure that those who want to lead us are genuinely committed to fighting for the priorities & values of the working Americans (of every background) who gave us big wins in states like #Florida," wrote newly reelected senator Marco Rubio, urging that today's leadership vote be postponed.

Missouri senator Josh Hawley declared the midterm elections the "funeral for the Republican Party as we know it," calling the party "dead." Presumably, he did so while holding a bloody knife. It was Hawley, after all, who was last seen cheering on a mob of Trump supporters who may not have seen him because they were busy trying to hang Vice President Mike Pence. It was Hawley who chose to feed Trump's conspiracy theories about the 2020 election, leading voters such as those who stormed the Capitol to believe that the election had been stolen -- and almost certainly helping to cost the GOP control of the Senate. So naturally, it is Hawley who's now playing the child who murders his parents and expects sympathy from the court because he's an orphan.

...

These are the words of a group of unserious senators who have no interest in actually governing over the next two years. As members of the minority, Senate Republicans should have only one role, which is to sit in their seats and say the word "nay." They should exist to block the Democrats' bad ideas from making their way to President Joe Biden's desk. Instead, McConnell's detractors plan to govern through a historical Senate process known as "lib-owning," which doesn't require the institutional strength and knowledge possessed by their longtime leader.

National Review is a group of deeply unserious children, the bulk of whom have literally never held actual jobs, and who have always "worked" (and I do use that term advisedly) in sinecures paid for by corporate donors to act as paid advertising copyeditors for those corporate interests. But these braying, caterwauling, fit-throwing children, such as the deeply "serious" shit-flinger Kevin D. Williamson, sure do like posturing as "serious" minded people and accusing their opponents of lacking "seriousness."
Here is another recent example. He's a "serious" writer.
Some people on the right are trying to put a happy face on J. D Vance's pitiful win over Tim Ryan last night. These cynical prevaricators claim that Vance's brand of protectionism, isolationism, and illiberalism resonates with voters and must be the lodestar of the GOP henceforth. But their triumphalist narrative is belied by the numbers.
Although this cuck's name is Bobby Miller, he writes with the sort of exotic English one usually sees in decently-educated foreigners who learned English from reading out-of-date encyclopedias and watching all eight seasons of Frasier. He sounds suspiciously like Apu from the Simpsons trying to sell-you an Off-Brand Slurpee in the 2003 Flavor of the Year, Neocon Neon.
Hey National Review, since you're all "serious" thinkers, do you have any "serious" editors over there or nah?
Mostly this group of Upper-Middle-Class Twit of the Year candidates likes wearing bow-ties and explaining why they support military intervention everywhere but their own personal traits make them too important to be deployed in actual military service. And also, too important to actually work for a living in their dad's furniture store or pursue that dentistry degree like mom wanted, so they're going to pursue their dream of Starting a Magazine about the Intersection of Fashion and Ideas for a while until "they have things figured out."
Like this proud National Review alum:

Unhinged Democrat propagandist David French keeps propagandizing for the Democrat Party, and claiming that makes him a True Republican Stalwart: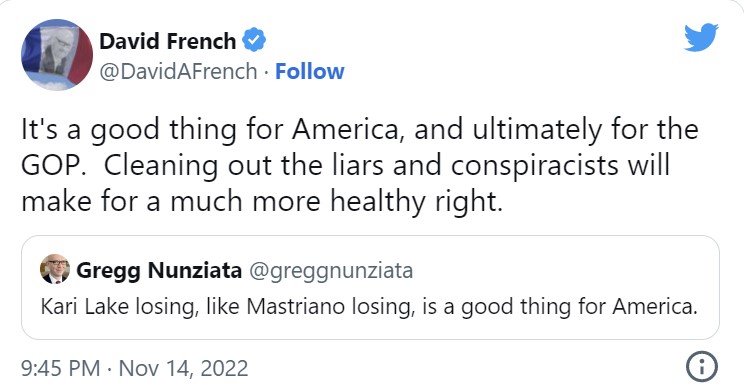 This gang of Twitter-Bound Cvcks is forever complaining that some conservatives only want to "own the libs," but meanwhile, the only thing they're interested in doing is owning the actual conservatives.
This group has been fighting the Tea Party since 2008, every single candidate, every single proposal. They pretend it's all about Trump; they're liars. They've fought this movement since its inception, they've fought every single person that's had any kind of Tea Party support.
They are not oligarchs. They are worse than that. I understand why oligarchs would fight for oligarchical interests. If I were an oligarch, I would fight for oligarchal interests, too.
These are oligarch jock-sniffers. They're oligarch wannabes. They're pathetic weasely wormy shits hero-worshipping the oligarchs, hoping that if the eat enough oligarch ass, maybe they'll invite them to the cool oligarch parties.
They're not the Davoisie, they're the pathetic nerds who cling to the outer fringes of the Davoisie and scheme to be invited into the Davoisie Set.
Leftwing Democrat Krystal Ball can see it: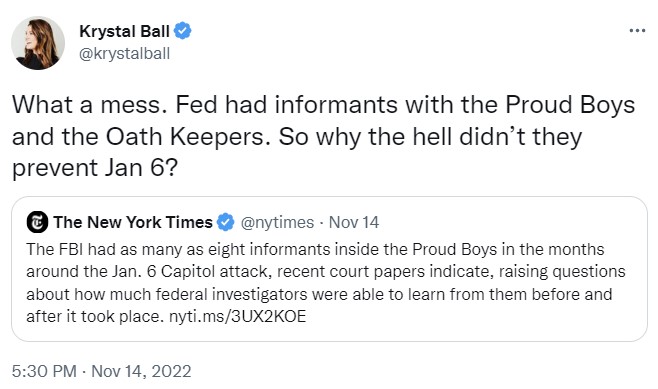 Law enforcement usually doesn't stop crime -- they let it happen, then make arrests -- but if this really was an "insurrection," as the DOJ and FBI aver, then certainly, they had a duty to prevent this "insurrection" from happening. You don't allow a murder to take place just so you can get the murderer for the full murder rap rather than just attempted murder.
Yet they didn't. Curious!
Of course it's worse than that. The question isn't really "Why didn't they stop it?"
The questions are really, "How much did they do to encourage it?" and "How much they did they do in furtherance of the 'insurrection'?" and "How much is the US government implicated in an 'insurrection' against itself?"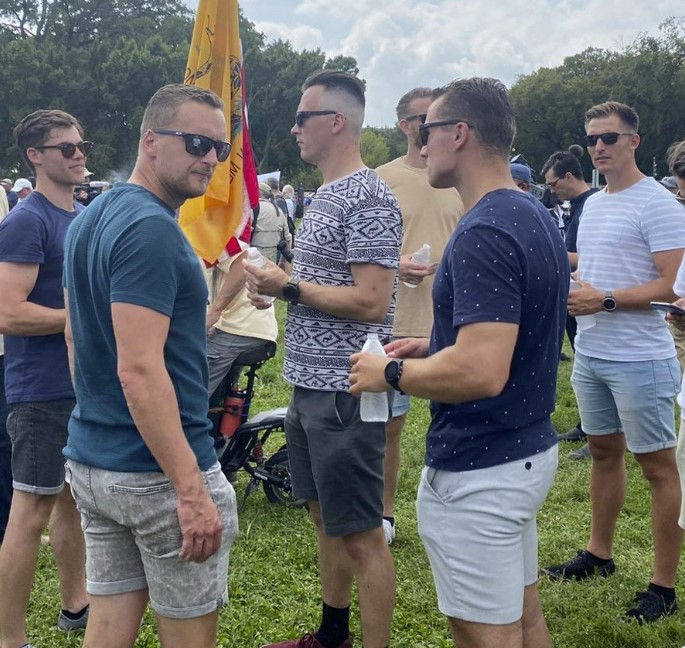 Adam Schiff knows the GOP House, as cvckish as they are, are sick of his bullsh!t.
But he can count on Mitch McConnell to let him sit on committees, even if the GOP regains power:
Sarah Ferris @sarahnferris


NEWS: Rep Adam Schiff has decided NOT to seek a leadership post in House Dem caucus and is instead looking more seriously at a Senate run, per multiple sources
Governor Abbot has bused the first group of illegals to the City of Brotherly Amor:
The gonzo leftwing Philadelphia Inquirer reports that Abbot chose Philadelphia because the mayor claims that his city, like Martha's Vineyard, New York, and DC, just loves illegal aliens:
He cited Kenney's advocacy for Philadelphia's role as a sanctuary city for "making the city an ideal addition to Texas' list." The Kenney administration fought and won a major lawsuit over the Trump administration's effort to withhold grant money unless the city helped enforce federal immigration laws.

Abbott also invoked the Invasion Clause of the Texas Constitution:
DeSantis is counterprogramming Trump. If people are tired of drama, he will give them no drama:
Of course, the media needs Trump Drama, and greeted his more-measured announcement with Shrieking Ratings Outrage Bait: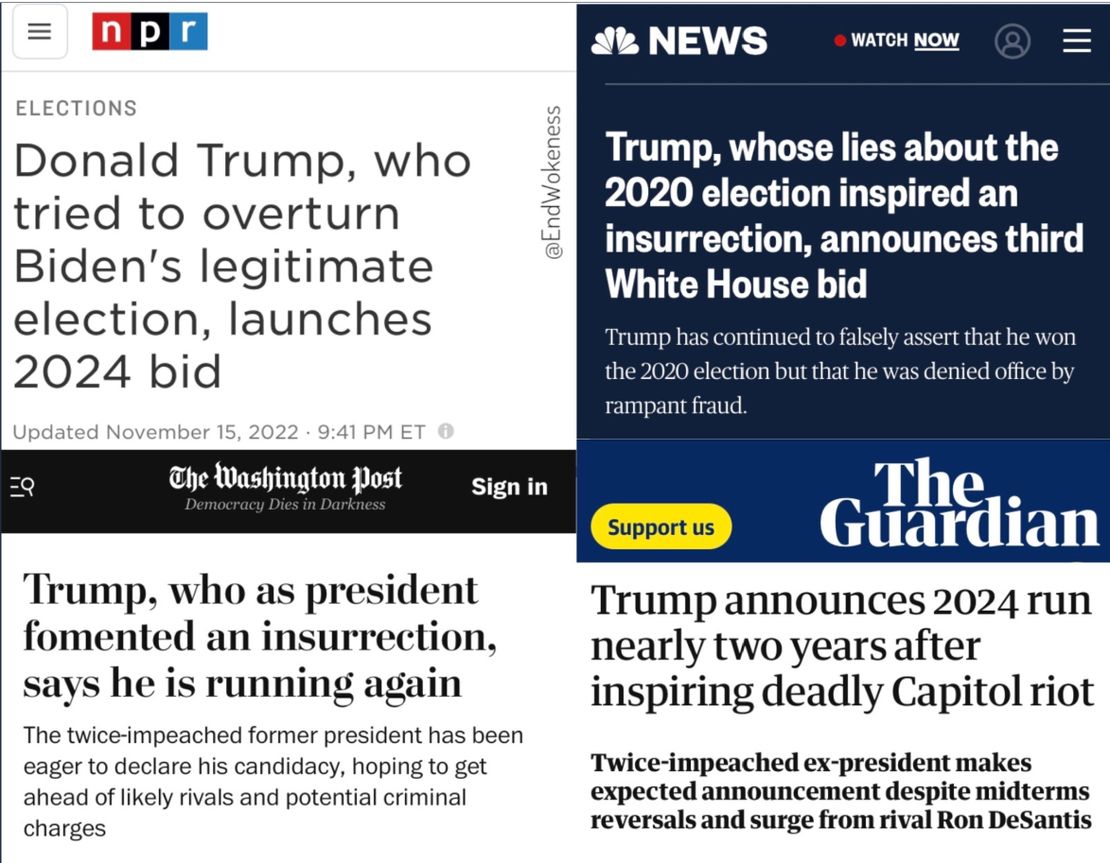 Ay yi yiiiiiiiii.

posted by Ace at
06:40 PM
|
Access Comments