« EMT 11/12/22
|
Main
|
Saturday Morning Coffee Break & Prayer Revival »
November 12, 2022
The McFailure Plan to Kneecap Trump [Dave in Fla]
Last Saturday, Rich Baris put out the following tweet, when the DeSanctimonius controversy started: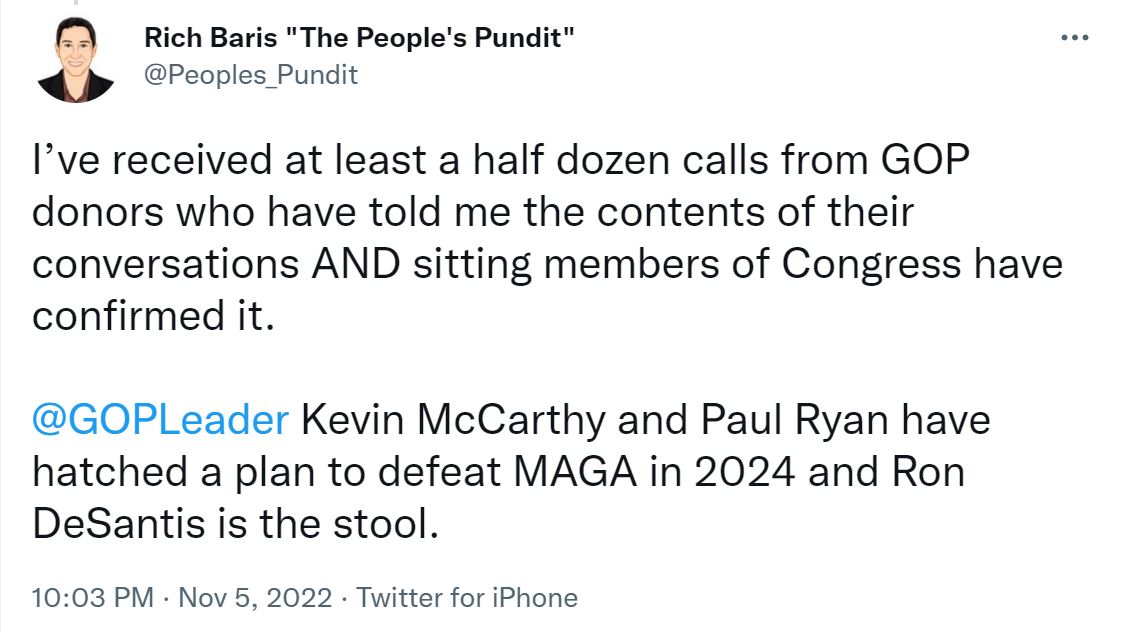 Last night, he further expanded on what is going on, while waiting for Arizona results that never came.
The "Plan" that was hatched by the McFailure wing of the GOP was to offer the nomination to DeSantis. The GOP would provide funding, support, and a clear path to the nomination. If DeSantis declined the offer, the second choice is Glenn Youngkin.
By not fighting for seats in the House and Senate, they wanted to reduce the number of MAGA Trump supporters in their chambers, and they assumed that the political environment of the moment would allow them to still gain both chambers, but blame the "disappointing" results on Trump.
What Trump has been doing with the personal insults to DeSantis and Youngkin, is to let them know that he will go after them personally if they accept the offer from Team McFailure. He wants them to remember what happened to "Low T", "Lying Ted", and "Little Marco".
I don't want to get into the Trump/DeSantis wars (though I know this is going to spark them). I tend to agree with Ace, I am worn out by Trump the Insult Attack Dog. But I think everyone should be aware of what is really going on, and not think that Trump has lost his mind.
[Edit - I am not saying that either DeSantis or Youngkin have accepted the offers]

posted by Open Blogger at
07:55 AM
|
Access Comments