« EMT 11/13/22
|
Main
|
Those Physicians Who Embrace Patently False And Obviously Ridiculous Theories? Their Critical Thinking Is Clearly Flawed And They Are Not Competent To Practice Medicine On Real People »
November 13, 2022
Sunday Morning Book Thread - 11-13-2022 ["Perfessor" Squirrel]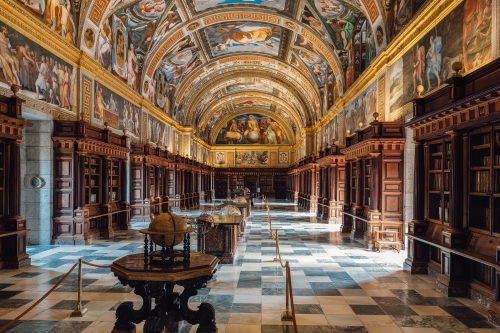 (ht: Nemo)
Welcome to the prestigious, internationally acclaimed, stately, and illustrious Sunday Morning Book Thread! The place where all readers are welcome, regardless of whatever guilty pleasure we feel like reading. Here is where we can discuss, argue, bicker, quibble, consider, debate, confabulate, converse, and jaw about our latest fancy in reading material, even if it's nothing more than your latest performance review. As always, pants are required, especially if you are wearing these pants...
So relax, find yourself a warm kitty (or warm puppy--I won't judge) to curl up in your lap, start fasting to prepare yourself for your Thanksgiving feast, and crack open a new book. What are YOU reading this fine morning?
PIC NOTE
Today's pic comes to us courtesy of Moron Nemo:
Last week, my wife and I took a week-long vacation in Madrid. One place we saw was the Escorial, which was Philip II's one-man monastery in the hills northwest of Madrid. It's a weird place, very reflective of the mind of the man who created it; but one part that breaks out the austerity is its library. It is wonderful, lavishly decorated and filled with manuscripts of an astonishing variety and beauty. I cannot send you a picture because photography is forbidden in the Escorial; but if you look up the library of Escorial, I'm sure you'll find plenty of public-domain pictures to illustrate the world-renowned book thread.
AI WRITTEN NOVELS?
We live in a world where artificial intelligence (AI) is getting "smarter" all the time. Just this week, robot delivery vehicles were deployed at the university where I work so that people who are too lazy to go from one building to the next can order food and have it delivered to the door of their building automatically.
In the arts and entertainment world, AI is also making strides, creating not only music but visual art. How long until AI is composing limericks? (Poor Muldoon will be out of a job...) Uh, oh...We're too late!
We already see tools like Google Docs and Microsoft Office provide helpful suggestions when you are writing. Some of these are eerily prescient. Even the editor I use to compose these Sunday Morning Book Threads (Atom) has some very useful suggestions as I type.
Will we ever see a complex, epic fantasy story written by AI someday? Stories on demand? I see requests for extremely niche recommendations on Reddit all the time. What if an AI story generator could simply tell you the stories you wanted to hear on the fly?
Will the Moron Authors become obsolete?
++++++++++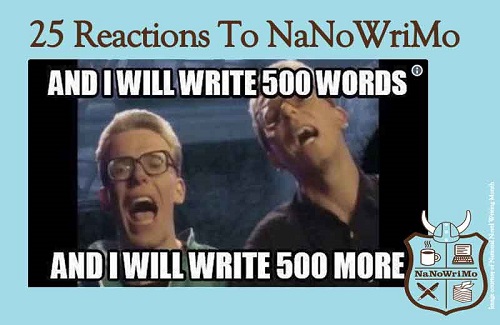 ++++++++++
BOOKS BY MORONS
Hey, long-time Ace of Spades reader here. They've been nice enough to feature a few of my self-published books in years past, I was hoping they'd be willing to do so again. I have a new sports drama up, by the name of STAINED GLASS JAWS. It's about a boxer who's gotten by on intimidation and strength (think a Mike Tyson type) finally having to face defeat and the question of maturing into something of adult, made harder by the fact he grew up fatherless in a ghetto. A friendship with his former rival becomes a influence on him, and helps his grow professionally and personally. Think something in the vein of the Rocky movies or Raging Bull, a sports drama with some intense fight scenes thrown in. If you think that sounds like something the other morons might like, I've included the link to Amazon below. Thank you kindly for your consideration.

Sincerely,
David Welch
++++++++++
WRITING TIPS FROM MORONS
Last week I asked for some more tips and tricks from Moron authors and as usual, the Moron Horde was generous:
I don't have any writing "secret" except for 'do it.' I spend too much time doing other things (drinking, reading, prOn surfing) and not enough time writing. It's odd this time around, too, since I have the whole new book plotted out, and yet simply have little interest in the actual writing. What I really need is a week alone in an isolated cabin with no internet connection, no radio and a barely-functional radio that only gets a static-y polka station out of Saginaw to get writing done.

Posted by: Hope Solo's Globetrotting Squeakhole at November 06, 2022 09:14 AM (AW0uW)

+++++
With regard to being a working writer, the best advice I've seen came from P. G. Wodehouse. His three rules for being an author are:



Prepare your work space well: desk, chair, light, pen, papers, etc.


Put your ass in the chair.


Keep it there.



When I worked on a commercial book, I hated the deadline, yet I knew I had to have it or the project would never be finished - at least, not finished in a timely way. I could look at the calendar of the upcoming weeks and tell, nearly to within a day, what my mood would be at that given point in the project: Elation at first, when the ink was still wet on the contract; then despair, when I realized that I actually had to write the damned thing; then roller-coastering as faced and met various sub-deadlines to produce sections and chapters. I always tried to juggle my schedule so I'd have Sundays off, to be with my family and recharge my batteries. And also, I found that I did my best work if I got up early in the morning and wrote before I went to my job: again, that gave me a deadline, so I'd have to buckle down and "git 'er done" and not waste time surfing the web for "research", and left evenings free for the family.

Posted by: Nemo at November 06, 2022 10:03 AM (S6ArX)
+++++
The secret to writing a book is to want to write it for its own sake. Writing for any other reason is too easily derailed. You might write one for some extrinsic reason, but only the love of your stories and their themes will keep you going.

I know a gifted writer who turned out a first-class thriller because he hoped it would earn him out of his money woes. As good as it was, it didn't sell...and he's written nothing since.

Posted by: Francis W. Porretto at November 06, 2022 09:20 AM (z/nZY)

++++++++++
MORON RECOMMENDATIONS
This week, I finished reading Archduke Franz Ferdinand Lives! which is exactly what it sounds like: an alternate history in which the archduke was never assassinated and World War I never happened.

The author gives a few different scenarios on what kind of world might have existed; one or two definitely better than ours and one or two as bad as ours, but in different ways. It's way pricier than it should be, and the guy is a lefty who doesn't always keep his biases out of the equation, but he still has a lot of colorful arguments. I give it 4 out of 5 stars.

Posted by: Dr. T at November 06, 2022 09:16 AM (tp+tP)

Comment:Alternate histories can be interesting thought experiments. It's hard to imagine that the entire world was upended over the assassination of one man, but that's what happened. Of course, pivotal figures have existed throughout history that have changed the course of humanity in unexpected ways (e.g., Jesus Christ, Mohammed, etc.). What if Jesus had never been crucified? What if Mohammed had been killed in one of his raids?
+++++
My reading veered into gaming stuff. It's gaming season here in Michigan, and in addition to gearing up for the winter 40k campaign, I picked up GDW's Persian Gulf from 1986 and spent yesterday savoring the rules. I own two other games in the series, and always wanted this one. They used to be really expensive, but with the Middle East relatively quiet, interest has faded. It's fun to read about ZOCs and Combat Results Tables and all the joyful mechanics of my youth.

Posted by: Ace-Endorsed Author A.H. Lloyd at November 06, 2022 09:31 AM (llXky)

Comment: For those of you interested in writing, game books can be a useful resource for story ideas and information. Someone else has already done most of the research, so you can pick up a game book on WWII tanks, for instance, and probably get enough material out of it to write a reasonably accurate story involving WWII tanks without having to scour the library for books. I have quite a few of the GURPS resource books that cover a range of topics, such as ancient Rome, Celtic mythology/society, and religion. 2nd Edition Advanced Dungeons and Dragons also produced a number of historical reference accessories for gamers who wanted to experience a campaign set in real-world history. You don't even have to know anything about the mechanics of the games, just enjoy the supplementary information.
+++++
I read The Winners by Fredrik Backman. I really enjoyed the first two books in this trilogy, Beartown and Us Against You; but this is the best of the three. The books tell the story of Beartown and Hed, two small towns in Sweden. They are close to each other in the northern forest, but miles and miles from any other town. Beartown and Hed are hockey towns and the rivalry is fierce, over the top, and sometimes tragic.

Winners takes up the story two years after the end of Us Against You. I liked the book because Backman captures life in a small town. It's an interesting story, populated with great characters and almost every page has an insight into a character or a philosophical nugget. In order to appreciate this work to its fullest, the entire trilogy should be read.

Posted by: Zoltan at November 06, 2022 09:11 AM (FlrKV)

Comment: I enjoy tales of small towns, partially because I've lived in one most of my life.
+++++
I just finished Sean McMeekin's Russian Revolution and it was well-written and fast-paced. But depressing--because there were so many points between 1905 and 1920 when the Bolsheviks were on the verge of being wiped from history, only to be saved-at every point--by the venality, stupidity and conniving of their enemies, from the aristocrats to Kerentsky to the SDs to the Whites to the Western Allies. What an awful bunch.

Posted by: JoeF. at November 06, 2022 11:25 AM (mR6Gs)

Comment: What if the Russian Revolution had never happened? Or was stopped in its tracks? Of course, we live the really real world and the Russian Revolution happened, causing incomprehensible suffering, misery, and death for the next 100+ years. It's still going strong in some form or another...Based on the results of this past Tuesday's election, I have to wonder--Did Communism win? Is humanity doomed to make the same mistakes over and over and over again? How many more people have to die before this insidious ideology is refuted for all time?
More Moron-recommended reading material can be found HERE! (482 Moron-recommended books so far!)
+-----+-----+-----+-----+
WHAT I'VE BEEN READING THIS PAST WEEK:
To Ride a Rathorn by P.C. Hodgell -- Jame goes to military school! There she finds even more intrigue, secrets, and mysteries about her own people and the world they currently inhabit.
Bound in Blood by P.C. Hodgell -- Jame's adventures at the Kencyr military academy continue...
Honor's Paradox by P.C. Hodgell -- "Where does one's honor lie, in following orders or in oneself?" Surprisingly relevant in today's world, as "government" replaces the old forms of fealty...
That's about all I have for this week. Thank you for all of your kind words regarding my Sunday Morning Book Thread. This is a very special place. You are very special people (in all the best ways!). The kindness, generosity, and wisdom of the Moron Horde knows no bounds. Let's keep reading!
If you have any suggestions for improvement, reading recommendations, or writing projects that you'd like to see on the Sunday Morning Book Thread, you can send them to perfessor dot squirrel at-sign gmail dot com. Your feedback is always appreciated! You can also take a virtual tour of OUR library at libib.com/u/perfessorsquirrel. Since I added sections for AoSHQ, I now consider it OUR library, rather than my own personal fiefdom...
PREVIOUS SUNDAY MORNING BOOK THREAD - 11-06-22 (hat tip: vmom stabby stabby stabamillion) (NOTE: Do NOT comment on old threads!)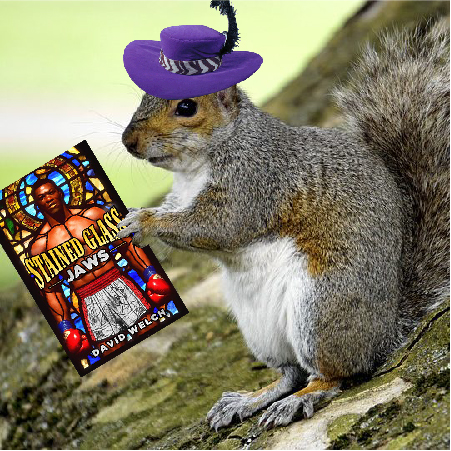 (Huggy Squirrel's jaw is carved from solid marble.)

posted by Open Blogger at
09:00 AM
|
Access Comments