« Election Deniers: Some Democrats Believe the Polls are All Lies and Part of a Conspiracy Theory to Make Abortion Appear Less Popular Than It Is
|
Main
|
Two-in-One Songs Cafe »
November 04, 2022
Quick Hits
Update: Gretchen The Witch Whitmer's "Closing Argument" Is a Real Treat-and-a-Half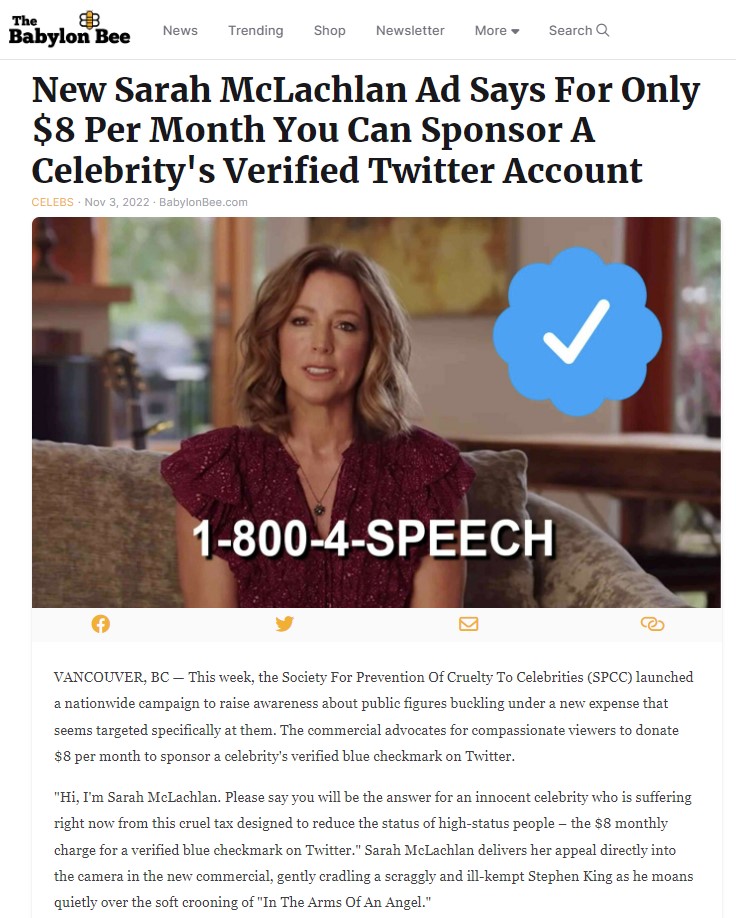 I love this tweet -- and not just the DefiantL's contrasting this Democrat House member's claim that the 2016 election was, quote, "rigged," but now accusing anyone who questions the 2020 election of being traitors.
But also look at the bottom, to the added context.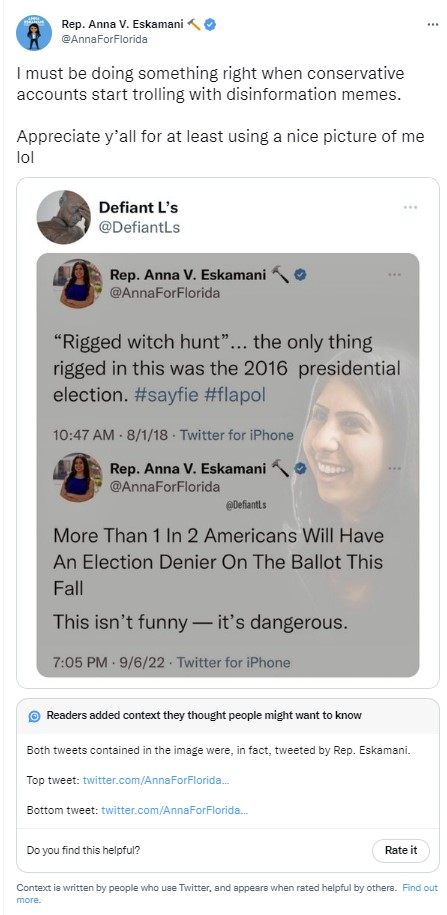 Twitter is now crowd-sourcing "context" and letting people upvote it as "helpful" or downvote it as "not helpful." You know the left is downvoting these fact checks of their lies, so if you're still on twitter, be sure to rate the good ones as helpful.
Note, by the way, that the crowd, working for free, does a better job than all of Twitter's overpaid-but-now-sacked "Content Curation" team did.

Related: AOC couldn't find her Twitter mentions on her phone, and she postulated that Elon Musk had created an individual piece of malware that would delete her mentions only her phone, because he's so afraid of her.
In a video circulating on social media, the New York congresswoman suggested that Musk was responsible for her notifications and Twitter mentions not working.

"I was at a community event in the Bronx in Coop City. And when I get home, I see a text from my team saying, 'Hey, let me know if you need any help with this Elon stuff.' And I was like, what? So I pulled my Twitter app, and it's like gone. Like when you pull up your mentions and stuff like that, it's just like literally like a blank screen, totally gone. And I was like, 'Hm, that's weird.' So it turns out, we got under a certain little billionaire's skin," Ocasio-Cortez said on video while eating a chicken nugget.

Various Twitter users mocked the video for attempting to attack Musk with what some considered a conspiracy theory.

She's such an absolute dum-dum. It's embarrassing.
Rob Schneider @RobSchneider

I just heard that over 50 former intelligence officers signed a letter saying the Pelosi gay hammer attack rumors have all the hallmarks of a Russian gay hammer attack disinformation campaign.
Disinformation, incoming! There is no such thing as Democrat vote fraud!
Why won't you take our word for it, as Democrats?!
Election Wizard @ElectionWiz

BREAKING (Tallahassee, Fla.) -- Florida Election Crime Unit announces arrest of Cheryl Ann Leslie, accused of voting in multiple states during the 2016, 2018, and 2020 elections. Leslie has booked into the Palm Beach County Jail on felony charges.
Oh, and what's this? PBS "journalist" Yamiche Alcindor, who is actually a resident of Washington DC, is caught voting in Broward County, Florida -- and is hit with a complaint for vote fraud.
Yamiche Alcindor, a left-wing activist now masquerading as an independent Washington correspondent for NBC News, voted illegally in Florida, according to a complaint filed by the American Accountability Foundation.

Public records show Alcindor is an active registered voter in Broward County, Florida. According to the complaint, state residency requirements mandate voters' intention of making Florida their permanent home. Alcindor, however, lives in Washington D.C. with her husband, Nathaniel Cline, with little evidence to show the beltway reporter plans to settle in the Sunshine State.

Never happens, though!
I mentioned earlier that early voting was not going the way Democrats would like it to in Nevada and Oregon.
In Nevada, the key to Democrat victory is building up a huge firewall of Democrat votes in their one big county -- Clark County, that is, Las Vegas -- and then hoping for a wash or a win in the second biggest county (Washoe, which is Reno). They need the firewall because all the rural counties will vote overwhelmingly for the GOP.
In early voting, Democrats just aren't turning in ballots at the pace needed to win.
Jon Ralston, a partisan hack, is freaking out.
Nevada Independent @TheNVIndy

4h
UPDATED: The early voting blog, via @RalstonReports.

The Dem statewide lead is down to 1 percent, or 5,200 ballots out of 530,500 cast.

One more day to go of early voting.

More on the blog:

https://thenevadaindependent.com/article/the-early-voting-blog-2022
Jon Ralston @RalstonReports

THE EARLY VOTING BLOG IS UPDATED!

Latest numbers show a slim lead for Dems statewide. The Clark Dem firewall is all but erased by the GOP rural landslide, leaving Washoe, with snow inbound, as the probable decider.

Ds will need ticket-splitters, minimal indie damage to survive.

A new poll shows Adam Laxalt up 8 points against his Democrat opponent for Senate, and Republicans also ahead in three of the four congressional districts in Nevada.
We'll also be taking the governorship, and cleaning up Nevada for 2024:
Republican Governor candidate Joe Lombardo leads Democratic Governor Steve Sisolak by 4 points, 49% to 45%. Lombardo has gained 9 points since September and Sisolak has gained 5.
Democrat registration greatly outstrips that of of Republicans in socialist Oregon, but aren't turning in their ballots at the rate Republicans are, reducing the margin of the actual Democrat vote.
John Couvillon @WinWithJMC OREGON MAIL, 11/4

Day 1: 65,944 , 45-32-23% D/R/I
::
11/3 report: 751,511, 42-34-24% D/R/I
11/4 report: 869,375, 41-34-25% D/R/I

Dems returned 35.1%, Reps 39.7%, Unaffiliateds 15.5%
Ryan James Girdusky
@RyanGirdusky

Nov 1
Early vote partisan advantage 2022/2020:

Arizona: D+3/D+9
California: D+22/D+33
Colorado: D+3/D+12
Connecticut: D+36/D+36
Florida: R+5/D+5
Iowa: D+24/D+18
Maine: D+29/D+30
Nevada: D+2/D+8
New Mexico: D+21/D+15
North Carolina: D+8/D+10
Oregon: D+8/D+22
Pennsylvania: D+52/D+49
Also feast your eye-mouths on that tasty number in Colorado: 2020's D+12 edge is only a D+3 edge in 2022.
Real Clear Politics just moved Colorado to "toss up" from Lean Dem. Bennett (incumbent Democrat) only leads O'Day (Republican) by 2.
And remember, Democrats are now the party of early voting -- the expect to lose on the vote that's cast on election day itself.
If they're only a bit ahead in early voting -- they're done.
So what's that spin about Democrats winning because they've gone all-in on early voting, again?
InteractivePolls @IAPolls2022

FINAL ARIZONA POLL By Emerson

Governor
Kari Lake (R): 50% (+3)
Katie Hobbs (D): 47%

Senate
Blake Masters (R): 48% (=)
Mark Kelly: (D-inc): 48%

President
Donald Trump (R): 46% (+4)
Joe Biden (D-inc): 42%

Undecideds included | 10/30-11/01
The People's Pundit Richard Barris weighs in:
InteractivePolls @IAPolls2022 · 2h 𝐍𝐄𝐖 𝐏𝐎𝐋𝐋: Blake Masters holds 1 POINT lead over Mark Kelly in Arizona Senate Race

Blake Masters (R): 49% (+1)
Mark Kelly (D-inc): 48%

* Big Data Poll
@Peoples_Pundit

InteractivePolls @IAPolls2022

FINAL POLL:
@insidepolling1


PA Senate
Mehmet Oz (R) 48% (+2)
John Fetterman (D) 46%

750 Likely Voters, November 3
Florida polls all have DeSantis at +10 or higher -- a couple at +12 and one at +13.
InteractivePolls @IAPolls2022

FINAL OHIO POLL By Emerson

Senate
(R) J.D. Vance 53% (+9)
(D) Tim Ryan 44%

Governor
(R) Mike DeWine 55% (+21)
(D) Nan Whaley 34%

President
(R) Donald Trump 50% (+12)
(D) Joe Biden 38%
Emerson is a leftwing college.

Update: Fox News just showed a poll: Maggie Hassan 47.8%, Don Bolduc 47.0%. I think that might have been their own poll, and they're one of the most Democrat-skewing pollsters in the US.
Lisa Says @LisaPurdue2

Nov 3
This Friday... John Fetterman Will Be The Smartest Person On The View
The View gave Fetterman a softball treatment, by which I mean, they swaddled his balls in plushest velour.
Sunny Hostin called the Democratic candidate for Senate in Pennsylvania, Lt. Gov. John Fetterman, "incredibly courageous and brave" on The View Friday for debating his opponent, Republican candidate Dr. Mehmet Oz.

The appearance took place only days ahead of the midterm elections. Fetterman appeared by video chat, and the show disclosed that he was using closed captioning to assist with his auditory and word processing issues, brought on by his recent stroke.


"I think you look and sound great," Hostin said, referencing criticisms Fetterman faced after his debate with Oz, in which he appeared to struggle with his words and was delayed in answering questions.

"It's clear your post-stroke troubles are not cognitive and would not hinder you as a senator," Sara Haines chimed in.
This election commercial is an illegal, undisclosed in-kind donation from a major media conglomerate which will have business in front of Fetterman if he wins.
Apparently this is how Boomer Democrats attempt to appeal to their Nosering Neopronoun Yutes.

posted by Ace at
06:33 PM
|
Access Comments