« Ivy League Student Is, Get This, a Barista at Starbucks, and, Get This, a Self-Declared "Labor Organizer," and, Get This, a Hysterical Babygirl Soyboy Blubbering P*ssy
|
Main
|
NBC "News:" Voter ID Laws "Disproportionately" Affect Transgender People Who Are Going By Different Made-Up Names But Who Have Never Filed Paperwork to Make That Official So We Must Get Rid of Voter ID Laws Immediately »
November 02, 2022
Woke Disney CEO Bob Chapek, Who Made It a Core Corporate Mission to Champion Transgender Theory Trainings for Kids K - 3, Now Starts Calling Republicans to Mend Fences, Days Out from the Election
Disney/Marvel Wokery Update
"Hey, buddies... long time no talk. Are things good with you...? Boy I sure do miss you guys. We should totally hang!"
Disney's chief executive is reportedly calling multiple congressional Republicans for political talks ahead of an expected GOP blowout over the midterm elections next month.


Company CEO Bob Chapek "has been having private phone calls this year with House Republican leaders," CNBC reported on Wednesday, among them House Minority Whip Rep. Steve Scalise, who would become House majority leader if projections of Republican victories play out.

A Disney spokesman told CNBC that Disney "speaks to lawmakers from both sides of the aisle," while a spokeswoman for Scalise "did not return repeated requests for comment."
Meanwhile, despite most of the anti-Woke YouTubers I follow swearing that Chapek is really a Stealth Conservative who intends to roll back the wokeness -- guys, seriously, you're being played, either by one of his PR people or by your own need to see hope for Disney -- Chapek denies that Disney is "too woke."
Walt Disney Co. CEO Bob Chapek has pushed back on the claim that the company has become "too woke" following its whole-hearted embrace of radical transgender ideology and LGBTQ activism.

At the Wall Street Journal Tech Live conference on Wednesday, Chapek responded by saying inclusivity is part of Disney's storytelling mission, adding that he wants Disney to reflect the "rich, diverse world we live in."

"I think the more complex something is, the more you really have to drill down into the basics. And we want our content to reflect the rich, diverse world that we live in," he said, according to a report in The Wrap.
In fact, Chapek proclaimed, Disney survived 100 years by catering to its former audience of normie families -- and will now thrive for another 100 years by catering to its new and improved woke, diverse, LGBTQ+ audience.
"So to be clear, you don't think Disney is too WOKE?" Murray then asked, seeking one last clarification on the topic.

"I think Disney is a company that survived for a hundred years by catering to its audience, and it's going to thrive the next hundred years by catering to its audience," affirmed Chapek in turn.
This idiot is soon going to learn that the Tublrinas, Marxist social engineers, Maoist social arsonists, trans extremists, and MAP apologists he is playing to on Twitter are not an "audience" -- they're an anti-audience that makes brands too toxic for any real audience.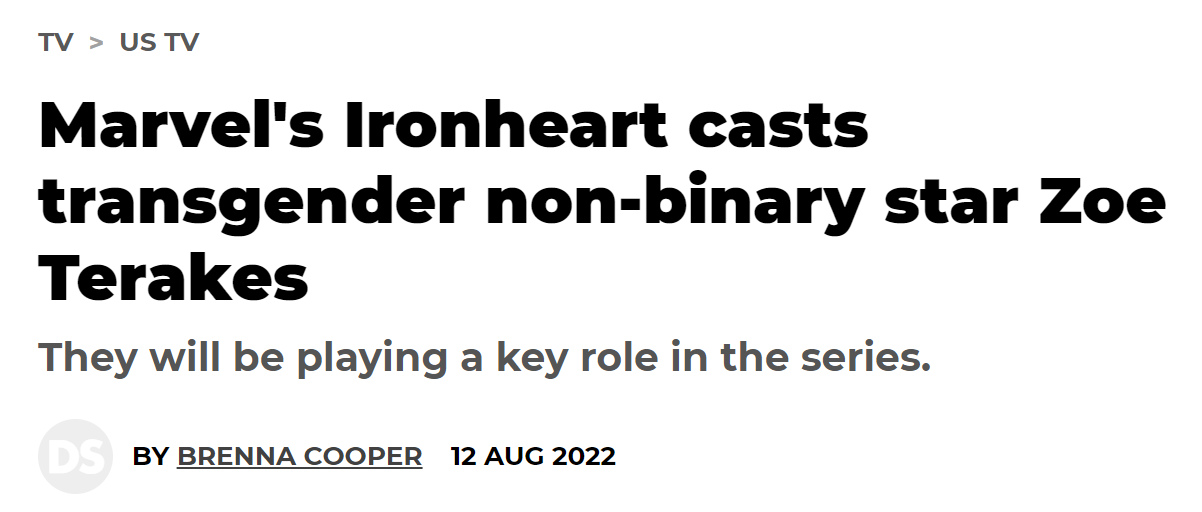 Ironheart is the black teenaged female replacement for Iron Man. This is a show aimed at kids, like Ms. Marvel, and will co-star a trans actor.
Will this gender and race flipped replacement character being even better and more powerful than the (spit) white male original? You better believe she will!
Riri Williams has some big shoes to fill in the Marvel Cinematic Universe. Played by Dominique Thorne, Williams, a.k.a. Ironheart, is set to make her debut in the Marvel Cinematic Universe in Black Panther: Wakanda Forever, which hits theaters in November. For now, it's unknown if the MCU's Ironheart will reveal a direct tie to Iron Man and his influence on Williams. However, the MCU version of Ironheart comes with several changes from the comic books, including a suit of armor that's possibly enhanced with vibranium. This enhancement definitely sets her apart from her inspiration, Tony Stark a.k.a. Iron Man.

...

Williams could use vibranium in several ways to make her armor more powerful than any of Iron Man's designs. One way is by upgrading the repulsors, which are one of the armor's primary weapons. Iron Man did not incorporate repulsor rays until his Model 3 design, which debuted in Tales of Suspense Vol. 1, #66 (by Stan Lee and Don Heck). Another vibranium-powered upgrade could simply be making the armor as strong as T'Challa's and Shuri's nano-tech Black Panther suits. Stark's Mark L design, his 50th Iron Man armor design, used nanotechnology and was strong enough to use during the Infinity War and the fight against Thanos.
But hey it's so nice you called Steve Scalise. At least you tried!

posted by Ace at
05:02 PM
|
Access Comments