« Supreme Court Justices Are Skeptical of Affirmative Action (Again!) in University Quotas Case;
Justice Alito Goes on Warpath With Elizabeth Warren "Let's Say I Pretended to be an Indian" Non-Hypothetical
|
Main
|
Exit Polls: Netanyahu's Coalition Has Re-Taken Israel's Knesset »
November 01, 2022
Wall Street Journal: White (Non-Based) Women Have Shifted from +11 Democrat in August to +15 GOP Now
The non-based white women, who are like unfastened sails in a storm, got themselves into a lather over abortion -- this is a group that is constantly getting into lathers, and is singularly sensitive to whatever the media tells them the Current Thing is -- but as that lather has faded, they remembered once again that inflation is skyrocketing, the Democrats locked their children out of schools for two years, and the only thing the Democrat-protected teachers unions want to teach are transgenderism, Drag Queen Theory and Practice, and CRT.
Supposedly the GOP only leads 46-44 on this silly poll.
While the two-point Republican lead is within the poll's margin of error of plus or minus 2.5 percentage points, it also marks a meaningful improvement for the GOP since The Journal's last survey, in August, when Democrats held a three-point advantage on which party voters would back for Congress. Republican voters also show more enthusiasm to vote than do Democrats, the survey finds.

The shift in preference for the GOP comes as views of the economy have turned more dour than at any point in the past year. Only 19% say the economy is headed in the right direction, down 11 percentage points from August, while 71% say the economy is on the wrong track.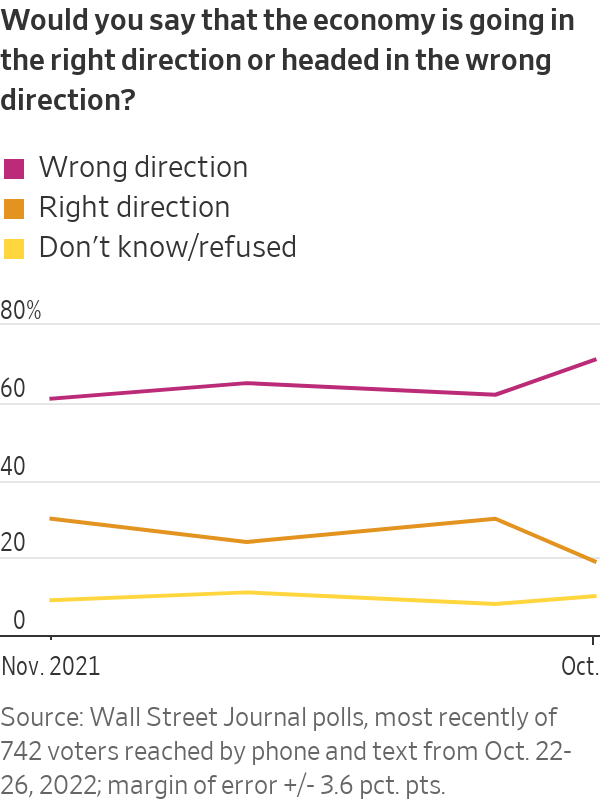 Voters lack confidence in President Biden's economic leadership, with only 27% saying his policies have had a positive impact on the economy and 54% saying they have had a negative impact. A majority of voters--55%--disapprove of Mr. Biden's overall job performance, compared with 43% who approve.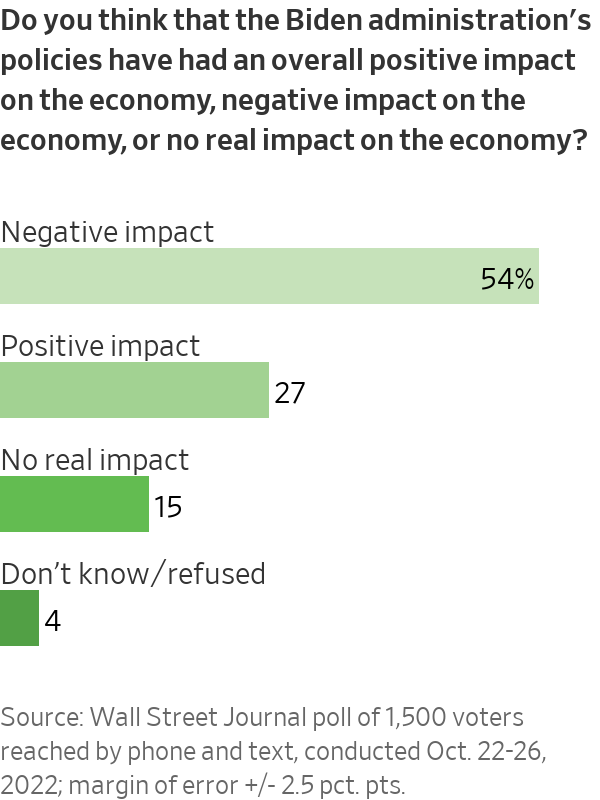 The GOP has seen a shift in its favor among several voter groups, including Latino voters and women, and particularly white suburban women. That group, which the pollsters said makes up 20% of the electorate, shifted 26 percentage points away from Democrats since the Journal's August poll and now favors the GOP by 15 percentage points.
A poll from a couple of weeks ago showed an even bigger shift of thirty two points, from Dems +18 to GOP +14 (or maybe it was D+14 to R+18).
The WSJ maybe shows the lower range of the size of the shift, and maybe the earlier poll showed the higher range of the shift.
Enthusiasm among hispanics and blacks is down. And I'll bet you, where hispanic voter enthusiasm is high -- it's mostly on the GOP side.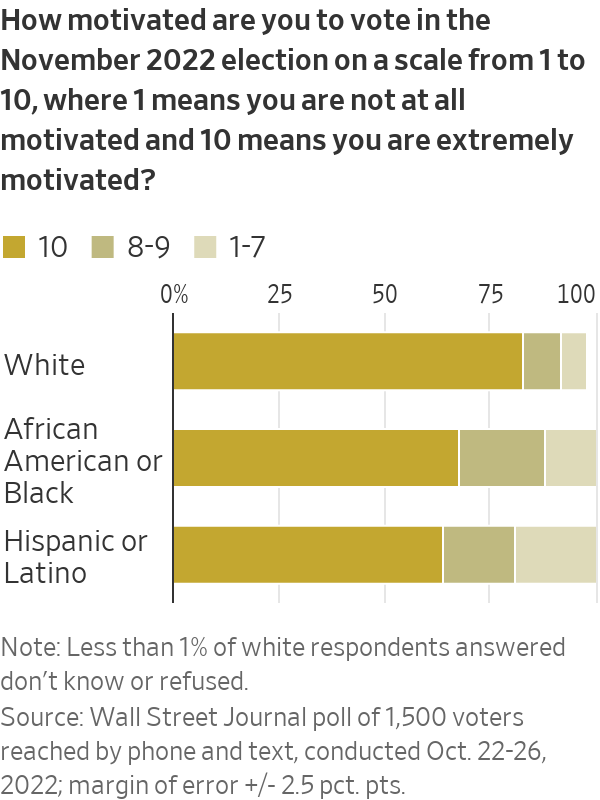 Republicans say they are more motivated to vote than Democrats, the poll found. Some 68% of Black voters and 64% of Hispanic voters--groups that favor Democrats--rated themselves at the highest level of motivation to vote, far below the 83% of white voters and 79% of voters overall.
Ed Driscoll links this interesting and almost certainly accurate reading of of Emily Oster's "let's forgive all the people who got covid so catastrophically, willfully wrong" non-apology: Emily Burns (no relation) thinks this is an attempt to get white women, who moved from the GOP to the Democrats in 2018 and now back to the GOP due to the Democrats' endless lockdowns and mandates (and other school-related lunacies), to stop being mad at Democrats and Please Ladies Vote For Us Again, We'll Be Better Next Time I Promise.
First, let's be clear to whom Emily Oster is speaking. She's speaking to the furious well-educated suburban women who are swinging towards Republicans in this cycle, even in the bluest of states. Because it was the bluest of states that were hit hardest by these policies....

The problem for Emily is that while the hardcore democrat base of women voters never questioned any of these policies, others did--and they incurred significant personal costs for doing so.


An embarrassing portion of well-educated women acted as the regime's stormtroopers. They sicced social media mobs on any who dared to voice a question, much less dissent. The pain of having family, friends and neighbors turn on you for voicing an opinion or asking a legitimate question caused many women to seek out others with similar questions.

...

Now, after having been called terrorists by our governments for arguing for the well-being of our own children, Dr. Oster wants us to forget that. In asking us to forget, she beseeches those who strayed from the flock to return, to believe that it is not their shepherd who takes them to slaughter that would do them harm, but the wolf lurking unseen in the shadows of the wood. So now we must talk about abortion.
It's a good 'un.

posted by Ace at
03:33 PM
|
Access Comments