« Daily Tech News 28 October 2022
|
Main
|
Mid-Morning Art Thread »
October 28, 2022
The Morning Report — 10/28/22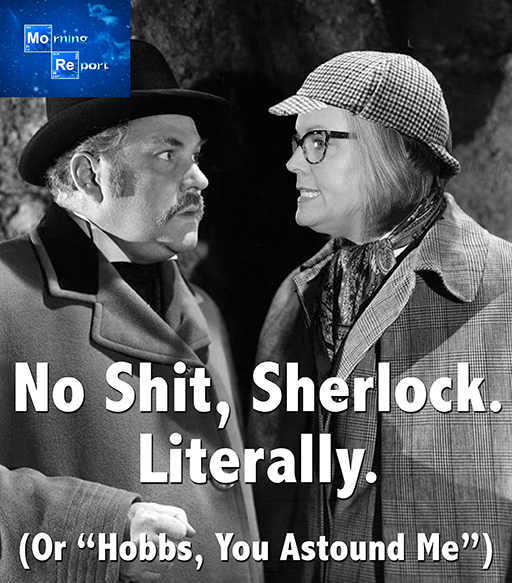 Good morning kids. The weekend is here and before we dive in, a bit of a teaser for you; friend and friend of the blog Michael Walsh is our guest on the next episode of the podcast where we discussed his powerful new book Against the Great Reset: Eighteen Theses Contra the New World Order. To paraphrase Walsh, he's "assembled the '27 Yankees of conservative thinkers" for this crucial book. Scan the TOC and it really is a who's who of the crème de la crème of authors and political thinkers. CBD and I went way long and we'll probably have to split it into two parts, but it was for sure one of the best episodes yet. Agree or disagree with him, he's always entertaining and insightful. Check the sidebar or CJN Monday-ish. Be there. Aloha.
Basta cosi. On to the morning meshugas and meshugas is certainly the operative word. So, yesterday, Gloria Retread slid out from the sewer she had been steaming her geriatric, razor strop-consistency piss-flaps in to hurl yet another false accusation at Herschel Walker. The result seems to be that Walker is now clearly pulling away from the Ebenezer Baptist Wife-Beater incumbent with about a week and a half to go.
Desperation is never a good look. Sad! Man, Arizona Democrat gubernatorial candidate Katie Hoobs looks desperate trying to pin a burglary of her headquarters on GOP candidate Kari Lake without any proof. . .

. . . Lake had a fantastic response

.@katiehobbs blames rhetoric from Lake campaign. @KariLake: "I can't believe that she would blame my amazing people or blame me... I don't even know where her campaign office is. I'm assuming it's in a basement somewhere because that's where she's been campaigning"

You guys, it gets better. The police made an arrest. They haven't released any information, but now Hobbs does not want to talk about the incident.

Weird.
Well, "weird" is one way to describe it. Laughable and disgusting are two more words that come to mind. I think Kari Lake is going to win this and there is a very good chance that Mark Kelly, who's only qualification was his wife Gabbie Giffords getting shot at a rally, might lose also to Blake Masters. That race is now officially a toss-up.
Meanwhile, while everyone on the Democrat side is praising the debate "performance" of Lumpy Fetterman, who came off sounding like Chuck Wepner after his head encountered the fists of Muhammed Ali, that is when the paramedics removed the oxygen mask from his face and the ambu-bag from his throat so he could speak, Chuck Schemer was caught on an open mic with Biden. And he was not telling him he'd "have more flexibility after the election."
. . .Democrats were in trouble with just days before next month's midterm elections.

"That seat, we're in danger in that seat," Schumer told Biden, adding a few moments later, "It's close. We'll see."

It's not clear what seat Schumer was talking about as press poll coverage did not show what was said just prior to Schumer's remarks.

Schumer then addressed the recent disastrous debate performance from Lt. Governor John Fetterman (D) in Pennsylvania's U.S. Senate race against Republican nominee Dr. Mehmet Oz.

"We'll we're, you know, it looks like, it looks like the debate didn't hurt us too much in Pennsylvania as of today," Schumer said. "So that's good."
If you read between the lines, Schemer even alluding to "not being hurt" I guess can be interpreted as an admission that the Dem cheat factor perhaps is non-operational, or even that he's deluded himself into thinking Fetterman came across as Justice Jackson at the Nuremberg Trials and that the Dem cheat factor won't have a problem overcoming Oz's actual votes in the event he is ahead when the polls close.
But, the question is who is the mystery senator he is freaking out about: Maggie Hasan in NH? Even with Mitch McChicom pulling money away from Dan Bolduc, he might actually win this one. Or could Lee Zeldin finally give us a big win in New York? The race no one is really covering is blonde Moe Howard-coiffed dipshit Patty Murray who is, perhaps for the first time in her career in actual danger of losing to an appealing GOP challenger Tiffany Smiley.
Another shocker that has popped up, which we mentioned last week was that execrable sack of shit Da Nang Dickweed Blumenthal seems to be in real trouble in what is usually solidly blue Connecticut. His challenger, Leora Levy, was born in Cuba and is a seasoned politico. The reason the race is so close is perhaps due to the rapid exodus of Latinos from the Democrat Party. The city of Bridgeport has a huge Latino population and if they either stay home or vote for Levy in any significant percentage, Blumenthal could be gone.
Look, let's not start producing a venturi effect on our nether regions just yet. Anything can happen in the next 11 days and knowing the Democrats, that is almost certainly guaranteed. I don't think these cheap, transparently phony "surprises" are going to have any effect whatsoever. The destruction wrought by Joey Sponge-Brain Shits-Pants and his handlers in Kalorama have finally been the tonic to open a lot of peoples' eyes and they have seen, and felt, enough.
Whether the GOP as constituted can consolidate that into a truly transformational political change is seriously in doubt. The good news, from my perspective, is that there is now a growing number of solid MAGA and, as Misanthropic Humanitarian (or was it CBD?) described as "MAGA curious" candidates in the last podcast who will find it "politically profitable" to do the right thing once in office and buck McConnell and the establishment traitors. Even still, with the unelected bureaucracy actually making laws and controlling government, a dicey-at-best judiciary, a whorehouse propaganda media, and the brainwashing mills of academia, this is going to be a generational struggle.
More challenging still, even with big wins, there is still a hardcore, dead-ender bitter-clinging group of "true believers" that will never change their attitude. And for sure, the Globalist Deep State Left will never surrender their drive to overthrow and/or destroy America and more broadly the advance of humanity for the past 1,000 years.
It was perfectly exemplified in a Facebook post (I lurk there and use it as a kind of barometer) from an old and dear friend from my past:
I don't care if Fetterman has to communicate by blinking his eyes in Morse Code — He's still preferable to Oz.
This was a graphic so I don't think she wrote it, but she did post it. This is not a stupid person. Far from it. And yet, there is not only no critical thinking, there is no thinking, period. That is what we are up against, my friends. As if you needed a reminder. It's not about winning hearts and minds. With some people, even the most reasonable and seemingly intelligent, it's like pissing in the wind. Forget it. Find people that start questioning a few things here and there. That is a sign, small as it may be, that they are at least open to hearing what you have to say. Don't come on like a bull in a china shop. Don't talk about people or personalities. Talk about ideas. Plant the seed and then let the wheels in their mind turn on their own.
Have a good weekend.
ABOVE THE FOLD, BREAKING, NOTEWORTHY
"Unless we collectively decline to participate in this new social experiment, digital IDs—tied to private demographic, financial, location, movement, and biometric data—will become mechanisms for bulk data harvesting and tracking of populations around the globe. Welcome to the new abnormal."
The Rise of Biodigital Surveillance

"We've become victims to the self-inflicted wound of a manufacturing base enfeebled in favor of outsourcing the most vital parts of our economy in monomaniacal pursuit of record profits, and no amount of political pressure can convince those who dominate us to cease their withering depredation.  Reshoring our manufacturing sovereignty and facilitating a manufacturing renaissance is vital not only from an economic perspective but augurs our very survival from whatever next inevitable scourge awaits us. If we can't get clean and sober from our fatal addiction, we're consigned to the eternal doom of pawning our freedom, liberty, and the future of our children in exchange for our drug fix. "
The Fentanyl Overdose Epidemic: How a Hydra of Multinational Drug Cartels Has Orchestrated a Symphony of Destruction on America
CIVIL WAR 2.0: J-6 FBI FALSE FLAG "RIOT" & AFTERMATH, LEFTIST PERSECUTIONS, DEMOCRAT PUTSCH, AMERICAN DISSOLUTION
NOTE: The opinions expressed in the links may or may not reflect my own. I include them because of their relevance to the discussion of a particular issue.
ALSO: The Morning Report is cross-posted at CutJibNewsletter.com if you want to continue the conversation all day.
Follow us on Twitter: @CutJibNews
Follow us on Instagram: @Cutjibnewsletter

posted by J.J. Sefton at
07:43 AM
|
Access Comments