« Daily Tech News 27 October 2022
|
Main
|
Mid-Morning Art Thread »
October 27, 2022
The Morning Report — 10/27/22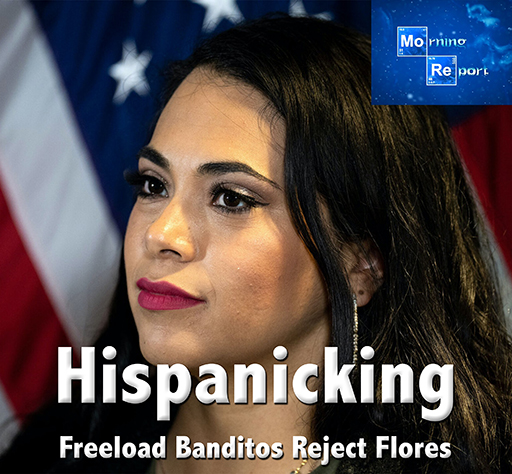 Good morning kids. Thursday and so many things make you laugh so hard until you cry. Dig this headline:
Democrat Senator Bob Menendez Under Federal Criminal Investigation Again: Report
I mean, really? This is news? This is the equivalent of reporting the sun rises in the east. The crooked slob has been in Congress for nearly 30 years and has been under "investigation" nearly as long. About the only time the "investigators" took a break from their "investigation" was Christmas and when Menendez was booked in first class on the Epstein/Clinton Lolita Express. In other words, not counting coffee breaks, the actual time they spent investigating him has been about an hour and 42 minutes. You'll be relieved, if not completely not surprised, to learn they not only have not found any evidence of wrongdoing, but will continue to not have found any evidence of wrongdoing until their next 364.9-day coffee break ends, which will likely coincide with a repeat of this headline this time next year.
Moving right along to another thigh-slapper (pun intended), with Herschel Walker having shaken off the unsurprising October Surprise allegations against him and finally opening a lead against his opponent, Ebenezer Baptist Scrooge Wife-Beater Warnock, out comes Gloria "Retread" Allred, probably from the same sewer line in Atlanta that flooded out voting centers in six different states in 2020, with the smoking gun! Seriously, does this filthy, ambulance-chasing shyster slag really think yet another identical story about yet another woman that Walker allegedly impregnated and induced to have an abortion is going to make any kind of difference? It would be laughable if some heretofore unknown Harry Fabian came forward with the allegation. But Allred? ROFLMAO. Go shove Lisa Bloom back between your poisonous, leathery piss-flaps and peddle it somewhere else, toots. I think with this un-cunning stunt, this un-stunning cvnt's days may be finally over. Please God.
There's other laughable madness, like the so-called "Hispanic Caucus" rejecting Mayra Flores, a Congresswoman who was born in Mexico, for membership because her "extreme MAGA values and their attacks on Latinos and our nation's democracy on January 6 do not align with CHC values." Oh, really? So it's about "values?" I thought these groups were based solely on ethnicity, race or other demographic and/or biological/psychological characteristic. I'm being sarcastic, of course. The only way you get in is if you are a Democrat. Their own words expose not only their hypocrisy but the lie of who and what they and their party are and stand for. Don't fret, Mayra. Consider being rejected from that group a lucky break and a badge of honor. Besides, American Latinos are now abandoning the Democrats in almost the same proportion as those flooding in illegally from south of the now non-existent border. So much so that you are now being put in the column labeled with the Jive Kampf equivalent of untermenschen along with evil white people.
Then there's both Tim Robbins and Jon Stewart suddenly sounding rationale. Call me skeptical, but it is laughable in the extreme that now they take these positions.
And so here we are. With the midterms now 12 days out, Kurt Schlichter is feeling his oats:
Students of military history understand that the real bloodletting starts when the losing side breaks ranks after its formations disintegrate and the cavalry sweeps in to mow down the fleeing survivors. It's every man for himself, and the best the defeated individuals who were once part of cohesive units can hope for is not to end up one of the bodies left strewn across the battlefield. This is when the victor runs up the score. This is when the vast majority of casualties happen. This is a rout. And that's pretty much where the Democrats are headed on November 8th, figuratively of course. . .

. . . The traditional sign of a rout is when the losing party turns on itself and its platform. You see pols criticize the members of their party in power and even tell voters they will not go along with its treasured policies. We see inklings of this in how most Democrats will not allow the Biden n' Kamala circus to stop in their towns. It's remarkable how all these candidates discover something really important to do when their prezzy shows up in their state besides be seen with him. One rare exception was when Fetterman/Fetterman's Wife/Fetterman's Lump allowed itself to be photographed with the crusty president. In typical Biden fashion, he helpfully told the world that he thought Fetterman's wife would make a great addition to the Senate. Rumor has it that Fetterman's Lump was so insulted by the slight that it will be voting for Dr. Oz. . .

. . . Democrat ideology has become a pagan religion where it was once merely a way to get power. Most candidates cannot back off from the stupidest Democrat policy planks even at the cost of their electoral lives. They cannot demand more drilling to get gas and oil prices down because that is heresy toward the angry weather goddess. They cannot support cops because that's racist. They cannot come out against perverts in woman's faces waving their junk in toddlers' faces at "family friendly drag shows" because pedo-shaming is a no-go for libs. They are locked into insanity.

They cannot run. They cannot hide. They must figuratively die with their Birkenstocks on.

Cool. 
It's quintessential, schaden-bonery Schlichter and it's as uplifting as Dave in FL's poll prognostication. But as I yet again alluded to with CBD and Misanthropic Humanitarian on the latest episode of the podcast, what will it really mean going forward? Not just in terms of at least slamming on the brakes for the next two years but in the long haul?
Please understand that it is absolutely crucial to go vote and retrieve Congress from the maniacs. But, as I have stated, what good is it to win elections if the Left controls the real government – the Bureaucracy, the media and most crucially academia? If elections really mattered, insofar as long term changing course, you would not have openly anti-American Maoists in control of the Democrat Party and running for office, as well as perhaps more crucially, a GOP that actually had been opposing them tooth and nail, all along.
Again, I'm not saying don't vote; we have to halt the insanity at least temporarily. But long term, we have to win absolute power and be as ruthless as necessary in forging a new nation that cannot be so easily undermined from within. Will that be built around the Constitution and Bill of Rights? Who can say. But we have a terminal cancer that is about to go from stage 3 to 4.
Open to all suggestions in finding the cure.
ABOVE THE FOLD, BREAKING, NOTEWORTHY
"Lawmakers will be hard-pressed to stop the damage this will cause."
Biden Has Unleashed The Regulatory Leviathan: Report

"Culture wars over gender obscure the deepening educational struggles of young males."
Where the Boys Aren't

"Spengler" Goldman: "For years, the U.S. establishment scoffed at China's technological ambitions. Now it's ready to damage America's high-tech industry in the hope of hurting China even more. This Jekyll-to-Hyde metamorphosis of America's elite has nothing to do with China's military expansion, the vulnerability of Taiwan, the nasty treatment of China's Uyghur minority, or the suppression of dissidents in Hong Kong. It's about elite privilege and money. After the Cold War, the American elite built wealth beyond the dreams of avarice out of the digital economy that America first created to defeat the Soviet Union. Now China threatens to dominate the Fourth Industrial Revolution."
One Cheer for China
CIVIL WAR 2.0: J-6 FBI FALSE FLAG "RIOT" & AFTERMATH, LEFTIST PERSECUTIONS, DEMOCRAT PUTSCH, AMERICAN DISSOLUTION
NOTE: The opinions expressed in the links may or may not reflect my own. I include them because of their relevance to the discussion of a particular issue.
ALSO: The Morning Report is cross-posted at CutJibNewsletter.com if you want to continue the conversation all day.
Follow us on Twitter: @CutJibNews
Follow us on Instagram: @Cutjibnewsletter

posted by J.J. Sefton at
07:33 AM
|
Access Comments