« Daily Tech News 26 October 2022
|
Main
|
Mid-Morning Art Thread »
October 26, 2022
The Morning Report — 10/26/22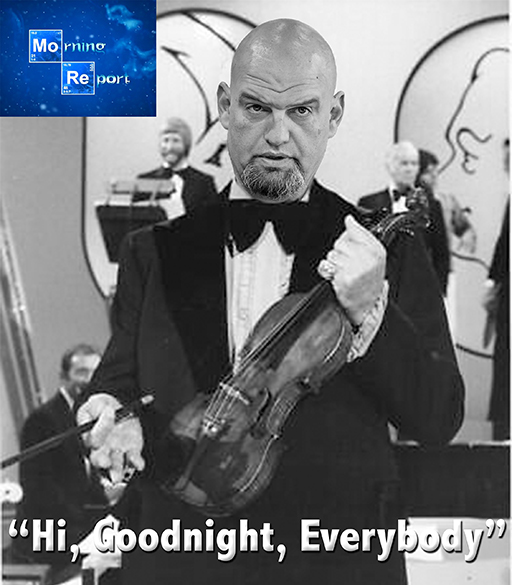 Good morning kids. You know we're in topsy-turvy world when the most rabid of rabid (anti) American leftists, who since time immemorial have been shrieking everything from "Hell No, We Won't Go!" to No Blood For Oil!" are not only hot and horny to get into a land war in Asia but with an enemy that possesses ICBMs with thermonuclear warheads. And yet that's exactly what they're doing.
Peace in Ukraine seemed like the one outcome the Biden [junta] did not want to hear. Indeed, Biden is content with perpetuating the conflict, even though such an approach does not serve concrete American national interests abroad. Increased American involvement in the war, however, does provide Biden and his embattled Democrats with some leverage during the approaching elections.
It is to laugh, were it not for the fact that this party and this movement are so abjectly craven, hypocritical, warped and frankly evil. By the way, this does not in the least let the supposed "other side of the aisle" in the form of the so-called "neo-cons" off the hook. The irony is that this entire episode in Ukraine has actually opened my eyes to quite a bit of what I had previously thought was Code Pinko commie propaganda as now being truthful. And like so many other eye-opening moments, the spark that touched it off was the presidency of Donald Trump. But I digress.
There's also the story of a potential mass-shooter in St. Louis, but that will now be buried deeper than President Joey Sponge-Brain Shits-Pants' fingers between the thighs of a 12-year-old girl, mostly because the shooter is the wrong shade of male MAGA white-supremacist. That is, he's black. If they can't bury it, they'll use it as yet another excuse to confiscate your firearms or else blame male MAGA white-supremacist institutional racist America for the shooting.
And that leads us to the main story of the night which is cruel and unusual punishment. For those who watched last night's Pennsylvania Senatorial debate, the cruelty went both ways. Make no mistake; John Fetterman is a rabid, far-left radical who has no business being a dogcatcher let alone a candidate for a US Senate seat. Yet her we are. But that said, the man suffered a debilitating stroke last May and is being used as political cannon fodder by both the Democrat Party and worse, his own wife, who because of her wanting to punish an NBC reporter for doing actual journalism on the debilitated condition of hubby, has revealed herself to be a repulsive dragon lady. Jill Biden's ears perked up somewhere in the West Wing.
Anyway, the cheat machine in the Keystone State will now have to be ramped up to Ludicrous Speed to overcome last night's disaster, which started literally when Lumpy opened his mouth:


On Monday, John Fetterman's campaign desperately sought to lower expectations for their candidate when he faced off against Republican nominee Dr. Mehmet Oz—even going so far as to suggest that they expected Fetterman to lose.

I can assure you they didn't lower expectations nearly enough. . .

. . . A condition of the debate was the allowance of a closed-captioning system to accommodate Fetterman's cognitive impairments. The moderators were transparent about the system, but the system couldn't help Fetterman articulate his positions clearly—at all.

From the beginning, it was clear that this was going to be a rough night for Fetterman, who opened up the debate by announcing, "Hi, goodnight, everybody."

It got worse from there. "Hi, goodnight, everybody. I'm running to serve Pennsylvania. He's running to use Pennsylvania. Here's a man that spent more than $20 million of his own money to try to buy that seat. I'm also having to talk about something called 'The Oz Rule,' that if he's on TV, he's lying. He did that during his career on his TV show. He's done that during his campaign about lying about… our record here," Fetterman said, struggling to find the right words. "And he's also lying probably during this debate. And let's also talk about the elephant in the room. I had a stroke. He's never let me forget that. And I might miss some words during this debate, mush two words together, but it knocked me down, but I'm going to keep coming back up. And this campaign is all about, to me, is about fighting for everyone in Pennsylvania that ever got knocked down, that needs to get back up, and fighting for all forgotten communities all across Pennsylvania that also got knocked down that needs to keep get back up."

But answering questions was where he really struggled.

"We all have to make sure that everyone that works is able to," he said. "That's—that's the most American bargain, that if you work full time, you should be able to live in dignity as well true."

Are you following? It gets worse. . .

. . . In the end, this was unlike any other debate I've ever seen. It was abundantly clear that John Fetterman's cognitive impairment was an obstacle he couldn't overcome. Despite the accommodations made for him, it was questionable whether he could comprehend speech, and he clearly couldn't even speak coherently most of the time. In contrast, Dr. Oz was polished, no doubt benefiting from his years of experience as a television personality, but he was articulate when it came to discussing the issues. I can't imagine that even Democrat voters who watched that debate felt confident that Fetterman can do the job.
I understand Lumpy actually started yelling at Oz as he was answering a question. Ugh. Seriously, whatever one's trepidations about Oz, and for me it's his past association with Oprah Winfrey, the woman who helped foist Barack Obama on us, Fetterman is an absolute non-starter on every level. His answers made even Joey Choo-Choo's sundowning episodes seem like lectures from Dr. Bronowski in comparison. That alone should be a deal-killer even for the lowest of low information voters.
Elsewhere, Lee Zeldin also seemed to seal the deal, or at least handily defeated a stammering, nervous Kathy Hochul in the New York gubernatorial debate. Worst line of the night, among several was this glittering jewel of aloofness:
"We're halfway through the debate, and she still hasn't talked about locking up anyone committing any crimes," Zeldin said, to which Hochul responded, "Anyone who commits a crime under our laws, especially with the change we made to bail, has consequences. I don't know why that's so important to you."
Ask the scores of people being beaten, raped, robbed, sucker-punched, stabbed in the head with garden shears and shoved onto subway tracks. Hell, ask Zeldin's daughters who were home alone when bullets whizzed by in an apparent gang-related shooting right outside their freaking house! This wax-works slag and everyone who backs her needs to be dumped, now and forever. I hope my erstwhile Empire Staters and especially New York City neighbors wake the hell up.
Ditto the rest of the nation.
ABOVE THE FOLD, BREAKING, NOTEWORTHY
CIVIL WAR 2.0: J-6 FBI FALSE FLAG "RIOT" & AFTERMATH, LEFTIST PERSECUTIONS, DEMOCRAT PUTSCH, AMERICAN DISSOLUTION
NOTE: The opinions expressed in the links may or may not reflect my own. I include them because of their relevance to the discussion of a particular issue.
ALSO: The Morning Report is cross-posted at CutJibNewsletter.com if you want to continue the conversation all day.
Follow us on Twitter: @CutJibNews
Follow us on Instagram: @Cutjibnewsletter


posted by J.J. Sefton at
07:08 AM
|
Access Comments